Yesterday I flew Malaysia Airlines for the first time in years, between Kuala Lumpur and Bali. I was quite looking forward to flying Malaysia again, after not having flown them in years.
There's no doubt that they're still an airline in pain, and also an airline in transition, following the horrible tragedies of last year.
Let me start by saying that I have absolutely no qualms flying Malaysia Airlines, and would actually go out of my way to fly them. With MH370, we still don't know exactly what happened, but it seems fairly safe to assume it wasn't something within the airline's control. MH17 was an equally unlucky accident. All of this is simply to say that I think they're perfectly safe to fly — they always have been and continue to be, though they've also had extremely bad luck.
Still, emotionally there's something tough about flying with them. I'm a pretty emotional person when it comes to things I'm passionate about.
In the case of Malaysia Airlines, for example, I had flown the exact tail number of MH370 before it went down, and also flew out of Amsterdam the same morning MH17 was shot down, and at the airport even interacted with a passenger who was on the flight.
So my concern when flying Malaysia wasn't that I was scared at all, but rather I figured I might have some sort of an emotional reaction. Perhaps it's strange, but I do sometimes have flashbacks/visions, which is what I figured might happen here.
At a minimum I was expecting to see an airline in "pain," with employees still visibly impacted by the events of last year.
Well, truth be told my flight on Malaysia was good, and much to my surprise, I didn't have any sort of negative thoughts during the flight.
Our flight was on a fairly new 737.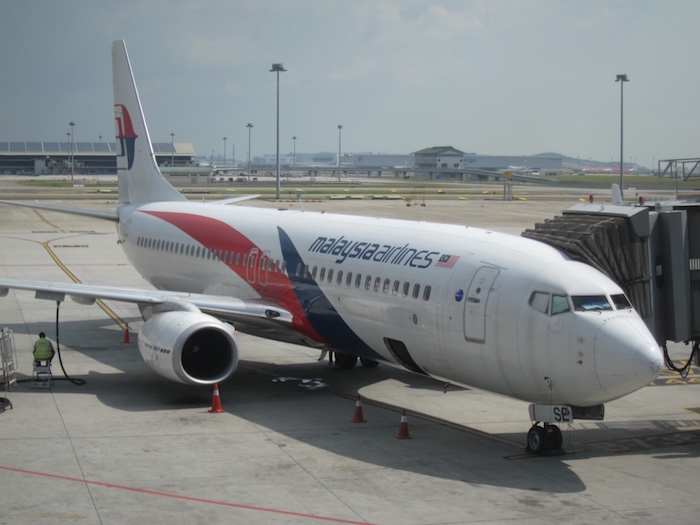 It featured the Boeing sky interior.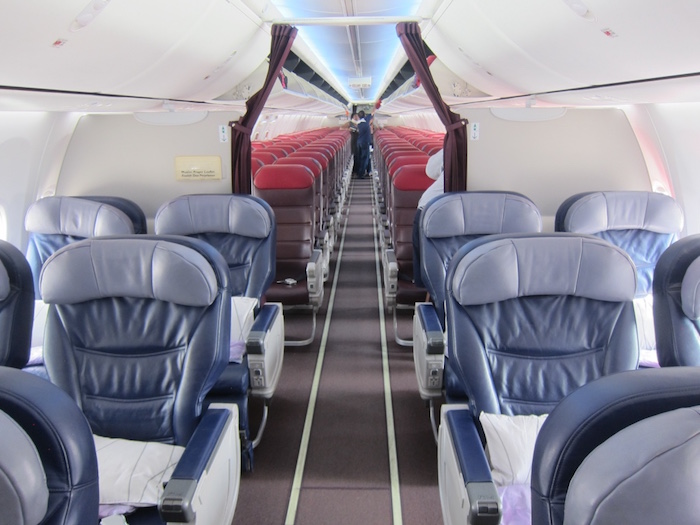 The business class cabin consisted of a total of 16 seats, spread across four rows in a 2-2 configuration. I'd say the seats were marginally more spacious and comfortable than what you'd get in domestic first class in the US. And that's perfectly nice for a sub-three hour flight to Bali.
The food was the only disappointing aspect of the flight. Everything was served on a single tray (with plastic covers still on), and truthfully wasn't very good.
But most importantly I was thrilled to see that the crew seemed to be in good spirits, despite the huge staff cuts going on at the airline. The crew was young and attentive, and certainly gave their competition at Singapore Airlines a run for their money.
Bottom line
As I said above, I think Malaysia Airlines is as safe as any other airline. The perception out there continues to be that they're "dangerous," though. I posted a picture of the Malaysia 737 on social media, and a couple of people commented "dangerous" or "scary." And that perception is still out there, which is sort of understandable when two 777s went down just months apart.
Some fears are irrational. I took the Ngong Ping cable car in Hong Kong the other day and the winds were quite strong, and I was on the verge of tears. I knew I wasn't actually in danger, but I have an irrational fear of cable cars, so when you add in strong winds…
So with Malaysia I was more concerned about finding the whole experience of flying with them to be depressing or cause flashbacks, but I was happy that wasn't the case.
I wouldn't hesitate to fly Malaysia again, and would certainly encourage others to do the same. I'm thrilled to see they're headed in the right direction under the leadership of their excellent new CEO.