Update: Read my full MIAT Mongolian Business Class 767 Ulaanbaatar To Frankfurt review.
Hello from Frankfurt! After a couple of great days in Ulaanbaatar, I flew MIAT Mongolian's seasonal 767 flight between Ulaanbaatar and Frankfurt. The flight operates 3x weekly during summer, and business class fares are pretty reasonable. Since MIAT doesn't belong to any major alliance, I booked a paid business class ticket for ~$1,000 one-way.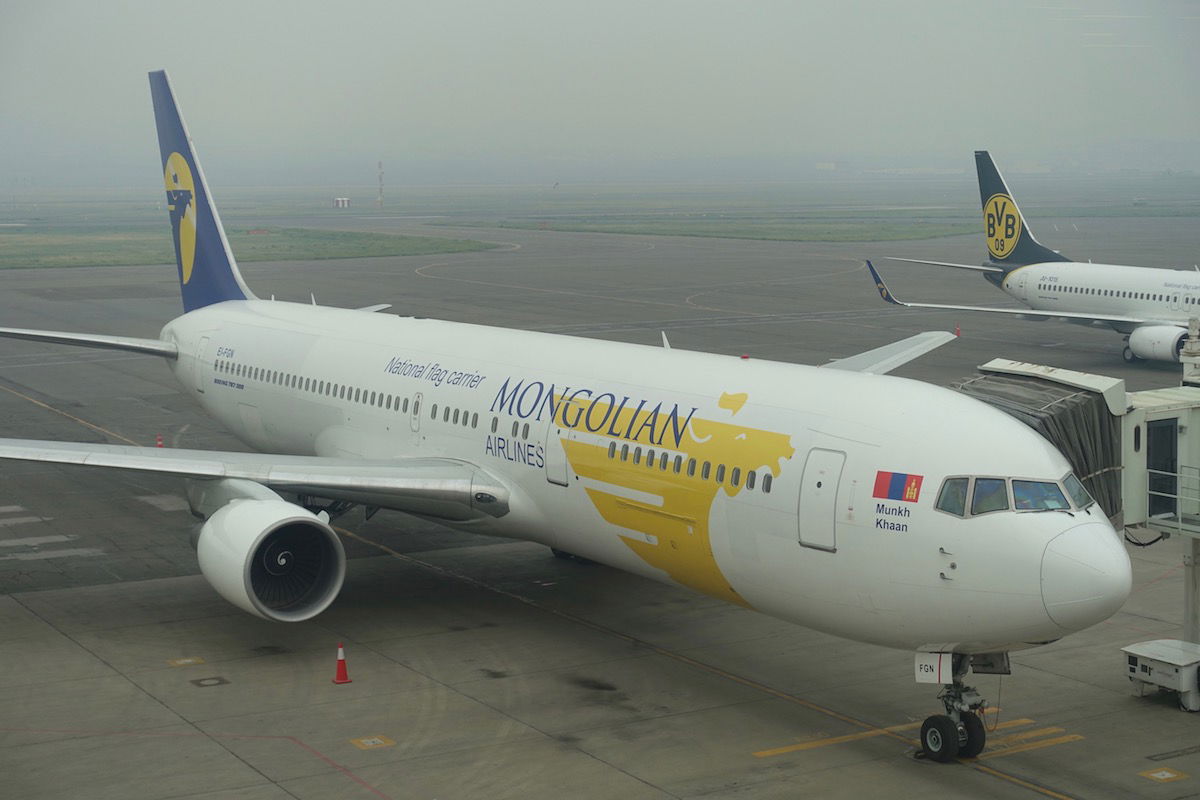 I've been trying to review as many new airlines as possible lately, and I've consistently been loving it. Whether a flight is good or bad, there's just something so fun about stepping on a flight and not knowing what to expect, rather than the umpteenth flight in Cathay Pacific or Lufthansa first class.
MIAT's 767-300 features a total of 25 seats, spread across five rows in a 2-1-2 configuration. It's not often you see a configuration with a single center seat, though it's pretty cool for a solo traveler (even though you do feel really "exposed").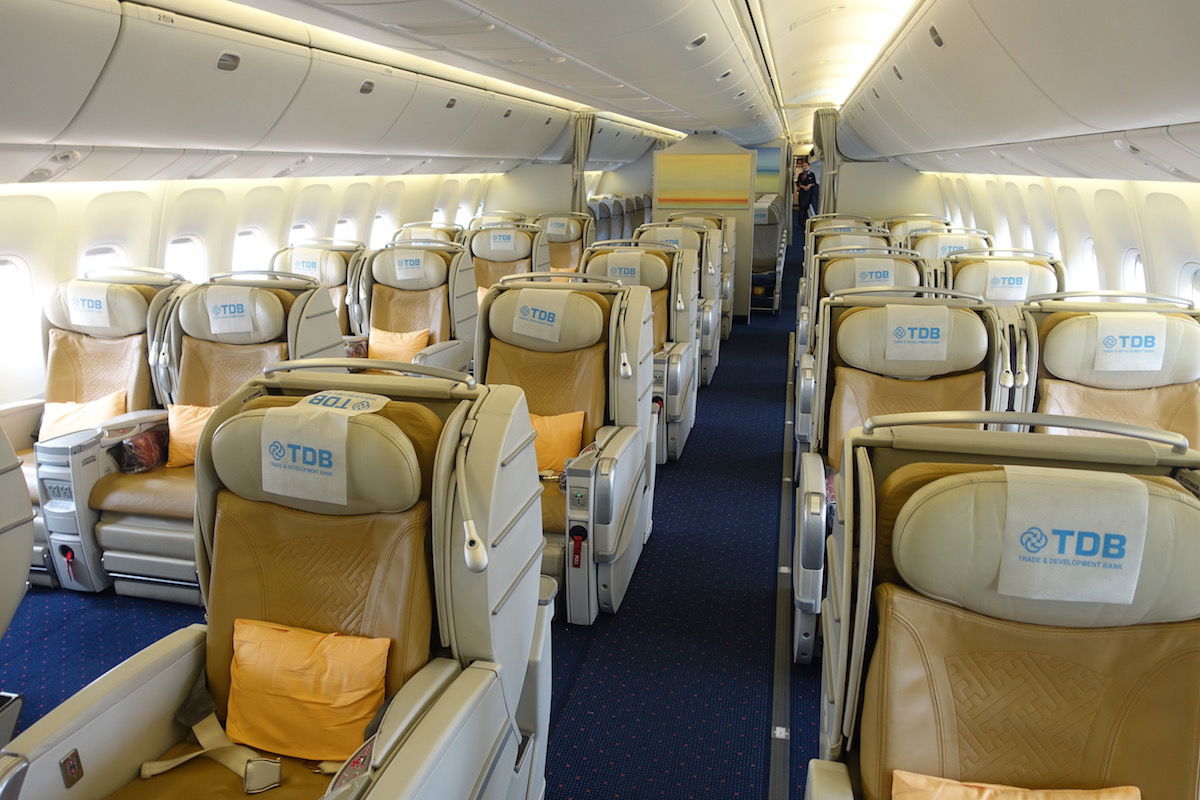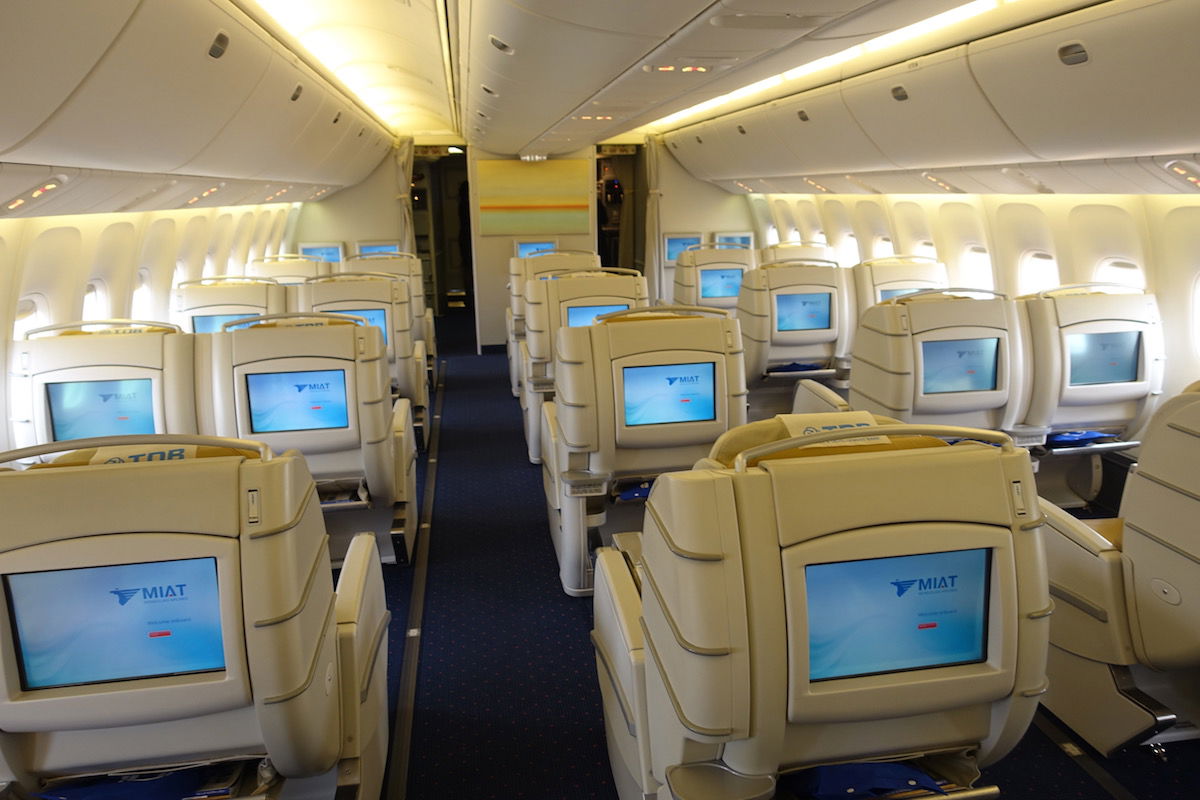 Overall I found the plane to be in very good condition. No, it wasn't quite as modern as Air Astana's 767, but the plane had the new style overhead bins, the seats were in great condition, etc.
Unfortunately MIAT has angled seats in business class, which I struggle sleeping in. However, this was a nine hour daytime flight (it departed at 10AM and arrived at 1PM), so I just stayed awake and worked the whole flight.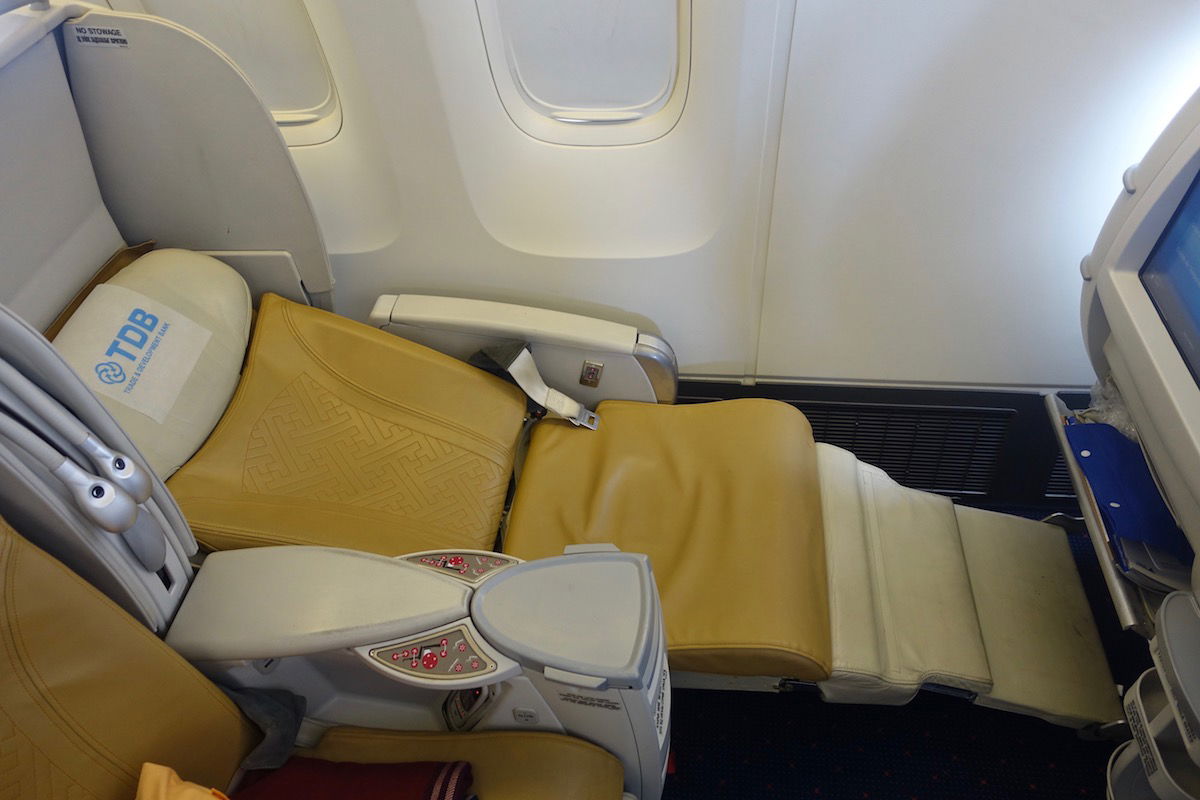 There were two flight attendants working business class, and they were friendly during the meal services. They rarely passed through the cabin between meals, though when I pushed the call button they appeared within seconds.
The flight had two meal services. After takeoff was a lunch service, which consisted of a main course, a small appetizer plate, and a cheese plate. The choice for the main was between duck and lamb.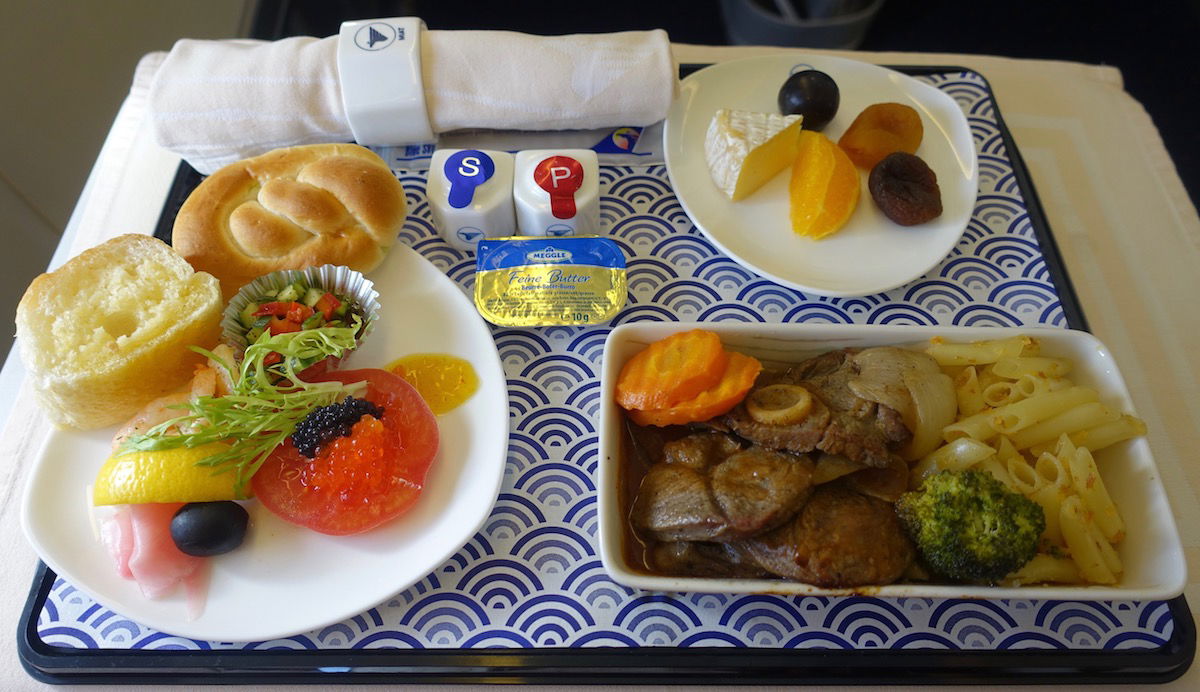 The food quality was reasonably good, though not amazing. I thought the meal was definitely on the small side, though.
Oddly the second meal wasn't served before landing, but rather was served 3hr30min before arrival. This meal had a very similar format, with the choice between salmon and pork. There was once again a plate with cold cuts and cheese.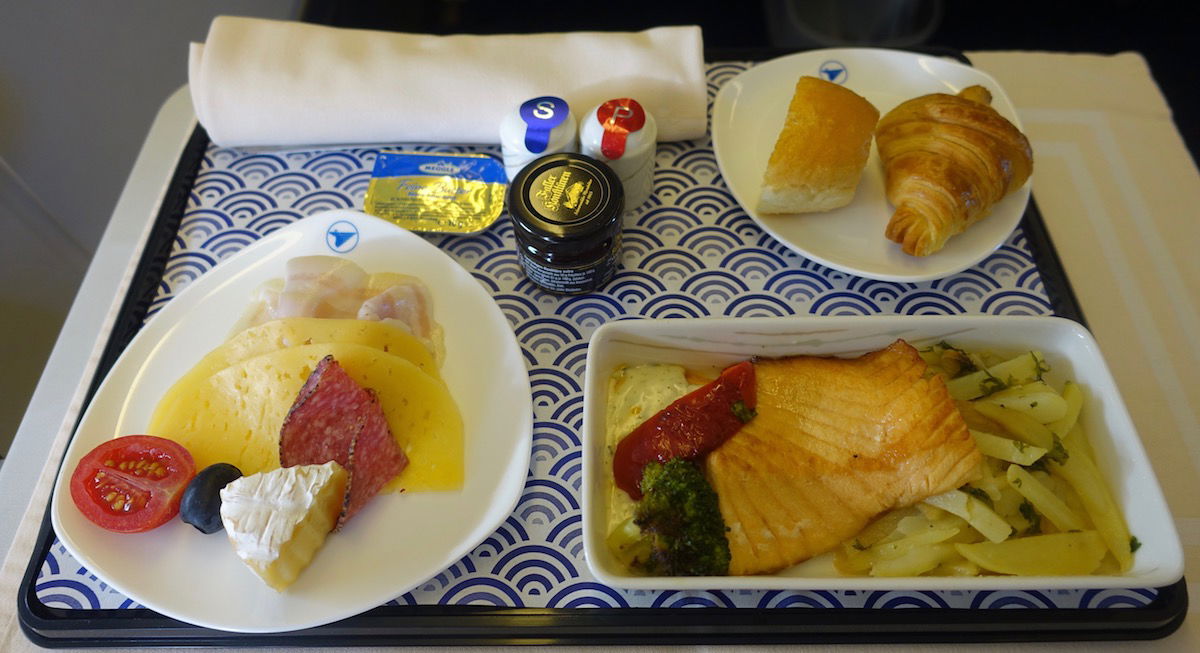 This meal also had a (very small) dessert, which the first meal didn't have.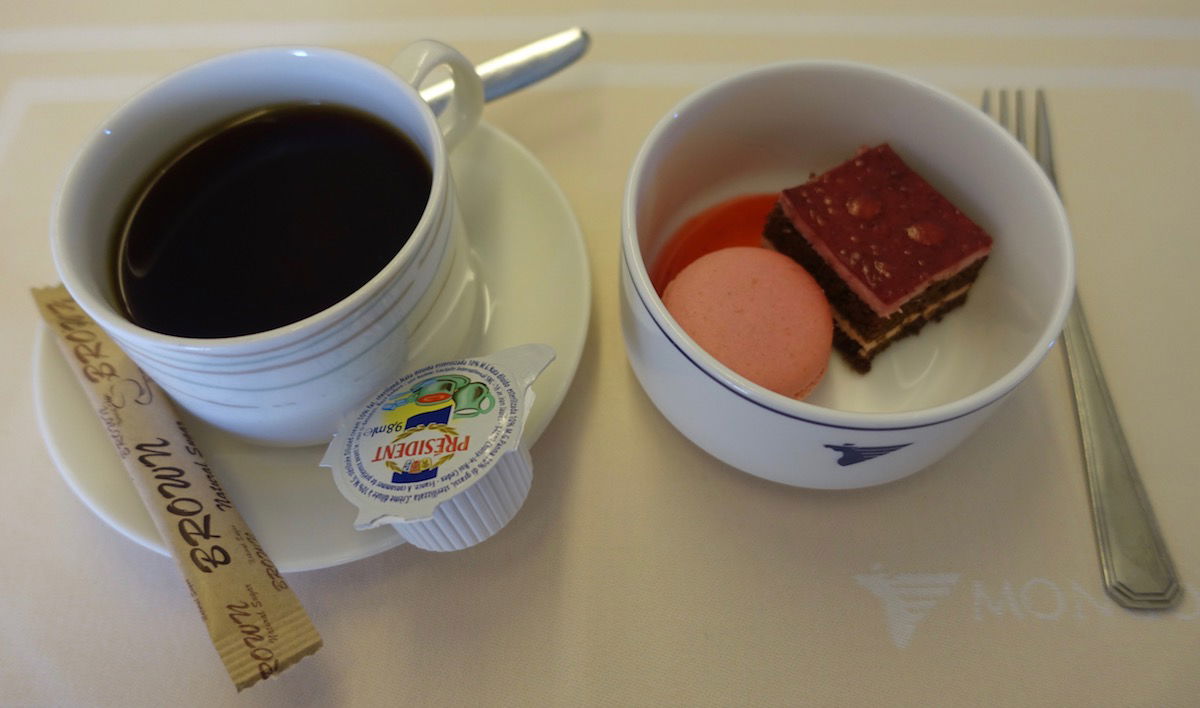 As much as I enjoyed food in Mongolia, I wasn't terribly impressed by the meal service on MIAT. The food was fine, but nothing special, and I found the format of the service to be strange.
In terms of amenities, there was an amenity kit with a couple of Acca Kappa amenities, as well as slippers.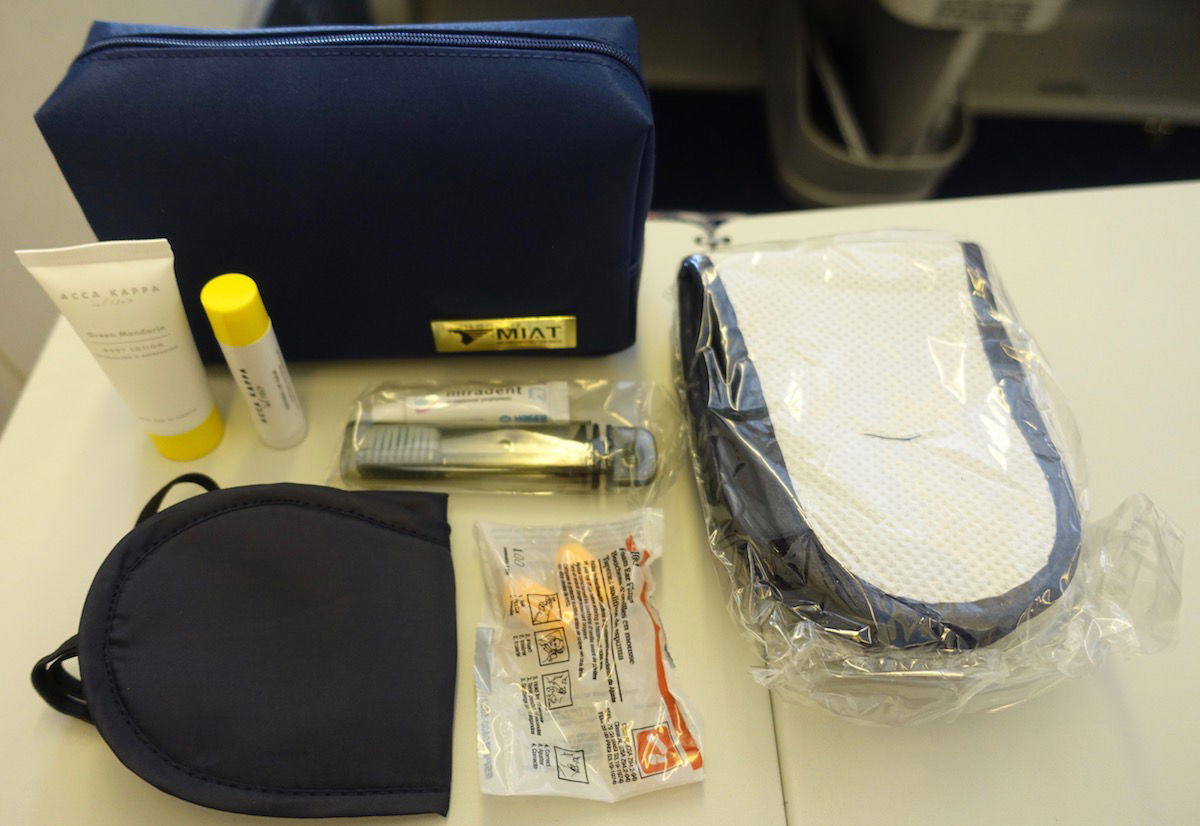 There was also a small pillow and blanket. I'm disappointed when airlines skimp on bedding in premium cabins, but then again, it's not like I was going to sleep much on this flight anyway.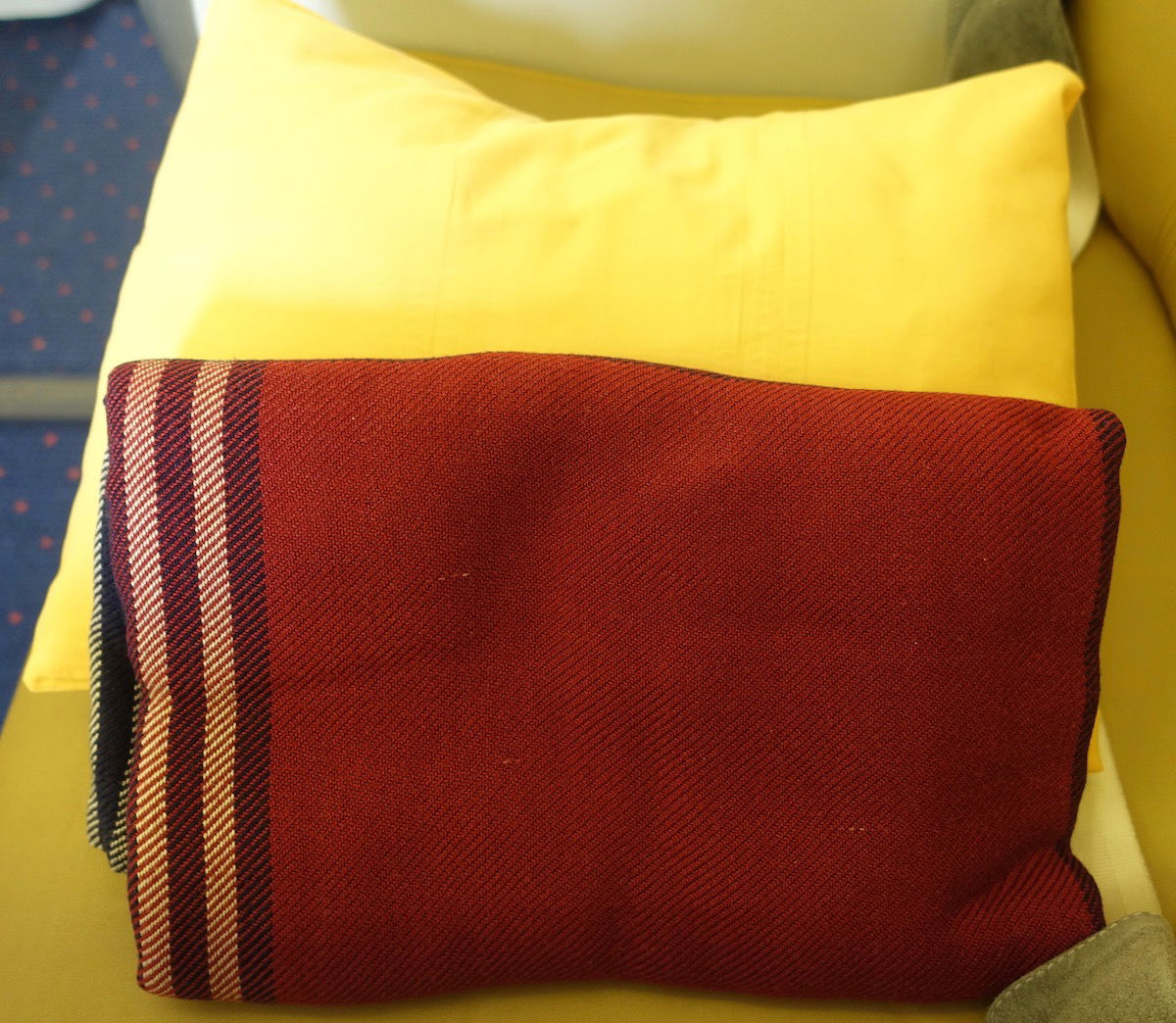 There was audio & video on demand, though the selection was quite limited. There were about a dozen movies and TV shows.
I'll have a full trip report soon, though I guess overall I walk away from MIAT with a mixed impression. There's something cool and quirky about the airline, and the flight attendants were friendly (though not terribly attentive). However, I didn't love the food, and the angled seats aren't great for sleeping.
Then again, there's not all that much competition on flights to/from Ulaanbaatar, so I guess they can get away with just about anything.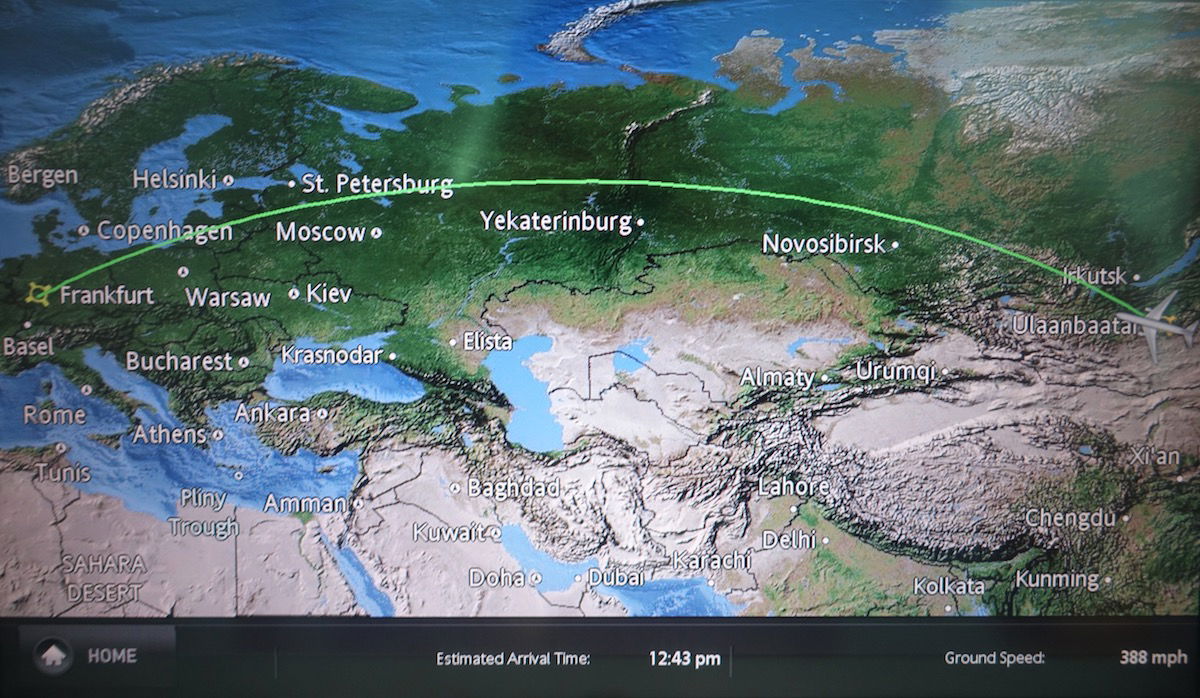 This was certainly much nicer than the 767s operated by Meridiana and Ukraine, though…