It's Marriott & Starwood integration day, and while you can't yet log into your account, Marriott has already uploaded their member benefits page and terms & conditions. The terms & conditions were leaked a while back, and raised some concerns, as some of the details differed from what we were expecting.
It's interesting to see how elite benefits are described, now that the new site is up. Previously we just saw the terms & conditions, while now we're even seeing how the benefit is being described.
Not all suite upgrade benefits are created equal
One of the things that made Starwood Preferred Guest unique was that they offered Platinum members suite upgrades subject to availability. For a long time they were the only program offering that as a guaranteed benefit.
There's an important distinction to be made between how Starwood and Marriott promised suite upgrades for Platinum members:
Starwood offered top tier elite members upgrades to the best available room subject to availability, including suites
Marriott offered top tier elite members upgrades subject to availability, and that room upgrade "may" include a standard suite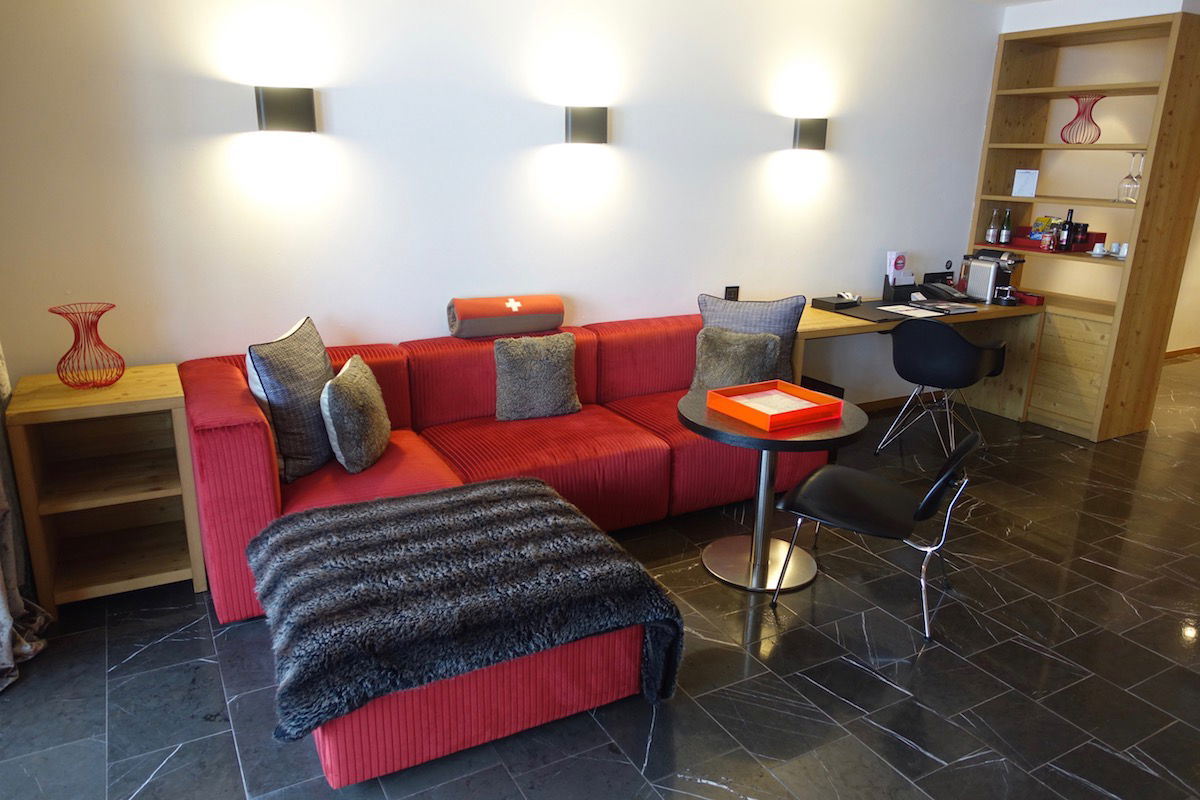 I've received a lot of great suite upgrades as an SPG Platinum, like at the W Verbier
There's an important distinction there. One program guarantees a suite upgrade if it's available. The other program only promises an upgrade subject to availability, and that may include a suite. That's a big difference, because with the latter terms a hotel could deny a suite upgrade because they feel like it, as long as they provide some sort of an upgrade.
When Marriott's new program was first announced we were told that the intent was for the new suite upgrade policy to mirror Starwood's, but it appears that's not actually the case.
How does the new Marriott Platinum suite upgrade benefit work?
Here's how Marriott describes Platinum suite upgrades under the new program on their member benefits page:
We'll do our best to upgrade your room (including Select Suites), based on availability at check-in. Upgrades are subject to availability identified by each hotel and limited to your personal guest room. See terms and conditions for details.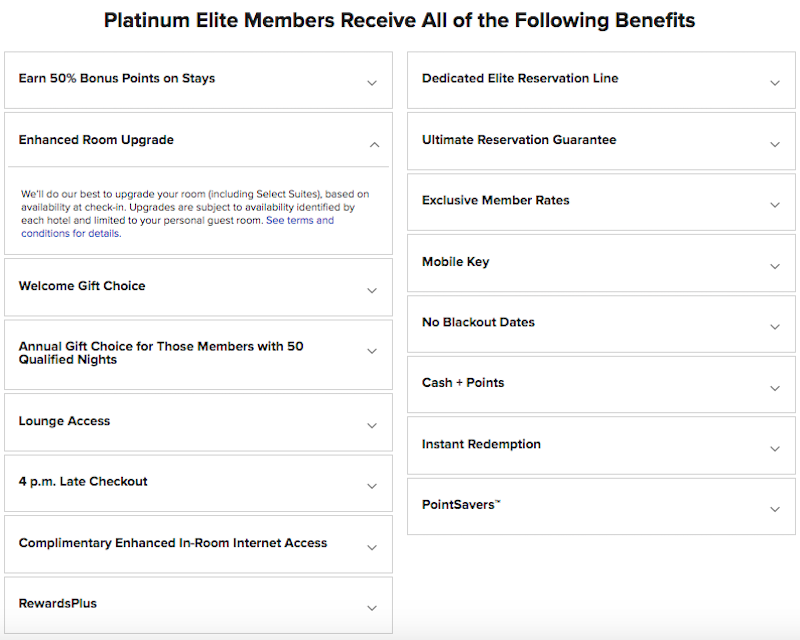 Then here's what is stated in Marriott's new terms & conditions:
Complimentary Enhanced Room Upgrade for Platinum Elite Members. Based on room availability at check-in and limited to a Member's personal guest room at no additional charge. Enhanced rooms may include rooms with desirable views, rooms on high floors, corner rooms, rooms with special amenities, rooms on Executive Floors, or suites. At The Ritz-Carlton, suites are only included for Platinum Premier Members and rooms with direct Club access are excluded. Enhanced Room Upgrades are subject to availability and are identified by each Participating Property. The Complimentary Enhanced Room Upgrade for Platinum Elite Members is available at all Participating Brands except at Marriott Vacation Club, Marriott Grand Residence Club, Aloft, Element and participating Vistana properties.
That's not what we expected
Marriott will continue to only offer Platinum members suite upgrades at the discretion of hotels, and that sure is disappointing, since it directly contradicts what we've been told.
Marriott is maintaining the status quo when it comes to suite upgrades, rather than adopting Starwood's system.
One of the reasons that Marriott's new program was better than I was expecting was because they were maintaining some legacy SPG perks, like suite upgrades subject to availability.
Now, to be clear, I don't expect that individual hotels will suddenly change their policies overnight. Some hotels are generous because they want to be, and not because they contractually have to be. So I would expect that some hotels will continue to offer proactive suite upgrades.
Similarly, I'm sure some Marriott hotels will offer suite upgrades. I've actually gotten a fair number of suite upgrades as a Marriott Platinum member, and in a couple of cases they've even been upgrades to specialty suites, so they've gone above and beyond.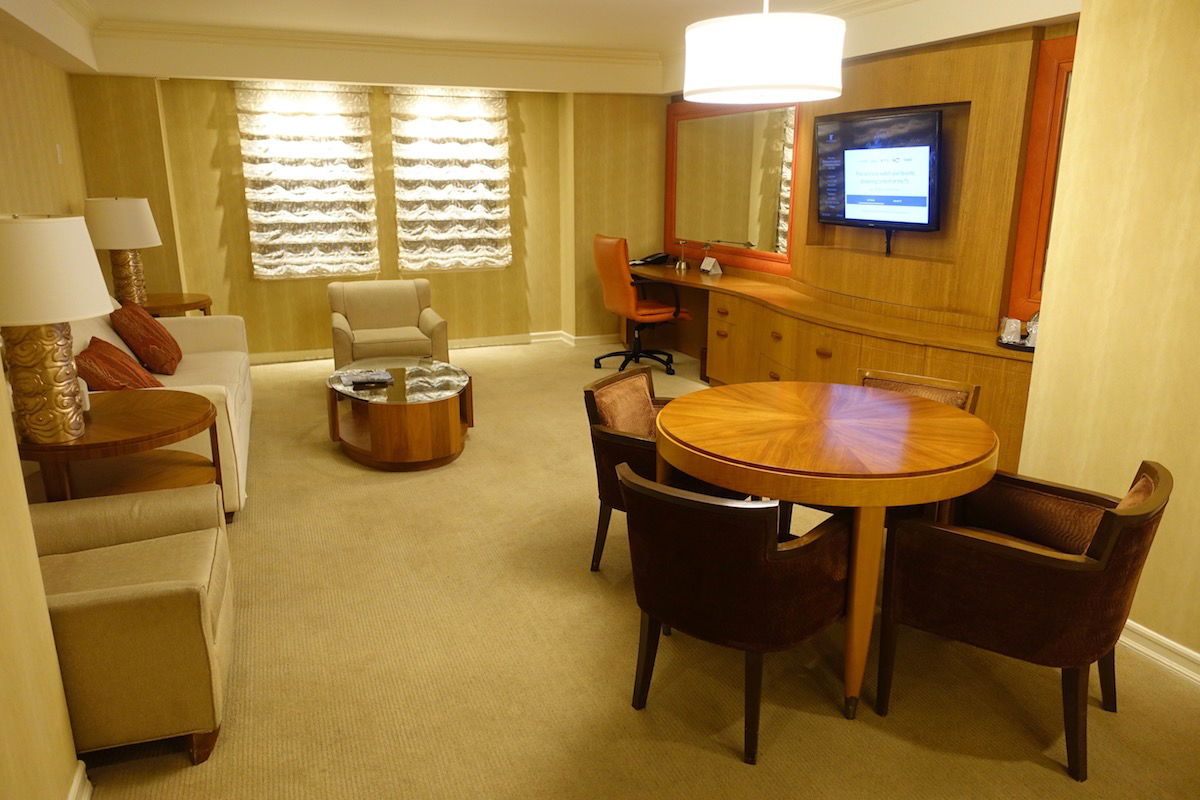 I received a huge suite at the JW Marriott Essex House New York
In practice I'm not sure how much these terms will impact upgrades (hotels were probably going to do whatever the heck they wanted to do anyway, since Marriott isn't great about enforcing policies), though on paper I'm disappointed by this.
I've reached out to Marriott for comment, and will provide an update once I have more info regarding their explanation.