Oh Marriott, Marriott, Marriott…
The integration of Marriott Rewards and Starwood Preferred Guest hasn't gone as smoothly as many of us had hoped. Marriott took over Starwood about two years ago, and I appreciated their "slow and steady" approach to integrating programs.
But then suddenly they announced with surprisingly little notice that the programs would be integrating in August, which seems like an odd time of year to do that. You'd think they'd integrate programs at the beginning of the year, and not mid-year.
A bit over a week ago I was finally able to combine my Marriott and Starwood loyalty accounts (after previously not being able to do so), and I shared that I was actually within range for earning lifetime Platinum Premier Elite by the end of the year (which can't be earned in the future).
Marriott never publicly disclosed how lifetime status would be combined. Marriott always counted credit card nights towards lifetime status, while Starwood historically didn't, and my guess is that they were including credit card nights from both programs, which isn't unreasonable. Actually, I think it's only fair that if they count Marriott credit card nights then they should count Starwood credit card nights as well.
Furthermore, a Marriott spokesperson confirmed that lifetime status that shows in accounts should be accurate, and Marriott's official website for sharing information regarding the integration confirmed that as well:
When will my Lifetime status be reflected in my account?
Lifetime status should now be reflected correctly in your account. The only exception is for members who achieve Lifetime status by legacy requirements between August 18 and December 31, 2018. As previously stated, these members will receive notice of their updated Lifetime status in January 2019. For more information on this and other Elite Tiers & Benefits topics, please visit: http://members.marriott.com/faq/
Well, overnight it would appear that Marriott has adjusted down the lifetime nights for many members. Here were my account statistics as of yesterday: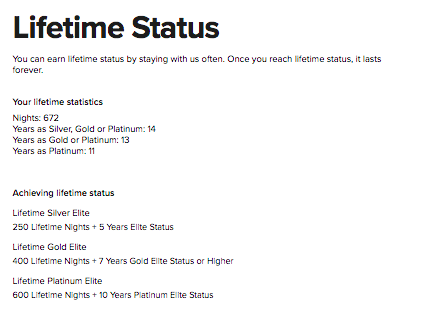 And here are my account statistics as of today:
So they took off 65 elite nights. I'm not sure why, exactly. I imagine these represent some of the SPG Amex nights.
I think this really gets at my frustration in so many ways with how this integration has been handled. We're not a couple of days into the integration, but rather we're nearly three weeks into it.
Marriott never officially published how lifetime status would be calculated, so it's not like I could even do my own math, and know what's right or wrong.
They did publish that lifetime status should correctly be published in accounts, so that's all I could go off of. Except then more than a week later they just quietly remove 65 lifetime nights. I should probably also mention that I checked in a few days ago for a two week mattress run in hopes of earning lifetime Platinum Premier, based on the information officially published by Marriott.
Not cool, Marriott. Both for retroactively taking away lifetime nights when you claimed they were correct, and also for (seemingly) counting Marriott credit card nights towards lifetime status, but not Starwood credit card nights (especially when you consider that SPG members couldn't earn as many elite nights through credit cards as Marriott Rewards members could).
I do wonder if this was their plan all along, or if they now feel that they have too many lifetime elite members, and they were looking for ways to decrease those numbers.
Were your Marriott lifetime nights adjust overnight, and does it impact you? What do you make of how Marriott is handling this?