Ouch! This change is rough both in terms of the actual changes published so far, and also in terms of the implications of a loyalty program becoming revenue based on the redemption side.
You'd think Malaysia Airlines would still be earning back the trust of their frequent flyers given the events of the past few years and struggles they've had, but that's not stopping them from seriously devaluing their Enrich frequent flyer program. In February 2015 Malaysia Airlines Enrich had a pretty significant devaluation for travel on their own flights, though ironically not for travel on partner airlines.
Well, now Malaysia Airlines is back with a massive devaluation, which impacts both travel on Malaysia Airlines and their oneworld partner airlines.
The changes to the Malaysia Airlines Enrich program are kicking in for bookings as of June 10, 2017, the same date that Malaysia Airlines is switching to a new reservations system (which presumably makes this "enhancement" possible). You can find the full press release about these changes here.
You have a couple of weeks left to make reservations under the current program. Oddly it looks like tickets booked before June 10 won't be cancelable after that date. Per the FAQs:
If I have redeemed an Award Travel before 10 June 2017, can I cancel and refund my ticket?

You will not be entitled to a refund but you are entitled to make changes to your travel dates within ticket validity. The award redemption terms and conditions will apply.

Malaysia Airlines 737
Change to award redemptions on Malaysia Airlines
We actually don't yet know exactly how redemptions rates on Malaysia Airlines will change. As far as outright award tickets go, we know that redemptions will be revenue based rather than fixed cost. Per the FAQs:
With the change to the new Reservations System, will my redemption on Malaysia Airlines be affected?

Yes. Flight redemption on Malaysia Airlines operated flights will no longer be based on fixed Award Miles. You will now enjoy the flexibility of selecting your Award Ticket, as the miles required for redemption will be tied to fares and vary according to seat availability, passenger demand and seasonality.
It's a shame that they're not sharing upfront how the program works, or giving any examples of new redemption rates. I imagine that this devaluation will be terrible for premium cabin redemptions.
Furthermore, carrier imposed surcharges will be included in the number of miles required for a ticket, so presumably tickets will require even more mileage than you'd otherwise expect, since those can't be paid in cash (and I suspect the value per mile won't be great).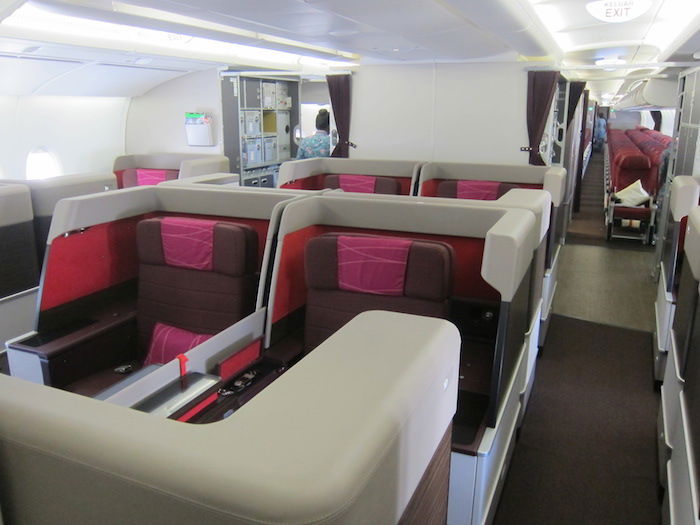 Malaysia Airlines A380 first class
Change to upgrades on Malaysia Airlines
Here's the new Malaysia Airlines upgrade chart:

Meanwhile here's the old Malaysia Airlines upgrade chart:


Not only will "S" and "N" (deeply discounted economy tickets) no longer be upgradable, but the number of miles needed to upgrade is going up significantly for non-full fare tickets. For example, an economy to business class upgrade from Kuala Lumpur to London previously cost 50,000 miles, while now it costs 50,000-70,000 miles, plus there are excluded fare classes.
Change to awards on oneworld carriers
And this is the worst of all (well, at least based on what has been published so far). Oddly during Malaysia Airlines' last devaluation, they didn't adjust oneworld redemption rates. This time around they're devaluing these awards horribly.
Here's their new oneworld redemption chart: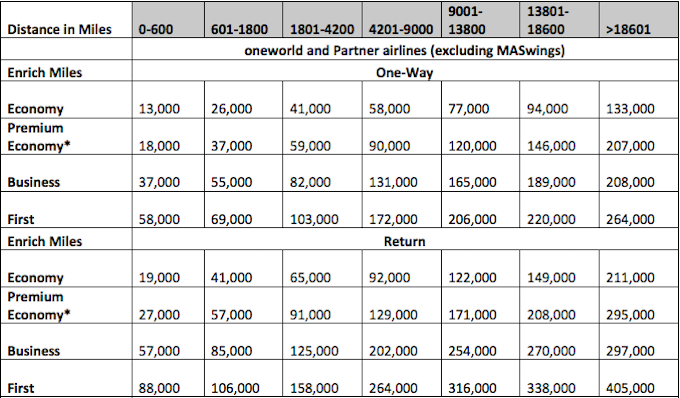 Here's their old oneworld redemption chart:
As you can see, they're changing up the zones here significantly, which makes it a bit tough to directly compare the price changes in some areas. However, the changes are pretty horrible across the board. To give a few examples:
A roundtrip Cathay Pacific first class ticket from New York to Hong Kong is increasing in cost from 204,000 miles to 338,000 miles
A roundtrip British Airways business class ticket from Los Angeles to London is increasing in cost from 132,000 miles to 202,000 miles
A roundtrip Japan Airlines premium economy class ticket from London to Tokyo is increasing in cost from 94,000 miles to 129,000 miles
Those are just a few examples, but almost across the board these changes are brutal.

Cathay Pacific 777 first class
Bottom line
Malaysia Airlines is making radical changes to their Enrich program, which impact upgrades, award tickets on Malaysia Airlines, and even award tickets on partner airlines. These changes are terrible, and that's without even taking into account the award cost changes that are being made to Malaysia Airlines flights, since the exact details of these haven't been published.
These changes are quite puzzling to me. Given the events of the past few years, and also given that Malaysia Airlines is trying to establish themselves as a good carrier to connect you between various points in Australia and Asia (and sometimes even Europe), you'd think they'd want a compelling program as a competitive advantage.
Instead they've gutted their program to the point that they have one of the worst partner award charts I've ever seen. And we don't even know the full details of their new redemption rates on their own flights…
(Tip of the hat to @IadisGr8)