Hello from Tokyo! I'm nearing the end of my review trip. I flew from San Francisco to Melbourne in Qantas' 787 business class, from Melbourne to Singapore in Singapore's 777 first class, and then from Singapore to Kuala Lumpur in Singapore's A350 business class.
From there I connected from Kuala Lumpur to Tokyo Narita on Malaysia Airlines' A350. I've been meaning to review their A350 first class since it was introduced late last year.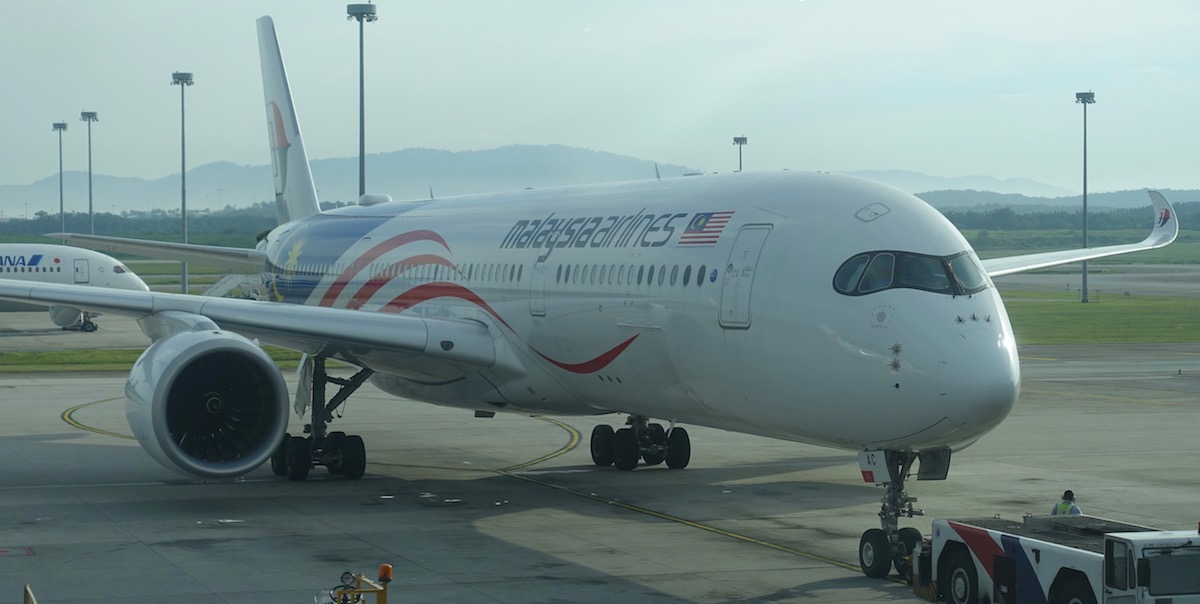 The timing worked out especially well, because I ended up flying with them just days after they rebranded their first class as "Business Suite."
So, what was the experience like on this six hour flight, which I booked using 40,000 American AAdvantage miles?
Malaysia Airlines A350 Business Suite cabin
Malaysia's A350 Business Suite cabin consists of just a single row of four seats, in a 1-2-1 configuration. The cabin feels rather cozy, and perhaps almost a bit claustrophobic,  particular since it has overhead bins along the side of the cabin (which some airlines don't have in first class to make it feel more spacious).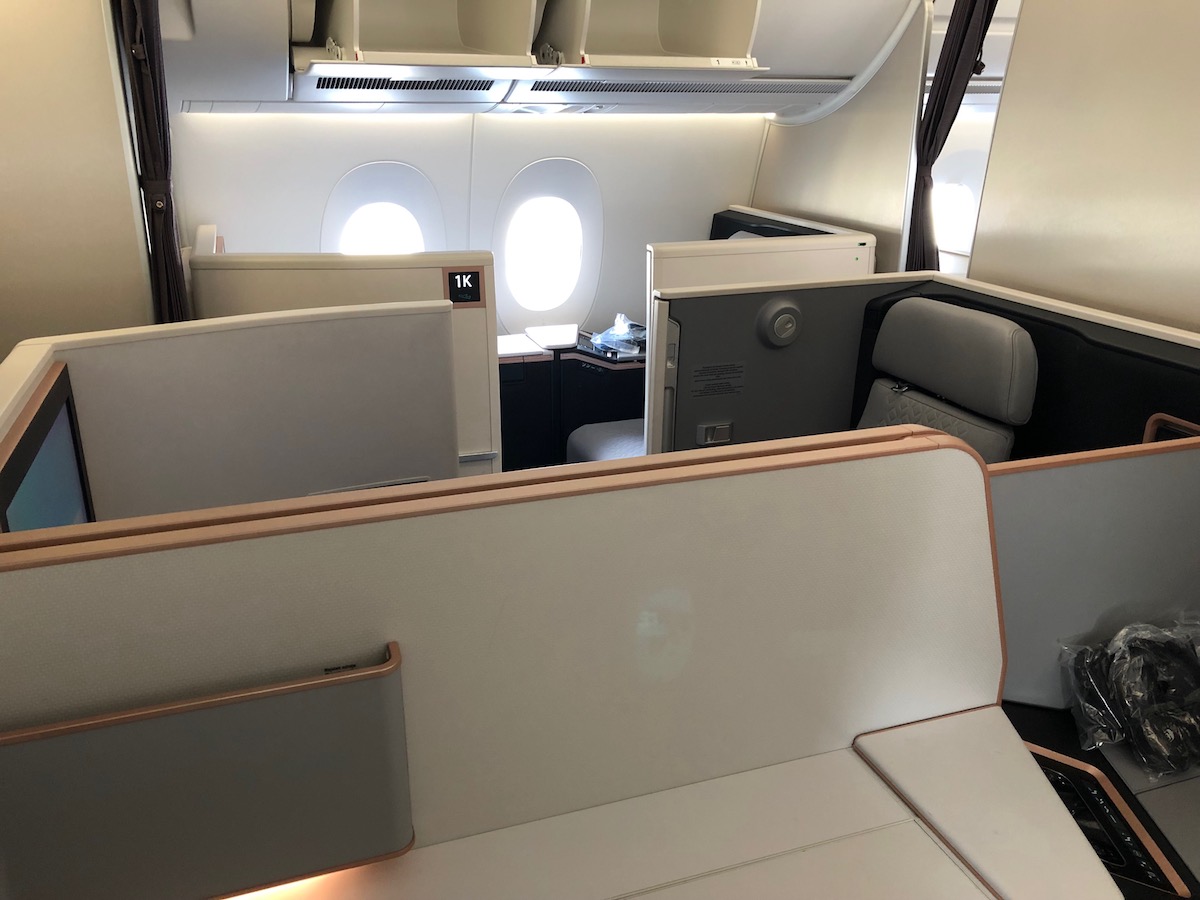 Malaysia Airlines A350 Business Suite seats
Malaysia Airlines' A350 Business Suites feature doors at every seat.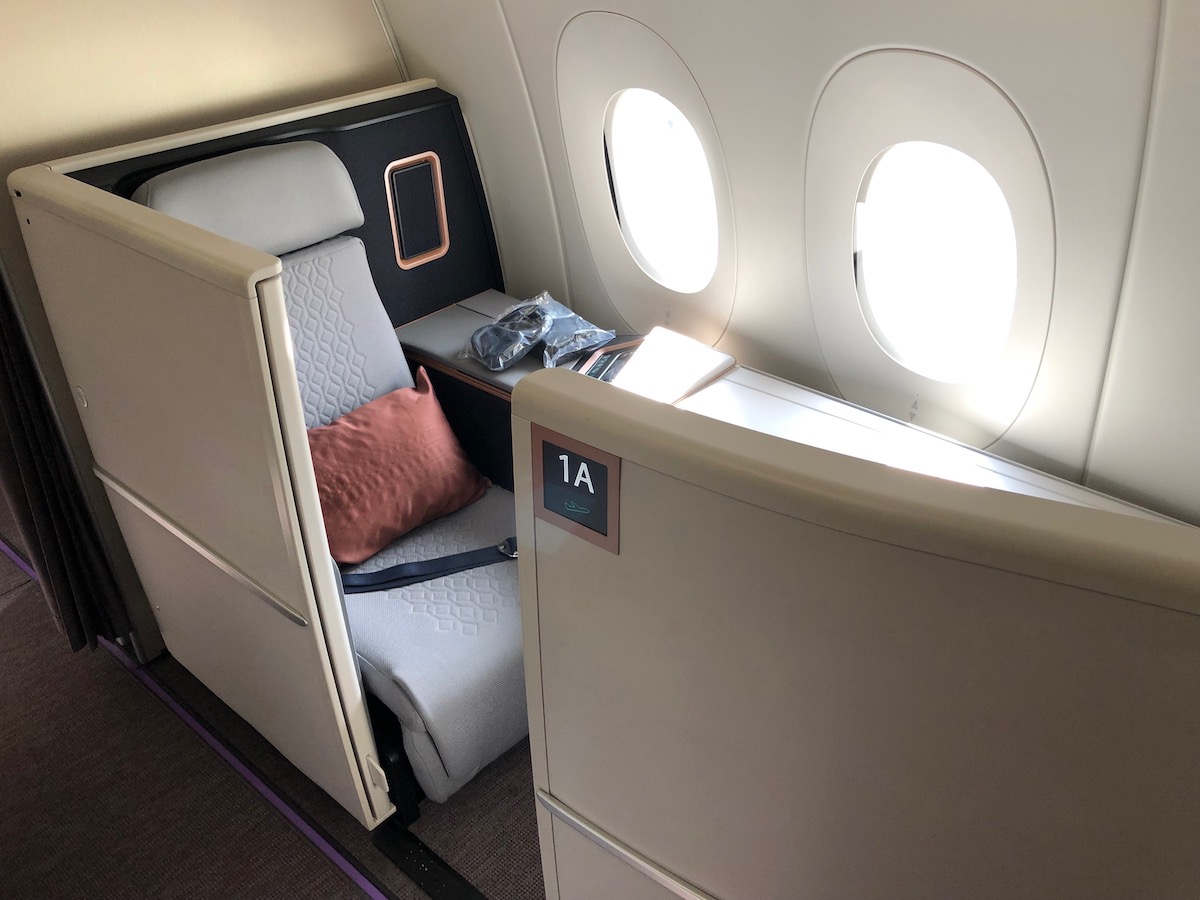 This seat is based on the Vantage XL seat, which is also what Delta has on their A350s, so the doors are designed in the same way.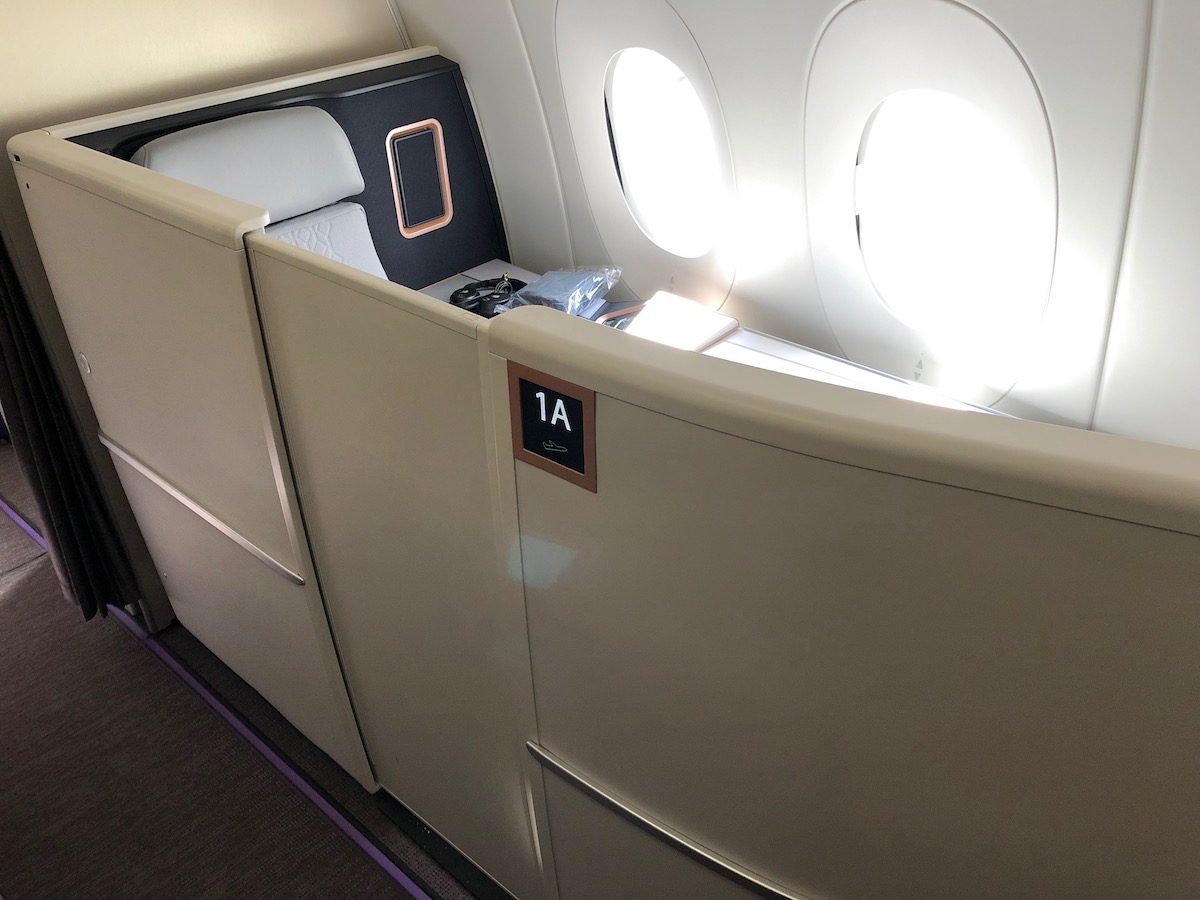 But in a way these seats are intended to be more of a hybrid between first and business class. In light of that, the seats were more comfortable than I was expecting.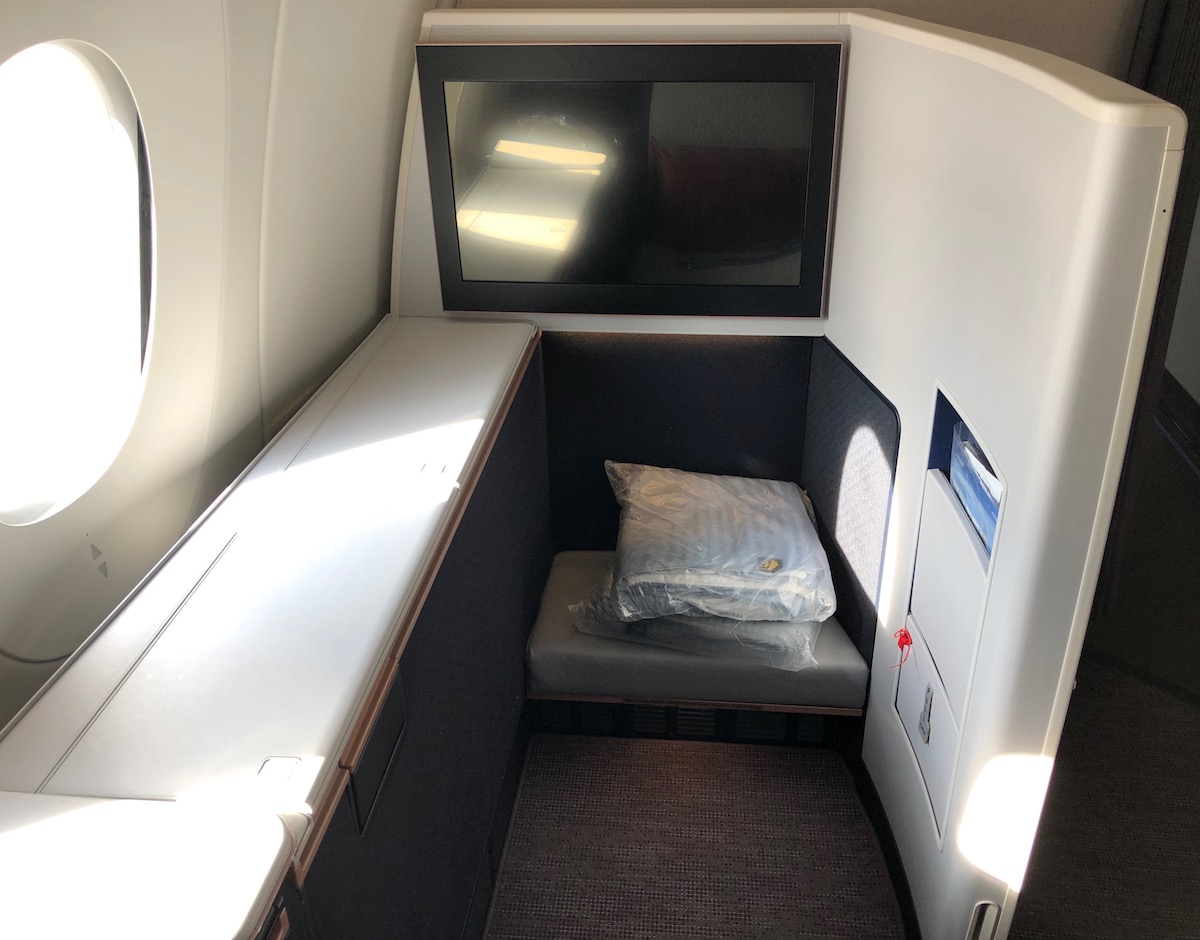 The seat had tons of storage (there was a compartment near the seat, and then a huge compartment by the ottoman), the seat felt nice and private, there were air nozzles, and the entertainment screen was big.
I did find the seat to be extremely narrow, though. It wasn't problematic, but for example when I tried to sleep and tossed and turned, I found myself hitting the side of the suite.
So it's not a cutting edge first class seat, but it's better than I was expecting it to be.
Malaysia Airlines Business Suite food
The Malaysia Airlines soft product really pleasantly surprised me. Lunch was served after takeoff, and was excellent.
It stared with delicious beef and chicken satay.
That was followed by a beautiful caviar presentation.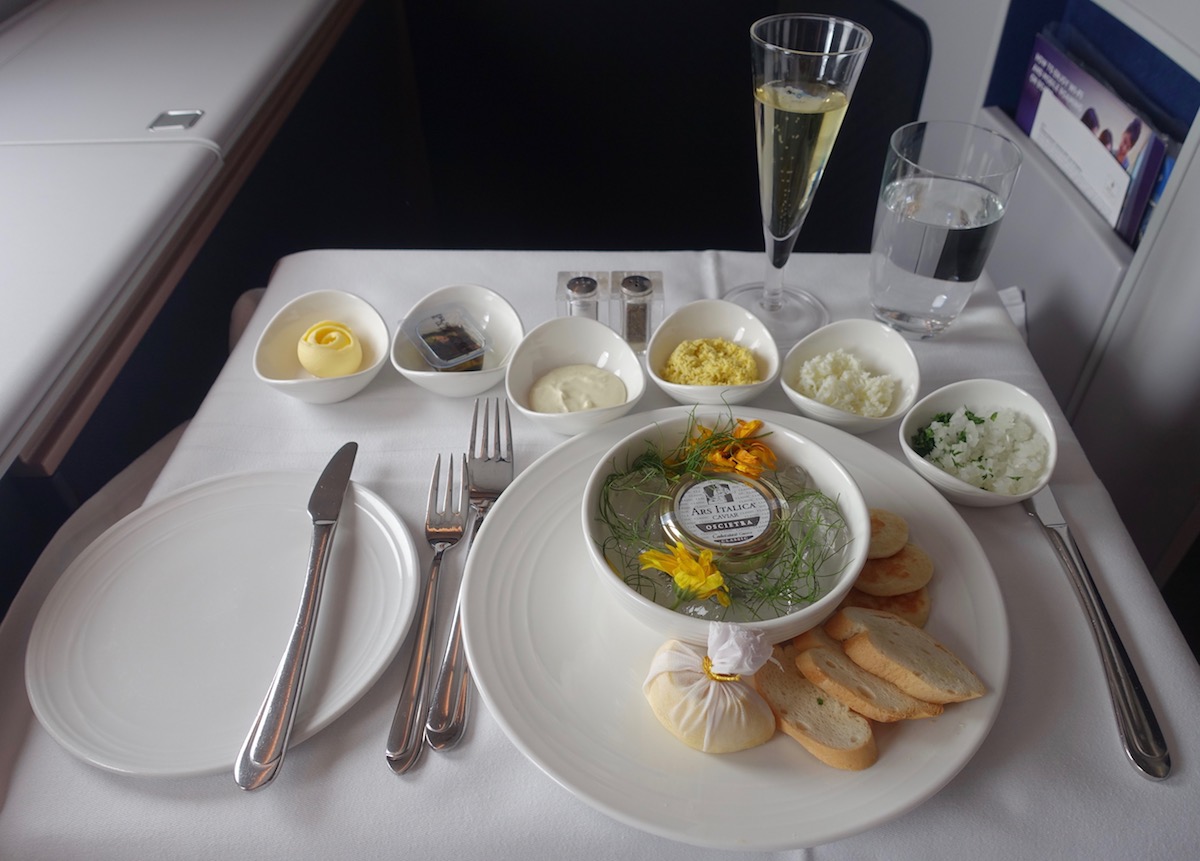 As far as I'm concerned they could have stopped there, because satay and caviar is just about my ideal meal.
For the main course I had kung pao tofu, which was also fairly good.
Then for dessert I had a strawberry chocolate mousse.
There was then a light refreshment before landing.
Overall the food was excellent.
Malaysia Airlines Business Suite amenities
The amenities were extremely impressive, especially considering this was a six hour daytime flight.
There was a really cool amenity kit, which had a large bottle of cologne as well as a cute Malaysia Airlines keychain.
Then there were comfortable pajamas, slippers, socks, and more.
In terms of bedding, there were two pillows, a comfortable duvet, and a mattress sheet. Overall I thought the amenities were really solid.
Malaysia Airlines Business Suite service
Let me start by saying that I find Malaysia Airlines has really inconsistent service. So while Singapore Airlines offers incredible consistency, Malaysia Airlines service can vary from US-airline-levels-of-bad to Singapore-Airlines-levels-of-good.
My crew definitely fell in the latter category. I had inflight supervisor Helena and flight attendant Azhar taking care of me, and they were spectacular. They provided true service from the heart, and genuinely seemed to enjoy their jobs. Two flight attendants taking care of four passengers is also a really good ratio.
Malaysia Airlines Business Suite entertainment & wifi
Malaysia's entertainment system on the A350 is excellent. The selection is extensive, with well over 100 movies and TV shows.
Malaysia Airlines also has wifi on the A350, though they charge based on data usage. The service is provided by Panasonic so it's fairly fast. The pricing was on the high side, but not unreasonable, at $25 for 200MB.
Malaysia A350 Business Suite bottom line
Malaysia's A350 Business Suite exceeded my expectations. I was expecting the food to be good, and it didn't disappoint.
The seat was also a bit more comfortable than I was expecting, and I really love how intimate the first class cabin is.
What pleasantly surprised me was the warm and attentive service, as well as all the amenities on offer.
Aside from the seat, I'd say this is actually a globally competitive first class product, and not just a glorified business class.