Google is a beautiful thing. Heck, people finding my blog on Google is a large part of how I make a living.
People mostly find the blog for airline/hotel related stuff, though there are some other odd topics on which I get a surprising amount of traffic/questions. For example, at least once a week I get an email with a dozen questions from someone looking to move from Tampa to Seattle, since I did that a few years ago. I'm always happy to try and help, though it's sort of funny how often people contact me about that.
But the post which possibly deserves the award for getting the most interesting comments, is the one from a few years back, entitled "How to get a flight attendant's contact information after the fact?"
As long time readers will know, I had an amazing flight from Singapore to Tokyo Narita in Singapore Airlines first class a few years ago, and wanted to get in touch with the flight attendant. Not because I wanted to marry her (she's lovely, but I don't lean that way), but just because she seemed awesome.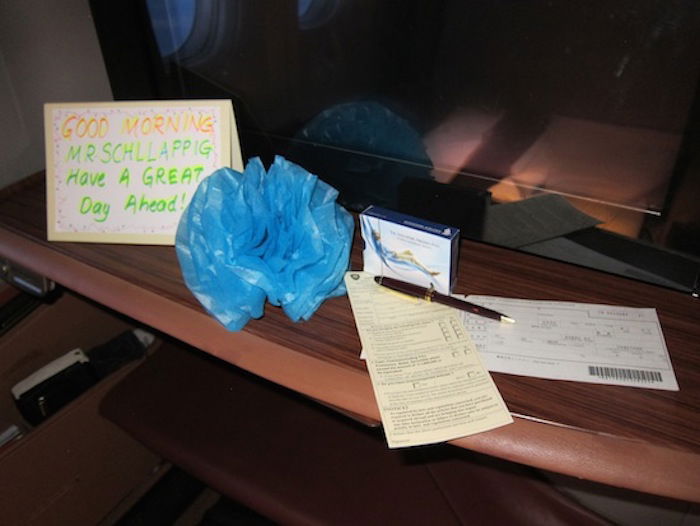 In retrospect I realize it may have come across as creepy, though that certainly wasn't the intent. And I've met said flight attendant several times since, so I guess you could call it a success story.
However, I guess that post has now turned into the place to go when you see a beautiful flight attendant and want to spend the rest of your life with them.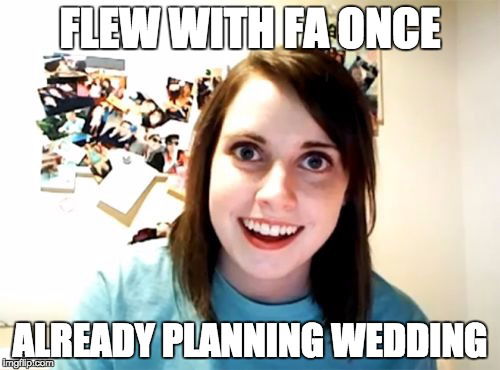 Recent comments include this one, by someone who flew Lufthansa:
I have just had a flight from Frankfurt to Chicago (Lufthansa United LH430) where I met a very lovely and kind flight attendant. I wanted to ask her for her name but I'm shy and I let her slip away. We took turns gazing at each other while we landed and she look like she was blushing. I felt so lost in her movements and beauty, I wanted to wrap her in my arms and asked if she's married instead we smiled at each other and said good day, I'm such a coward. I wish I could talk to her she is German and I'm a country boy I'm almost sure she wouldn't want me. I'm sure that I can't afford to fly business again to see her because I would ride that 10hr flight everyday just to see her if I could. I leave with her beauty forever in my mind and heart. I've looked and they won't tell you who was on the flights no more.
And this one, from someone who flew Aeroflot and has (supposedly) booked eight tickets on them since, just hoping to meet the same flight attendant:
hey guys
seems like you all trying to work out for those beautiful air attendants. same here with me.
I met a male flight attendant on plane in 01 ,April. 2015
and he just stuck in my mind until now..
I've searched from google,facebook or instagram or even some dating website..
but still not work.. I'm so depress
ofcoz i send a email to Aeroflot Airline to Praise him and ask for his contact number
unfortunately they told me the info is privacy and they can only share the email to him.
I am trying all the possible way to find him
I bought 8 flight tickets of his airline for traveling
just hoping can meet him again and get his number by myself
i'm so regret that i didn't be brave to ask it at the first time we met. i only talking some weather ,age, job etc with him : (((((
please help me or tell me what to do
And this one by someone who flew Singapore Airlines, where marriage was apparently already discussed:
Dear All, I will DIE if this continous, I am really crying because the same was happened to my life on may 20th 2015 from Melbourne to Singapore thru Singapore airlines. She throwed a pinch of paper on me, she hurried and took the paper and touched me and smiled. I taught this will happen normally for everybody, she roams with the serving trolley near me only. I have inspired and feared and finally I have asked her name, she showed the batch on her chest. After that all the crews were watched me and smiled. One of her crew and she come to my seat and discussed both themselves as "Hey you marry him, she said he is a vegetarian, No problem you change yourself, Or change himself". I got feared and silently watched, but my mind says to marry her. Finally the flight landed in singapore., I searched her where she is? But she stand behind my cabin, in front she's friend is standing. My heart beated too much and both of them watching me what I can? But I go back and shaked her hands, but she tightly holded my hand on her eyes and she cried little and In my eyes also tears came out. Because both the places were not my hometown that's the major reason I have not shared my mobile number, and finally I say OK OK don't cry and i leave her and walk, she's friend in front of the cabin she asked her "what he says" "what he says" I was hear the lines while I am leaving the flight. But now I am totally fed up, daily I not able to sleep, eat, because her face is laughing all the time in front of me. If this situation continuous definetly I will die. ANyone please help me to get her contact details in Singapore airlines
I'm not sure if I'm supposed to report that last one somewhere, if they actually think they're going to die?
So the moral of the story is to ask a flight attendant for their contact information during the flight if you're interested and think they are as well… I guess? The few times I've gotten flight attendant numbers it hasn't ended well, so "your mileage may vary," I suppose.