LOT Polish is an airline that has come a long way over the past few years, in particular with their all-787 long haul fleet (which sure represents an improvement over the 767s they used to fly).
While the airline has been expanding nicely out of Warsaw, perhaps most interesting has been their expansion out of Budapest. With Hungary's national airline, MALEV, having gone out of business many years ago, LOT Polish has stepped in to add routes out of Budapest in the past couple of years.
The airline flies year-round from Budapest to New York, they just started a year-round Budapest to Seoul Incheon flight, and they've flown seasonally from Budapest to Chicago.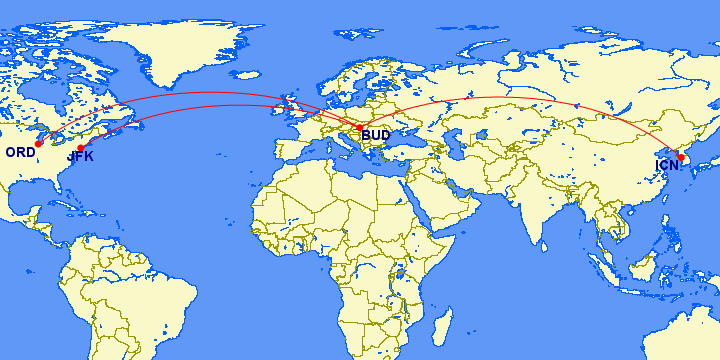 Well, it looks like the airline is adjusting their US network a bit.
LOT Polish Cuts Budapest To Chicago Flight
In May 2018, LOT Polish launched 2x weekly flights between Budapest and Chicago. The flight was initially year-round, but quickly shifted to being seasonal, as they found demand to be highly seasonal.
The airline did successfully operate the route through this past summer, but has now decided not to bring back this route in the summer of 2020.
Interestingly this comes at the same time that American is launching a seasonal Chicago to Budapest flight, as American will fly 4x weekly between Chicago and Budapest with a 787-8 in the summer of 2020.
I'm guessing the route was marginal to begin with, and that was the nail in the coffin for them.
LOT Polish Boosting Budapest To New York Flight
With the reduction to Chicago flying, LOT Polish plans to operate 7x weekly flights between Budapest and New York as of April 30, 2020. That's quite a bold move.
The flight won't operate one day per week in each direction, but then on another day there will be 2x daily flights. This is due to how they "swap" planes in New York with the Poland flights:
There is no westbound flight on Sundays and no eastbound flight on Wednesdays
There are two westbound flights on Saturdays and two eastbound flights on Thursdays
Since the flight operates out of New York JFK, they have very little connecting traffic there. LOT Polish is in the Star Alliance, and United only flies to Newark.
So it seems like the route will be entirely dependent on O&D traffic, both between New York and Budapest, as well as between New York and the few destinations LOT flies to beyond Budapest.
Bottom Line
LOT Polish's Budapest strategy is an interesting one, and overall it seems to be working out well for them. I guess it's not surprising to see their decision to drop their Chicago route and instead increase New York service.
I'm guessing this was largely motivated by American's decision to add seasonal Chicago to Budapest flights next summer.
I'm still skeptical about the viability of 7x weekly New York to Budapest flights, though.
What do you make of LOT's Budapest route shift?