A couple of days ago I wrote about the news that LOT Polish was planning on launching new transatlantic flights out of Budapest. Hungary has been without a national airline since 2012, and they've been desperate for some year-round transatlantic service.
Budapest is a hot tourist destination, and until recently they didn't have any transatlantic links (now Air Canada Rouge offers limited seasonal service between Toronto and Budapest).
Well, it looks like Budapest isn't just getting one year-round transatlantic flight, but two. It has just been announced that LOT Polish will base a Boeing 787-8 out of Budapest as of May 2018, which will operate 4x weekly flights to New York and 2x weekly flights to Chicago.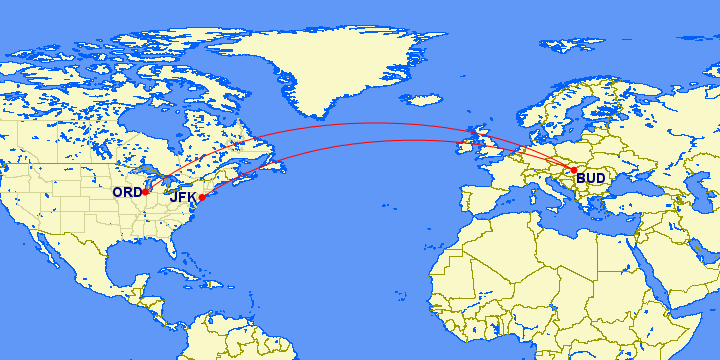 The schedule for these new flights will be as follows:
Budapest to New York departing 11:55AM arriving 3:40PM [Mon, Thu, Fri, Sun]
New York to Budapest departing 6:15PM arriving 8:50AM (+1 day)[Mon, Thu, Fri, Sun]
Budapest to Chicago departing 11:35AM arriving 2:50PM [Tue, Sat]
Chicago to Budapest departing 4:35PM arriving 8:55AM (+1 day) [Tue, Sat]
The flights are already bookable directly on LOT's website.

The Budapest Business Journal reports that the airline will employ Hungarian crews, so I imagine the hiring for that will start soon. The airline is adding this route without taking away any existing routes, which is possible since they still have a few 787s on order.
As I explained a couple of days, I suspect LOT Polish is getting significant subsidies on this route, or else they likely wouldn't operate it. While Budapest is a popular tourist destination, it's not an especially high yield market.
The one other thing I find strange is that they're operating the flight to New York JFK, rather than to Newark. That means this flight will have virtually no connecting traffic on either end — meanwhile if they had flown to Newark, they'd at least have some connecting traffic from their partner, United.
Congrats to Hungary on restored year-round transatlantic service, and I hope to take this flight at some point!
(Tip of the hat to PeterCS)