Living in Seattle(ish), Day three(ish): 10 things I've learned
Living in Seattle(ish), Day eight(ish): regret in a screenshot
Living in Seattle(ish), Day 18(ish): Time for the mortuary, and I'm a bad driver
Living in Seattle(ish), Day 193(ish): where do I begin?
Interestingly enough I keep getting requests for more posts in this series, even though it has nothing to do with travel. About nine months ago I moved from Florida to Bellevue, Washington, because I needed a change, and I've been sharing my thoughts ever since. You guys were tremendously helpful with suggestions when I made the move, and again, I can't thank you guys enough.
So with that in mind, here are my random observations about nine months into my life here (and for what it's worth I have a 12 month lease, so it's time to make some decisions soon).
Dear world: I'm not an expert on Bellevue

One of the funniest things that has happened from writing this series is that Google seems to think I'm now an expert on the greater Bellevue area. While I'm always happy to share my experiences living here, and especially thrilled to share them with readers considering a move, I can't help but laugh at the number of emails I've started getting from random people that found this series of posts through Google and seem to think I'm an expert on the area. I've gotten requests for recommendations from stuff ranging from the best schools to the best proctologists. Thanks, I guess, but I really don't know what I'm talking about!
Boba Blues — Drive Thru Boba save me please!
If you follow me on Twitter or read the last installment of this series you may know I'm obsessed with Drive Thru Boba. Rather than rehashing the last blog post I'd suggest going and checking it out.
Fast forward to a day after I wrote that blog post. I'm at Drive Thru Boba and it's finally my turn. I didn't know them prior to that, and I assume to them I was just one of their three weird Caucasian customers. So imagine my surprise when they said "hi Ben, we loved your blog post." I was floored/speechless/embarrassed for a while, given what I wrote.
In the meantime Alex and Karen (the owners) are basically my spiritual boba advisers. They're awesome in every way, and without getting into their personal life too much, as it turns out I have a lot in common with them in regards to our hobby. Besides, when I was in Taipei they gave me recommendations on the best places to get bubble tea, though sadly none of them compared to what they serve.
Late in June I was in Europe and Asia, and even when I'm traveling I check their Facebook page every day to slap myself over not being there when they have a good special. So I'm sure you can imagine my reaction when on July 3 they posted that they're moving locations and that their last day at the current stand was June 30… several days prior!
On July 8 they posted the reasoning for the move, which is an interesting read regardless of whether or not you've ever been there. But nearly a month since they closed they still haven't publicly announced when they'll open again or where their new location will be.
Now, there are other places in the area that sell bubble tea and the like. But once you've had the best it's tough to go back to the rest. So I've just been going through boba withdrawal, and I'm not sure how much longer I can take it before I have to be checked into rehab.
On the plus side there's a Taiwanese restaurant a couple of blocks from my apartment called Facing East, and they have bubble tea and taro smoothies. In terms of quality they're the closest I've experienced to Drive Thru Boba.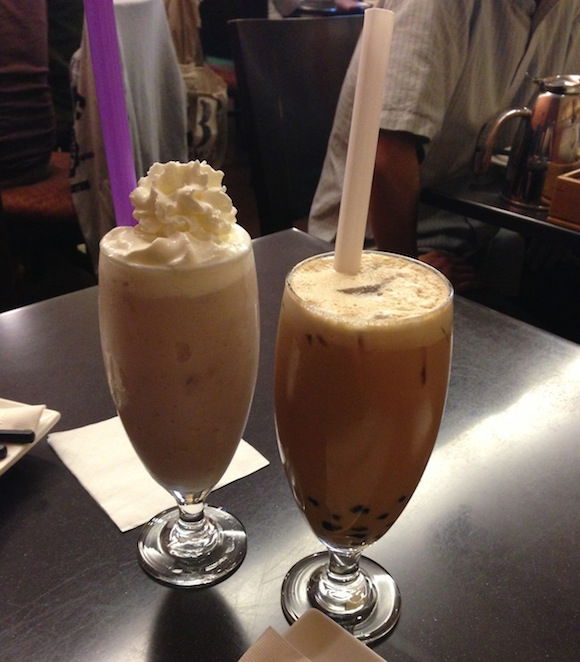 Taro smoothie and bubble tea at Facing East
Drive Thru Boba does catering, and I'm so desperate to the point that I may just have them come to my kitchen and make a month's supply of their goodies so I can survive in the meantime. Or maybe I should just host a blog boba party so I can show you how awesome they are.
But seriously, I've never in my life experienced withdrawal systems the same way I have with Drive Thru Boba.
Lights on but no one's home Lights off but someone's driving
Totally random, but I've noticed this in Seattle/Bellevue and nowhere else I've ever been. What the hell is up with so many people driving at night without their lights on?
HAPPY HOUR!!!
I'm from a suburban part of Tampa (I'm told there are non-suburban parts, though I'm not entirely sold), where an exciting evening of culinary delights would take us to TGI Fridays. And the great thing about TGI Fridays is that it's always happy hour there. If you buy one shot glass worth of two buck chuck for $9, they're so generous that they give you a second glass free. All day every day.
I don't really like to drink, though I do love good deals on food. Quite possibly my favorite new discovery in the area is how good of a value happy hour can be. I know this probably sounds obvious to everyone else, but I'm of the strange opinion that this is an east coast vs. west coast thing. On the east coast most happy hours seem to center around drinks, while on the west coast there are lots of happy hours centered around food, I've found.
For example, Aqua by El Gaucho is one of my favorite restaurants in Seattle, and outrageously expensive. Usually for a decent meal for two you're looking at paying $200+. They have a happy hour menu where you'll get out paying about $50 for two real food and drinks for two — awesome!
And it's even awesomer in summer, given they have a patio overlooking Elliott Bay and Mt Rainier.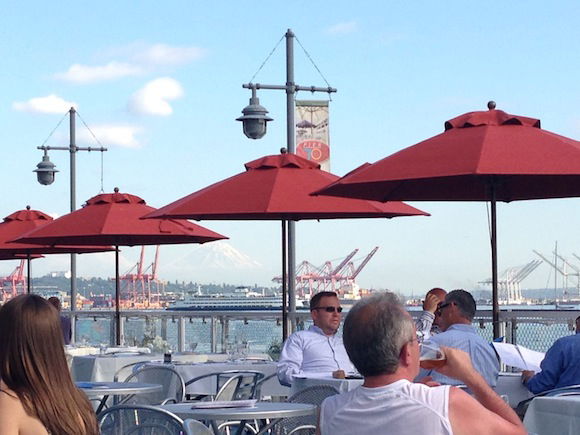 Summers continue to be amazing…
I realize I'm once again stating the utterly obvious here, but the summers in the Pacific Northwest are literally the most gorgeous of anywhere in the world. It's almost always 70 degrees without a cloud in the sky. It's amazing. If I do stay here another year, I've gotta learn next year to do all my travel in the nine months where the weather is borderline miserable, and literally just stay home for the few months of summer.
I'm still trying to decide whether I'll stay here another year or not. I do like the area, there's some life to it that just doesn't exist in Tampa, so I know I'm definitely not going back there. And while Bellevue is expensive compared to Tampa, it's still pretty reasonably priced compared to other major cities I was considering, and the lack of a state income tax in Washington State sure doesn't hurt either.
I hope everyone's having an equally awesome summer, and safe travels!