I consider y'all to be part of my family (well, minus those of you that sent me messages threatening to kill me this weekend, but that's a different story), which is why I looked to you guys for suggestions when I pondered a move last year. I ended up moving to Bellevue, Washington, and in my first few weeks there had a few posts sharing my experiences, which can be found below:
Living in Seattle(ish), Day three(ish): 10 things I've learned
Living in Seattle(ish), Day eight(ish): regret in a screenshot
Living in Seattle(ish), Day 18(ish): Time for the mortuary, and I'm a bad driver
Anyway, I've been asked by several people for a follow up post now that I've been "settled" in the Pacific Northwest for over six months, so here we go…
My ten day forecast is better than your's
The title of the post sharing my day eight impressions was "regret in a screenshot," comparing the weather forecast in Tampa and Seattle. I made a statement — "Florida, I'm sorry I left you! Take me back and I'll never leave you again!" — which I desperately have to apologize for and take back. Tampa, you can take your thunderstorms and temperatures in the 80s and shove 'em up your you-know-what. Look what I got: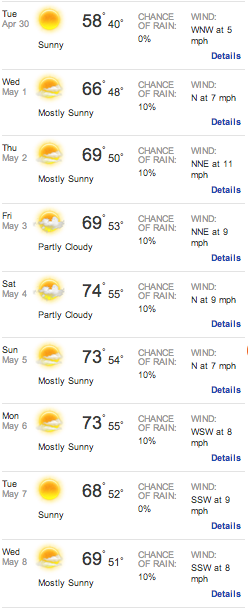 The weather the past week (of which I've been gone five days) has been stunning. And it's not just the sun and the temperatures in the mid-60s, but equally the lack of bugs, which means you can actually enjoy a nice day, unlike in Florida. There's also something that feels so "fresh" about the air. I've literally found myself just sitting on a bench on the side of the street breathing deeply for an hour at a time, as the weather is that gorgeous. On top of all that the days are long… really long, which means even more sun. But the best part of the weather isn't even the weather as such, but the visibility. On a rainy day the views from from Bellevue are non-existent. On a sunny day the views are stunning, with mountains and lakes everywhere.
And it's only April, so the best is yet to come…
Going from flying for all but a weekend per month to flying only a weekend per month
With the above in mind, I love the way my schedule looks for May. In January I literally spent all but a few days on the road, because everything about Bellevue was miserable. But aside from a weekend trip to Colorado Springs I have zero travel plans for the month of May, and I hope to keep it that way. There are actually two reasons for this. The main reason is that I'm still struggling a bit with my Royal Jordanian flight, so I'm not excited about the idea of doing all that much flying. But that works out rather well given the weather.
While I won't be flying, I will be traveling. It's definitely time for some weekend trips to Leavenworth, Portland, and Vancouver, and a day trip to the San Juan Islands. If someone has other suggestions for must see destinations, please let me know. The ability to do trips like this is actually what I was most excited about in moving to the Pacific Northwest, though I've been waiting for the right weather… and this is the first time since moving I have it.
Shady foot massage parlors
Admittedly Florida is a bit of a cultural cesspool, and one thing that's completely new to me since moving to Seattle are Chinese foot massage parlors. I'm a sucker for massages, so I was quite excited by the fact that every shady strip mall has at least one "herbal" foot massage parlor which offer massages for reasonable prices.
Well, about a handful of massages and what feels like four broken bones later, I'm convinced these places are fronts for other things (or maybe I should be ordering off the "special" menu or something). The quality of the massages suck, and are usually performed by people that legitimately seem to be angry and are letting out their frustration on your feet.
I was a bit puzzled when after my first massage I was given a small mouthwash-size cup with a clear liquid and told "drink it, it's good for you." I looked at him confused and asked what it was. Apparently it's water. So while in Asia you get tea or something, in Bellevue you get two ounces of water. Shady, shady stuff…
Whole Foods gets old
When I first moved to Bellevue I was obsessed with Whole Foods. Once I discovered their pretzels and pretzel bread sandwiches I couldn't stop and figured it would never get old. Well, I don't think I've been there in a month.
Tired of balls, though Drive Thru Boba still entertains
If there's one thing I was deprived of in Florida it's decent Asian "influence" (food, drinks, etc.). That's not a problem in Bellevue — you can get every type of Asian food or drink, though no decent Hispanic food.
When I first moved to Bellevue I had bubble tea with boba almost every day. I loved boba. My boba loving phase is over.
That being said, I am beyond obsessed with Drive Thru Boba, which is quite possibly the most bizarre run business ever. While they publish hours, the only place to see when they'll actually be open is on their Facebook page. And those hours never match their posted hours.
On one hand the place is ridiculous. They're never open when they say they are, and in reality are probably open 15-20 hours a week. They usually post hours the night before, if not day of, or cancel last minute. And they run out of "supplies" almost every day as well, so end up closing early. And that's in a good week, as they sometimes close for weeks at a time. And in their free time they even sometimes tell their customers to #*&% off when they complain about it (their January 31 Facebook post is pretty entertaining). As if that's not enough it's a drive thru, so when they are open the line is probably a dozen cars deep, and the line takes about 45 minutes.
Given those things, as much as I should dislike them, their drinks are so damn good. They have specials like black sesame smoothies and taro smoothies which sound horrible (to me at least), but are possibly the tastiest things ever. But the problem (both for my wallet and my waist) is when they actually have them and you wait in your car for 45 minutes you can't justify doing that for just one smoothie. So I usually get like six, drink them till I get sick, and then put the rest in the fridge to drink later in the day.
Fun times.
Bellevue is a bubble, and that's not totally horrible
When I first announced I was moving to Bellevue most people were surprised. While Seattle is a "real" city, Bellevue is a bit of a faux city. Aside from Singapore I don't think there's a city that's more of a "utopia" of sorts. There's virtually no crime, it couldn't be cleaner, and you literally have everything you could possibly want (other than anything interesting, though we do have excellent food) within a half mile radius.
On one hand that's annoying and I've been considering moving across the lake to to the "real" city when my lease is up. On the other hand after driving around DC last night, I couldn't help but appreciate how simple life is in Bellevue. While DC was beautiful for the short time I was there, holy cow, what a cluster#$*&. I've never seen so many nine-way intersections and contradicting signs. Then again, I'd expect nothing less from the city where our laws are made.
So…
I think I'll leave it there. Time for me to finish the trip report for my trip to Amsterdam and get started on the trip report for my trip to Koh Samui. Besides, gotta finish those up so I can post about my excursions around the Pacific Northwest.