I gave up my apartment just under seven weeks ago, and have been living in hotels ever since.
As I explained when I started this journey, the intent was to live in different places around the world for a couple of weeks at a time. I spent the first five weeks taking care of some things in Seattle and also spending time in Florida with my parents, but this week the "real" journey has begun.
I'm in the Middle East for a week, and it marks the first time I'm actually living abroad in a hotel since starting this journey (though I spent some time with friends in Sicily a few weeks back).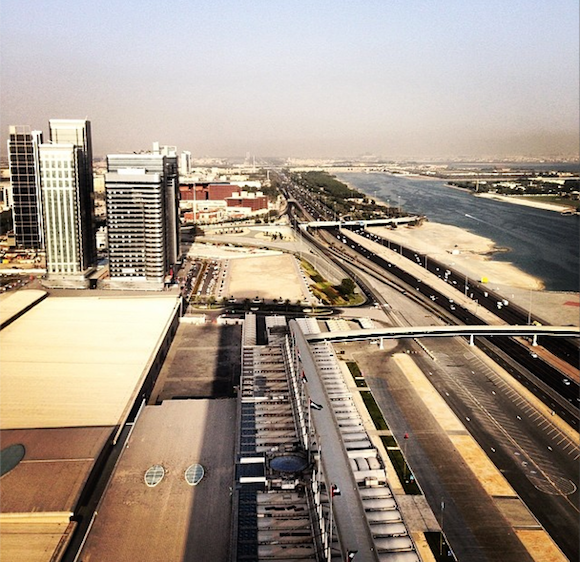 Abu Dhabi
So what have I learned so far since moving into hotels?
Living in hotels doesn't feel different from my "normal" life so far
The most surprising part of this all to me is that I really, truly, don't have strong feelings towards this "experiment" yet. I figured a month in I would love it or hate it. It's not even about where I am, but just the prospect of being "homeless" and not having a sense of place.
But I haven't once said "boy, I wish I were home," or had feelings of that sort.
But I don't love it either… yet
I think I will love this once I actually start living abroad in fun destinations for extended periods of time.
So far I see the pros and cons. I love having less responsibility in many ways. My bed is automatically made, I have access to a club lounge where I can have all the (usually watery and mediocre) cappuccino that my heart desires throughout the day, and fruit/yogurt in the morning and appetizers in the evening.
So that's nice. But there are minor downsides as well. What do I miss most from my apartment?
Bathtub
Shower with great water pressure
My W Bed with big, cuddle-sized pillows
Yeah, that's about it, believe it or not. Everything else I prefer in hotels so far… I think.
The key is to stay in each hotel for a longer time
I can't stress this enough.
I would be miserable if I were "hotel hopping" and switching properties every night. That would drive me crazy. But I've spent at least a week everywhere I've been, and I think that has been the key to making this pleasant. You can actually "unpack" (ironically I'm doing more unpacking than I did when I had an apartment, where I lived out of a suitcase as well) and get into a "rhythm."
Obstacles I was initially concerned about are easy
When I started this experiment my two biggest concerns were:
How much luggage should I bring? How do you strike the balance between being "mobile" and not having just a few articles of clothes on you?
What do I do with laundry?
And interestingly neither of these have proven to be a problem in the slightest. There are a bunch of "fluff and fold" places which are reasonably priced, and hell, make my life even easier than it was when I lived in an apartment.
I will say that I put more effort into not "wastefully" using clothes. In other words, if I'm wearing something nice I hang it up as soon as I get back to my hotel room. So perhaps I do use clothes a bit more carefully than in the past.
As far as bags go, I started my journey with this: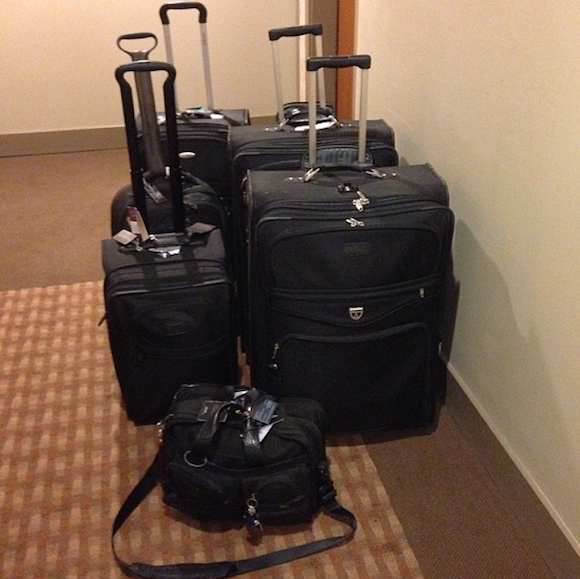 Then I downsized it to a carry-on and a checked bag.
And after spending the last two weeks in Florida, I've decided just to live out of a carry-on… for the most part.
I want to spend more time with my parents over the coming years, so I figured I'll leave my second suitcase with them. In the event that I take a longer trip where I'm visiting just one place, then I'll take the second suitcase.
But if I'm on a whirlwind trip like the one I'm on right now (where I'm staying nowhere for more than a few days) then it's just not worth the effort. By leaving my second bag with my parents I'm also more likely to visit them, so I guess you could say they're holding it as "insurance" to be sure I return soon. 😉
"Where do you live?"
If you travel frequently this is something you're probably asked on a daily basis. And there are some people that are total douchecanoes about answering that question.
It's like when you ask someone you don't really know how they're doing, and they say "oh, my cat passed away last week and my husband cheated on me… I've been better. " Too much information!
Similarly, you have people that can't just answer the question with the lightheartedness it was intended — "Well, I grew up in Mongolia, and was raised by a goat and an amur leopard, and then adopted by a French mother and South African father, and we grew up in Singapore, and I've been splitting my time between Sydney and New York ever since."
And to that I can simply say…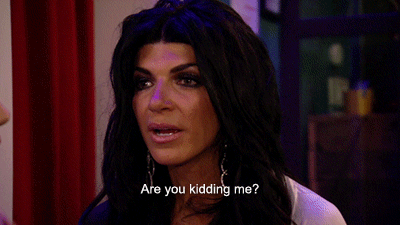 Well, so in trying not to be difficult, I've decided just to say that I "live" wherever my next destination is. Which is fun sometimes. On the shuttle to the airport last week I said Abu Dhabi. The response "Ain't that where Aladdin is from?" Maybe I should just stick to Tampa or Seattle or New York — seems easier long term…
So far this hasn't cost me much
The question I've been asked most since starting this experiment is how much living in hotels has cost me. As a reminder, the reason I decided to finally give up my apartment is that I was traveling for three weeks per month and it simply didn't make sense to pay for a car and apartment given the situation.
Even if I still had my apartment I would have gone on this trip to Abu Dhabi (I booked this long before I decided to live in hotels full time). I still would have visited my family in Florida. And I still would have visited my friends in Sicily (though I was staying with them, and not in hotels, anyway).
So really my only additional hotel expenses so far are the ~10 days I spent in a hotel in Seattle right when I started this experiment.
I'll do more number crunching as the journey continues, but so far the marginal cost of this has been very little, if anything at all.
Life is short – make the most of it
I've been to Bellevue (where I previously lived) a few times since starting this journey, and it has made me sad every time.
I think we all have memories in places (good and bad) that are brought back just by virtue of passing through there. And it's always easy to second guess yourself and say "oh this place really was beautiful, I should have stuck around," or whatever.
But at the end of the day life is short, and instead of dwelling on memories I think it makes sense just to move forward and make new ones.
Bottom line
So far I'm happy with living in hotels.
I don't feel nearly as depressed or ecstatic about it as I expected I would, and that's before even really starting the journey. So I'm optimistic that I'll actually enjoy this journey long term, and will provide more updates now that I'm abroad.
Safe travels, everyone!