In general I always recommend booking award tickets either as soon as the schedule opens or very close to departure. The logic for booking as soon as the calendar opens is that airlines typically make some amount of award space available 11-12 months out, as a way of throwing a bone to frequent flyer program members. However, not all flights will have award seats. People often assume that someone else beat them to the punch if they look for availability on the day the calendar opens, and there are no award seats available. That's typically not the case.
On the other end of the spectrum (well, sort of), British Airways guarantees that they'll make two business class award seats available when the schedule opens. While airlines are typically pretty consistent about award availability way in advance, there's a lot more inconsistency when it comes to award availability close to departure.
It makes sense for airlines to release last minute award availability. The logic is that if a seat is going to go out empty, the airline might as well get some liability off their books and generate goodwill by letting members redeem miles for those seats.
However, there's a lot of inconsistency in regards to how far out airlines release those last minute award seats. Some airlines are known to start making "last minute" award seats available 60 days out, while other airlines make space available just hours before departure.
People often think I'm kidding when I say this, but I frequently redeem miles for international first class tickets on the day of departure. Heck, I'd say that within 24 hours of departure is the best time to redeem miles for international first class.
A couple of years ago I remember I had 4PM check-out at a hotel but didn't know where I was going to stay the following night. So I booked myself on a Cathay Pacific flight in first class that evening. I guess that's one place to rest my head.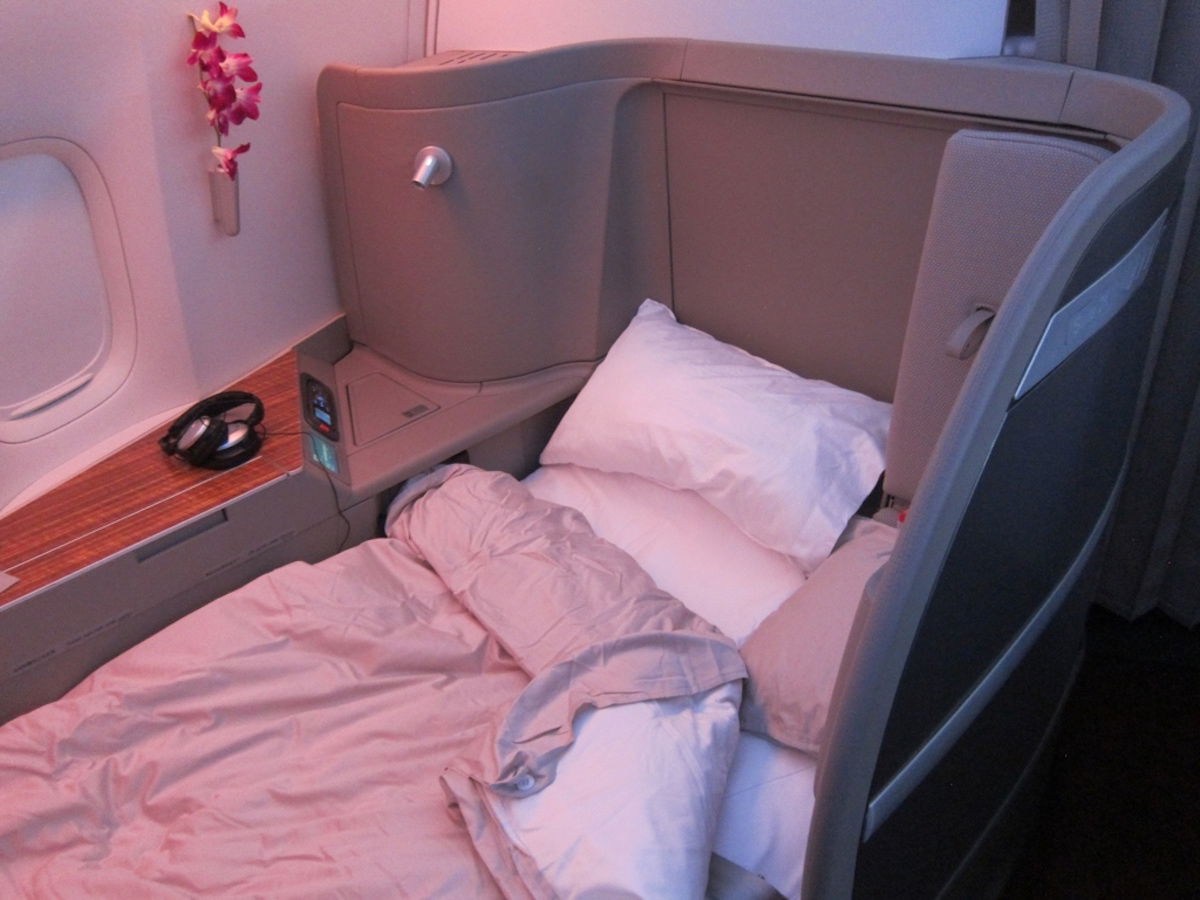 Anyway, this brings me to my award redemption Monday night, which is another good example of just how good last minute award availability can be. Ford and I had been in Paris for the past few days, and I was hoping to get us tickets to Los Angeles with one stop. When it came to redeeming miles, I had two practical options:
There were lots of one stop routings in business class, including on Austrian, Lufthansa, LOT Polish, Delta, Virgin Atlantic, etc.
There were lots of two stop routings in Lufthansa first class, which is the most comfortable longhaul product, though at the same time doing a domestic connection after a transatlantic flight is never fun
All along I had been paying very close attention to Lufthansa's Frankfurt to Los Angeles flights. At the moment they operate two of these flights per day, one using the A380 and one using the 747-8. If nothing else, I'm fascinated by award availability trends, so I love keeping tabs on this stuff.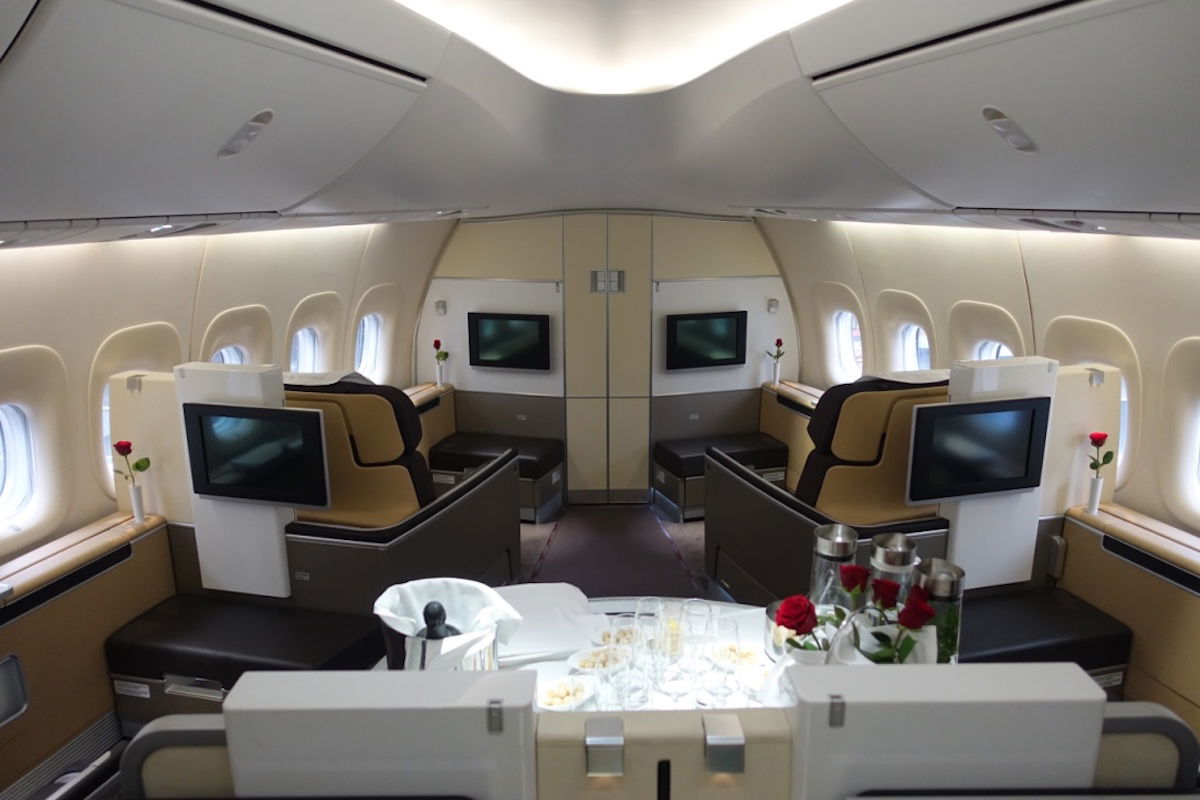 Frankfurt to Los Angeles is one of Lufthansa's most premium routes, and typically it's very difficult to score a first class award seat on these flights.
However, I noticed a pattern — all first class seats for sale from Frankfurt to Los Angeles on Lufthansa have turned into award seats shortly before 10PM CEST the night before departure.
As you might imagine, Ford and I had a fun conversation at around 9PM regarding how we'd get back to the US the following day:
"So when are we flying back to the US?"
"Probably at 6AM tomorrow morning through Frankfurt."
"Do we have tickets yet?"
"No… but I think they'll open within the next hour."
"Okay…"
You know you've conditioned someone well when it's 9PM, you're planning on leaving your hotel at 4AM, but you still don't have a ticket.
Both Frankfurt to Los Angeles flights were "F2" (meaning that two first class seats were still left for sale), and like clockwork, they opened up within an hour, just before 10PM.

The booking process wasn't quite as straightforward as I would have liked. Aeroplan seems to have a delay when it comes to seeing these seats, and even through the call center they couldn't initially see them. However, when the agent searched point-to-point and manually requested the seats, they came back confirmed. The tickets cost 70,000 Aeroplan miles per person (transferred over from Amex Membership Rewards), plus some taxes and carrier imposed surcharges.
So yes, airlines do often open award seats within hours of departure, and if you can figure out the patterns, this is a great way to score awards on flights that are otherwise very tough to redeem miles on.
What's the closest to departure you've ever booked an award ticket?