La Compagnie is the all business class airline operating flights between Newark and Paris, and as of a couple of months ago, flights between Newark and London. The airline launched last July, and no doubt has had some "growing" pains as they ramped up operations, despite being run by two seasoned airline executives.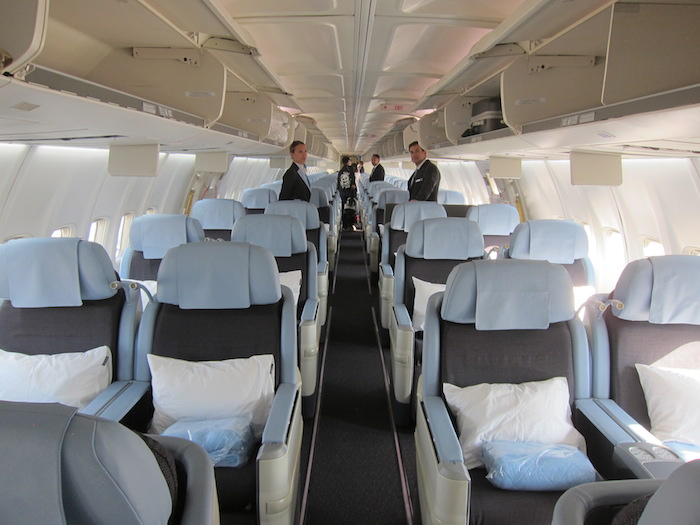 Unfortunately the operational challenges don't seem to have become much better since they launched their second route between Newark and London. Due to a combination of late delivery of their second plane and routine maintenance on their first plane, they had some "creative" solutions to operating their schedule:
I spoke to La Compagnie's Deputy CEO at the time, and he assured me that the airline would operate their Newark to London frequencies 6x weekly as of June 1, 2015.
But unfortunately that doesn't seem to be the case. I've received dozens of emails, messages, and comments from readers who have been notified that their July/August flights between Newark and London have been canceled "due to operational constraints."
I've reached out to La Compagnie's Deputy CEO once again to get clarification on what's going on, and received the following statement from him:
Yes, it is a fact that we have curtailed the operations between New York and London in the month of July and we have informed the clients that we automatically rebooked them to the day before or after at no charge. If a client requests to cancel the trip we offer full refund, likewise, should a client want to change the date to another time not adjacent to the day of our cancelation, we would also accommodate such requests.

I must admit that our ramp up program was a little too ambitious. We did experience delays in the performance of the C-check of our aircraft number 1, which resulted in operational irregularities and this has a ripple effect into July. The dates that are in the system are indeed the dates we will plan to operate and for the months to come we will gradually increase our services to six weekly operations. While our services to and from Paris will continue on a daily basis.
This is ultimately really disappointing on the part of La Compagnie. The most basic service an airline can offer is safe, punctual travel between two points. We've heard excuse after excuse. And I get it's challenging to run an airline with only two planes… but I'm also not the one who took on that task. 😉
My guess is that the cancellations have more to do with light loads than a "ripple effect" from operational irregularities (or perhaps the "ripple effect" is that not many people are booking the flights, and therefore they're not operating them).
I've cautiously recommended La Compagnie up until this point. I've explained that while they don't have the best business class product, they represent an incredible value, as they charge a fraction of what the other carriers in the market charge. They're basically charging slightly more than economy for business class.
But reader Craig recently left the following comment on a recent post about La Compagnie, which raises a valid point about my "endorsement" of them:
I think we are approaching the time where you must consider taking the position of making a stern "No FLY" recommendation to your readers for La Compagnie!

After reading up on La Compagnie regularly and seeing the great number of cancellations and headaches it is causing, I can't see how anyone can recommend an airline, not knowing whether you will be on a flight or not, or whether it will be canceled with almost no notice at all. I don't think it matters whether the flight is an exceptional value, the staff is extremely pleasant or you can start out on their frequent flyer program with 10 credits. If you can't rely on an airline to transport you, what good are they?

Perhaps some people have such flexible schedules that they can go any time the airline wants to put them on a flight, but I imagine the vast majority of people make hotel reservations, have time commitments, utilize positioning and connecting flights, and assume they will be flying within a few hours of their scheduled departure times, as opposed to a few days.

You, yourself, have questioned from the beginning whether La Compagnie can even sustain its business model for any significant period of time. You wonder what is wrong with their management. You call them an operational nightmare! Perhaps this is the beginning of the end.

So Ben — at what point do you think it is reasonable for a frequent flyer guru such as yourself to form an opinion that an airline is too unreliable to fly, and if so, should you share that opinion with your readers?
And I think Craig is onto something. While La Compagnie is operating their Newark to Paris flight regularly, that's not the case for their Newark to London flight. So assuming you care about the day you fly (which I assume most people do, when they book a non-refundable ticket), I probably can't in good conscience recommend La Compagnie in the market.
Bottom line
I've questioned the long term sustainability of La Compagnie for a while, though this is just truly puzzling to me. At some point an airline has to actually operate flights as promised. They're going after a niche market here, and I can't help but feel like they're giving many passengers a bad impression. And that's not something you can afford to do when you're going after a fairly small market.
So I suppose that's my "word of warning" regarding La Compagnie… am I going too easy on La Compagnie, or am I being too rough on them? You guys tell me!