Last week French all business class airline La Compagnie launched service between Newark and London Luton.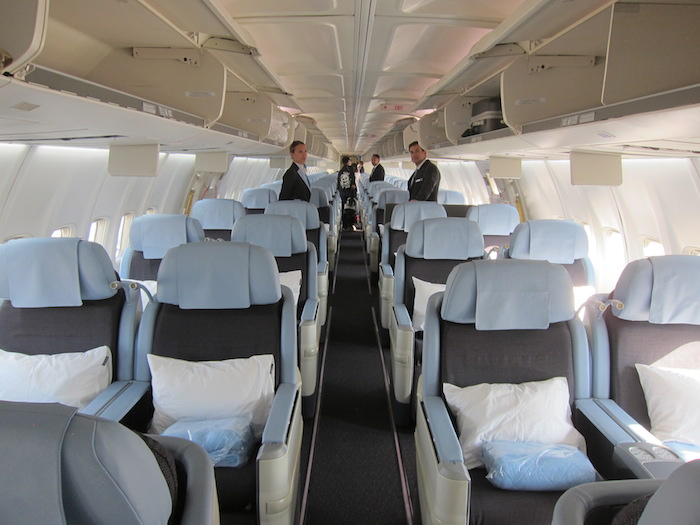 I flew them when they first launched service between Paris and Newark, and ultimately found them to be an exceptional value, though they definitely offer a sub-par business class product. But for ~$1,500 roundtrip in business class, you can't get much better value than La Compagnie.
La Compagnie certainly had a rough start when it came to operational reliability, though it seems to have gotten better over time.
However, reader Skyaddict just pointed out something interesting about La Compagnie's May flight schedule. They're supposed to operate nonstop flights between Newark and London as well as between Newark and Paris, though on many dates they're instead operating a New York to London to Paris flight. That's right, on some dates they're basically consolidating both flights onto one.
They don't actually disclose this on their website, because quite sneakily they only list the flight's departure time, and not the arrival time.
But when you pull up the flight on ExpertFlyer, you'll see the one stop service many days.
I suppose there are a few possible causes for this:
One plane is undergoing maintenance certain days, so this is their creative solution for only offering one flight (that seems unlikely, given that one of their planes is brand new)
These are dates where they have very few bookings, so they figure they might as well just consolidate two flights as one to save on operating costs
This is part of their expansion plan, and soon they'll launch service to Washington, Boston, and Amsterdam as well 😉
I do hope they disclose this stop to customers in advance, because I'd certainly be pretty miffed if I booked a nonstop flight from Newark to Paris, only to have a stop in London.
This doesn't impact the schedule every day, so if you're booked on La Compagnie, be sure to see if it impacts your flight. Here's to hoping these are isolated incidents and not a new pattern on the airline's part.
Then again, I'm not sure why anyone would book La Compagnie right now, when you can book business class on American or OpenSkies for even less.