Update: La Compagnie's new A321neo is now flying.
La Compagnie is the all business class transatlantic airline that started flying in mid-2014. Their first route was between Paris and Newark, and I was able to review that flight within days of when they launched operations. For a while the airline also flew between Newark and London, though they ended up canceling that route. Late last year it was announced that La Compagnie and XL Airways would be merging, though despite that it has been "business as usual" for La Compagnie.
La Compagnie has continued to lease two 757s, which up until now have been the ideal plane for an airline looking to operate an all business class transatlantic product. It looks like that will soon be changing, though.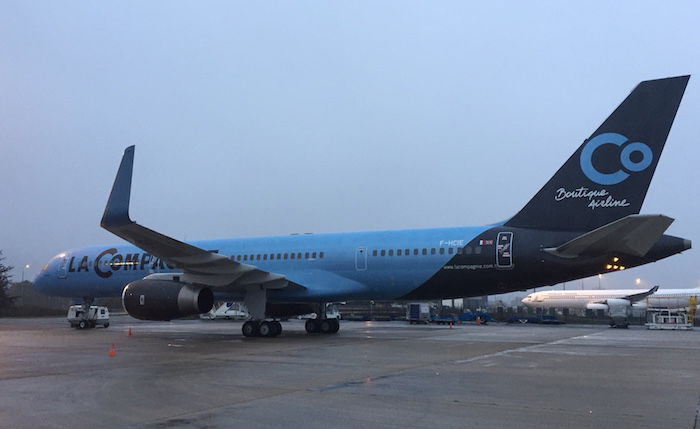 La Compagnie 757
La Compagnie has just announced that they've ordered two Airbus A321neo aircraft, which they expect to take delivery of in 2019.
Due for delivery in 2019, the thoroughly modern, efficient and eco-friendly A321neos will take La Compagnie's in-flight business-class experience to new heights with the latest technologies, Wi-Fi service and "full-flat" beds, ensuring passengers are well-connected and well-rested upon arrival in New York or Paris.
These two A321neos will replace their two 757s. The A321neo is significantly more fuel efficient than the 757, and on top of that, La Compagnie will finally introduce fully flat beds in business class, rather than the angled seats that they have right now.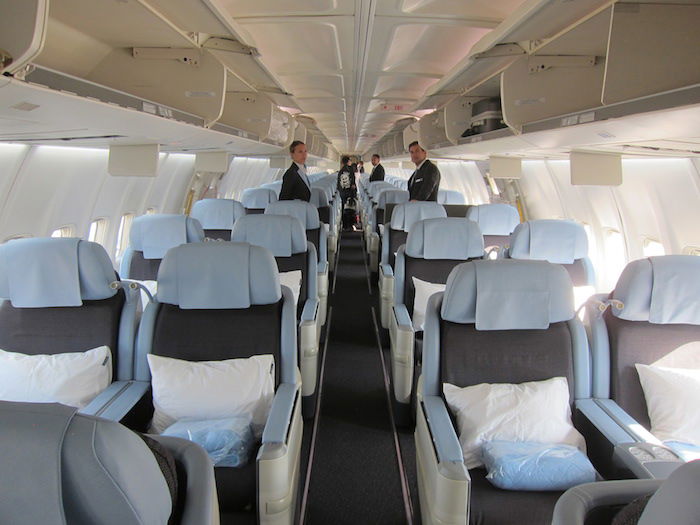 La Compagnie's current 757 business class
La Compagnie's CEO is even using this as an opportunity to point out that they're "French-in-spirit," by buying Airbus planes:
The choice of the French aeronautical firm Airbus, which is headquartered in Blagnac and has manufacturing facilities across Europe and around the world, strengthens La Compagnie's "French-in-spirit" philosophy that has made the carrier so desirable for intercontinental passengers.

"I've always been an advocate for the French industry," said Magnin. "By selecting Airbus and its A321neo, we are able to illuminate our French touch while reinventing the La Compagnie experience. I am very proud to be the first French airline to employ this particular aircraft."
I see where he's coming from, but that 60% of their customers are from the US, and given that the alternative is US-built Boeing planes, I'm not sure how compelling that is.
I have to give La Compagnie a lot of credit here, though. Prior to La Compagnie, no transatlantic all business class airline ever made it. For that matter, I'm not sure La Compagnie is even turning a profit now. However, at a minimum they've survived for three years, which is more than many previous transatlantic startups can say. Beyond that, they're looking towards the future.
Maybe there actually is a future for all business class transatlantic service, thanks to the new smaller and more fuel efficient long range planes that are entering the market. The A321neo will have significantly lower operating costs than the 757, so if they combine that with a better business class product, I could see this being really compelling. Furthermore, by slightly reducing capacity, hopefully (for their sake) they can drive up fares a bit, and improve their load factor.
In the past La Compagnie had all kinds of aspirations of growing to various markets across the Atlantic, to California, and even to Asia. It seems their plan is to stick to their "core" New York to Paris market, and that seems like a smart idea, given that they've been building up name recognition in the market, which is something that's needed to succeed with an all business class business model.
I was wrong about La Compagnie, and I'm happy about that.
(Tip of the hat to Economy Class & Beyond)