Update: A Korean Air spokesperson has reached out to indicate that the information from AirLive is incorrect, and that the airline doesn't have plans to retire any A380s in the near future.
While Emirates loves their A380s, other than that the A380 has been struggling. None of the other operators of the plane have been able to scale their network with A380s enough to make them "work," which is why we're seeing Singapore Airlines return their first five A380s, and we're also seeing Malaysia Airlines eventually retire their A380s (though they have a bit more life left in them).
It looks like yet another airline is parking their A380s. AirLive is quoting Korean Air's CEO as saying that the airline intends to retire their first A380 in 2018. Korean Air plans to store the first A380 in Roswell, New Mexico, until a new owner is found (in other words, it may be there forever).
The airline would rather focus on twin engine jets, and is reportedly considering the A350, though I'd be surprised if they place an order. Apparently Korean Air is having trouble filling even half the plane at times, in which case the A380 is a total waste. Korean Air has 10 A380s in their fleet, and we don't yet know how many they plan on retiring.
Unfortunately this news doesn't come as much of a surprise, and I've never understood Korean Air's strategy when it comes to the plane. Korean Air has the lowest density A380s of any airline operating the aircraft, as their A380s have just 407 seats, including 301 economy seats, 94 business class seats, and 12 first class seats. Meanwhile other airlines have 500+ seats on the plane, and Emirates even has two cabin A380s with 615 seats.
Korean Air's A380 economy is exceptional, with 33+ inches of pitch. However, what makes no sense is that they have the lowest density A380s while also having among the most underwhelming first & business class hard products of any airline operating the plane.
First class consists of 12 seats in an open layout.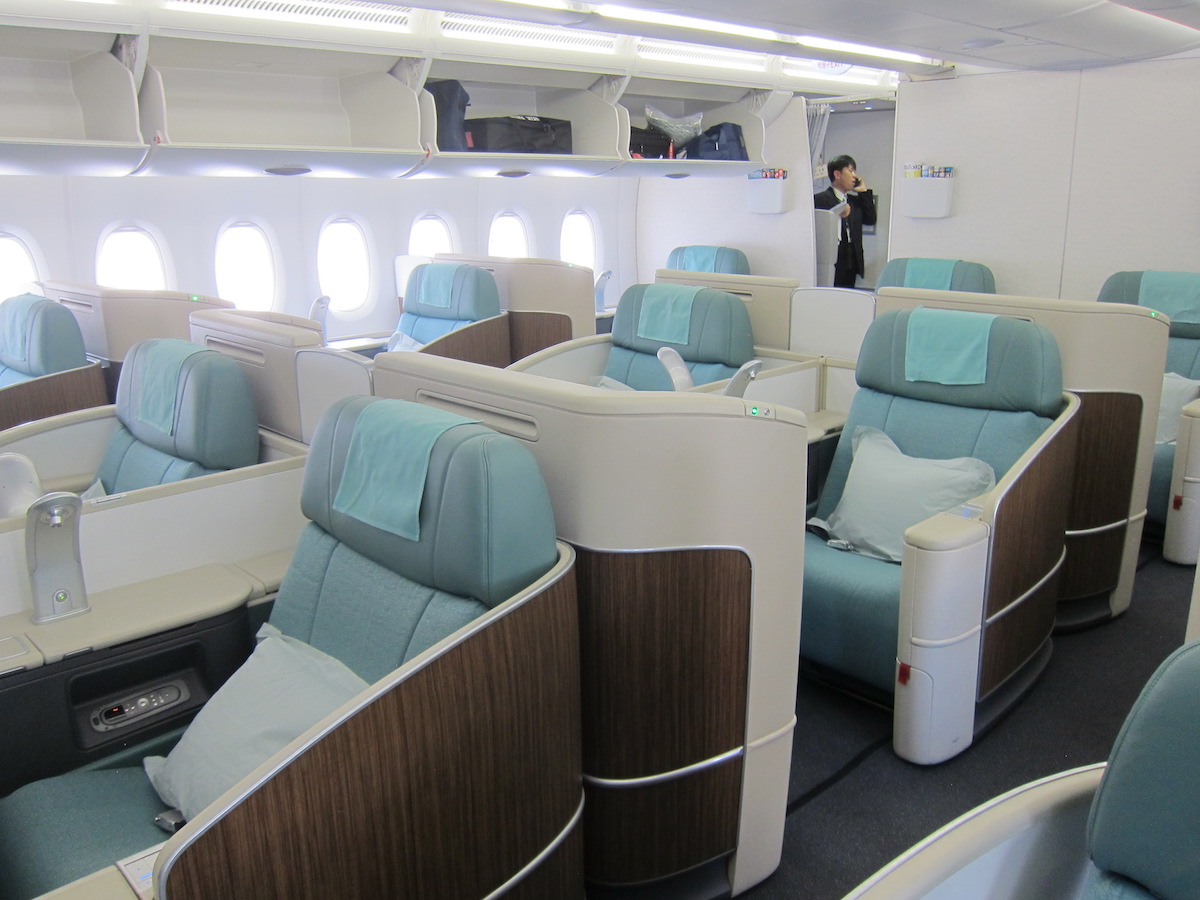 Meanwhile business class is in a 2-2-2 layout.
If you're going to have such a spacious layout, you'd think you'd at least want to establish a product advantage, but they haven't even done that. The only thing that stands out is the onboard bar at the back of business class.
Of course this is all a moot point, when the problem is that they can't even fill half of the seats. Korean Air is also one of only two airlines to order both the A380 and the 747-8, which seems like a puzzling decision as well.
I'll be curious to see how this Korean Air A380 situation unfolds. There's no doubt they're under a lot of pressure, due to competition from Chinese and Gulf carriers, which are pushing their prices and load factors down.
Are you surprised to see Korean Air planning on parking some A380s?