KLM Royal Dutch Airlines has announced some long haul expansion for this winter, though new destinations aren't necessarily being added in the way you'd expect.
KLM's winter 2021 intercontinental expansion
For the winter 2021 season (which goes from October 31, 2021, to March 26, 2022), KLM will be expanding its network where it expects recovery to be the fastest. The airline is adding service to the following six destinations:
Bridgetown, Barbados, & Port of Spain, Trinidad & Tobago — 3x weekly as a triangle flight (from Amsterdam to Bridgetown to Port of Spain to Amsterdam)
Cancun, Mexico — 3x weekly direct from Amsterdam
Mombasa, Kenya — 2x weekly as a triangle flight with the existing Nairobi service (from Amsterdam to Mombasa to Nairobi to Amsterdam)
Orlando, USA — 4x weekly as a triangle flight with the existing Miami service (2x weekly from Amsterdam to Orlando to Miami to Amsterdam, and 2x weekly from Amsterdam to Miami to Orlando to Amsterdam)
Phuket, Thailand — 4x weekly as a tag flight of existing Kuala Lumpur service (the airline will fly from Amsterdam to Kuala Lumpur to Phuket and back)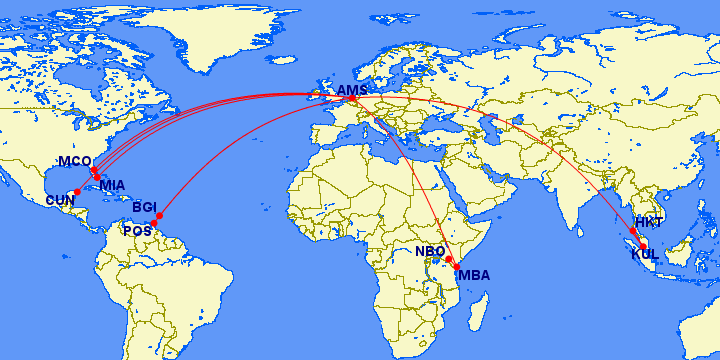 KLM's new long haul routes for the winter 2021 season
How KLM is adding flights to Orlando
As you can see, KLM's one new long haul destination in the United States is Orlando, and that's being paired with Miami service, which is a market that KLM has long served (though it has been suspended due to coronavirus).
The flight will operate on Mondays and Saturdays with the following schedule:
KL625 Amsterdam to Orlando departing 11:15AM arriving 3:00PM
KL625 Orlando to Miami departing 4:45PM arriving 5:50PM
KL625 Miami to Amsterdam departing 6:50PM arriving 9:15AM (+1 day)
The flight will operate on Thursdays and Fridays with the following schedule:
KL629 Amsterdam to Miami departing 10:40AM arriving 2:40PM
KL629 Miami to Orlando departing 4:30PM arriving 5:35PM
KL629 Orlando to Amsterdam departing 6:35PM arriving 8:40AM (+1 day)
I'm always fascinated by the strategy behind these triangle routes:
They make sense in terms of airlines hedging their bets if they're worried there won't otherwise be enough demand, since it's a way to add an additional destination without greatly increasing costs
At the same time, it does (marginally) increase operating costs compared to flying to just one destination, and some passengers will be put off by the extra travel time, especially if they're connecting beyond Amsterdam, where there are multiple options
If anything, I suppose what surprises me is that KLM doesn't think there will be enough demand for both of these routes independently this winter.
Assuming travel restrictions between United States and the European Union are lifted (which I think is highly likely), and with Florida being wide open, I feel like Europeans will be flocking to Miami this winter. Admittedly there will likely still be major travel restrictions in other parts of the world, which would impact demand for connecting passengers.
They certainly did pre-coronavirus, and I'm sure that will only be more extreme post-coronavirus. I wouldn't be surprised to see more capacity added to Florida.
A couple of other interesting things to note:
This isn't the first such triangle flight we've seen in this market; pre-coronavirus, TUI also operated an Amsterdam to Orlando to Miami to Amsterdam route
Pre-coronavirus Delta operated flights from both Orlando and Tampa to Amsterdam (at least for some amount of time), and Delta has a transatlantic joint venture with KLM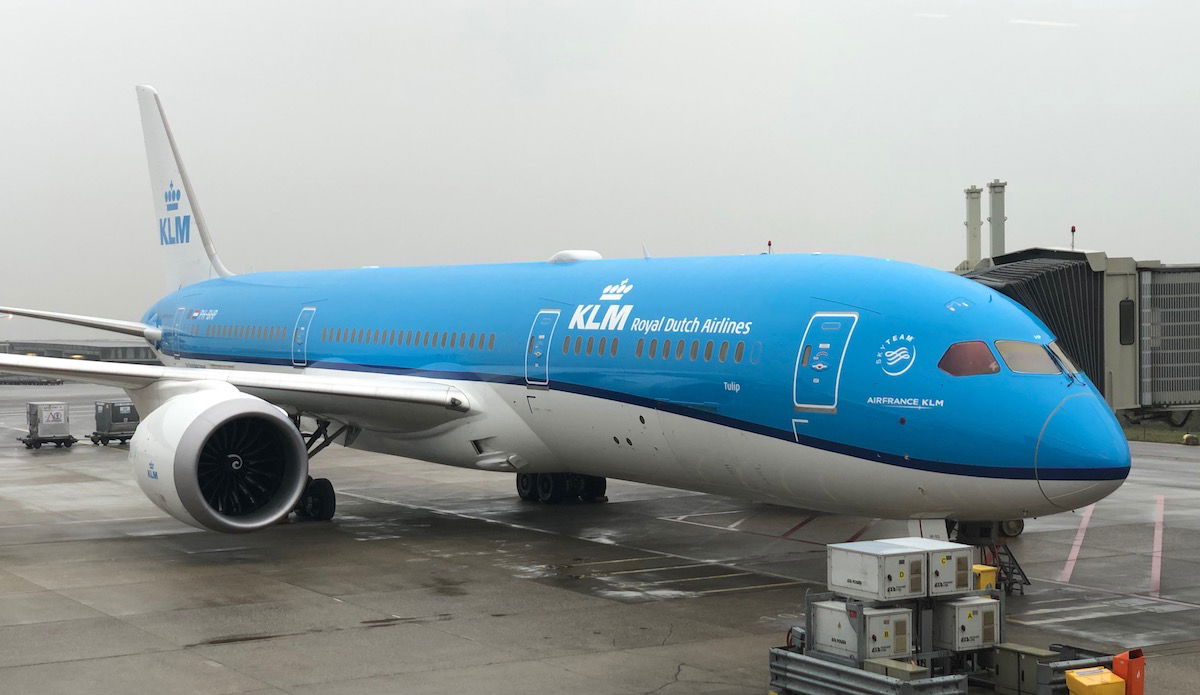 KLM will be introducing service to Orlando
Bottom line
KLM has announced an intercontinental expansion this winter, including making Orlando its latest destination in the United States. The airline will simply be adding Orlando onto its existing Miami service.
This is a safe way to add a destination with minimal risk. It'll be interesting to see if the triangle service is maintained long term, if Orlando eventually gets a direct flight, or if the Orlando service is cut altogether. Too bad you can't book KLM exclusively between Orlando and Miami!
What do you make of KLM's new Orlando triangle route?