Yesterday morning I landed in Nairobi on Kenya Airways' first nonstop flight from New York. We got an incredible welcome from hundreds of people, including the country's vice president, and I was in disbelief at just how much effort they put into welcoming us.
Well, after that welcome we all got into a bus to go to the immigration hall, where my experience changed a bit. I've never had so many problems at immigration, so figured I'd share my story so you can hopefully get a laugh out of it.
Kenya offers visas on arrival for many nationalities (including US passport holders), so once inside the immigration hall I first had to fill out the visa form, and then had to get into the visa line.
Issue #1: Cash only
There was a lady at the head of the queue (who had on a vest that said "immigration"), and I asked her "do they take credit card?"
"Yes, just go to the window."
There was quite a line to get a visa on arrival, and I waited for nearly 30 minutes. Eventually I was helped by a friendly person. She processed my application, and then said "that will be $50."
I handed her my credit card.
"Cash only."
"But I was told I could use card."
"No, there's an ATM in the hall where you can get cash."
Okay, fair enough. Some countries take cash only, and they always have an ATM, so it's not a big deal when that happens. I just wish I knew that before waiting for 30 minutes.
Issue #2: Broken ATM
There was a single ATM in the arrivals hall, and it was broken. Or more accurately, it was in a setting where it only acted as a "mobile ATM," where you could apparently just withdraw money with your phone number, or something? I don't know, I've never seen anything like that before. I thought I was going crazy, because my card just wouldn't go in the slot.
I tried to call over one of the people helping in the immigration line to ask if she could help. I figured I must be doing something wrong. It took a lot of convincing to have someone go with me to the ATM, mostly because they thought I was crazy and just didn't know how to use an ATM.
But two people eventually came there, and confirmed a setting for the ATM was off, because I couldn't even insert my card.
"What am I supposed to do now?"
"There's an ATM by gate six… but it's a really long walk away."
Issue #3: Gate 6 is a really long walk
I'm a very fast walker (people I'm with always complain about it), and from the outside Nairobi Airport didn't look that big. Well, let me tell you, Gate 6 is a really long walk away. First I had to clear security as if I was a connecting passenger, then I had to walk for about 15 minutes (and that's at a fast pace), and then I arrived at the ATM.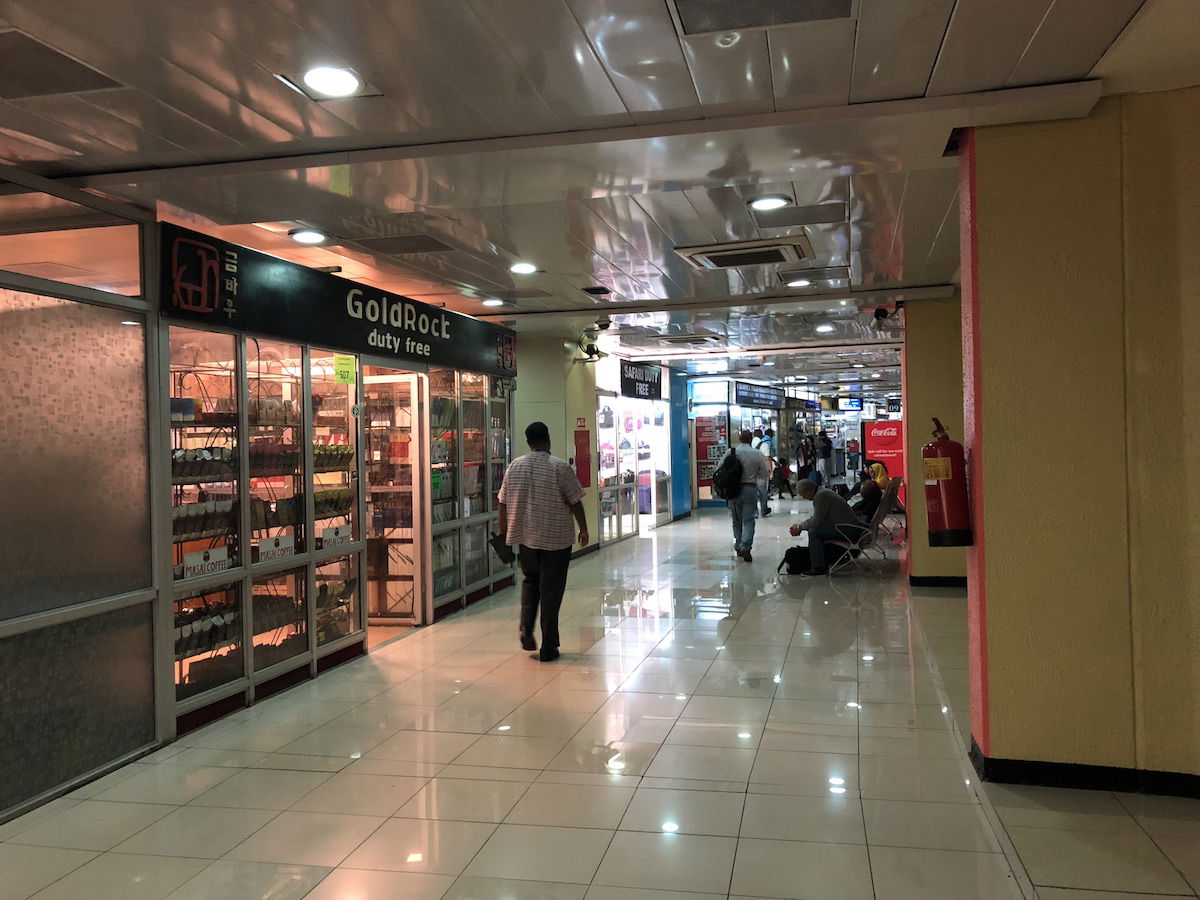 Issue #4: That ATM is broken as well
Grrr…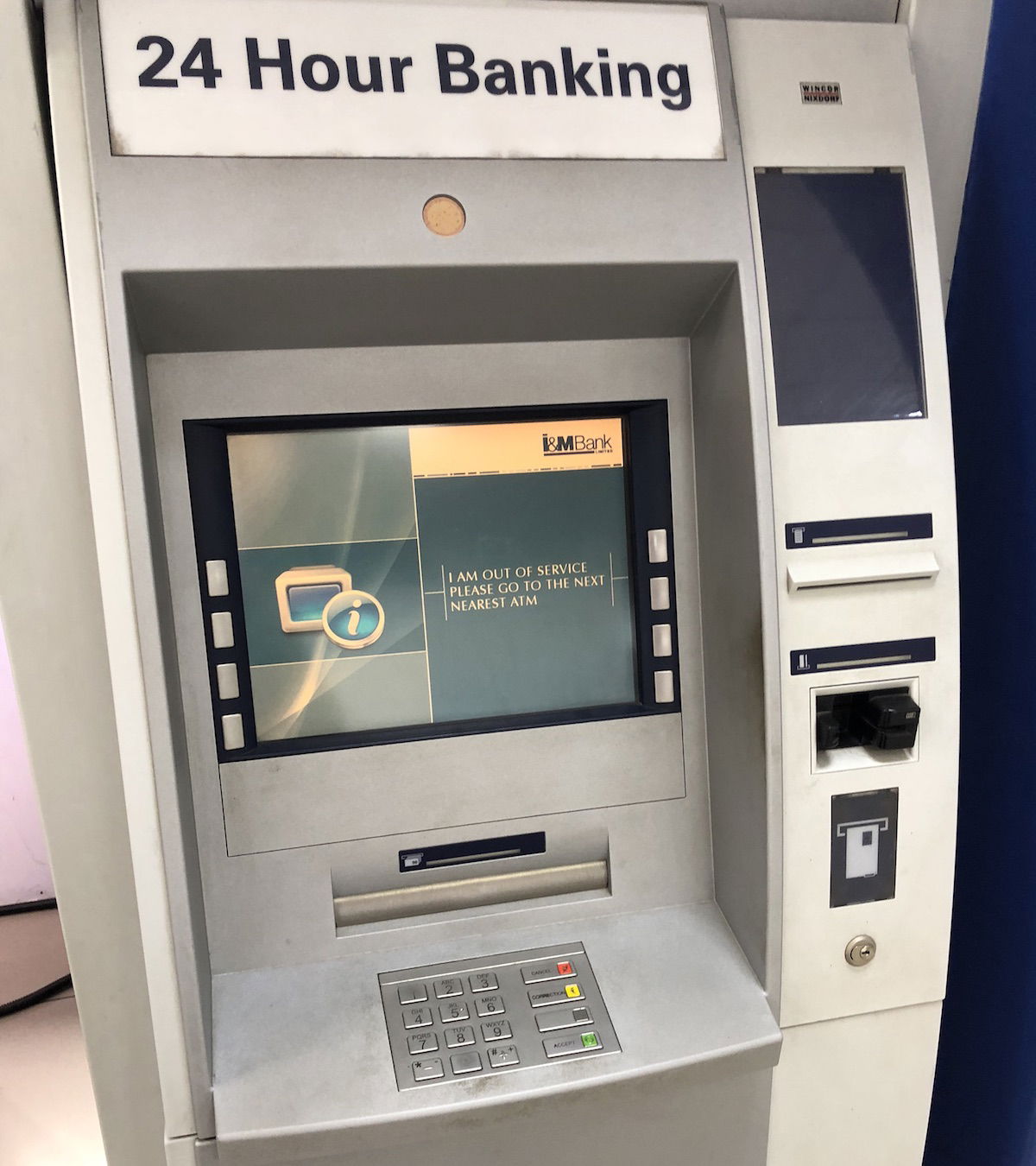 On the plus side, there was one other ATM in the terminal, and that one was working, so now I had cash in hand.
Issue #6: Explaining what I'm doing
At this point I had to go from the departures hall to the immigration hall, which wasn't all that easy, because that's not generally how someone would use the airport — when a flight arrives it lets out in a different hall. So as I walked backwards several security guards stopped to ask what I was doing, and for a reason I can't quite figure out, I had to go through security yet again.
Issue #6: Kenya doesn't accept their own currency
At this point I got back in the visa line, with cash and my application in hand. I asked the lady at the head of the line "I can pay with Kenyan shillings, yes?" "Yes you can."
Then eventually I was helped at immigration.
"$50, please."
I handed her the equivalent in Kenyan shillings.
"We only take Dollar, Euro, and Pound."
"You don't take your own currency?"
"No, because the receipts we give are for Dollar, Euro, and Pound."
"But the lady there told me you accept shillings."
At this point I realized that was the same lady who earlier told me they do accept credit cards, so I have no clue why I had even asked her.
So then I had to go to the currency exchange counter, get money exchanged, and then got in the visa line one last time. This time they let me in, wahoo!
Lesson learned
Lesson learned, bring cash when entering Kenya.
I'm sure some will say "well this is on you for not bringing cash." Yes and no.
First of all, I'm not sharing this to be negative, but rather because I actually found the whole thing to be sort of comical.
This wasn't a big deal in the end, even though it wasted about 90 minutes of my time. Yes, I probably should always have some cash. At the same time, I enter a lot of countries, and I've never had a situation where they either didn't take credit card, or where there wasn't a functioning ATM in the arrivals hall. But I guess that was bound to happen sooner or later.
Let me also point out that I took redeyes for six nights in a row, and have entered a similar number of countries in that time period. If I were traveling to one country I would have probably researched this more closely, but in this case didn't. I just Googled the basic stuff, saw I could get a visa on arrival, and moved on with my day, since I had so much going on.
It's just funny how quickly that whole arrivals experience went downhill.
Has anyone had a similar "cash" issue when getting a visa on arrival in any country?