Earlier today I landed in Nairobi after taking Kenya Airways' inaugural flight from New York JFK. I've been on my fair share of inaugural flights, though I've never ever ever ever ever ever (yes, those last few "evers" are needed here) seen anything like this.
Kenya's indescribable excitement over this JFK flight
Generally when an airline launches a new route they may have gift bags or a small party at the gate, but usually that's it. This new route from Kenya Airways is a bit different. It's not just a big financial commitment for the company, but it's also a massive point of national pride.
Over the past few months I've had at least a handful of conversations with Kenyans where they were the ones to bring up this new route with big smiles on their faces.
Kenya Airways' Twitter is amazing
If I can't sleep at night I look at what people are Tweeting at @KenyaAirways, because it's just sort of amazing, endearing, and awesome all around. I especially love the number of Tweets along the lines of the following (and somehow they always know the captain's name?):
"Amazing flight on @KenyaAirways, Captain ______ landed the plane so well."
Similarly, a lot of Kenyans on Twitter are acting like the airline sent people to Mars based on how they're making it sound… and that level of excitement makes me really happy!
For example, here are Tweets from one of the captains on the Nairobi to New York flight:
https://twitter.com/VinieO/status/1056633561128808449
Touch down JFK, New York. We made it. We made history with @KenyaAirways current time. 7 45 AM.

The City of Dreams, New York #KQNBONYC

Captain's New York Loving. pic.twitter.com/fxic51qGG0

— Captain, Enamored Gentleman. (@VinieO) October 29, 2018
Here are Tweets from one of the passengers:
Folks..Boarding the MAIDEN direct FLIGHT from Nairobi to New York!!.!!..15 HOURS…11,800 Kilometers…4 PILOTS…12 ATTENDANTS…85 TONNES of FUEL…234 PASSENGERS…It's about to be SMMMMMOKIN

Somebody say Oh MY!!@KenyaAirways @citizentvkenya
#KQNBONYC pic.twitter.com/wedBhkXOTO

— Jeff Koinange, MBS (@KoinangeJeff) October 28, 2018
Hell, here are Tweets from someone not even on the plane, who just wants a picture with the captain:
When are we anticipating the KQA002 back to kenya so i can create my account with Flight Radar24? I need to come and have a selfie with our pilots. Incredible.

— Hon. Stephen M Ngumi (@hon_ngumi) October 29, 2018
So, what was the experience of being on the inaugural eastbound flight like?
Departing New York on the inaugural
Keep in mind that the "real" inaugural was from Nairobi to New York, so I was flying the return inaugural. On the outbound flight was Kenya Airways' CEO, as well as the US Ambassador to Kenya.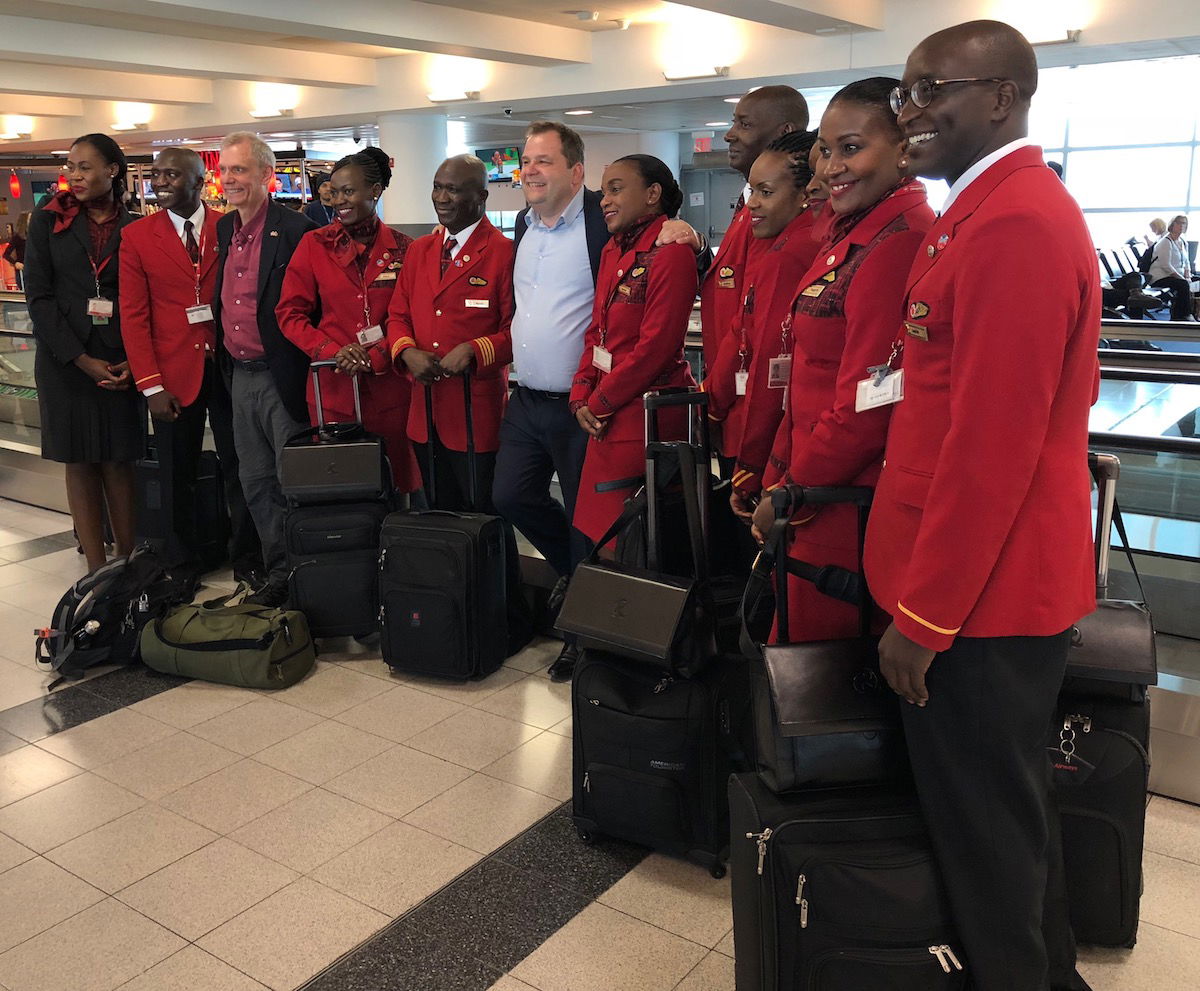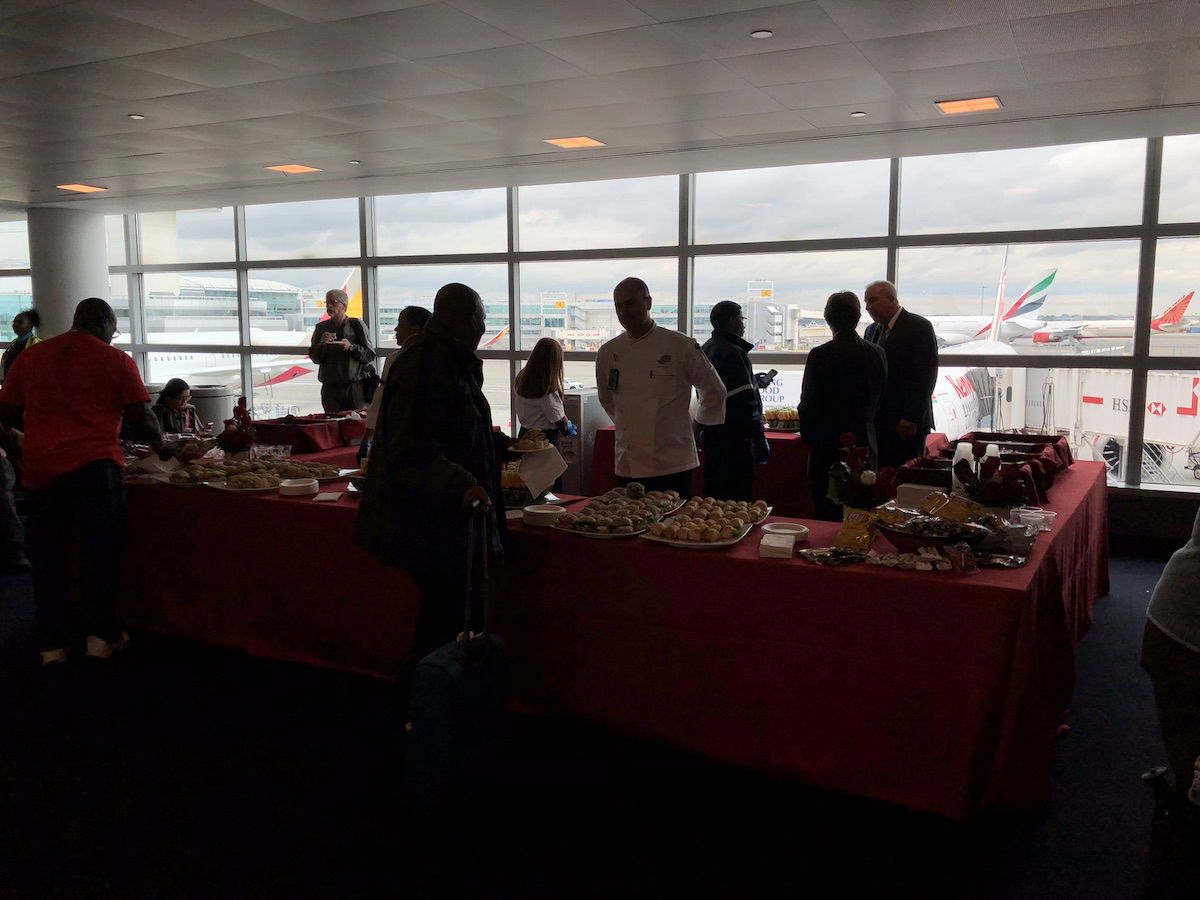 The ambassador was doing a direct turn back to Nairobi, and the Kenya Airways chairman took the flight back with us.
Kenya Airways' CEO still made a point of coming to the departure gate and saying bye to everyone. He's one of the most personable airline CEOs I've ever seen. He had just taken a 15 hour flight, had given speeches on both ends, and then still took the time to talk to people in the gate area and wish us a good flight. He didn't leave JFK until the plane did.
The way he interacted with the crew was fantastic to see as well, taking pictures with them, thanking them, etc.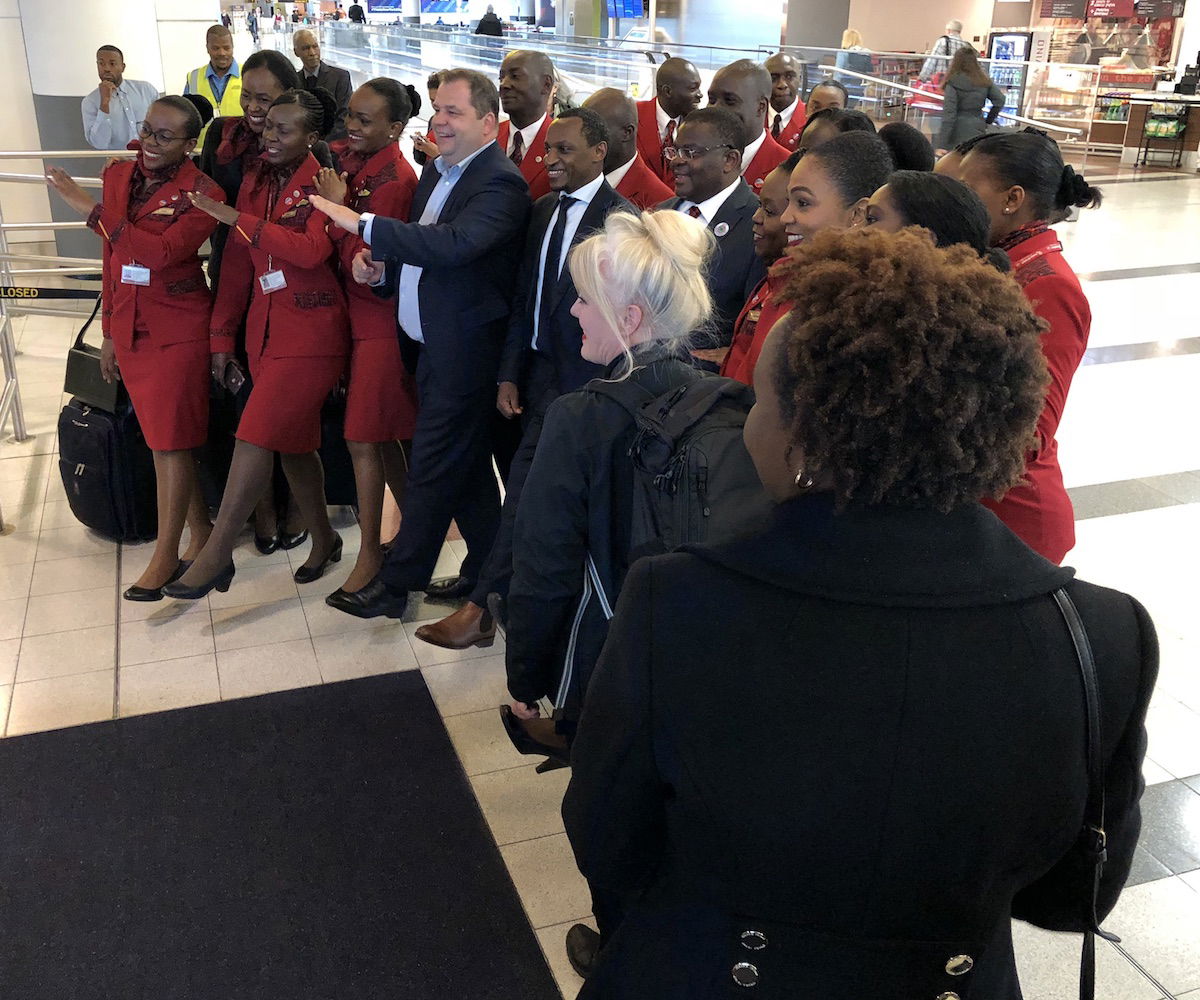 Once everyone was onboard, he made an announcement over the PA thanking us for choosing Kenya Airways on this flight, and apologizing that he wasn't on the return flight, because he had just landed. Class act.
Arriving in Nairobi: OMG
I'm not even going to say much, I'm just going to let these two videos speak for themselves.
First, the water-cannon salute on arrival:
Then check out the scene when we disembarked:
I've seen a few people meet an inaugural flight before, but I have never seen anything like this. There were more greeters than passengers. OMG.
Bottom line
It's great to see the level of pride that Kenya Airways takes in this new route. I've never in my life seen so many people so excited about an inaugural flight. Among Kenyans this almost seems to be viewed as a new chapter. Now we'll just have to wait and see how long that chapter lasts…