Friend of the blog Andrew B is back to share his experience with a 5-star hotel during a recent trip to Dubai. Yes, this is the same Andrew who won the trip to Helsinki several years back, and who wrote the hilarious "Airbus To Megabus" trip report earlier in the year. Thanks for sharing your experience, Andrew!
---
Don't ask me why I chose to spend my Labor Day weekend in Dubai. The average high temperature in late August/early September is over 100 degrees Fahrenheit, and with the heat index it can feel like 120.
The good news is that this isn't a peak tourism time in the UAE, since most sane people wouldn't voluntarily endure this kind of heat. Hotel occupancy rates are low, so rooms are cheap. That combined with the fourth night free benefit from my Citi Prestige card meant that my dollar (or dirham) could go a lot further than usual, which inspired me to splurge.
On my first two trips to Dubai, I was my usual cheapskate budget-minded self and stayed at an Ibis and a Holiday Inn, which were perfectly fine, but this time I wanted to really experience the over-the-top glitz for which the city is (in)famous.
Perhaps the most prominent local hotel chain is Jumeirah. They have several amazing-looking properties around town, including the Burj al Arab, the Jumeirah Beach Hotel, and the Madinat Jumeirah.
After researching all of them, I got a great deal on a stay at the Jumeirah Zabeel Saray ("Saray" rhymes with "Dubai," in case you were wondering). Citi's concierge was able to book it with no problem.
The hotel turns five this year, so the prepaid, non-refundable rate I booked (the cheapest available) was their 5-year anniversary rate, which included daily breakfast at their buffet. More on that later. After taking into account the fourth night free benefit, the total I paid for the room was about $240 per night.
I arrived fairly late at the hotel. I was amazed at how long it took to get there. It's located on the Palm Jumeirah, an artificial archipelago accessible by bridge from Dubai. After you cross the first bridge, it's still a good 20 minutes until you arrive at the hotel.
It was worth the trip: the hotel is stunning. It looks like a palace. Every crevice and corner is decorated in an opulent Arabian style, and the level of detail is amazing.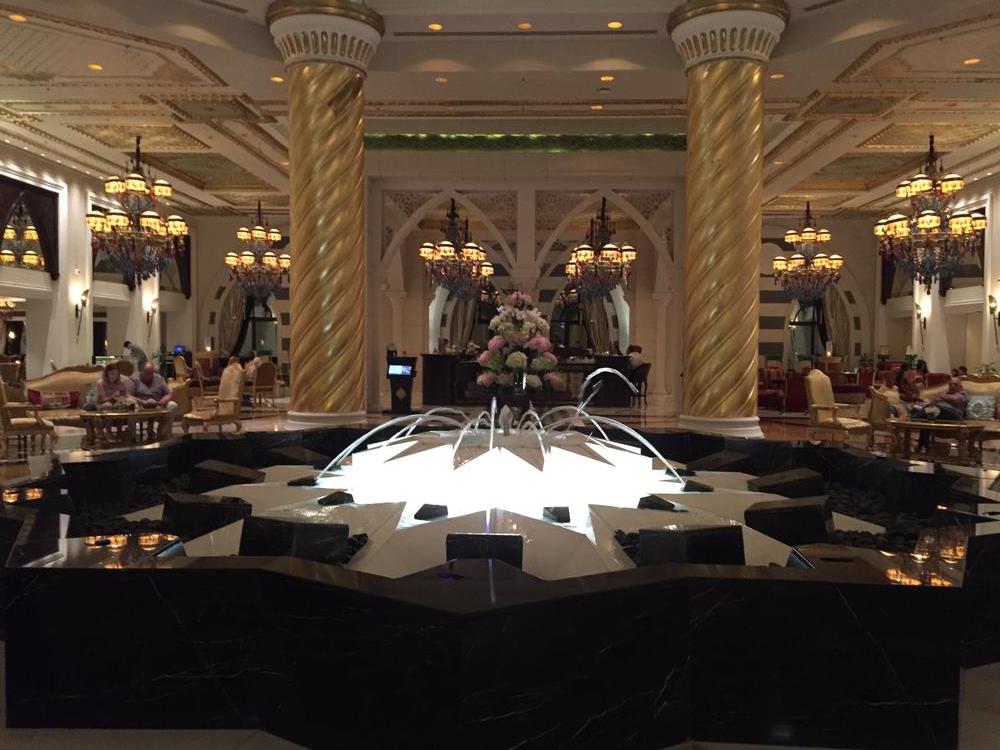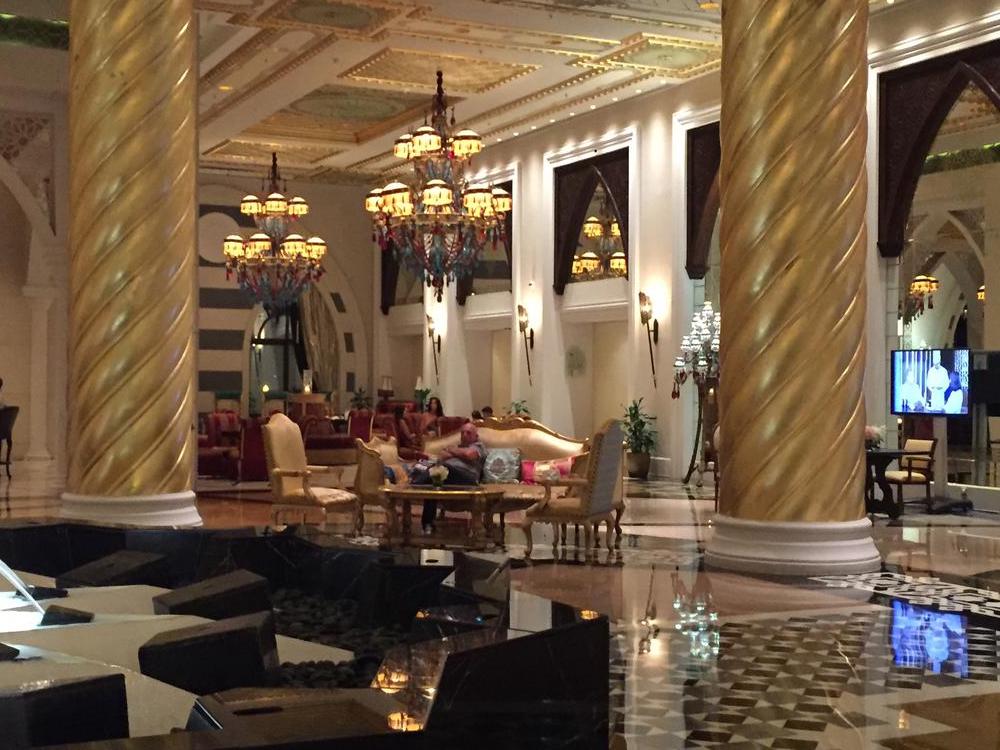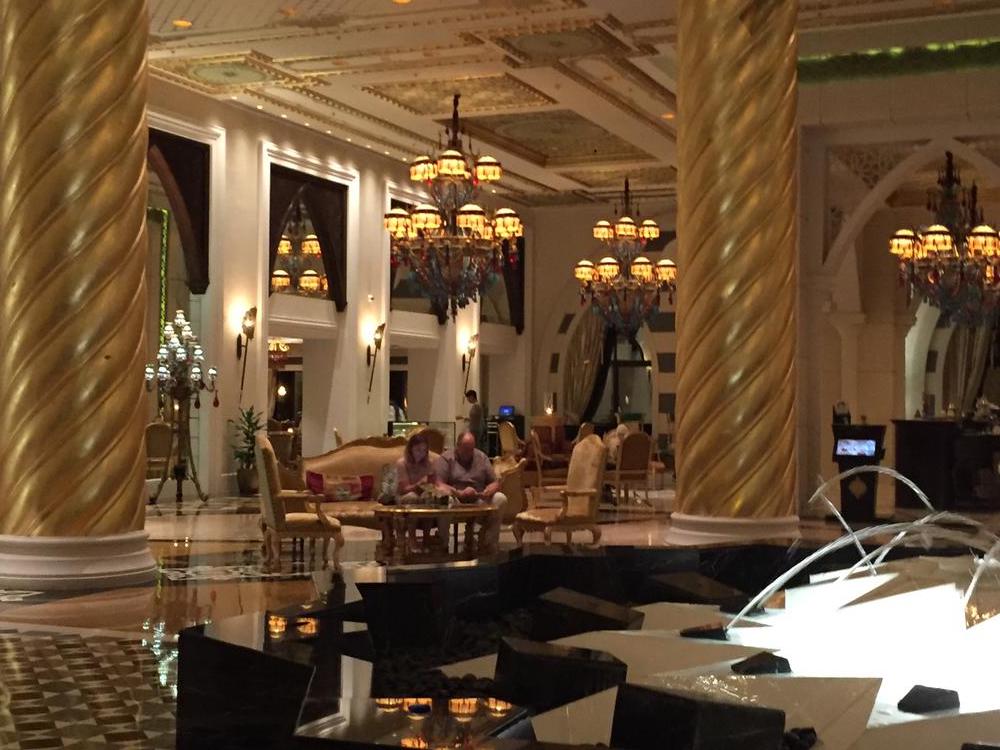 Upon arrival, my boyfriend and I were escorted to the front desk, where we were offered some juice. The employee at the desk noticed on my passport that my birthday had been a couple weeks prior. She wished me a happy belated birthday and escorted us to our room.
The room was just as glamorous as the rest of the hotel. We had an incredible view of the Persian Gulf and the Dubai Marina skyscrapers from our balcony (though I hardly spent any time out there, since it was so damn hot).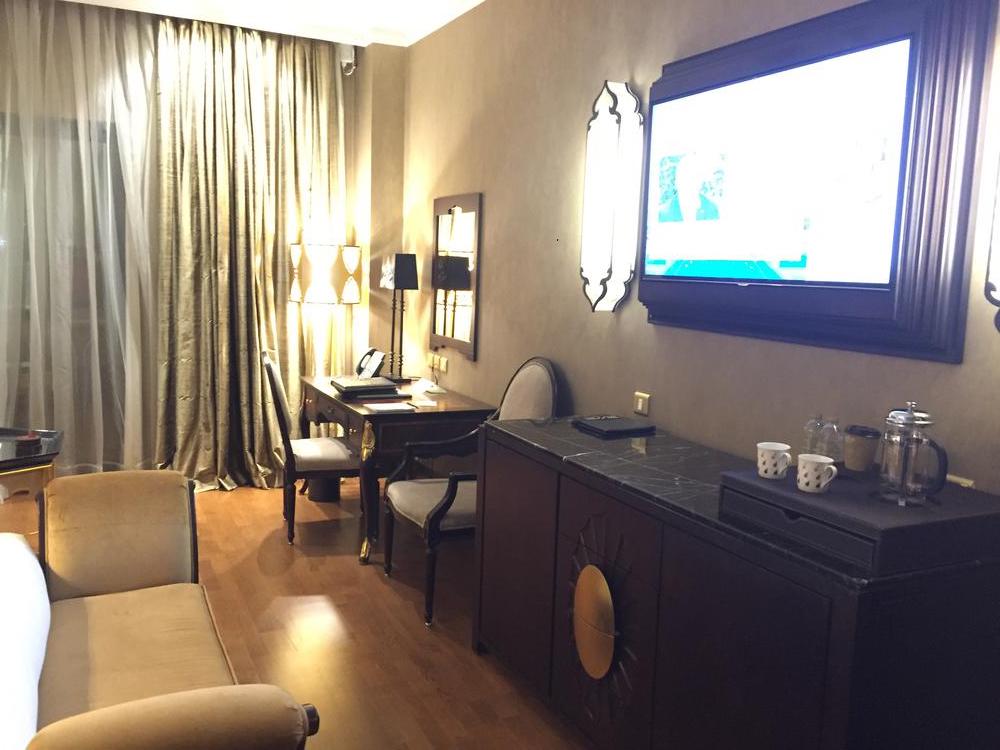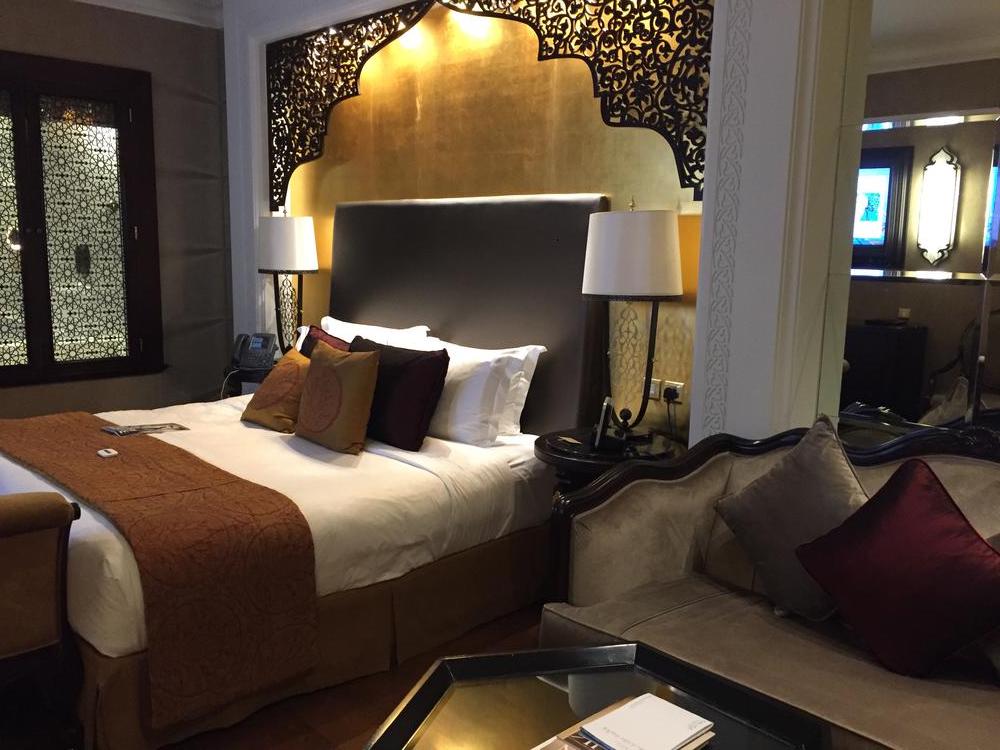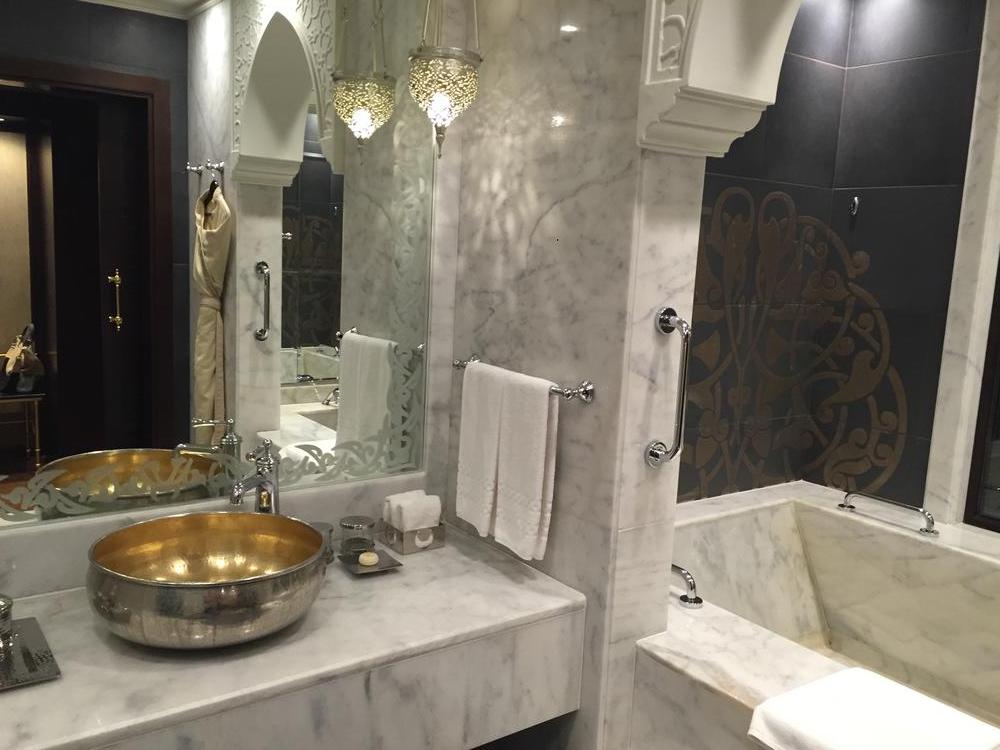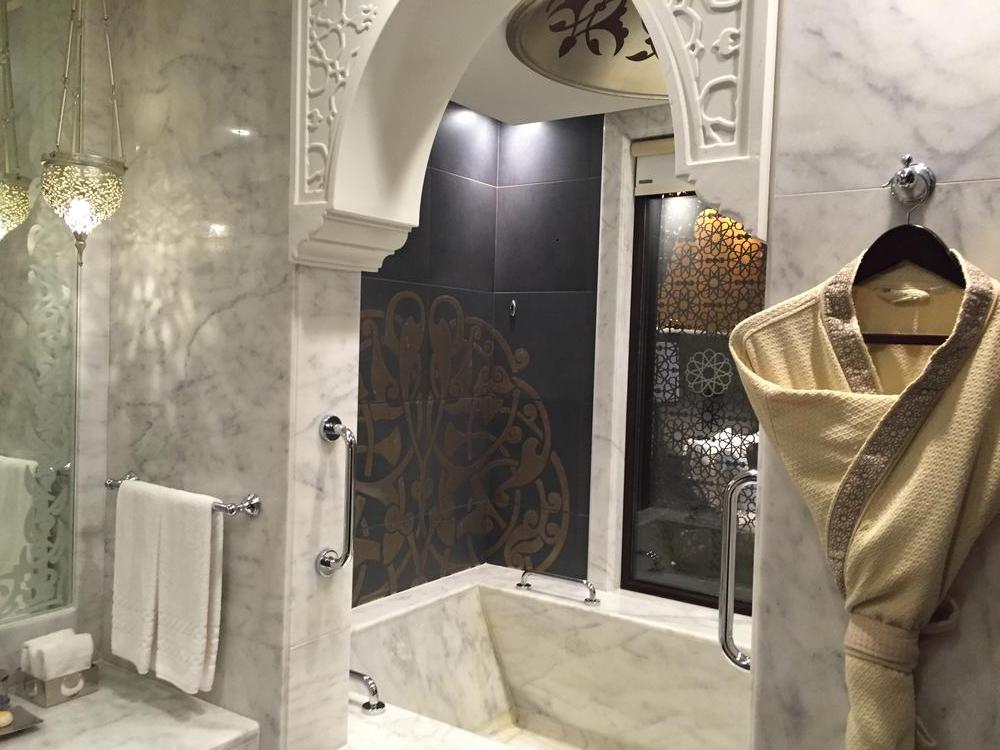 I had a little trepidation about staying with my boyfriend in a room in Dubai with just one bed. Ben wrote a very helpful post where he talks about traveling to the UAE as a gay male, and that was reassuring, but he's never stayed at an Emirati hotel chain like Jumeirah.
Of course an American-branded property like Hyatt would likely accept (and perhaps even provide training to employees on) our cultural norms, but could I expect the same at a chain that was locally based?
It turns out that my concerns were unfounded. Nobody batted an eye, and I never felt like we were treated any differently from any other guests. In fact, on our second night we came back to the room and found that our bed had been decorated with this: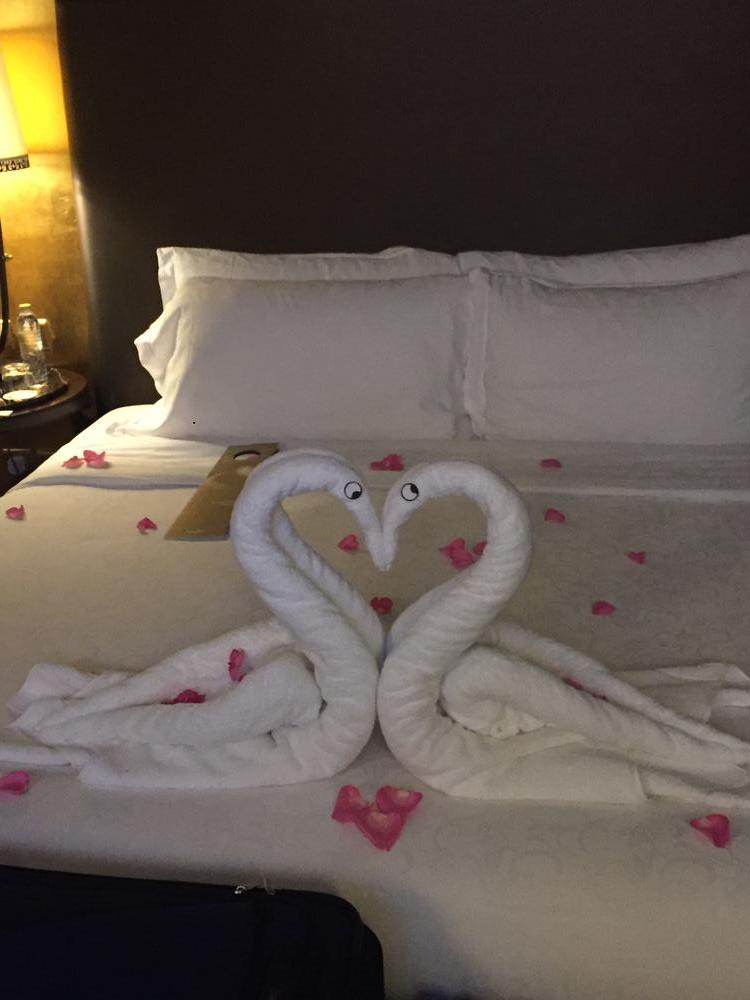 As I was in a silly mood, I quickly rearranged the swans in more suggestive positions (not pictured here).
One thing I can't convey here is how amazing the hotel smelled. The property always had the most amazing scents throughout. For me, it really added to the atmosphere and made it feel like a special place.
The breakfast buffet at the Imperium restaurant was, in a word, magnificent. The restaurant itself is decorated with ornate columns and archways, and lit by crystal chandeliers. It feels like a Middle Eastern Versailles. The variety of food at the buffet was huge: there was an omelet station, a fruit cutting station, and crepe machine.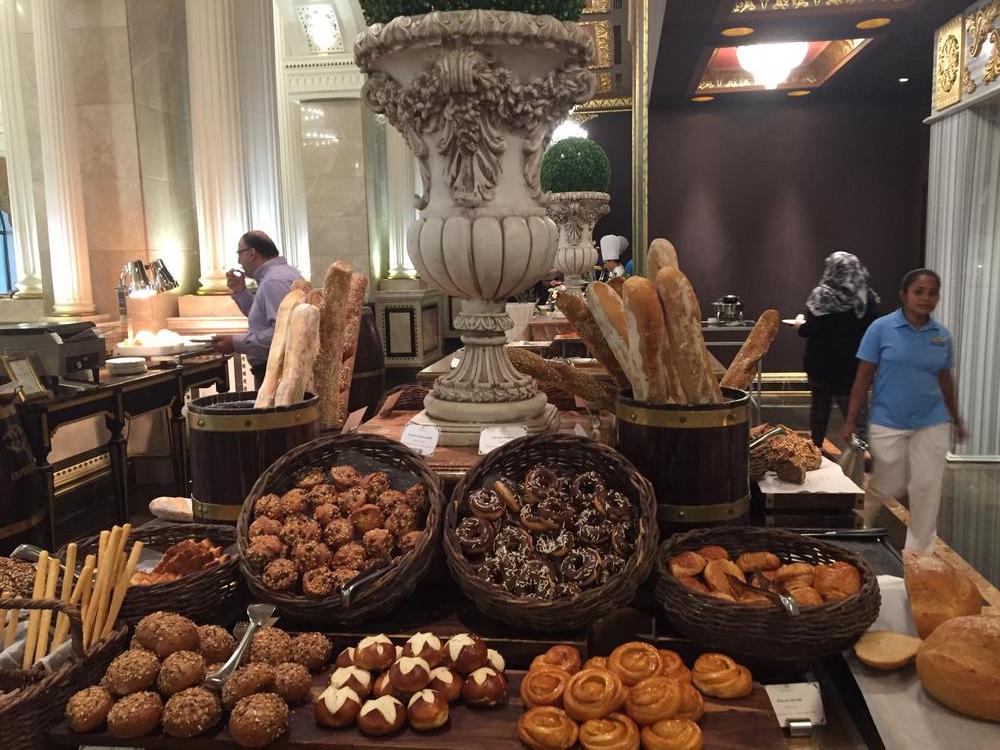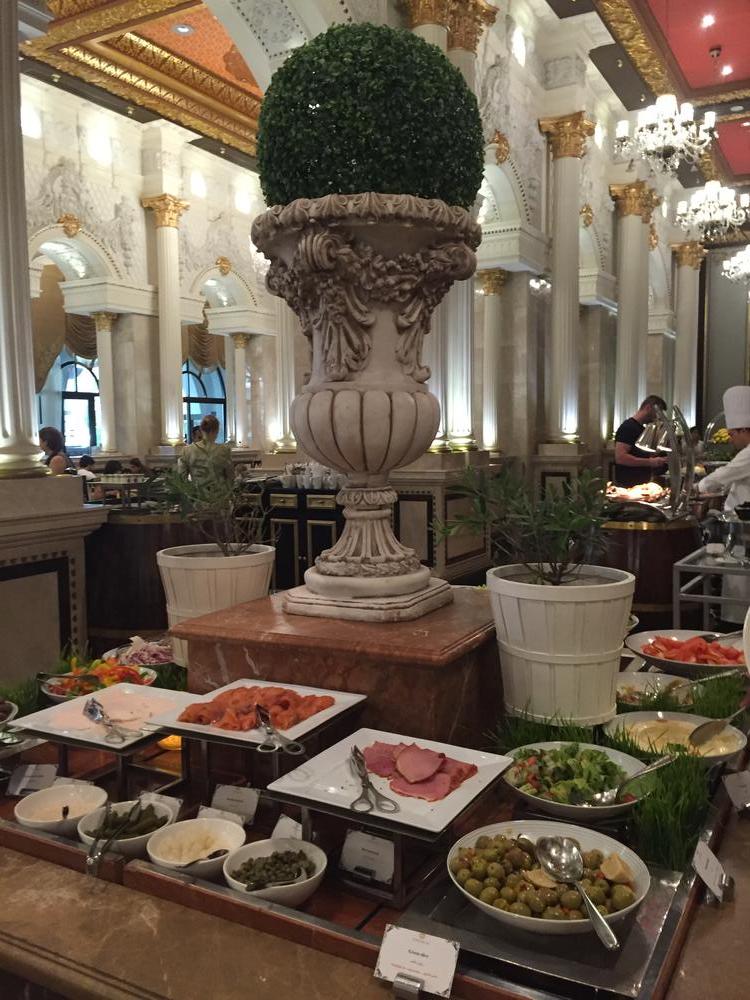 They had Indian breakfast options, pork products, all kinds of pastries, pancakes, cereal, cheeses, and about a million other things. Every day they had a few different foods, which kept things interesting. I had to loosen my belt a notch by the time the fourth day rolled around.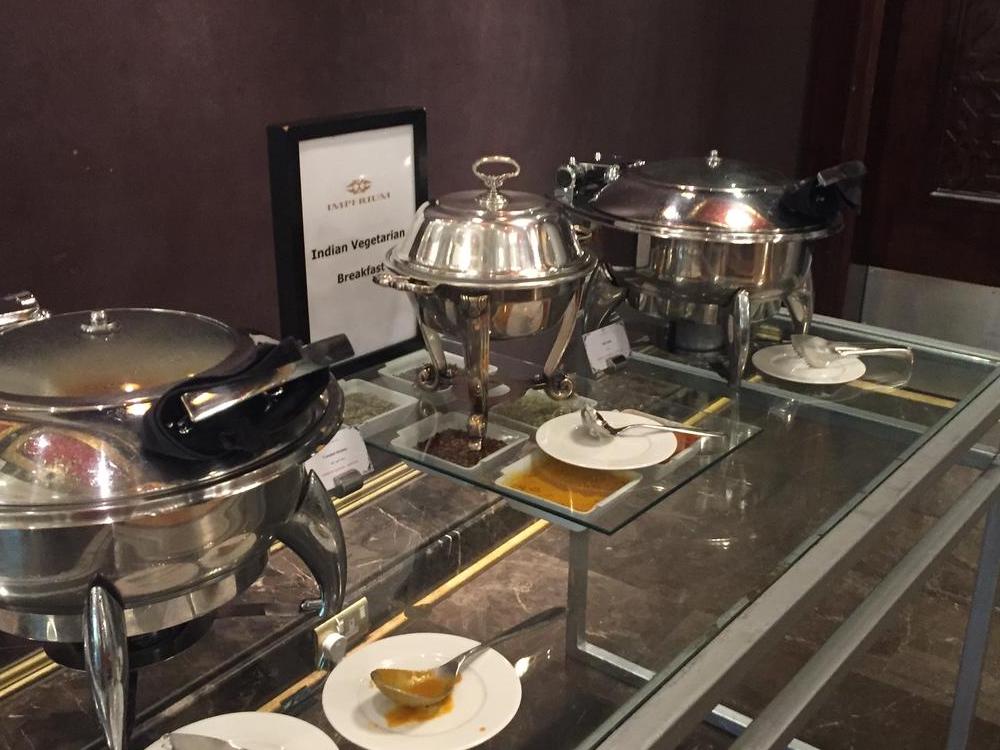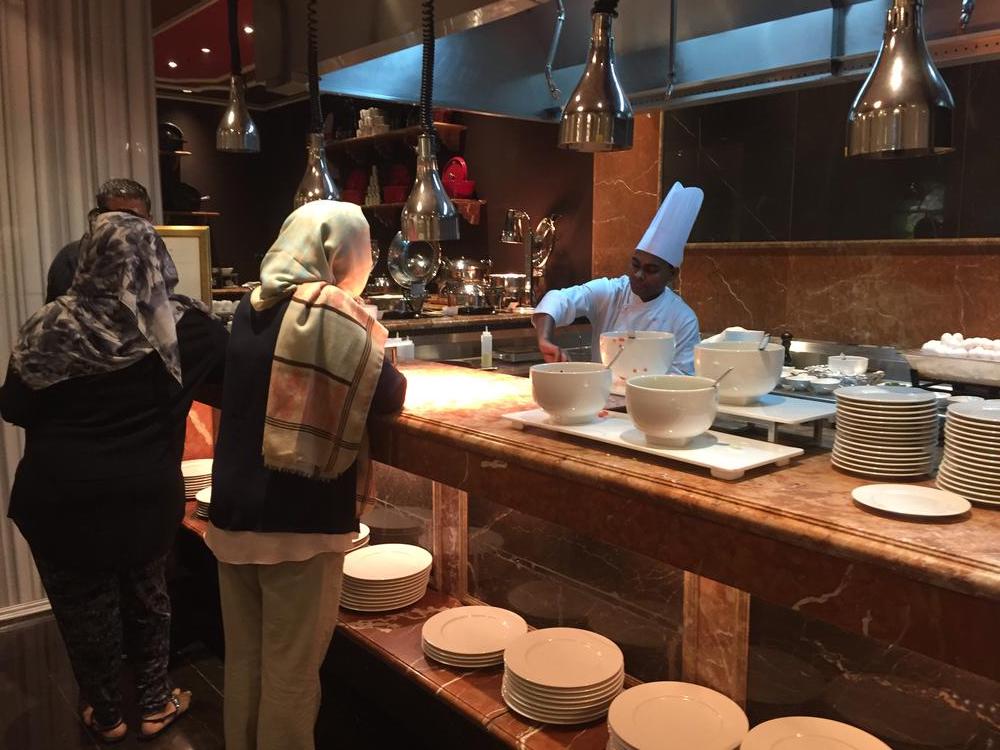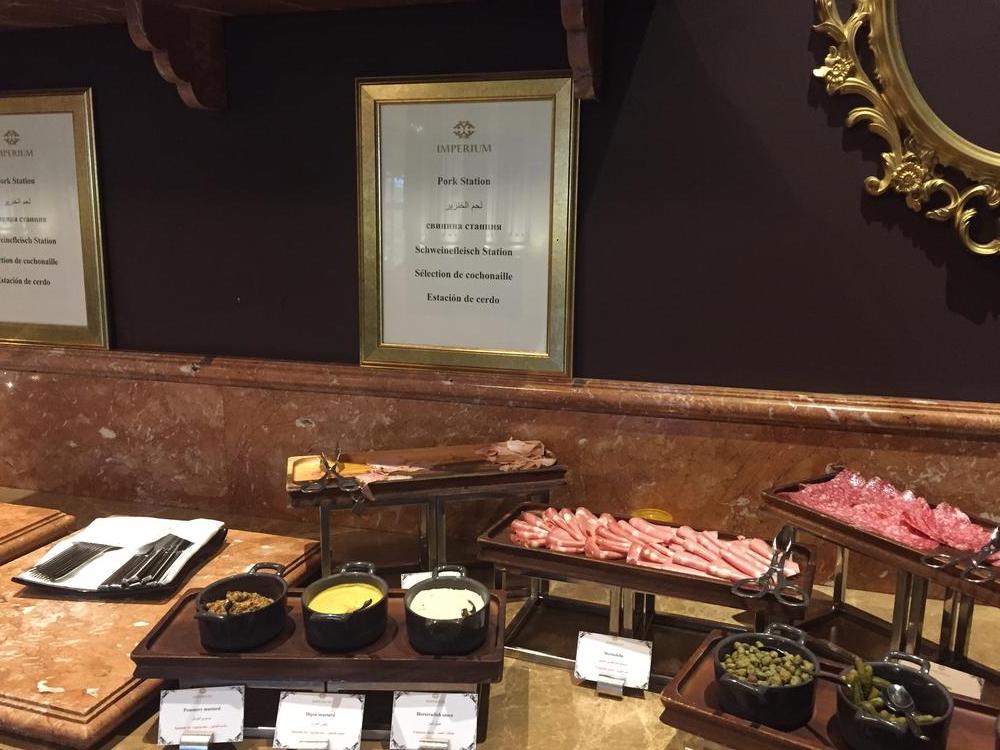 A few other things I noticed:
The hotel has its own beach. Attendants come around with cold bottled water, popsicles, and other free amenities. Even with the cold water, I couldn't stay out there long without frying.
The pool area is also very pretty, though it seemed to mostly serve as a place for kids to play.
There are several high-end shops in the hotel. I never saw a single customer in any of them during my entire stay.
Parking is by valet only. It's free, and it never took more than 5 minutes for them to bring my car around.
Stays at Jumeirah hotels include free admission to the Wild Wadi Water Park, right next to the Burj Al Arab. It's nothing to write home about, but fun for a couple hours. Honestly, after all that buffet food at the hotel, the last thing I wanted was for anyone to see me in a swimsuit.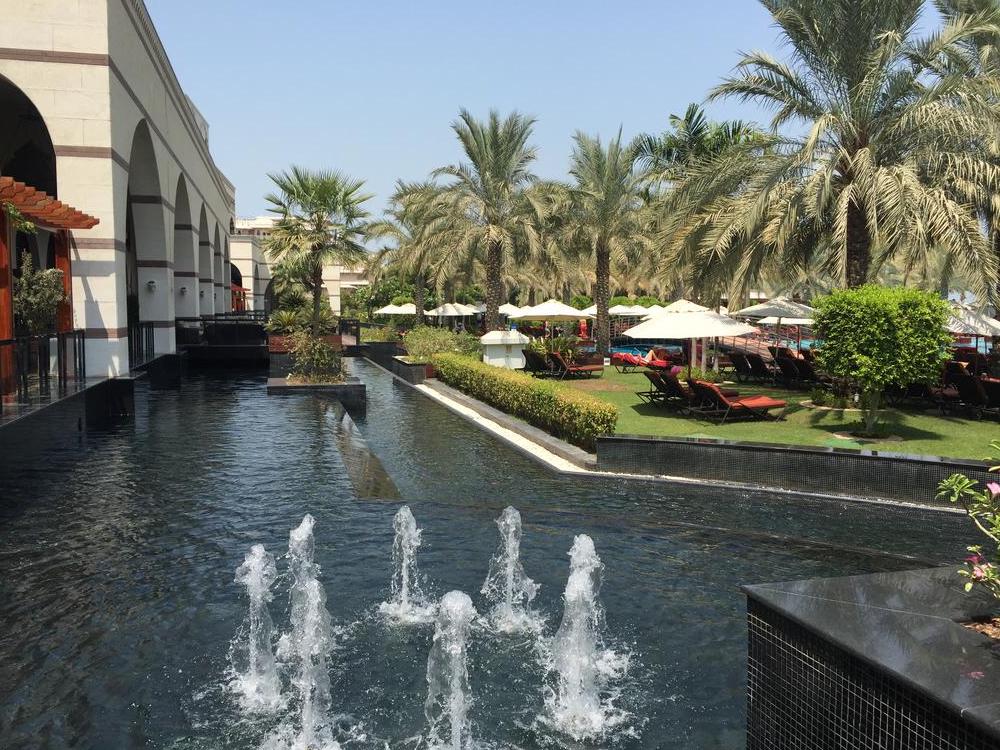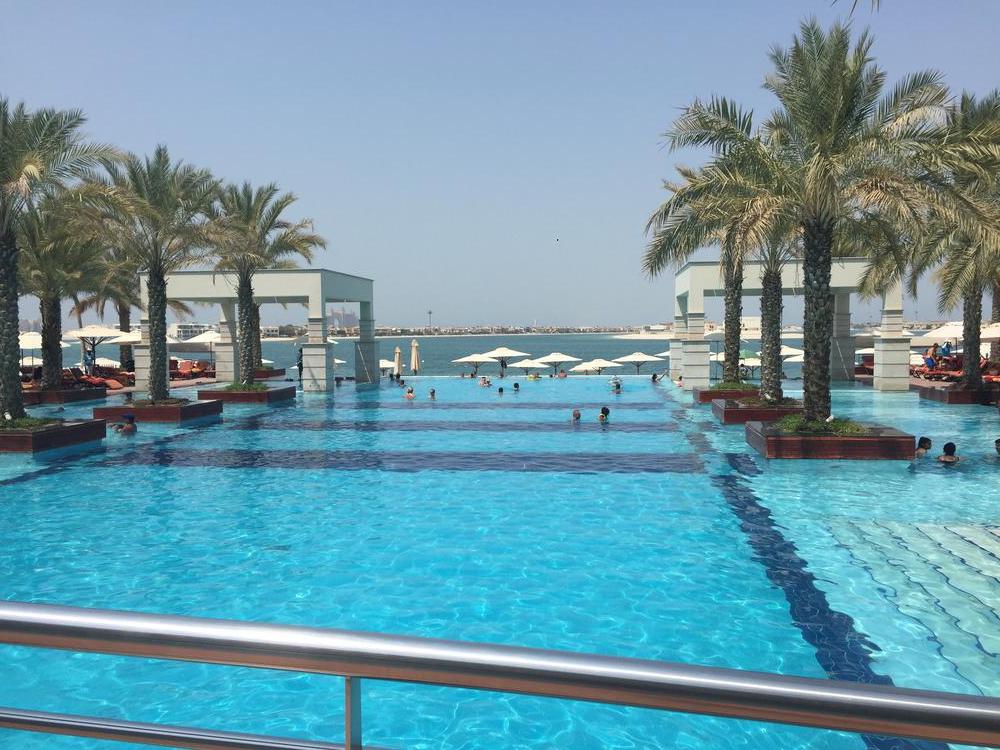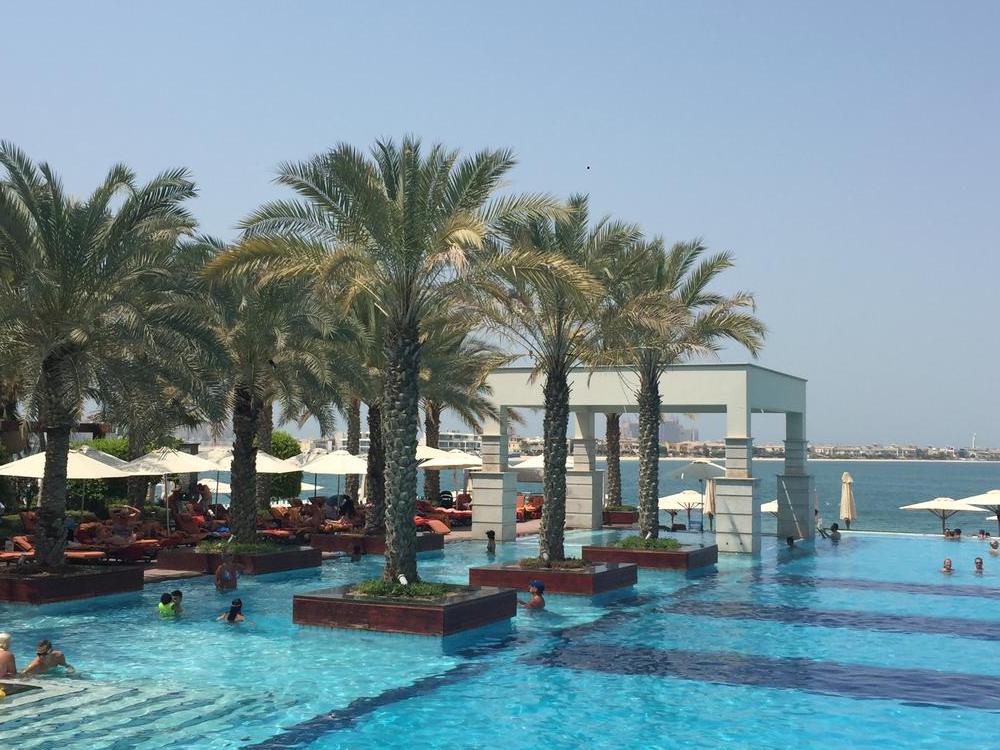 I'm so glad I stayed here, since I rarely treat myself to high-end hotel stays (I just live vicariously through Ben's trip reports – hopefully some of you can relate). Lesson learned: once in a while, it's ok to #treatyoself.