In the interest of full disclosure, One Mile At A Time earns a referral bonus for anyone that's approved through some of the below links. These are the best publicly available offers that we have found for each card. Opinions expressed here are the author's alone, not those of the bank, credit card issuer, airlines or hotel chain, and have not been reviewed, approved or otherwise endorsed by any of these entities. Please check out my advertiser policy for further details about our partners, including American Express, Capital One, Chase, and Citi, and thanks for your support!
Update: This offer for the Citi Prestige® Card has expired. Learn more about the current offers here.
---
I've written extensively about the Citi Prestige Card, which is one of the hottest credit card sign-up bonuses out there at the moment. It comes with a bunch of perks which make it more than worth keeping long term, in my opinion.
These include:
Points can be transferred to one of their airline transfer partners, or redeemed towards revenue flights on any airline
A $250 annual airline credit (with your first year's annual fee you actually get two of those — that's $500 of airline credits with your first year's $450 annual fee)
A fourth night free hotel benefit
The most comprehensive Priority Pass membership offered by any card
A $100 Global Entry fee credit
When it came to placing a value to the Citi Prestige Card sign-up bonus, one of the things I had the hardest time valuing was the fourth night free hotel benefit. At first I assumed it was a gimmick, though since giving it a try I've found it to be immensely useful.
Reader Russell left the following comment on the "Ask Lucky" forum, which I think is a good starting point to talking more about the benefit:
I've had the Citi Prestige card for two months and hoped that the "fourth night free" benefit would be worthwhile. So at the time I made a request for a hotel in St. Remy. It took two days to answer and finally came back as gibberish English explaining that they couldn't help. I tried once again yesterday for a hotel in Vienna in November and, not surprisingly, just received a message that they need more time. I had been of the impression that Citi's travel agency was a competent operation, but I'm now thinkIng that this is a bogus benefit that's really nothing more than a come-on. Very disappointing!
The process of booking Citi Prestige fourth night free
The first time I used the Citi Prestige Card fourth night free benefit, I was equally frustrated. I don't want to have to submit a request via an agent, and then have to wait 1-2 days for them to get back to me with a quote, especially with how quickly inventory can change nowadays.
But as I've explained, it doesn't have to be that complicated. Here's the process you want to go through to take advantage of the fourth night free benefit:
Find the hotel you want to stay at, and the publicly available rate you want. This includes the best available rate, prepaid rate, AAA rate, senior rate, etc. This doesn't include corporate rates, or promotional package rates, as a general rule of thumb.
When you know exactly which hotel you want, call up the number on the back of your Citi Prestige Card, and follow the prompts to be connected to a Citi Prestige travel concierge.
Once you have them on the phone, explain you'd like to take advantage of the fourth night free hotel benefit. Furthermore, explain you know exactly the rate and hotel you want, and would like to book right away.
The agent will take down your basic information (arrival and departure date, preferred rate and room type, etc.). And then they'll conference in a travel advisor, who does the actual booking. The Citi Prestige travel concierge will stay on the phone the entire time, as they'll be the ones to email you your confirmation.
It's not the fastest process, but within 15 minutes or so you should be confirmed. If you're staying at a chain hotel, you can also give them your loyalty program number, so that your stay will immediately show up on your loyalty program's reservations page.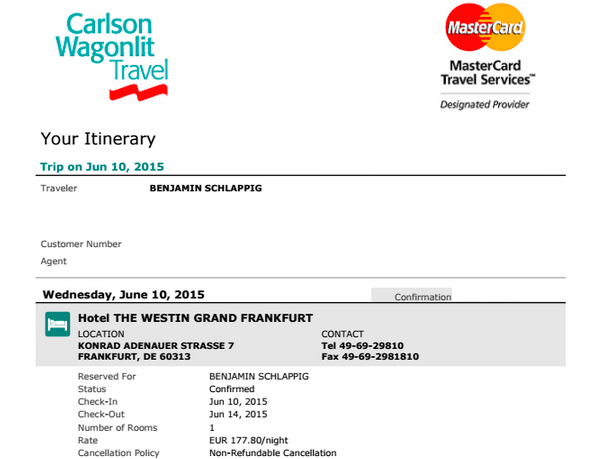 If any of the above steps don't go as planned, hang up and call again. But the key is that you want to explain that you know exactly what you want to book, and want to be connected to a Carlson Wagonlit Travel travel advisor right away.
Russell is correct, however, that not all hotels can be booked using this benefit. The hotel has to be part of the Carlson Wagonlit Travel network to be eligible. This includes virtually any major chain hotel, but won't include some bed & breakfasts, motels, independent hotels, etc.
So it's not the easiest process, and it would be nice if they made the benefit bookable through the website, but I doubt that will happen. Still, spending 15 minutes on the phone to save quite a bit of money is totally worth it.

Suite at Westin Grand Frankfurt using Citi fourth night free benefit
How valuable has the benefit been to me?
When I first got the Citi Prestige Card I was trying to decide how much the fourth night free benefit was worth to me. Since I live in hotels you'd think I could get lots of value out of it. However, I also wasn't sure:
How often I'd stay in four night increments
How often that "published" rate with the fourth night free would be cheaper than other promotional rates
In the month of June alone I've already used this benefit four times:
I used it twice at the Andaz West Hollywood, for a stay of a total of eight nights (I spent one night at another hotel inbetween to "break up" the stay, since it's not valid for back-to-back stays)
I used it once at the Westin Grand Frankfurt, when I was traveling with my family
I used it once at the Sheraton Offenbach (near Frankfurt), when I was traveling with my family

My groovy suite at the Sheraton Offenbach
Those are stays I've already made, and that's just over a single month. And that doesn't account for the future stays I've already booked using this benefit.
Suffice to say this perk has proven to be by far the single most valuable one on the card. It has already saved me almost $1,000, and that's just for stays I've taken so far.
Who is really paying for the fourth night?
This is a question, and not something I have an answer to. But I'm very curious about how this benefit works on the back end.
These hotel stays are booked through Carlson Wagonlit Travel. As a general rule of thumb, travel agents receive a 10% commission on hotel bookings. So presumably there's something on the back end whereby that revenue is shared to offset the loss, or something. But I'd be very curious about the exact arrangement.
Like most benefits, presumably this is sustainable because a vast majority of people won't take advantage of it at all, while others will take advantage of it once or twice. But if you stay in hotels a lot, you can get tremendous value out of the benefit.
Bottom line
I totally get Russell's frustration, though once you figure out how the benefit works, I think it's outrageously valuable. This is an incredible value, and hands down my favorite hotel perk offered by any credit card.
The Citi Prestige Card has a ton of useful perks, but this is one which can pay for the annual fee over and over and over again.
Have you used the Citi Prestige Card fourth night free benefit yet? What was your experience like?