There are a few things in the world so illogical that I lose sleep over them. One of those things is why Thai Airways doesn't have a first class product to LAX. Hear me out.
Thai used to have two nonstop flights to the US, one to New York and one to Los Angeles. A couple of years back they cut their JFK nonstop flight, given what a gas guzzler it was at 17+ hours of flight time.
Then on May 1 they discontinued the nonstop Bangkok to Los Angeles flight, given that it too was a gas guzzler and that they were planning on retiring their A340-500 aircraft that operated the route. Instead they switched the route to a 777-200 and added a stop in Seoul Incheon. I can see why the stop in Seoul Incheon and switch to a 777 make sense, given that not only is the aircraft more efficient, but also that there are huge cost savings in carrying only 12+ hours of fuel at a time vs. 18+ hours worth of fuel (since you burn quite a bit of fuel just carrying excess fuel, not to mention it often comes at the expense of cargo, which is a big money maker). But what I didn't understand about the added stop is that they didn't instead put a 747 or 777-300ER on the route, since the 777-200 aircraft don't have a first class cabin.
Here's the thing — Thai Airways admits they lose money on their first class product, and that they basically keep it around for "royalty." There's no other airline where I've as consistently run into other award passengers. Still, that's not to say they can't strategically schedule their aircraft.
They fly 747s to cities like Rome and Madrid, so surely Los Angeles would work at least as well, right? I mean, I have to assume there's a decent amount of paid first class traffic in Los Angeles compared to some other cities they presently operate the 747 to.
Well, it seems they finally agree, because as of March 31, 2013, the schedule suggests that Thai's Los Angeles to Bangkok service will be operated by the 747, and first class award space is wide open!
This is pretty exciting news because Star Alliance first class options between North America and Asia (without going to Europe) are pretty limited. The only airlines that consistently release first class award space are Air China, Asiana, United, and now Thai.
Of those four options I'd almost always choose Thai, especially if departing Bangkok thanks to their amazing ground experience, which I've written about here, here, here, and here (yes, those are links to the trip reports and not the emergency exits).
The one disclaimer I'd add is that Thai is notorious for adjusting their schedule, so I wouldn't completely count on the launch date. I wouldn't be surprised to see them start the service months earlier, months later, or not at all.
But at least it's a positive sign…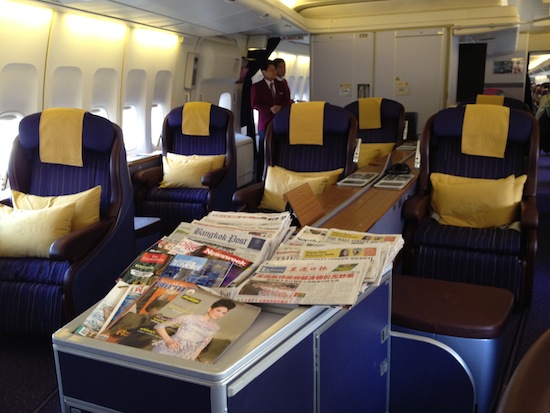 Thai Airways first class
(Tip of the hat to usairelite)