As Ben/Lucky is shuttling back and forth between China (or as I call it, the spiritual homeland of the Montblanc pen— JUST KIDDING!), posts will be a bit lighter and I've volunteered to step in now and then with thoughts on aviation, points and miles from the amateur perspective.
---
I'm a big fan of Google Street View. As someone who wants to travel every inch of the world but has only (relatively) scratched the surface so far, I find that Google Street View is a great technology to "tour" cities and places near and far.
In fact, it's also a great trip planning tool: you can "explore" neighborhoods and choose accommodation in any given city accordingly. It really has revolutionized the way we can view the world from our laptop.
As it turns out, Google Street View is a fantastic way to tour airplanes, as well.
I recently flew Air France in hopes of checking out their new 777 business class product, although a last-minute delay in rollout meant I was stuck with the old, angled-flat seats.
But Google Street View has a really in-depth tour of the newly-outfitted Air France 777.
You can see what La Première might be like during meal service…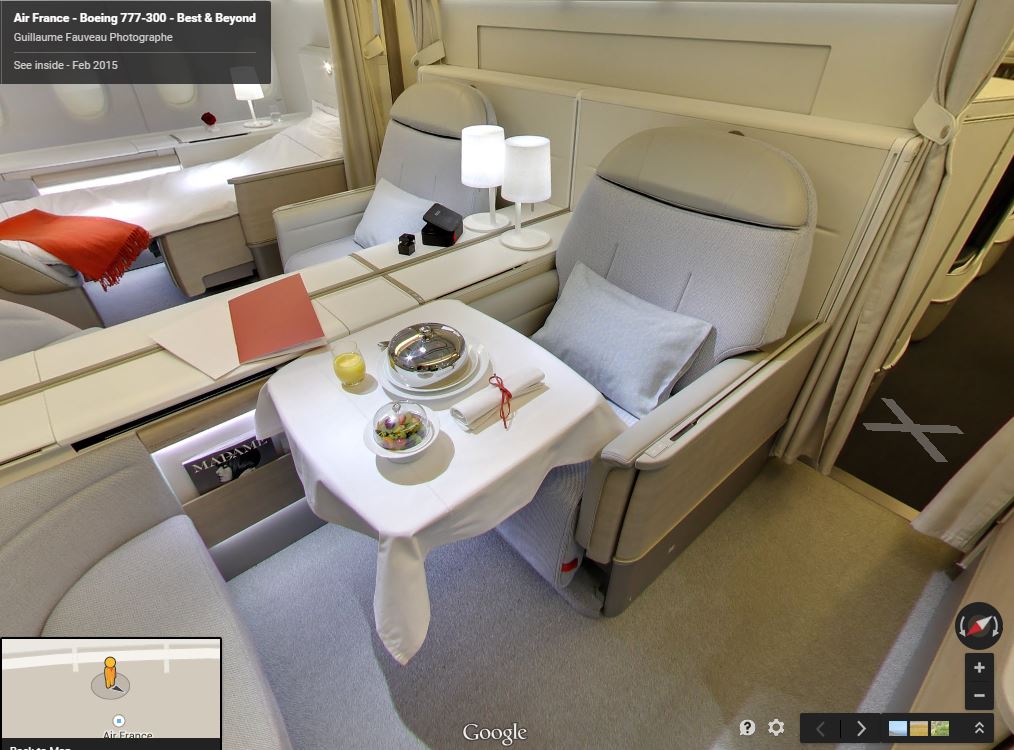 …what the seat is like as a bed…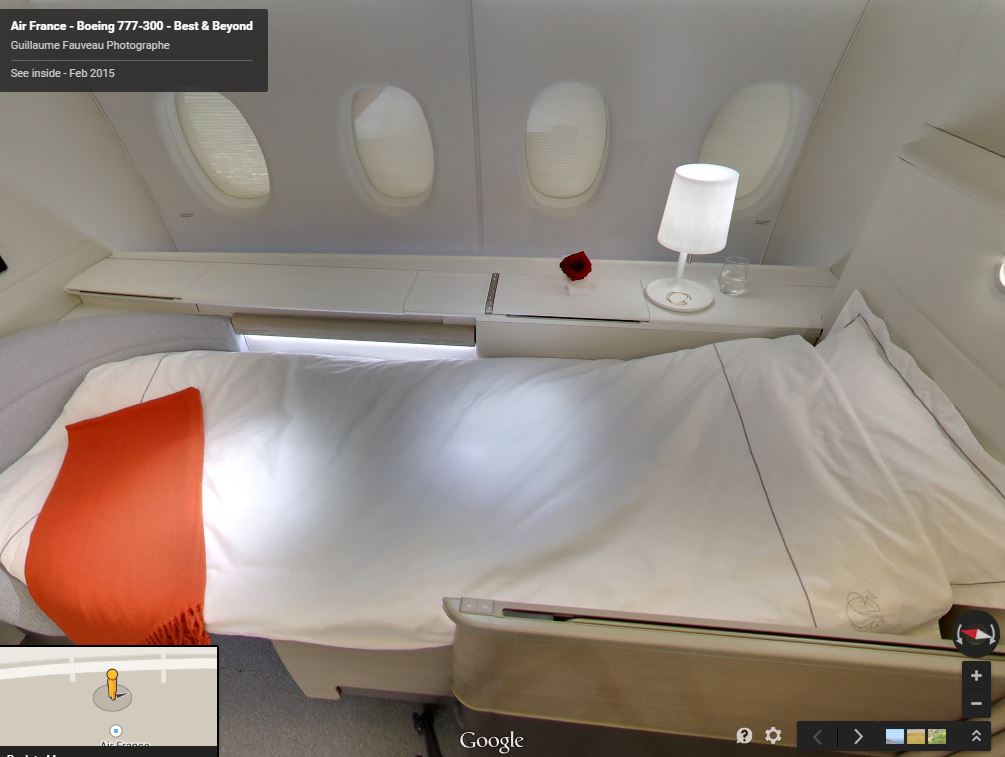 …and what it's like when you want complete privacy.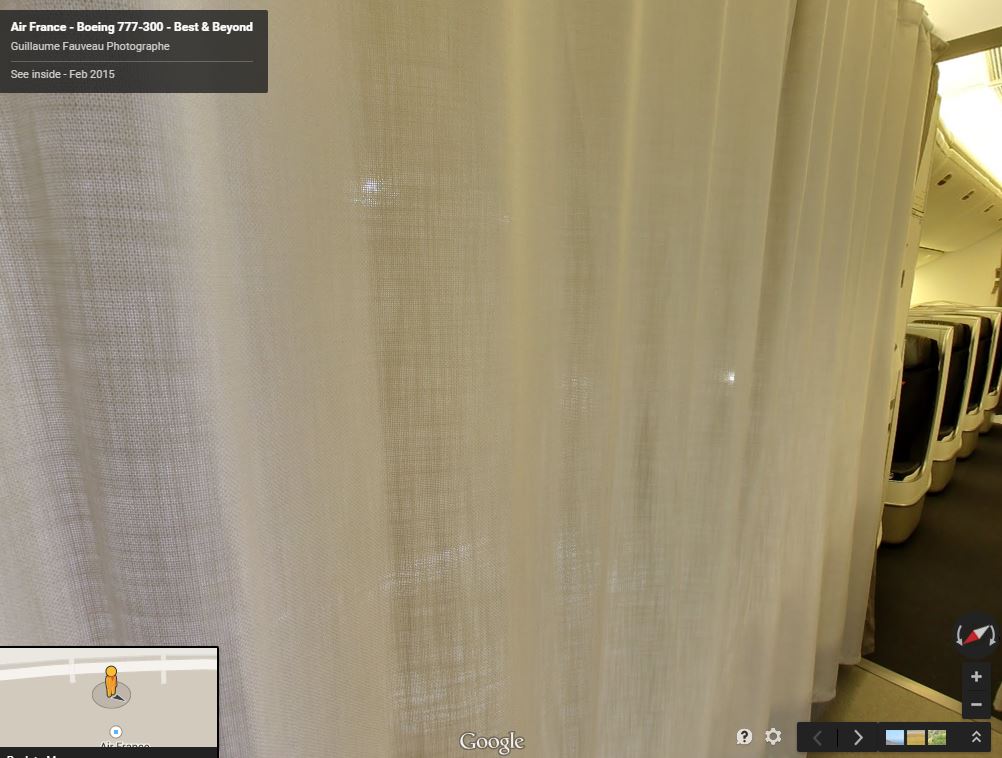 The new Business Class seats are presented at their very best, as well, with the photographer catching some nice details.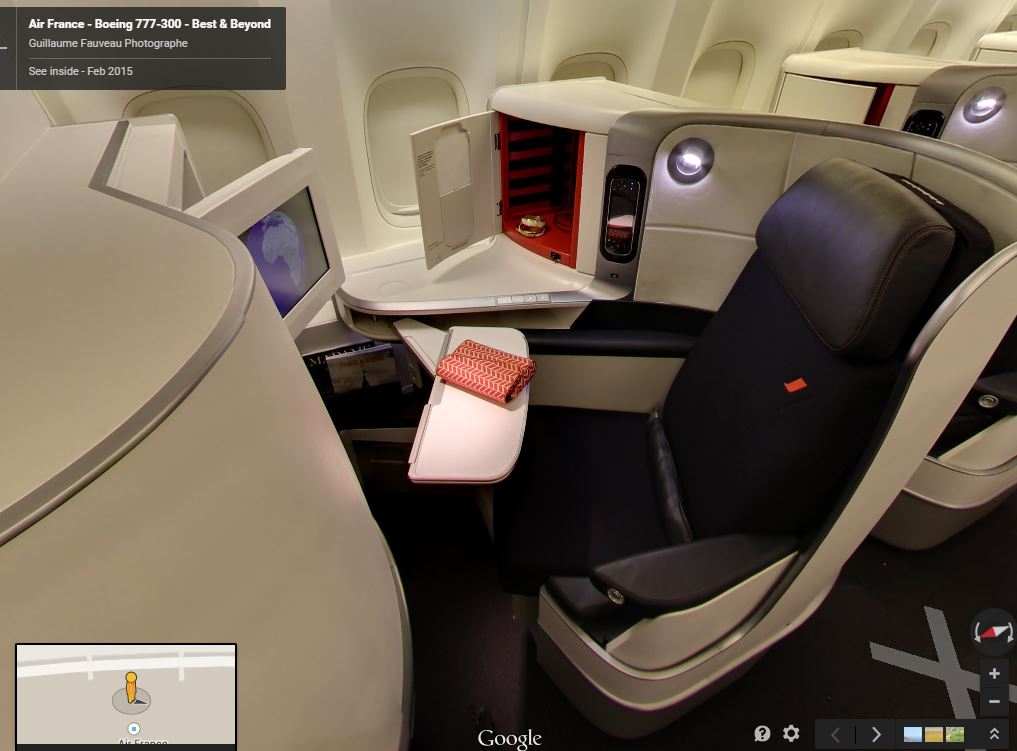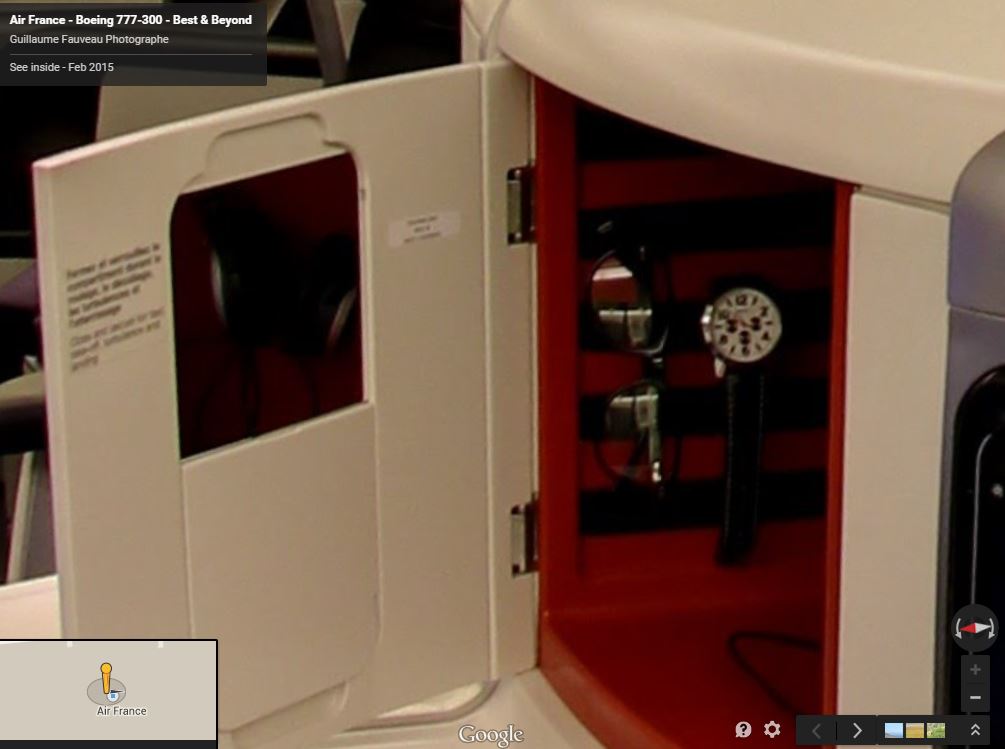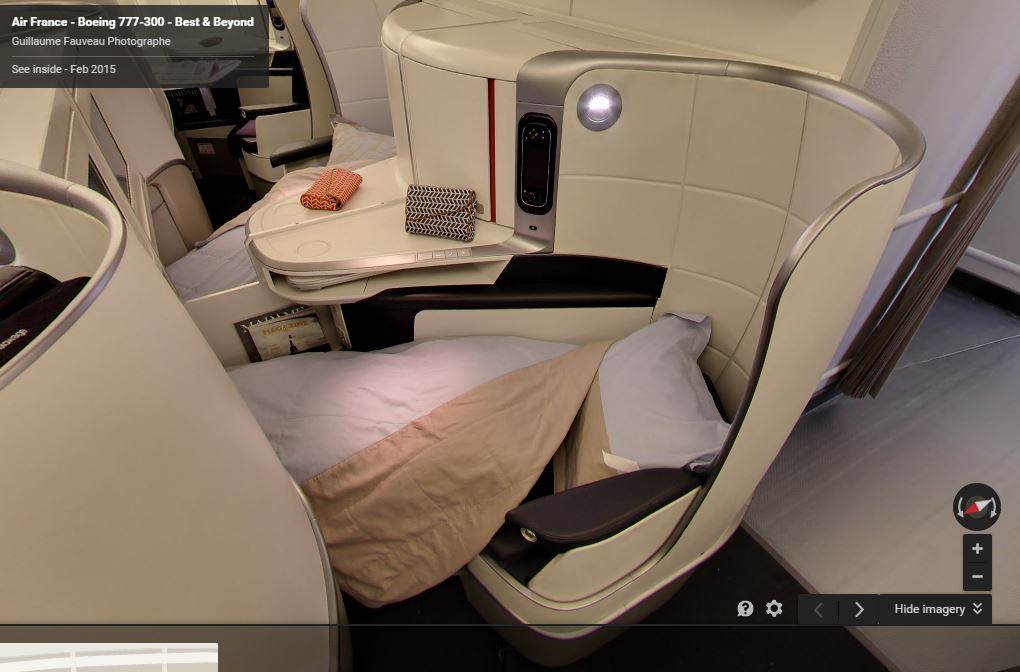 The tour makes Premium Economy look pretty nice, actually!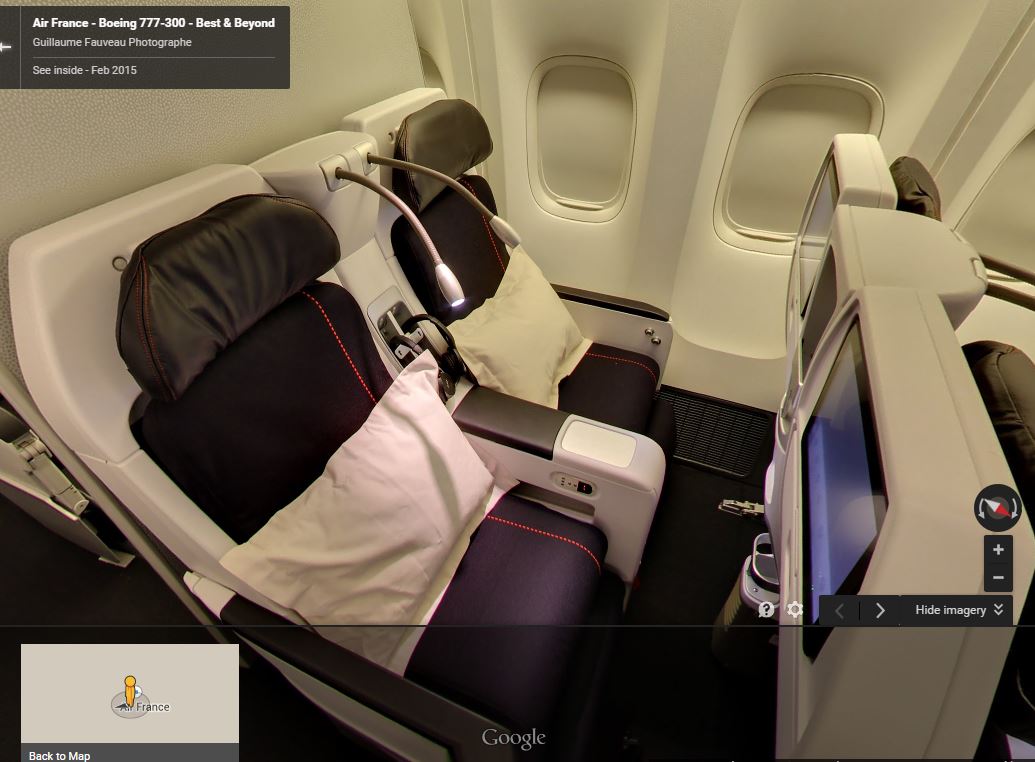 And then there's regular economy (womp, womp), which even Google Street View can't make appealing.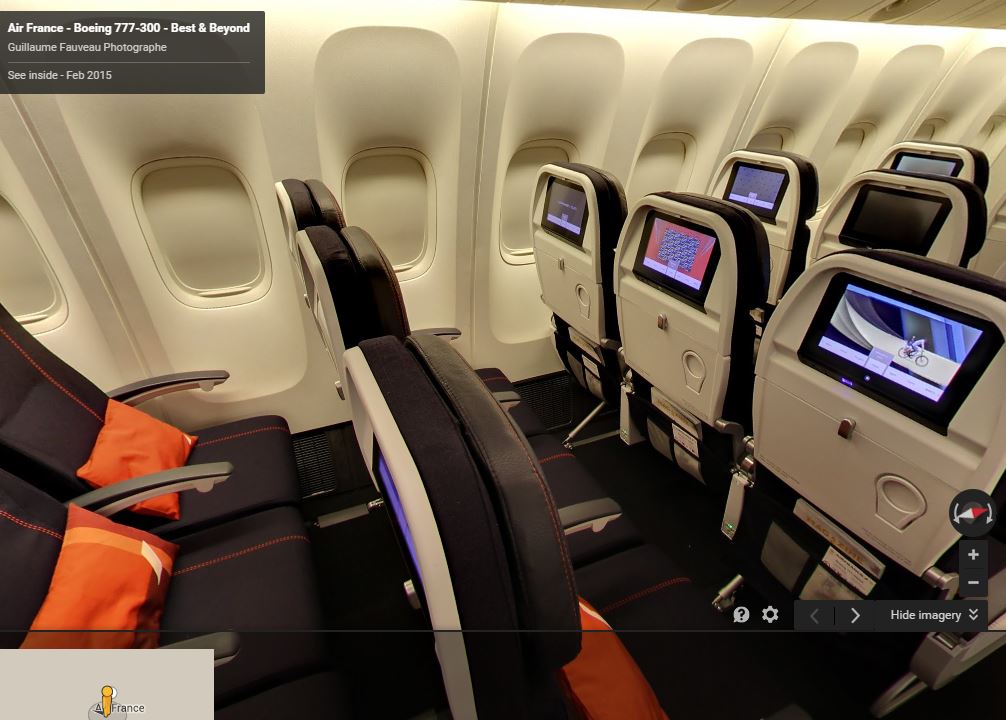 Perhaps less interestingly, you can even tour Air France's new medium-haul A319 on Google Street View.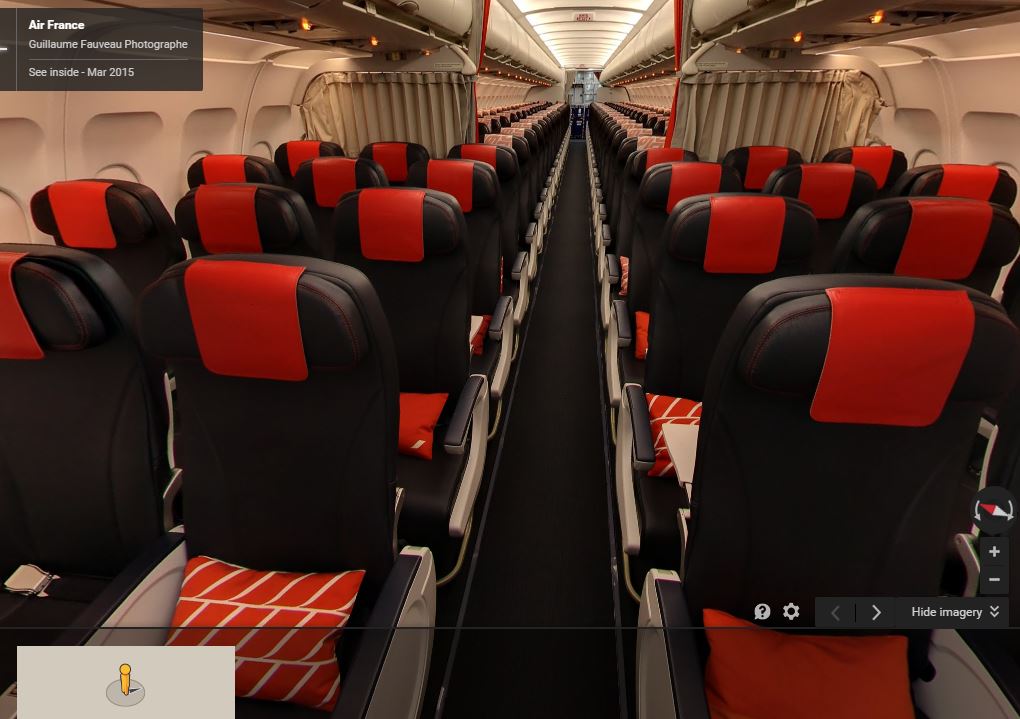 It's not just Air France that's in on the game.
SAS, an airline for which it's safe to say has received little coverage in the way of trip reports on this blog, has a new business class product. They've partnered with Google Street View to give you a tour.
The business class cabin looks modern, tasteful and spacious.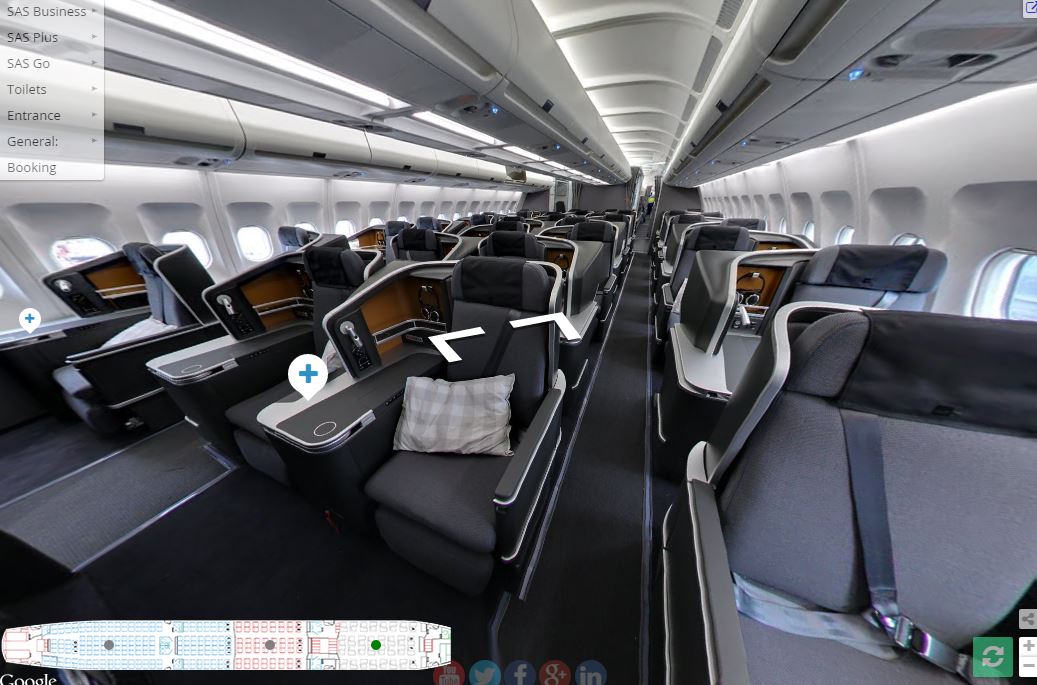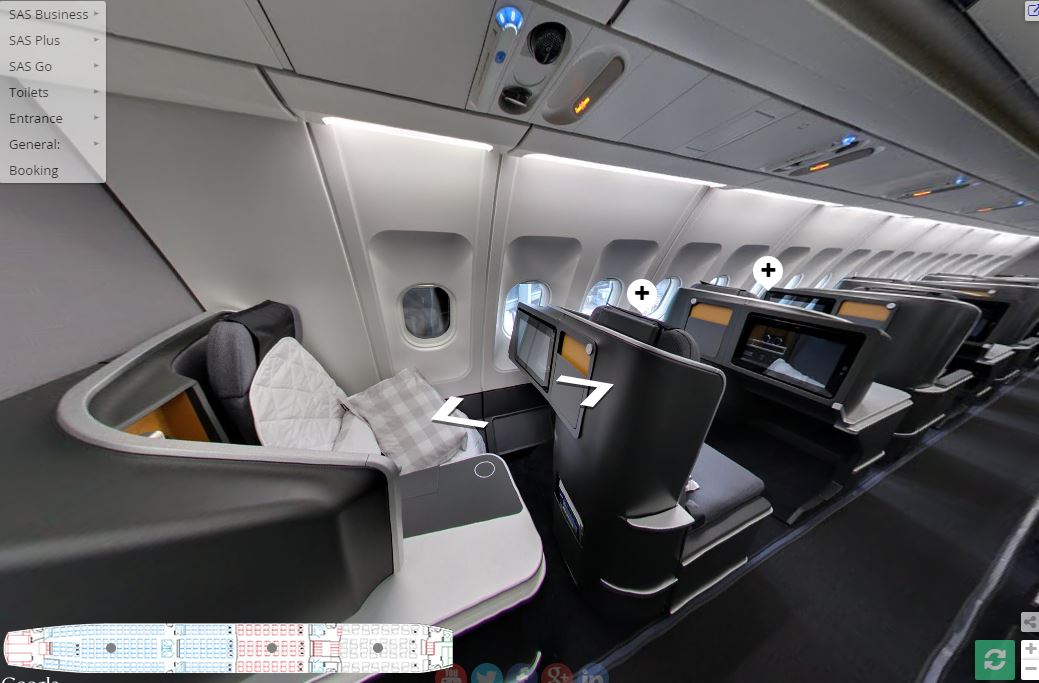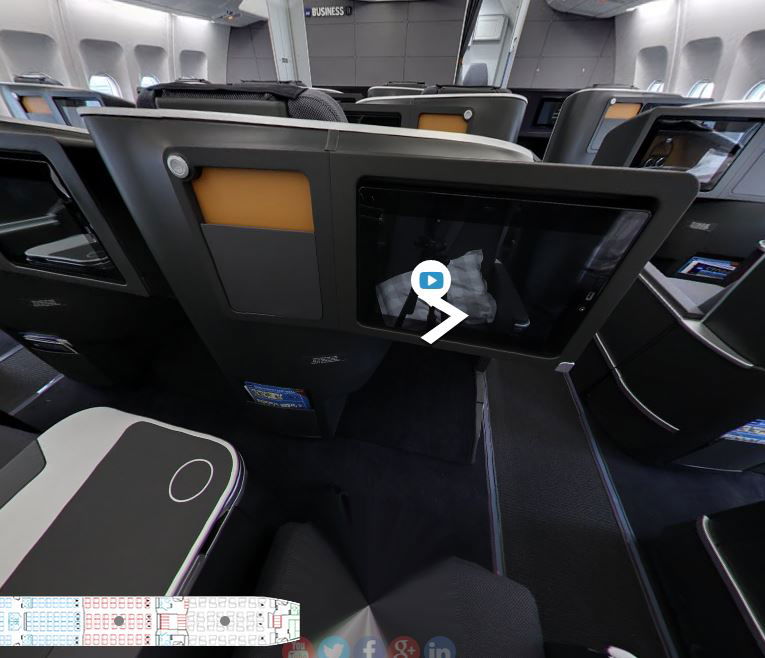 "SAS Plus," that is, their premium economy cabin, looks decent as well.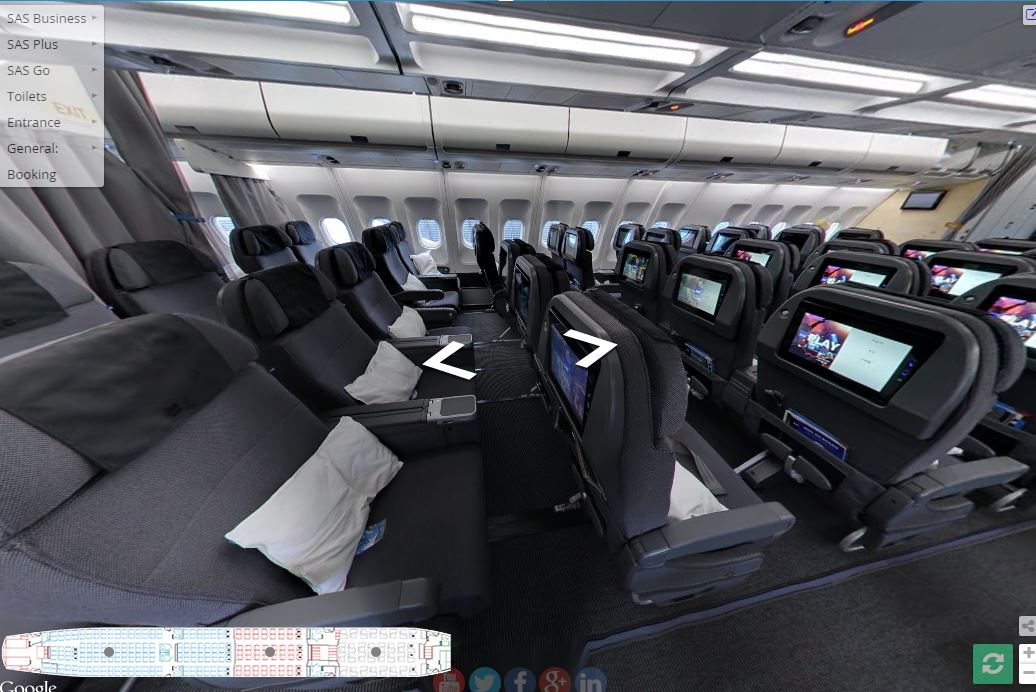 The economy cabin looks fine, I suppose, with fairly sizeable seatback video screens.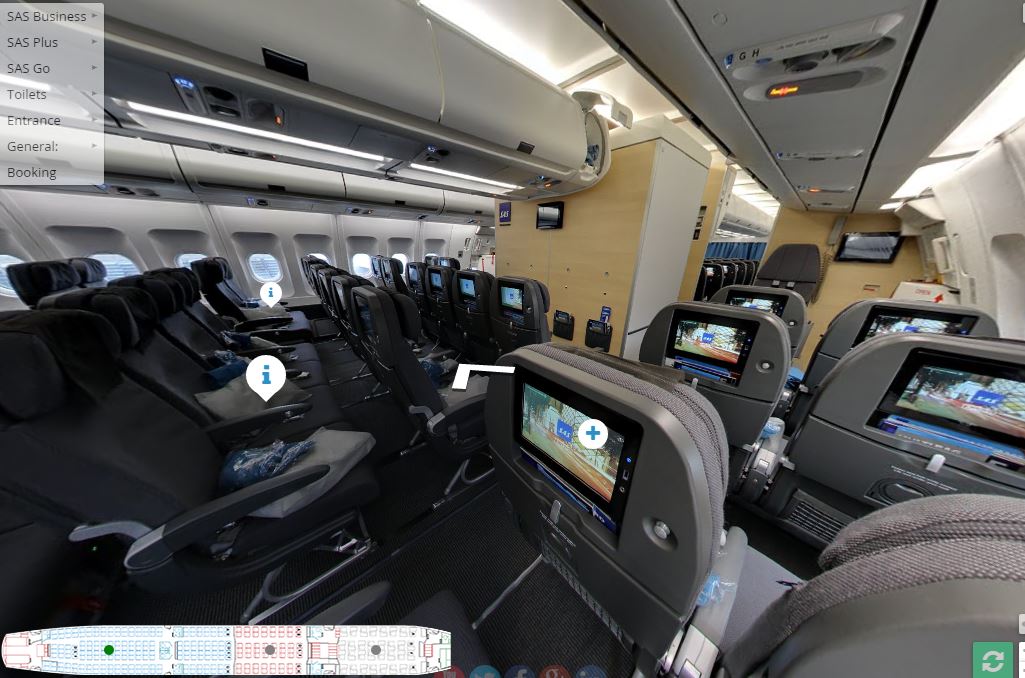 You can also tour the lavatories on SAS, though I'm really not sure why you'd want to. They aren't special.
Not to be outdone, Emirates is in the Google Street View game as well — and in fact, their A380 has been tourable on Google Street View since 2013. Well, parts of the A380.
Your can tour Emirates' First Class cabin (though none of the seats have been styled into a flat bed).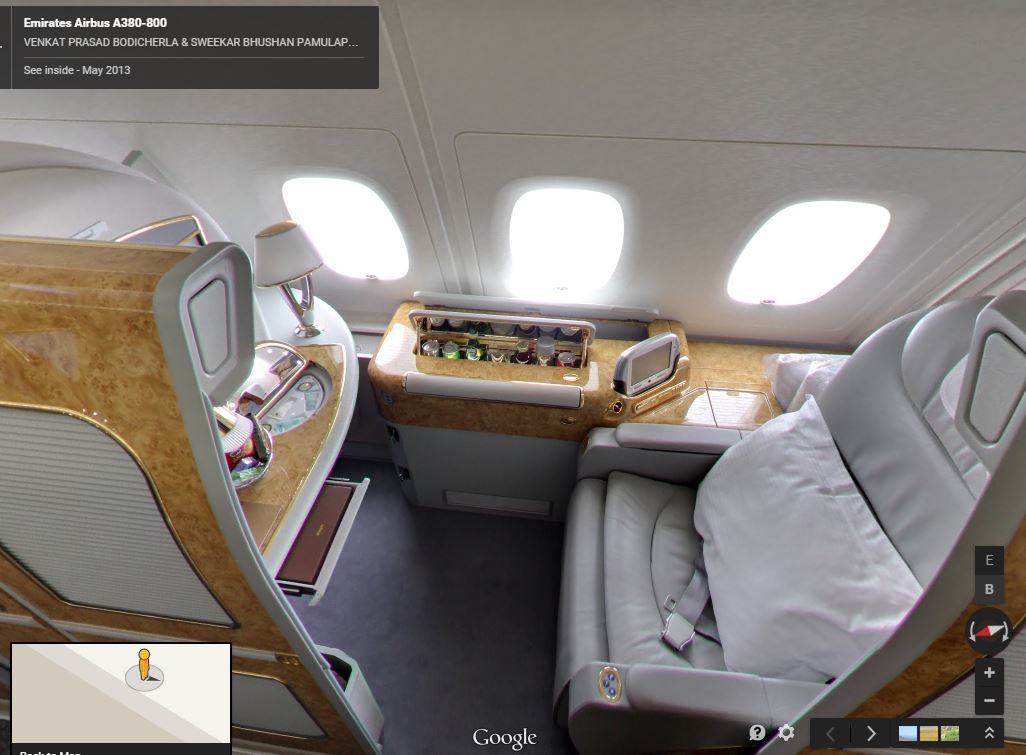 You can check out the incredibly large business class section…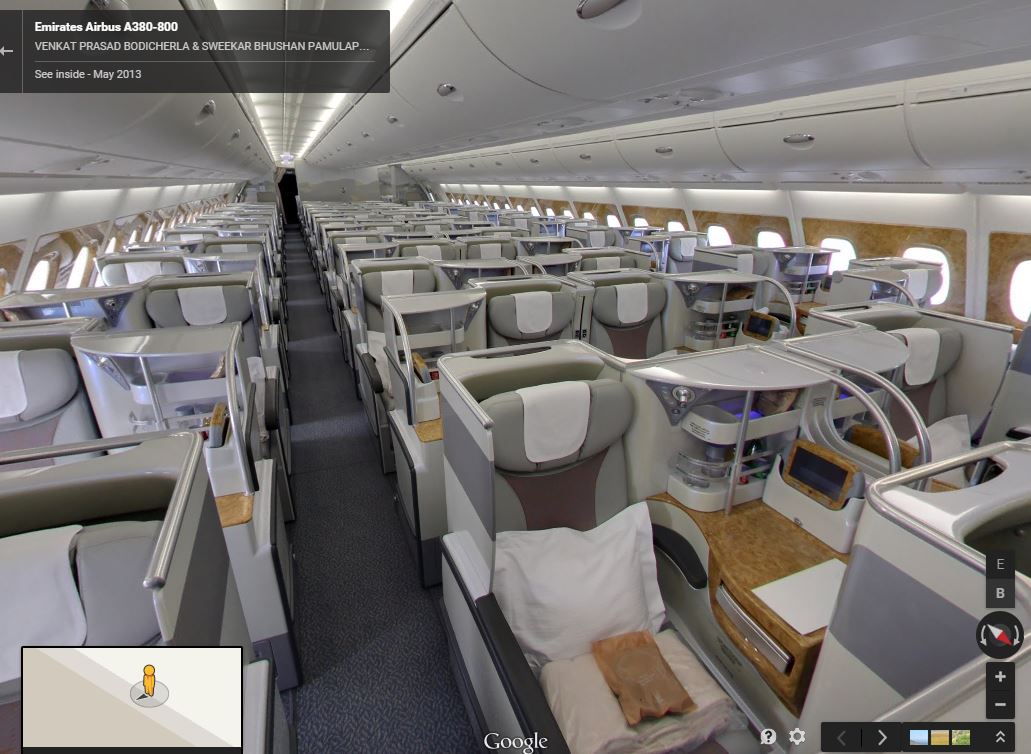 You can even visit the onboard bar…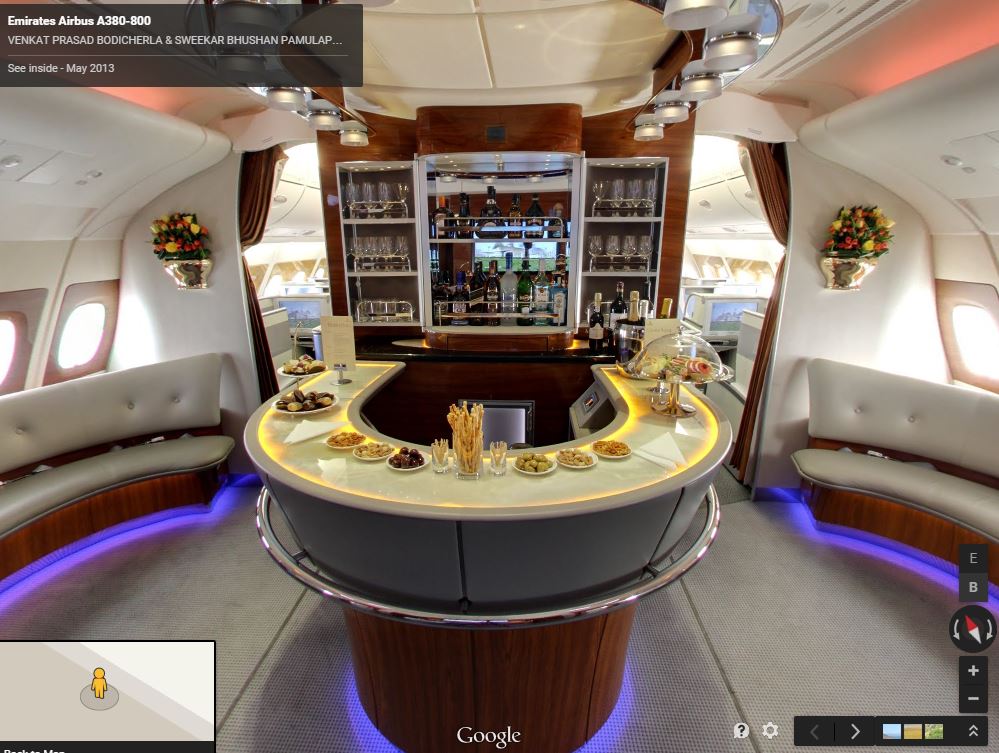 …as well as the snack area.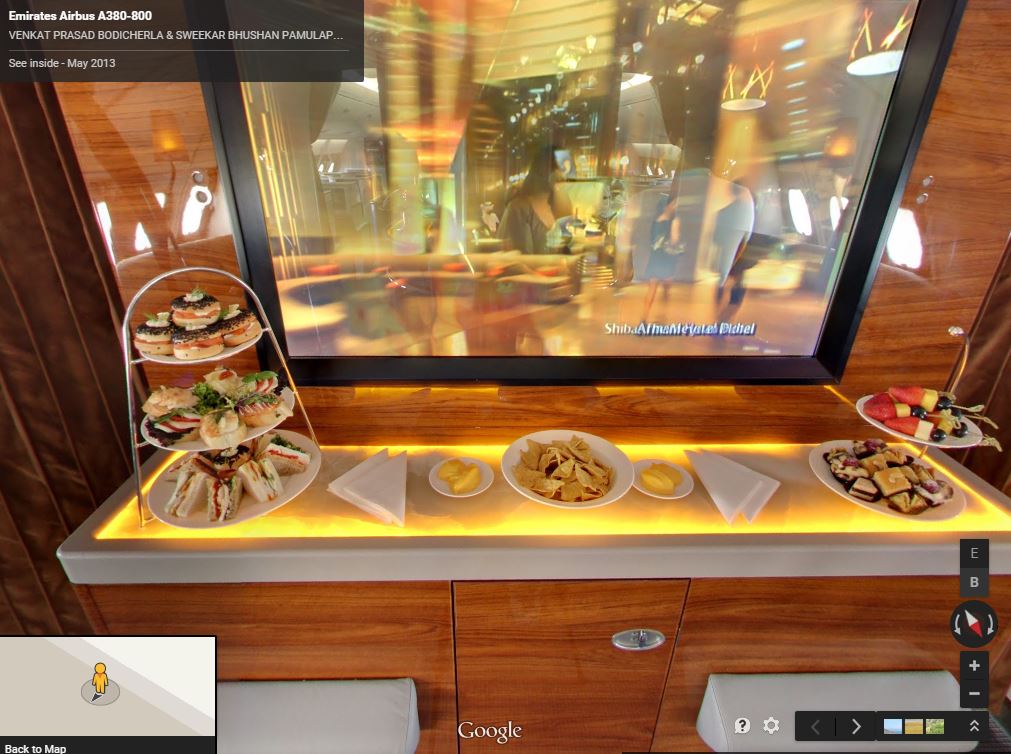 And of course, you can take a virtual shower.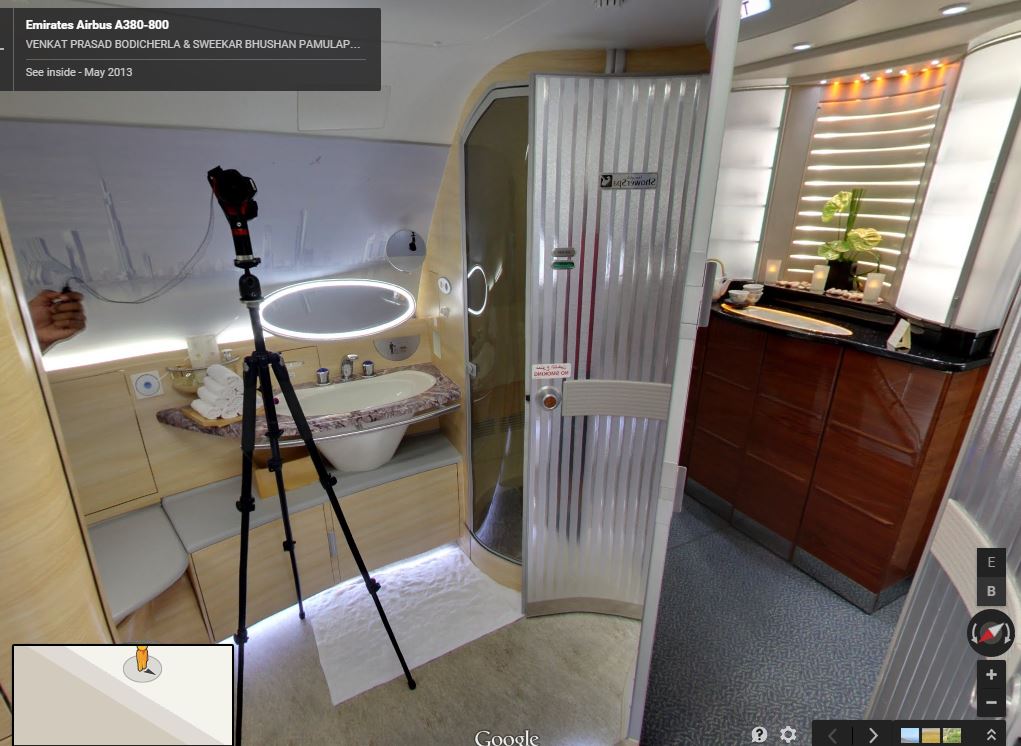 What you can't do is navigate the stairway downstairs and check out the lower deck. Apparently Emirates wants to show off its premium cabins on the A380, but isn't too keen on you seeing what their economy class looks like. UPDATE: You can't navigate between the premium deck and the economy deck, but as commenter Aubrey points out, there's a toggle on the right side of the page between "B" and "E" – if you want to explore Emirates' depressing endless rows of long-haul coach for some reason, click on "E."
None of this is earth-shattering, of course, but I have to say this is pretty cool, and a great way of "previewing" an airline before you head onboard. For me, since Air France's La Première class is virtually unattainable, this is my next best way of ogling it in all its gorgeousness. (Come on… that's a really beautiful cabin.)
Have you seen any other airlines with Google Street View tours? Does this help you scratch your trip report itch in between Ben's posts?