In 2019, the 512-room TWA Hotel JFK opened. For us avgeeks, this might just be the most highly anticipated hotel ever. I reviewed the property shortly after it opened, and there were many things that impressed me.
Well, this weekend I decided to return to the hotel for a second time. Unfortunately the stay left me disappointed, and I won't be staying here again. Let me explain.
The TWA Hotel JFK is worth visiting…
Let me start on a positive note, and acknowledge that the public areas of the TWA Hotel JFK are a work of art. If you ever find yourself at JFK, you absolutely should wander here. The hotel is open to the public, and the owners put an incredible amount of effort into restoring this building (the lobby is the former TWA Flight Center terminal, which was designed in 1962), and creating something special.
Heck, even have a drink at onboard the Connie, or maybe even pay to use the rooftop pool with plane views.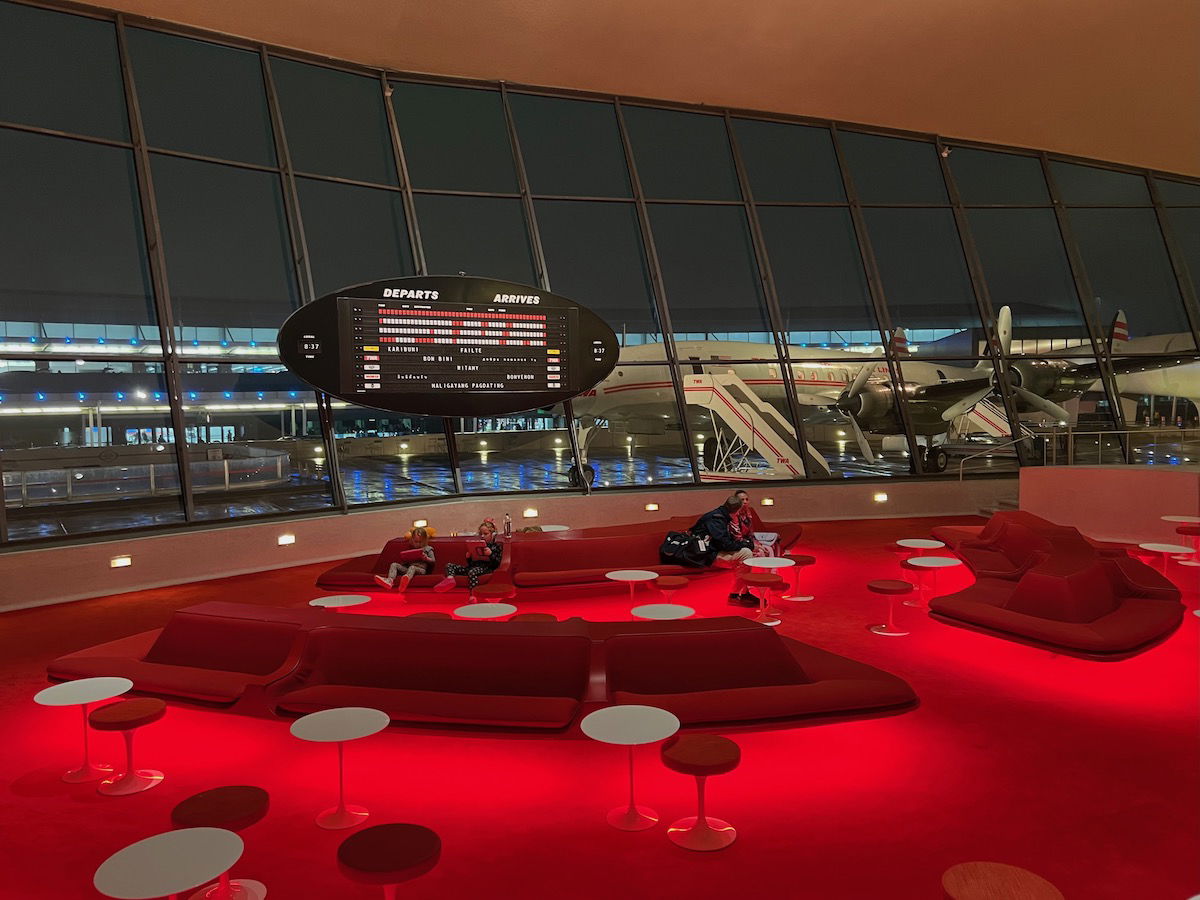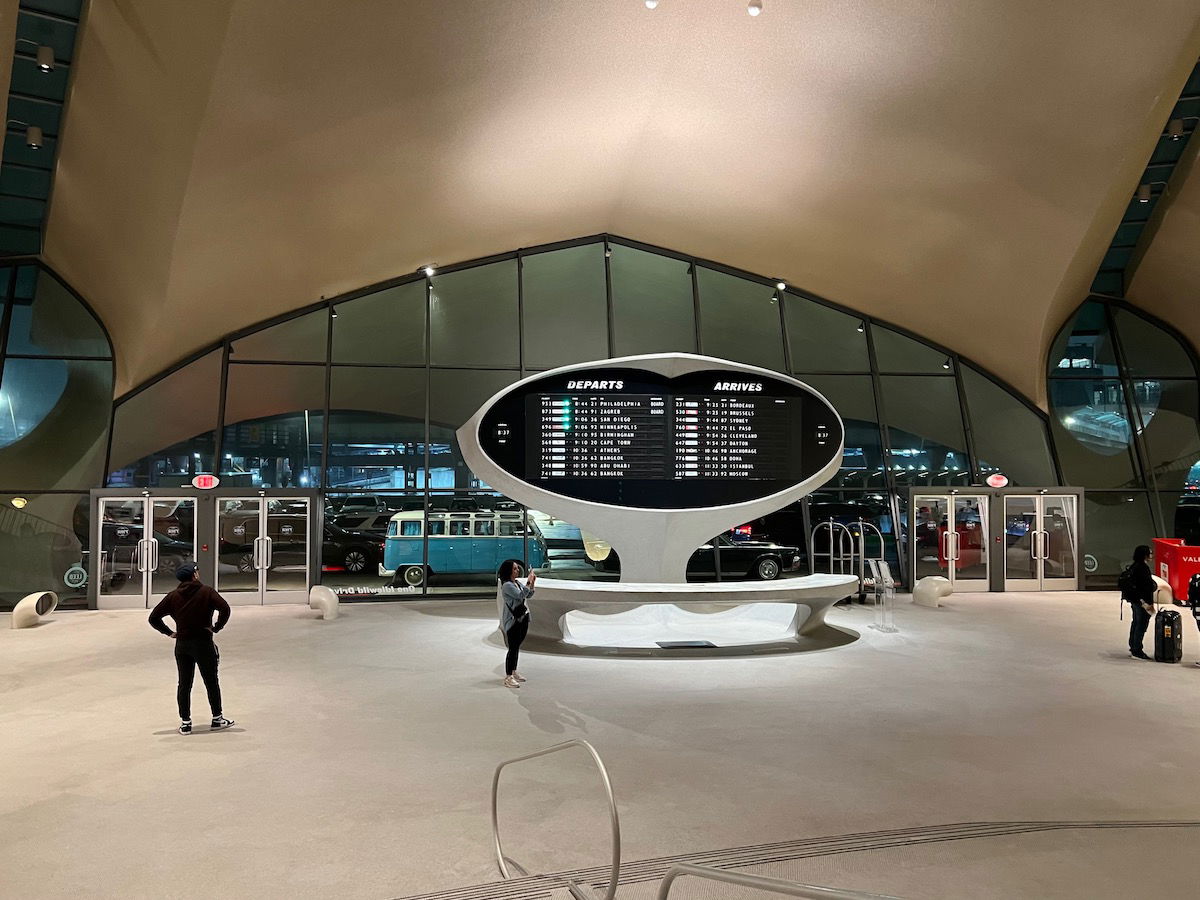 However, unfortunately I'd stop short of actually staying here…
Why I wouldn't stay at the TWA Hotel JFK again
Walking around the TWA Hotel JFK (for free) and actually staying at the TWA Hotel JFK are two very different experiences. When staying at the TWA Hotel JFK, it's pretty apparent that the owners have forgotten that they're in the hospitality business, but rather they're seeking inspiration from ultra low cost airlines.
The TWA Hotel is owned by MCR Hotels, which has a portfolio of nearly 150 hotels, making it one of the largest hotel owners in the United States. While many of MCR's properties are operated as Hiltons and Marriotts, this one is run directly by the company.
In September 2021, I wrote about how MCR's CEO shared his vision for how the hotel industry should evolve. Here are some quotes:
"I keep kind of trying to push the envelope here and say, as a hospitality business, stop giving things away for free. Being hospitable does not mean giving people things for free. Business travelers never use the pool, so why should they pay inherently an indirect cost to use the pool. It allows us to charge a lower rate to everybody, and then people can buy up for what they want. So, everybody gets a lower rate."

"To the extent the hotel business moves in that direction, the customer gets what they want. Everybody gets a lower price point, and the industry becomes more profitable."

"[The major hotel company CEOs] all pay lip service to it but remember: They're in the business of giving things away for free. That adds brand value. We owners are in the business of not giving things away for free because it's our bottom line. It doesn't hurt [Marriott CEO] Tony [Capuano] or [Hilton CEO] Chris [Nassetta] to give things away for free. It hurts our P&L."
MCR has full control over how the TWA Hotel is run, and I think this perspective perfectly reflects what the guest experience is like… and it's not pretty. Where do we begin?
Let me state in advance that I just had a short overnight at the hotel, and my intent wasn't initially to review my stay, so I didn't take many pictures. For more pictures of the property in all its glory, check out my 2019 review.
There's no value for money
Of course I don't fault any hotel for trying to maximize its revenue, though I'm a bit confused by the TWA Hotel's pricing. The standard pricing here over weekends seems to be $359+. That doesn't include the facility fee, so in the end you'll pay $438.20 for the privilege of spending a night here. In a standard room. With no view.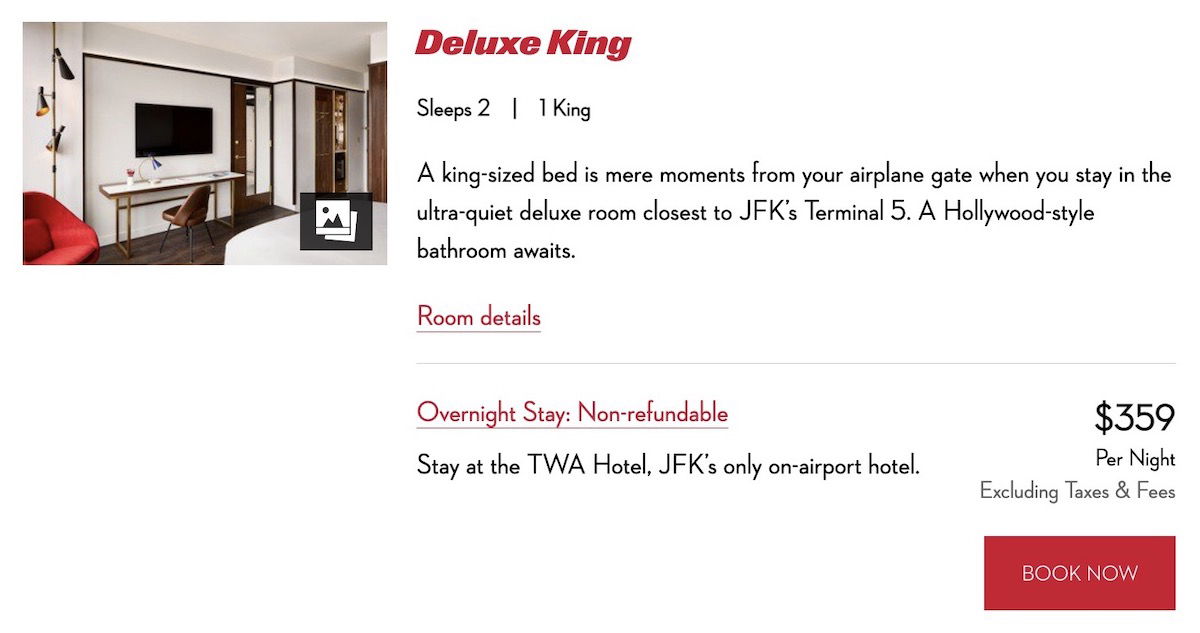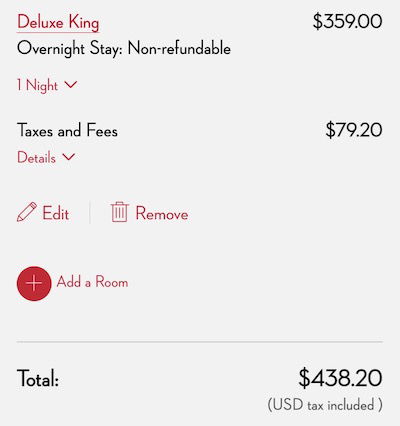 Admittedly some people are willing to pay a premium to stay at a hotel that's (sort of) connected to the airport, but is the demand really there to fill a 500+ room hotel this way? I feel like there must be more to the story here.
Does anyone know if the TWA Hotel tries to publicly maintain this pricing, but is then bookable through OTAs or through distressed traveler rates at much lower costs? Because this isn't just a mild premium compared to what other hotels in the area are charging, but rather it's somewhere around double.
I tend to think that if you're charging these kinds of rates, guests should expect a certain level of service and included amenities, and that's simply not reflected here.
Absurd booking & cancelation policies
Beyond the high cost to stay here, the TWA Hotel's rate types rub me the wrong way. The TWA Hotel has both flexible and advance purchase rates. If you book the flexible rate:
A deposit for the entire cost of the stay is charged at booking
You can only cancel until seven days before arrival
If you need to cancel before that time, there's a fee of $10 plus taxes and fees
Honestly, can anyone name a single airport hotel anywhere in the world with such outrageous flexible rate policies? This isn't some hotel on a remote island that can't resell a room if you cancel five days out. Heck, I'd bet that a large percentage of rooms are booked within a few days of travel.
That's just a small example of the nickel-and-diming at this hotel. Want to use the pool after 10:45AM in summer? If you're a hotel guest, that will cost you $25 per adult.
Small, basic, and poorly designed rooms
Last time I stayed at the hotel I booked a suite, as the premium was reasonable (I paid less for a suite last time than I paid for a standard room this time). This time around I booked a base room, and I wasn't impressed at all. The room was tiny and basic, with limited seating, and a generally poor design. Honestly, who designed this room? Look at how close the bed is to the wall…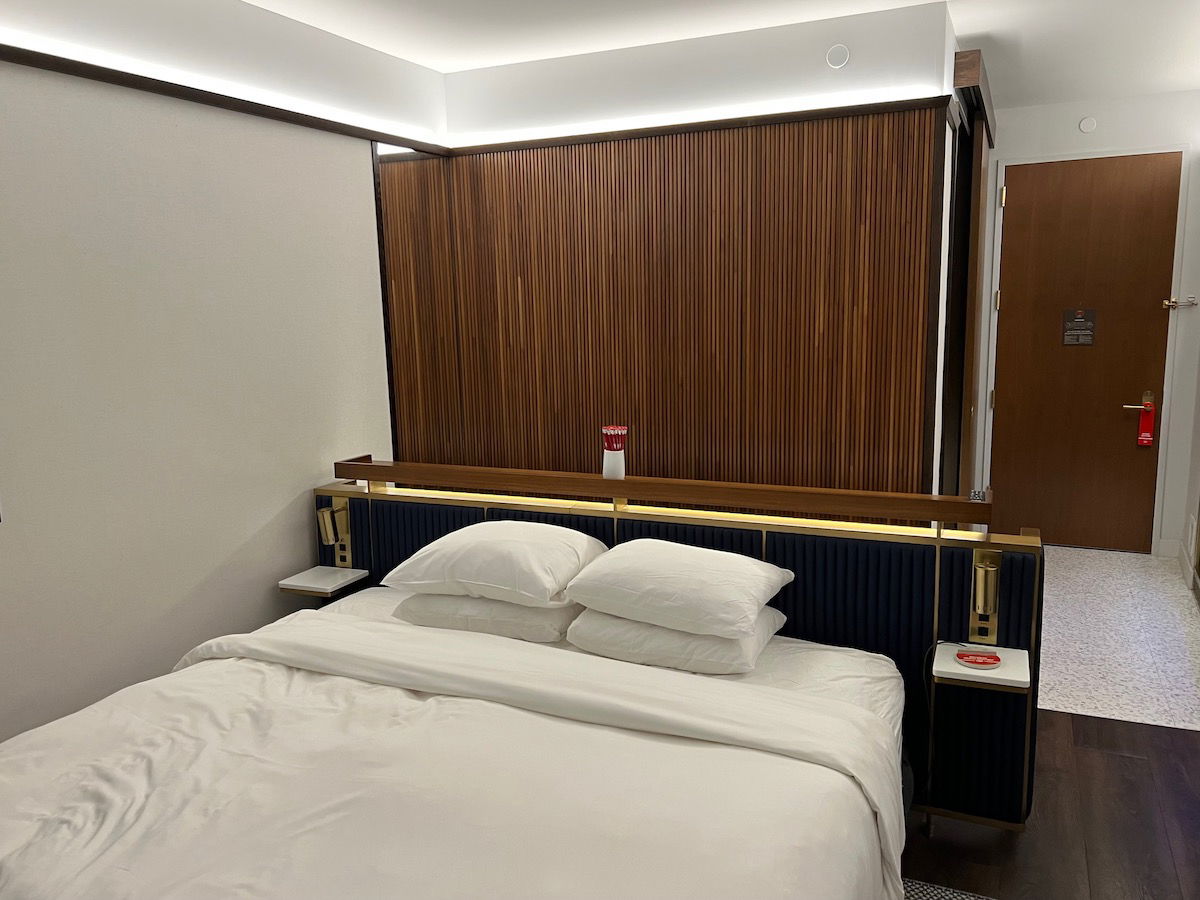 The room had a strong bleach smell, and just generally didn't feel well maintained or fresh.
There was only a small waste basket in the bathroom, and then the desk had a placemat where you were allegedly supposed to place the trash. There was one area to place the recyclables, and one area to place garbage. Yep, just a few inches behind where you rest your head.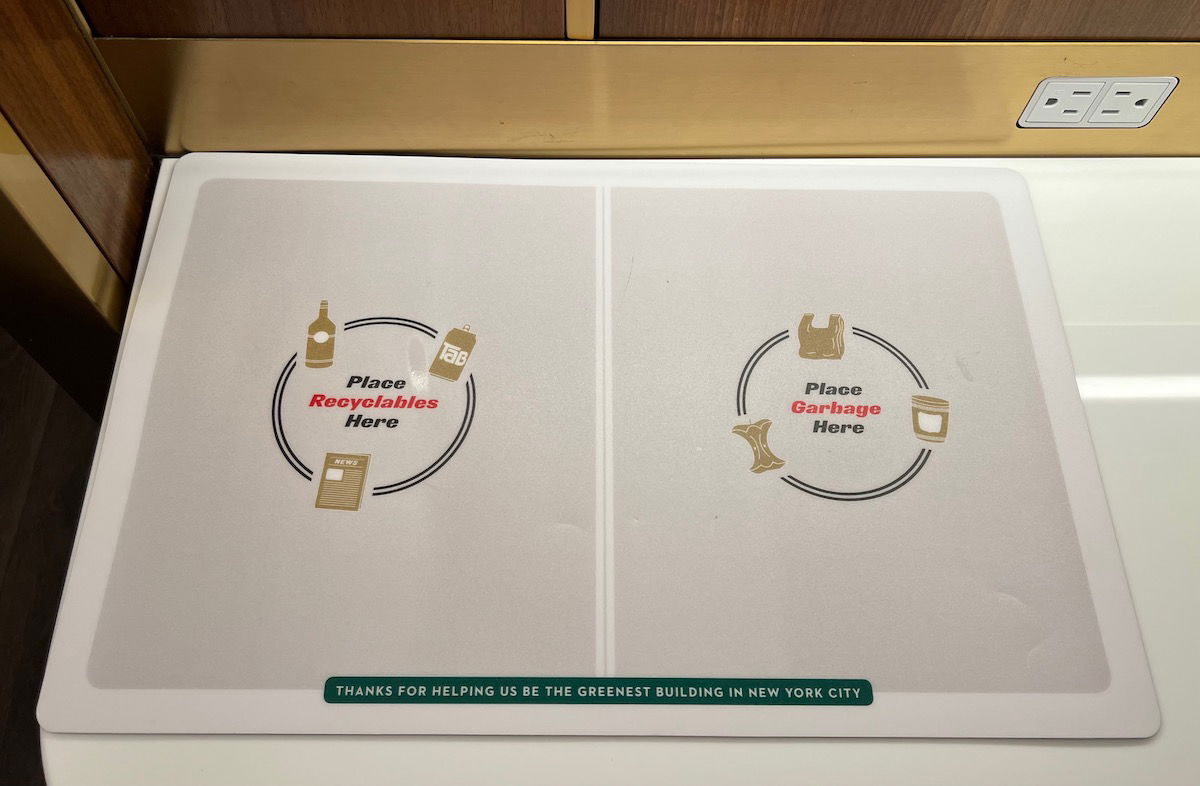 The hotel markets this as helping to make the hotel the greenest building in New York, though it's pretty clear that this is a cost cutting measure, both to avoid having to buy trash cans, and to speed up housekeeping (so that trash cans don't have to be cleaned, but rather this placemat can just be wiped down).
The rooms at the hotel used to have pretty snazzy minibars that sort of added to the mid-century vibe. Now the rooms have an empty mini-fridge and a single martini glass hanging from the minibar area, for no apparent reason. And don't even expect you'll have a drink in your room — the hotel has no room service.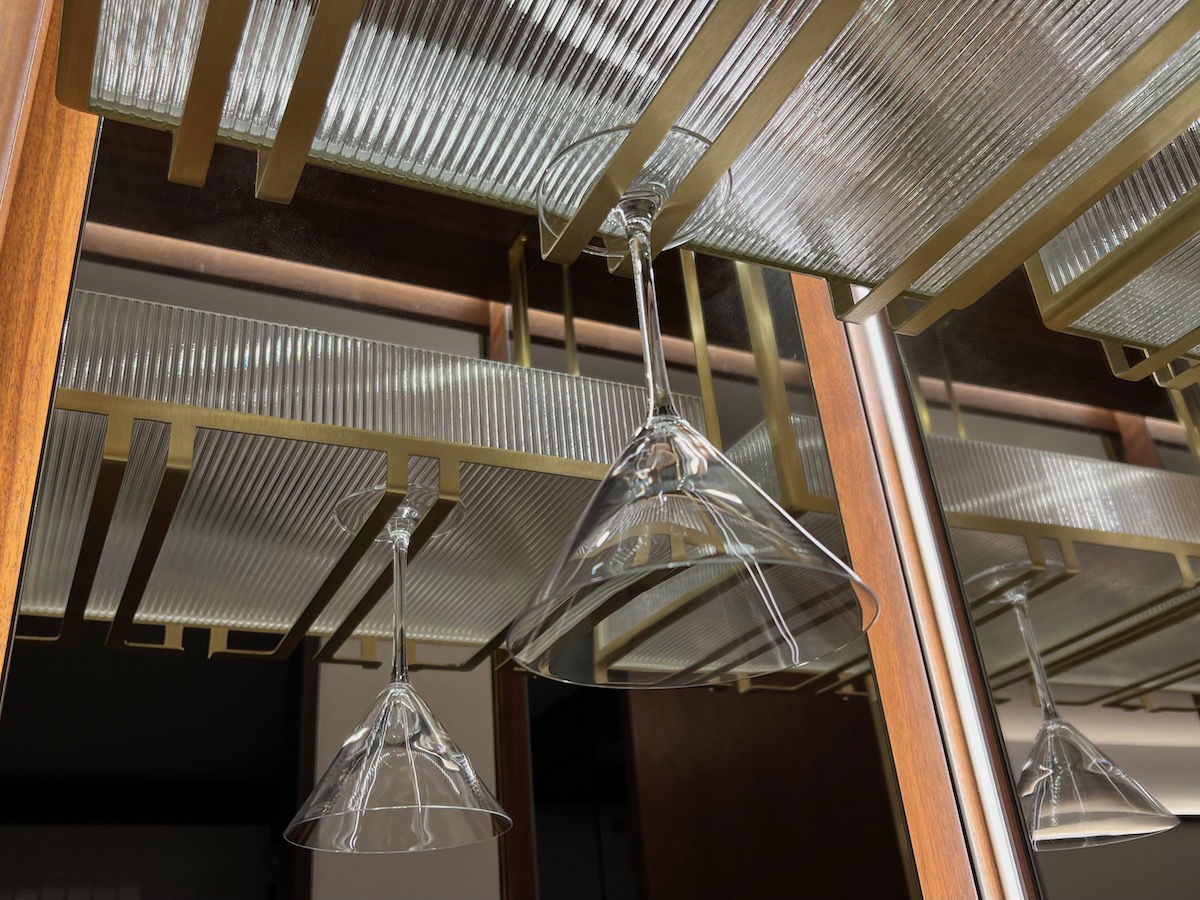 Those are just a couple of examples of the cost cutting. I mean, the rooms don't even have coffee machines, which seems like a basic amenity. The lack of service isn't just limited to the rooms — the hotel doesn't even have any bellmen who open doors for you when you enter with bags, or who offer to help.
The property is showing wear & tear
I was already predicting this when the hotel opened, and unfortunately it has proven to be true. The hotel was so exquisite at the time that I figured it wouldn't look great a few years down the road, given the attention to detail with design.
For example, the bright red carpet in the hallways sounds great in theory, except when you consider just how many people will be passing over it with luggage. At this point the carpet looks pretty disgusting.
I didn't take pictures, but the property just wasn't feeling fresh. For example, when we walked to our room, there was just a big blob of puke on the carpet, with a sign to avoid it. Ewww. Admittedly the hotel can't control people puking, but that was hardly the only thing that didn't feel very clean.
I didn't take many pictures during my stay, but the below picture of an elevator button gives you a general sense of how most things feel pretty poorly maintained and not particularly clean.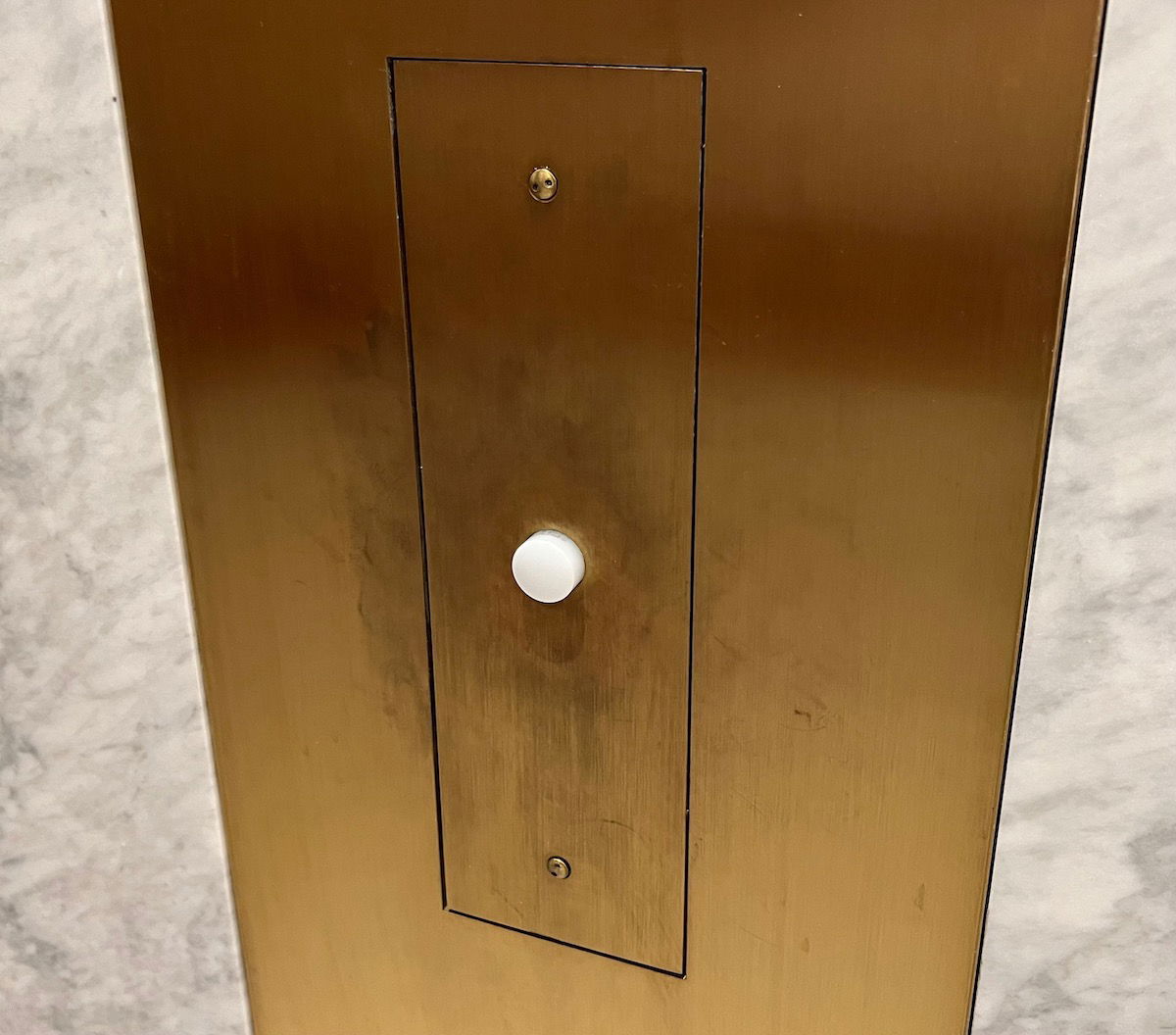 The worst pizza I've had in years
While Paris Cafe is the TWA Hotel's main restaurant, sometimes you're just looking for something more casual. The TWA Hotel doesn't offer room service. Instead it offers a food hall. Sadly the food hall is less than half occupied by vendors, and the vendors that are there are pretty not-great.
I decided to order a pizza, which was about the freshest thing on the menu (compared to hot dogs, pre-made sandwiches, pre-made salads, etc.). The pizza was awful, and it should be illegal to sell something like this within miles of New York City.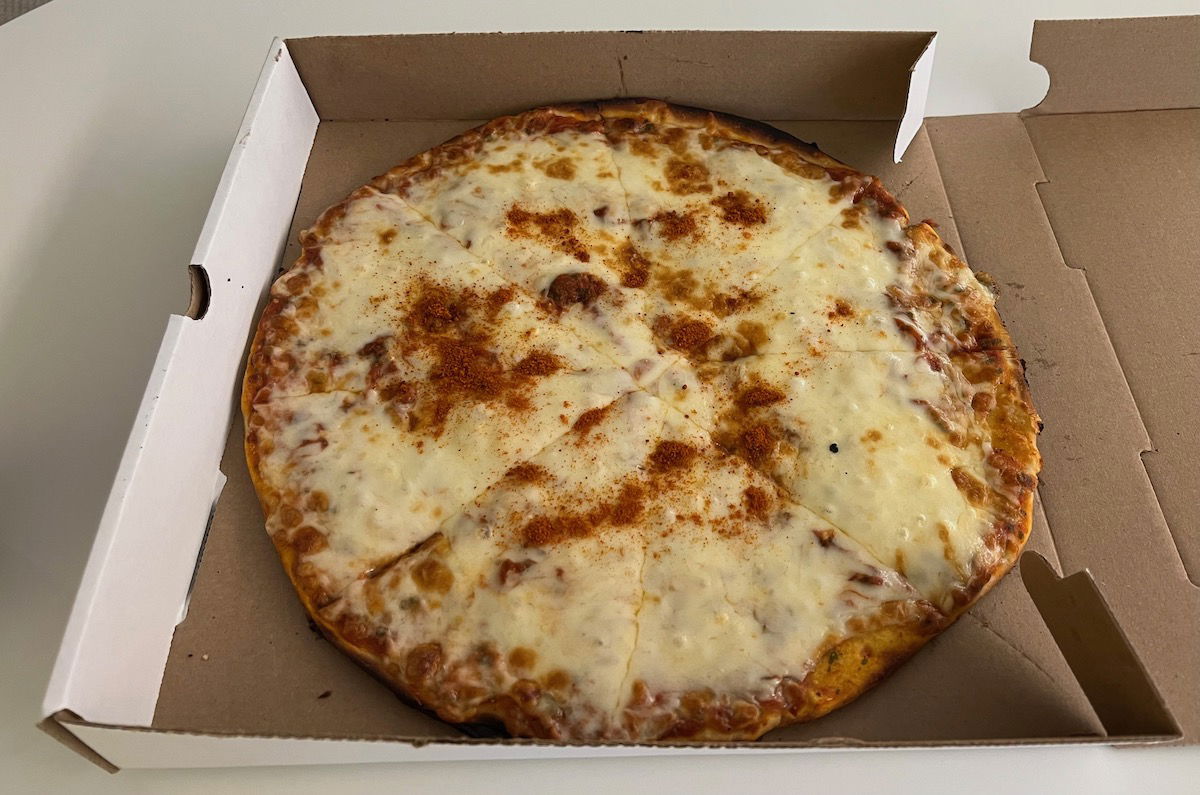 There's also just no thought put into the guest experience. You can't do room charges in the food hall, and you're given the cheapest plastic cutlery imaginable with which to eat food.
I don't understand why the TWA Hotel can't have a decent food hall? Not only are there potentially over 500 rooms worth of people who may want to eat there, but maybe if the food was better, people would come here from the terminal. Unfortunately the options in the food hall made me want to wander into the terminal and eat there, which is saying a lot.
Bottom line
As an aviation geek, there's nothing I'd love more than to be the biggest advocate for the TWA Hotel, because it's a work of art. It's worth a visit if you're passing through JFK, since this is such an amazing building. Unfortunately the hotel isn't worth staying at, though.
The TWA Hotel offers lemonade quality on a champagne budget. The company that owns the hotel seems to want to channel Spirit Airlines with its product offering, though I have to say that I find Spirit Airlines offers better hospitality.
From very high pricing, to an absurd cancelation policy, to poorly designed rooms, to a lack of upkeep, I just wouldn't stay here again. It seems I'm not alone, as this property gets pretty bad reviews on TripAdvisor.
From now on the Hyatt Regency JFK is 100% my go-to property near the airport. While the location isn't convenient, it's actually a very nice hotel, and no one can argue that the hotel doesn't try.
What do you make of the current state of the TWA Hotel JFK?