Update: Here's my review of the TWA Hotel JFK.
It's not often that I get excited about airport hotels, though perhaps the most anticipated airport hotel ever started accepting reservations yesterday.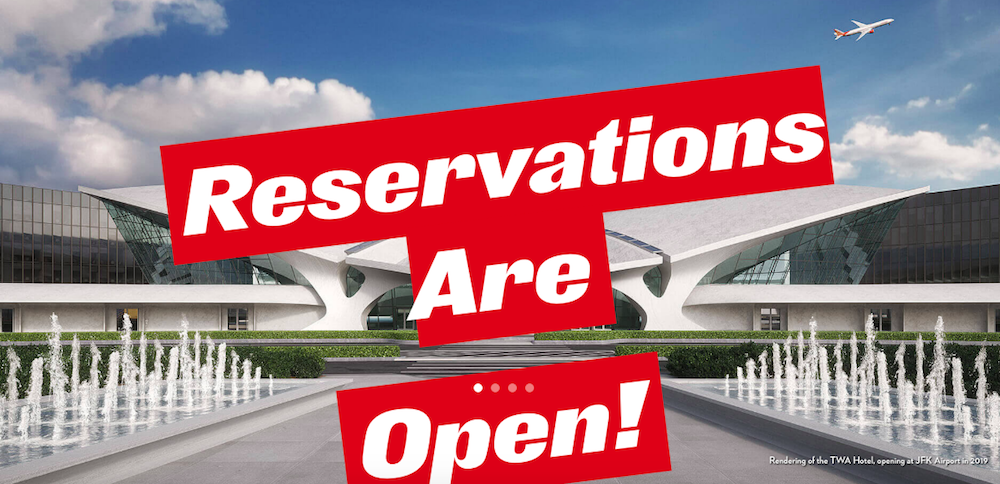 The TWA Hotel JFK
The TWA Hotel JFK has been undergoing construction for more than two years, and will finally be opening on May 15, 2019. It's located in JFK's former TWA Flight Center, which was designed in 1962, and in 1994 was declared a city landmark.
It's located next to Terminal 5 at JFK, so will be super convenient for JetBlue passengers. It will also be the only JFK airport hotel actually connected to the airport, and accessible from all terminals with the AirTrain.
But it's not convenience that will draw many people to this hotel, but rather just how damn awesome it looks.
This 512 room hotel will have six restaurants (including Paris Cafe by Jean-Georges), eight bars, a 10,000 square foot rooftop observation deck with pool, a 10,000 square foot fitness facility, a TWA museum, and a departures flip-board.

This hotel simply looks like an aviation geek's dream.
The hotel is now accepting reservations
If you're as interested as I am in the hotel, the TWA Hotel JFK is now accepting reservations for stays as of May 15, 2019. Rates are quite reasonable, and start at $215 per night for an advance purchase rate.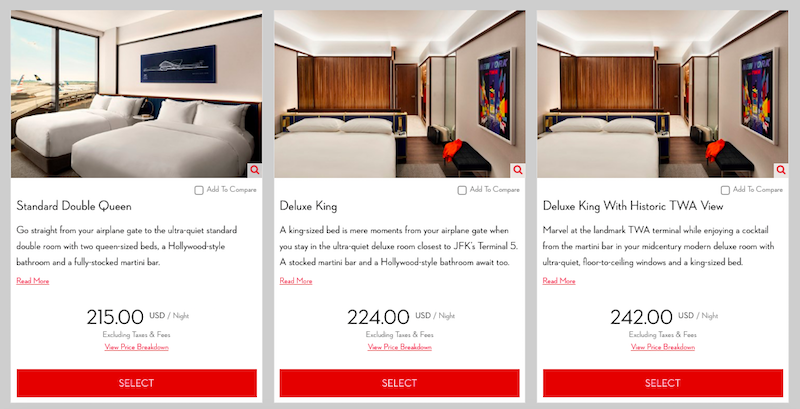 Interestingly premium rooms aren't that much more. An executive suite with historic TWA view is $278 per night, by comparison.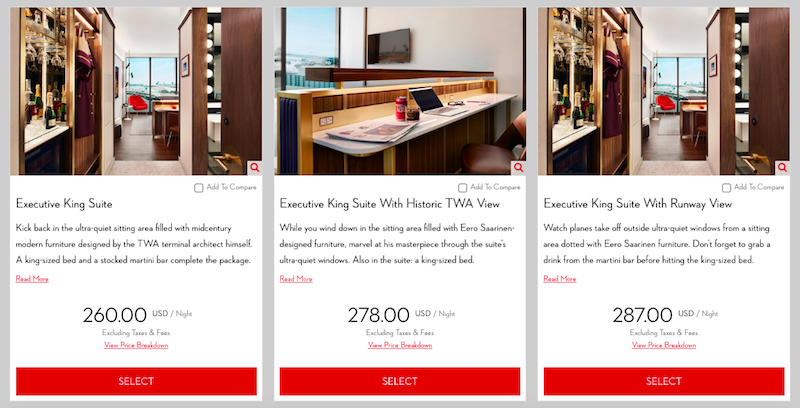 The fascinating business case for this hotel
As an aviation geek I absolutely love this hotel, and I'll gladly forego points to stay here.. This is easily one of the coolest things ever, as far as I'm concerned.


But I still question the business case for this.
Yes, there's absolutely merit to an airport hotel located on the premises at JFK. All the other airport hotels are basically awful, so to have this much capacity added directly to JFK is great news for travelers.
That being said, how many travelers will actually appreciate how damn awesome this hotel is? Most people booking an airport hotel want a clean, comfortable hotel that's as reasonably priced as possible. And when I think of the JFK airport hotel options, I think of just how bad most of them are. Clearly that's simply because there hasn't been room in the market for anything bigger.
So assuming this hotel will actually have good service and be as incredible-looking as it seems, will they be able to command a sufficient price premium for it long-term, especially since they have 500+ rooms? Or was the TWA theme the only way they could get permission to build a hotel in this historic terminal?
Regardless, I love this hotel, and am so excited to stay here.
Bottom line
Ford is going to be thrilled when I propose that our next vacation should be in Jamaica… Queens. But seriously, this hotel looks so awesome, and I can't wait to check it out. If it's half as cool as I imagine it'll be, I'm going to be a very happy camper.
Do you plan on checking out the TWA Hotel JFK? Do you think there's a business case for this type of hotel, and that the average person will be willing to pay a premium to stay at an airport hotel this cool?