This past week I finally had the chance to stay at the TWA Hotel JFK. I don't think I've ever been this excited about staying at an airport hotel… or even about staying at any hotel, for that matter.
Not only is this hotel an aviation geek's dream, but it has become a mainstream topic of conversation, and we've seen a countless number of fashion shows and other parties being hosted here.
However, the hotel hasn't opened without issues. The opening in mid-May was apparently a disaster, and currently the hotel is ranked number 418 of 498 hotels in New York on TripAdvisor, which is pretty awful.
So, how good/bad is this hotel?
TWA Hotel JFK Basics
The TWA Hotel JFK is possibly the most incredible airport hotel ever built. It's located within the former TWA Flight Center terminal, which was designed in 1962.
The terminal as such is a city landmark, so when designing the hotel they went to great lengths to not only maintain the essence of the terminal, but to revive the TWA experience as much as possible. The hotel is supposed to be a step back in time, in a good way.
The hotel has over 500 rooms, so it's huge. The rooms aren't actually in the former TWA terminal — rather they're in two newly built towers that are attached to the main building. The terminal as such just consists of many of the public facilities.
Booking The TWA Hotel JFK
The TWA Hotel isn't cheap. Not only is this a "premium" hotel, but it's also the only hotel located directly at JFK Airport, so they can command a premium for that (especially when you consider that many other JFK area airport hotels are now homeless shelters, so there isn't as much capacity as before).
For the night we stayed the entry level room rate was $199. However, I couldn't stay at this hotel and not get a room with a view of the runway. That cost $309, so the premium was steep.
At that point I noticed that a runway view suite was $349, so I figured that was worth an extra $40.
Obviously at this point it's a very expensive airport stay, but this also wasn't just any airport hotel…
There are two really annoying things about booking this hotel:
The TWA Hotel has a $10 facility fee, which is more frustrating on principle than anything else
Even the flexible rates at this hotel have to be fully prepaid in advance, have a $10 fee if you cancel, and don't allow cancelations within seven days; any one of those three is unreasonable for a flexible rate at an airport hotel, in my opinion, but the combination of all three is ridiculous
TWA Hotel Review
Let's get right into the review, which I'll break up into a few parts — the location and arrival process, the room, the incredible pool, the gym, the dining options, the service, and more.
Getting To The TWA Hotel
The TWA Hotel is attached to JFK Terminal 5, which is JetBlue's terminal. If driving to the hotel, the hotel has a driveway that's separate from all of the terminals.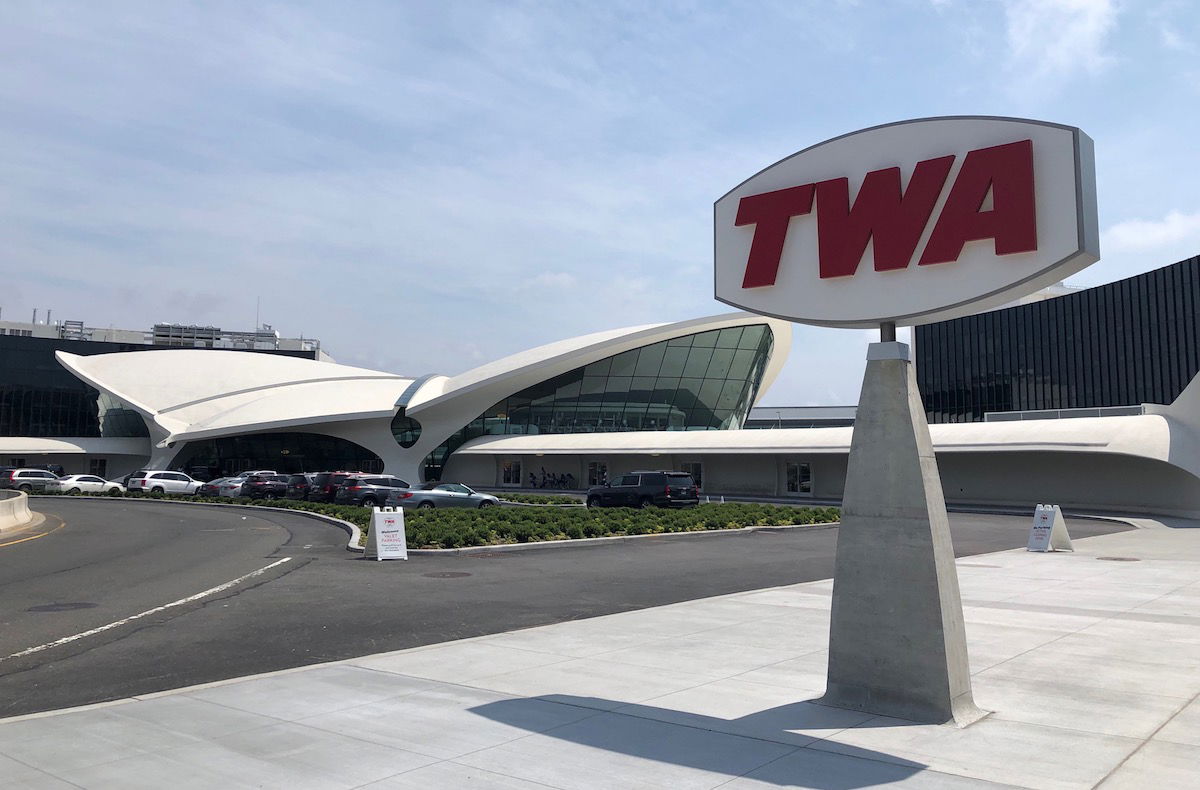 TWA Hotel exterior
If you're arriving at any other terminal you can just take the AirTrain to the JetBlue terminal, and then follow the signage towards the TWA Hotel. The JetBlue terminal has an incredible view of the hotel, including of the Connie.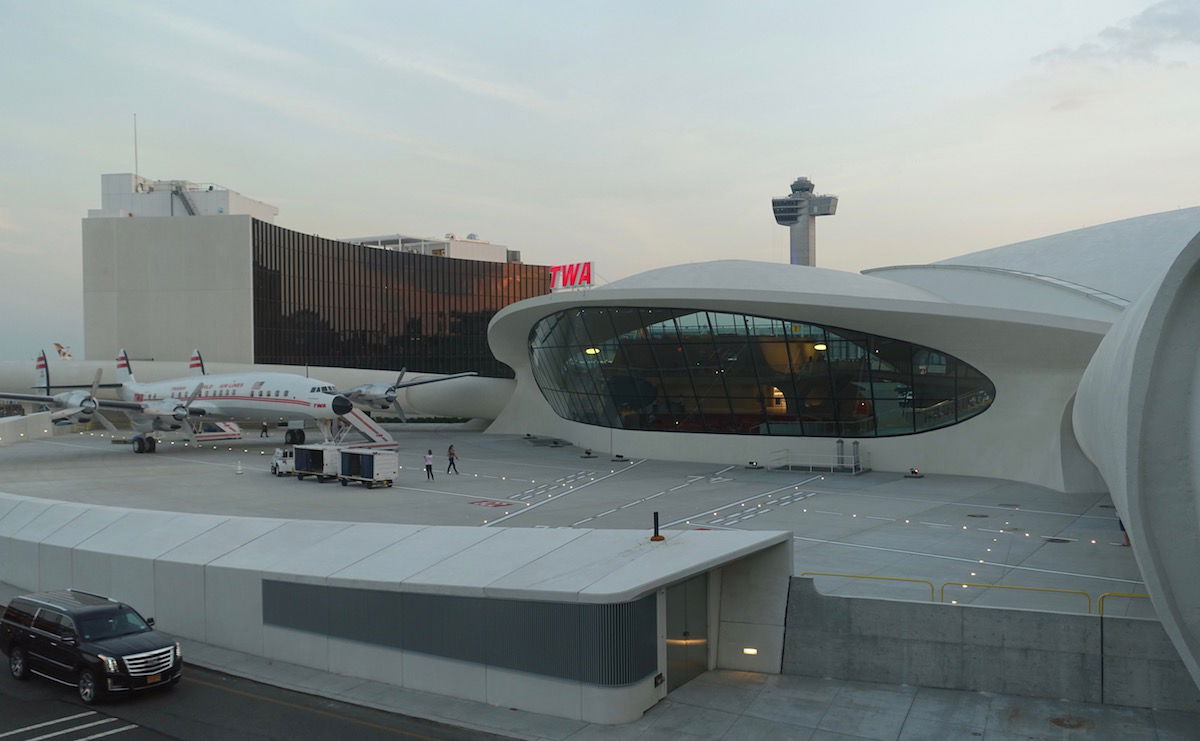 TWA Hotel JFK exterior
From the terminal there's an awesome retro hallway leading into the lobby of the hotel.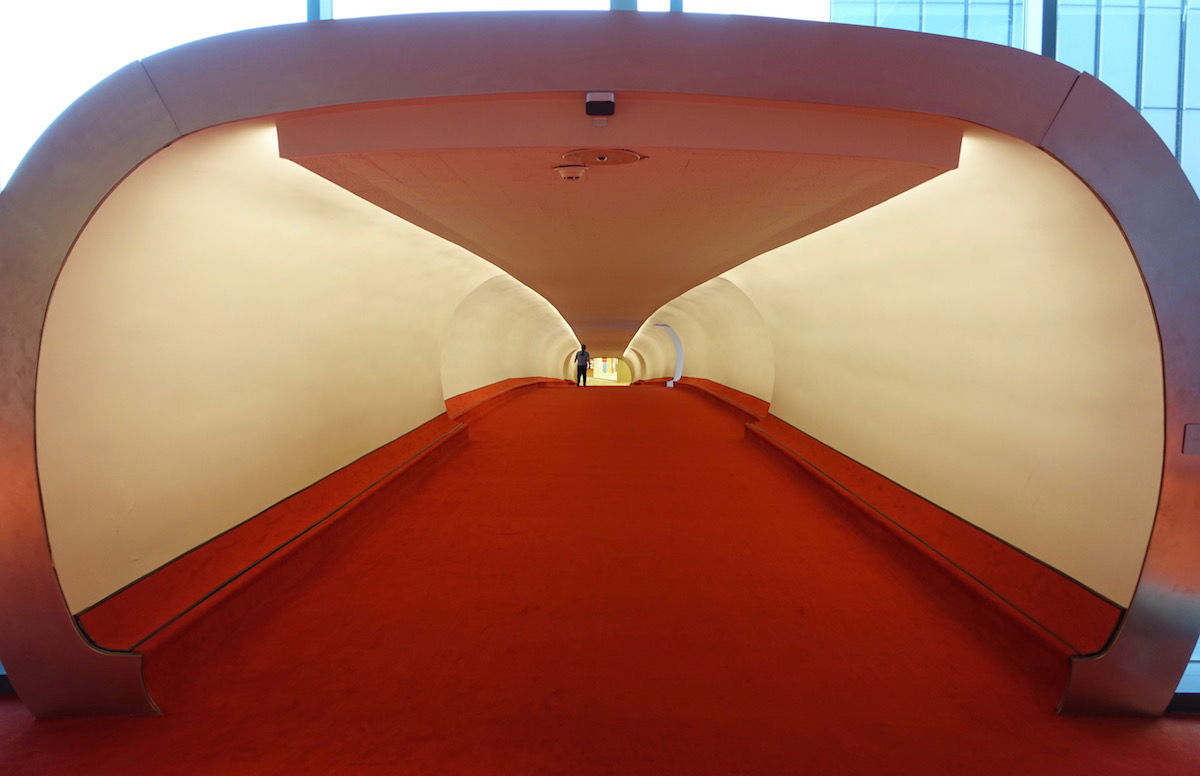 TWA Hotel walkway to terminal
TWA Hotel Lobby
O. M. F. G.
I've just never seen anything quite like this before. I had seen countless pictures of the lobby before, but that really doesn't do justice to just how spectacular this space is. It's massive, it's so gorgeously restored, and it's unlike anything I've ever seen before.
From the huge open spaces, to the old school departures board, to the Connie (Lockheed Constellation) parked outside, this place is beyond words.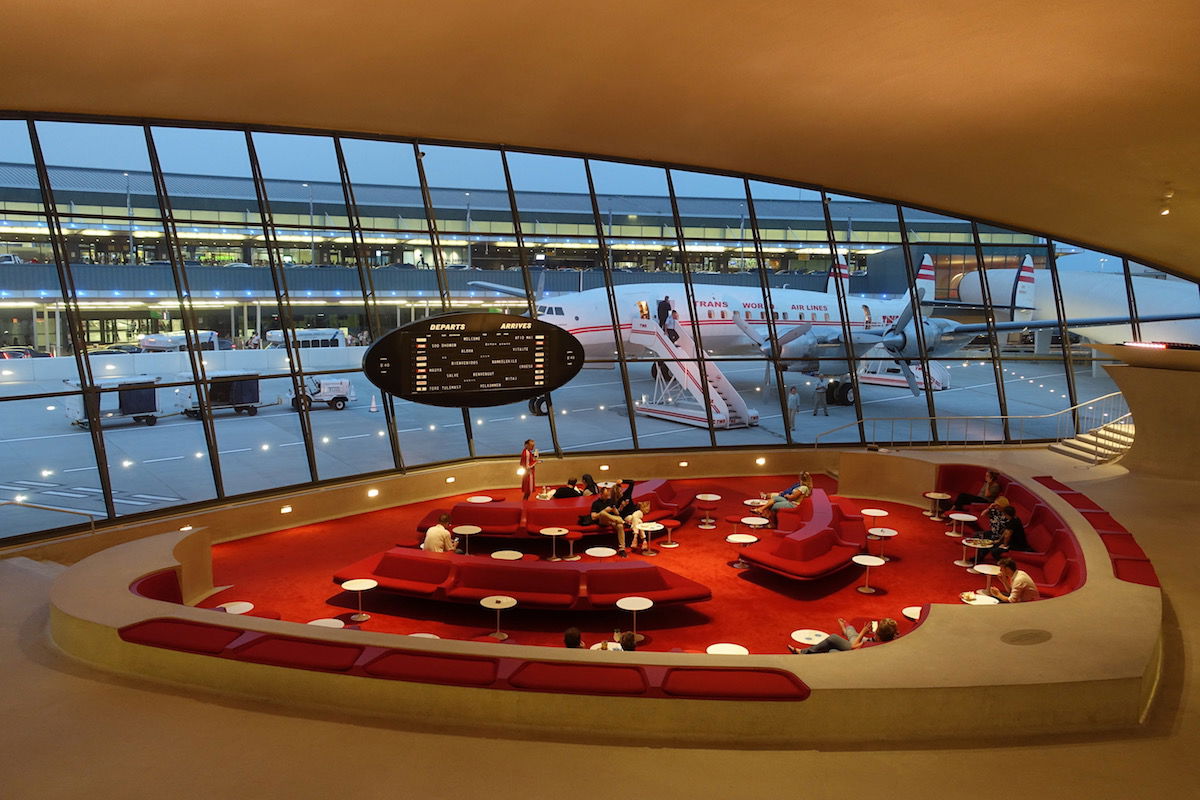 TWA Hotel lobby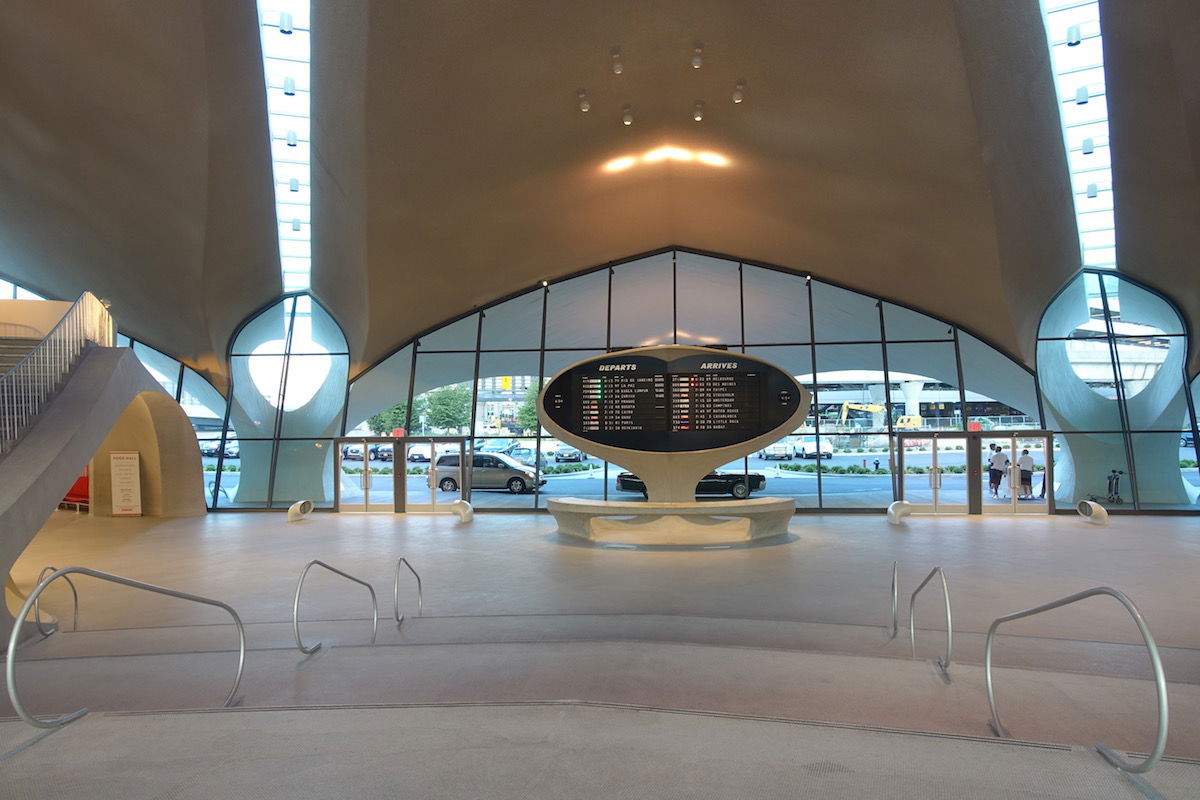 TWA Hotel lobby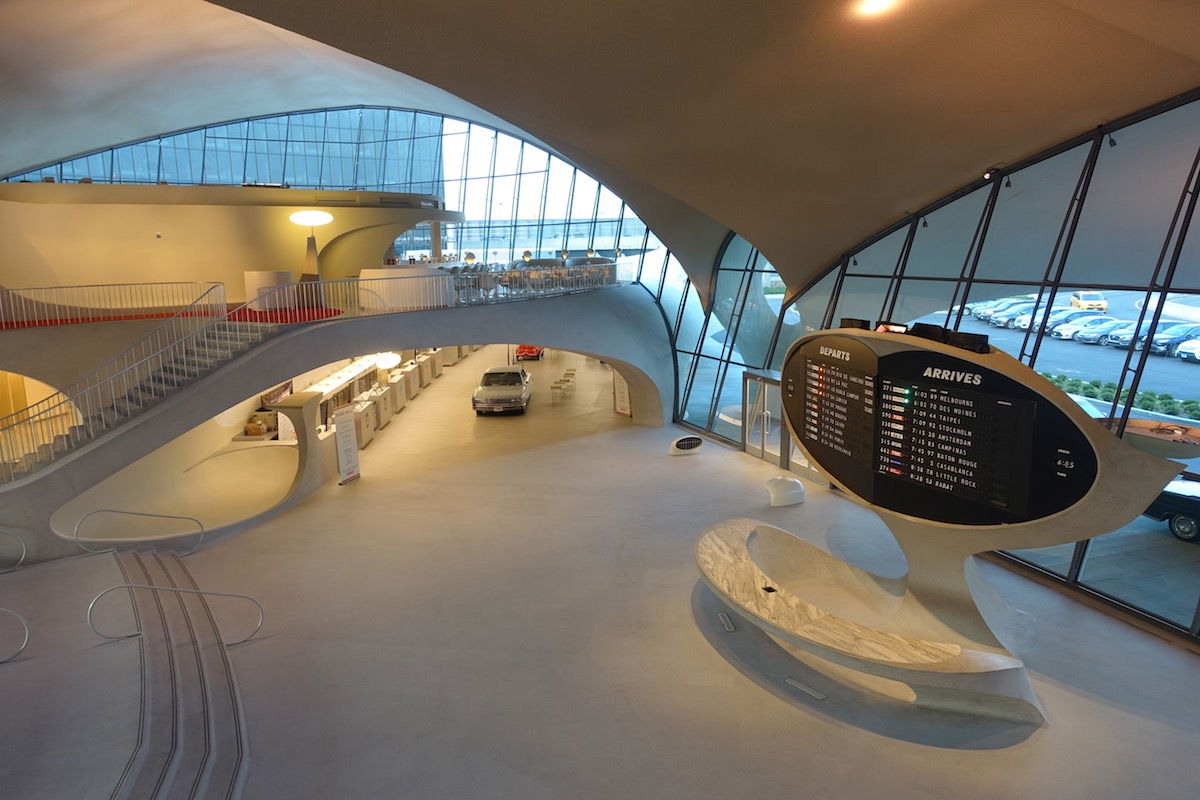 TWA Hotel lobby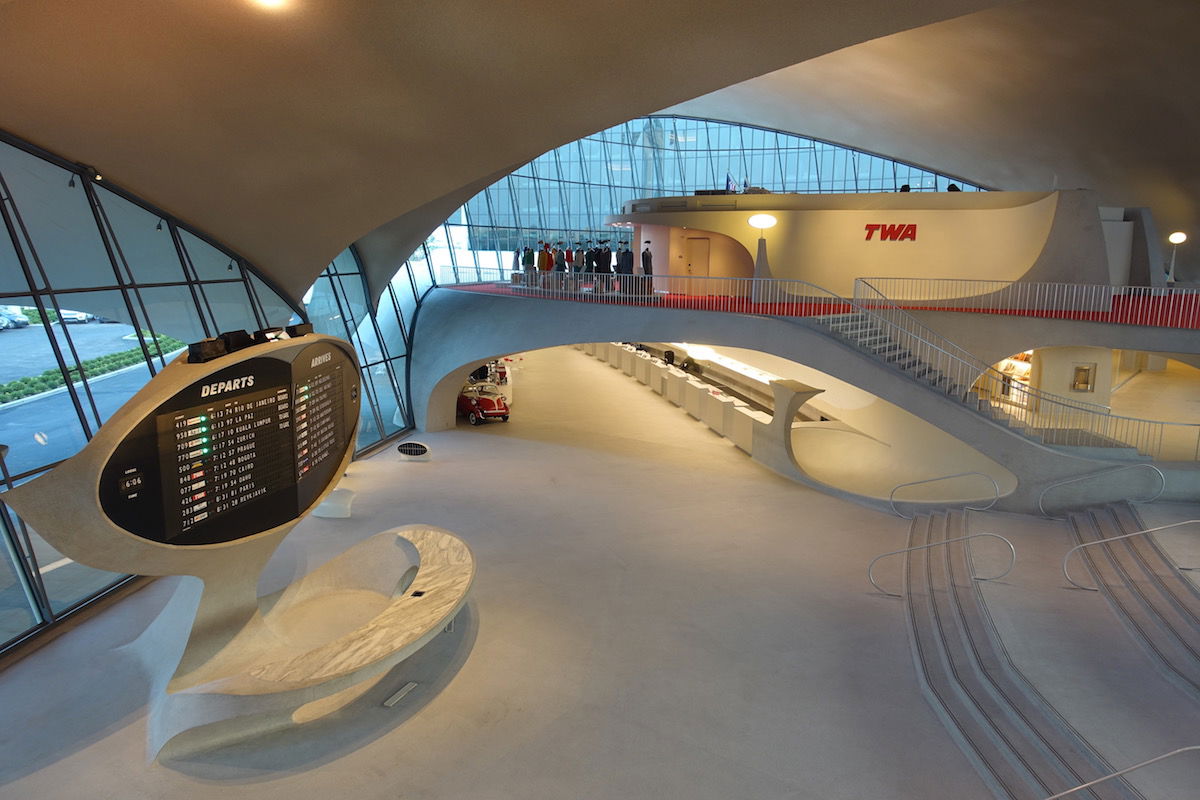 TWA Hotel lobby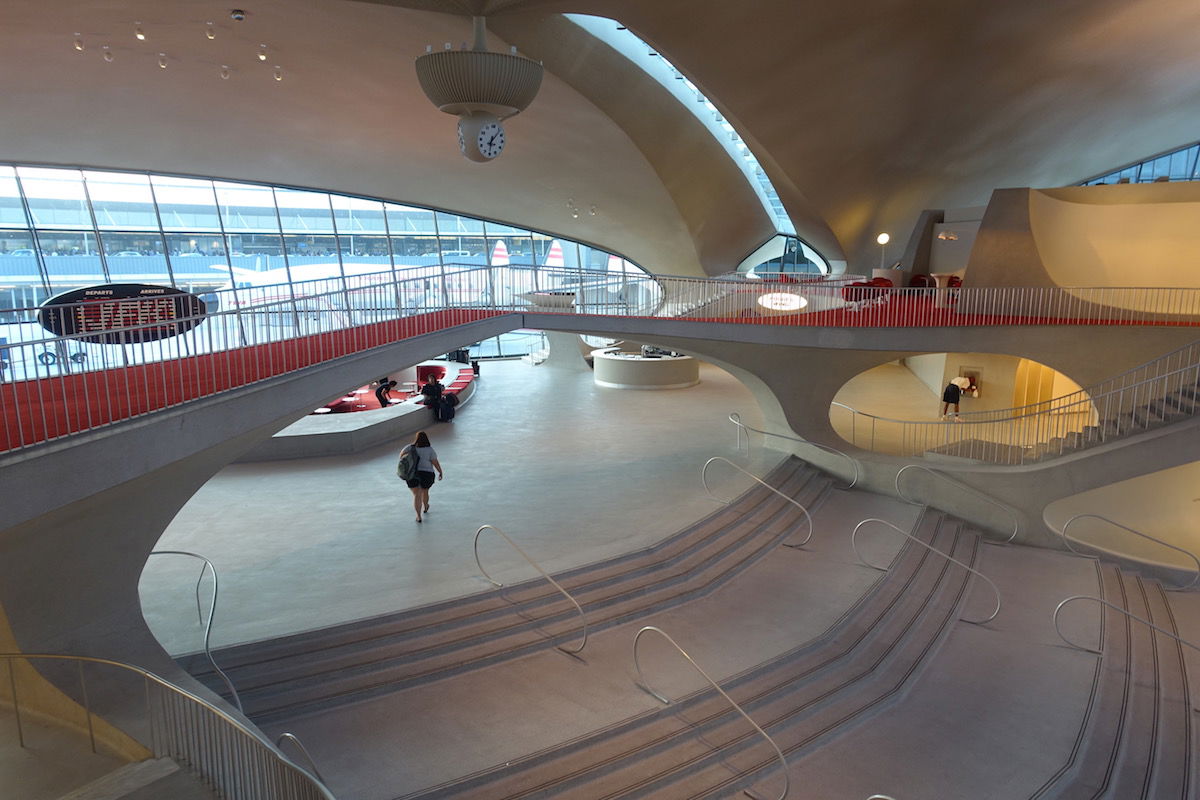 TWA Hotel lobby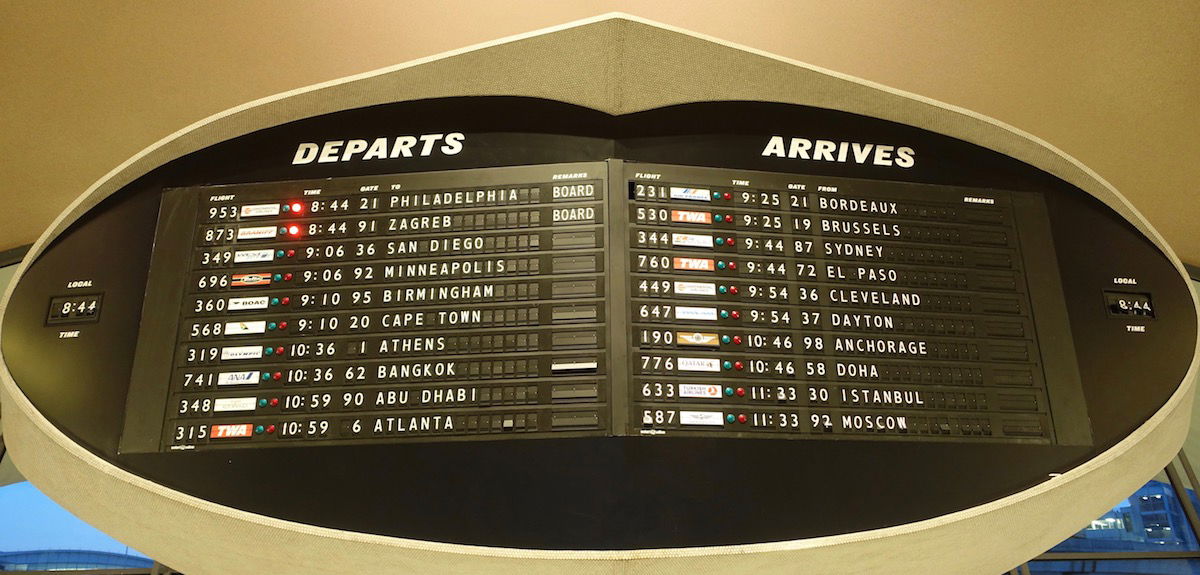 TWA Hotel departures board
TWA Hotel Check-In
While this hotel is stunning beyond words, it also has the worst signage I've ever seen at a hotel. I feel like there were speakeasies with better signage than this hotel. And it's also woefully understaffed in non-dining venues.
There was very little signage throughout the hotel, and in particular I couldn't find any signs towards check-in. You'd think there would be an intuitive path from the airport terminal to check-in. At a minimum you'd think there would be someone standing there when you enter the hotel to point you in the right direction. But there wasn't.
I ended up having to ask a bartender which way check-in was, and then ended up having to ask someone else, because the directions weren't clear.
It can take a while to figure out where everything is in this hotel, almost as if you're staying in a big resort. The difference is that most people spend several nights at resorts, rather than just a quick overnight at an airport hotel.
The check-in desks looked like airport check-in counters, which I thought was cute. On departure I even needed to briefly check my bag, and when I claimed it it came out on the baggage belt, and was put on the scale. How cool is that?!
TWA Hotel JFK check-in
There were also check-in kiosks, though it wasn't clear if the intent was to do self check-in, or what the purpose was.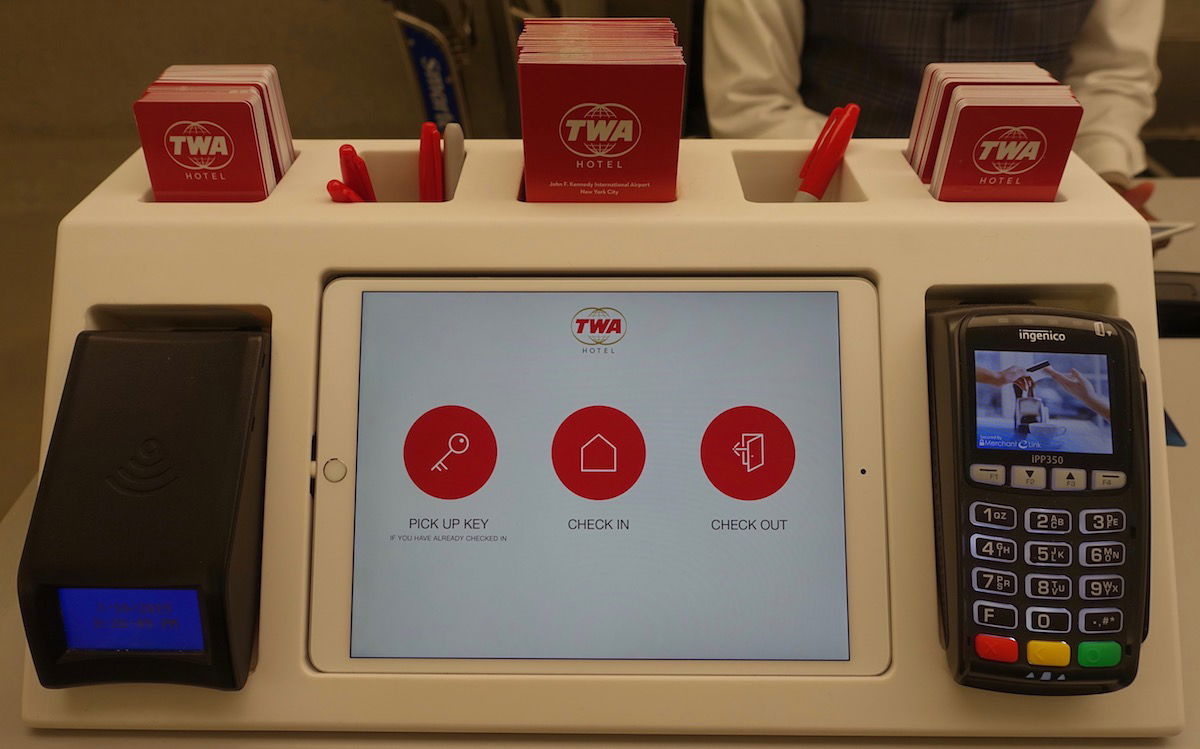 TWA Hotel JFK check-in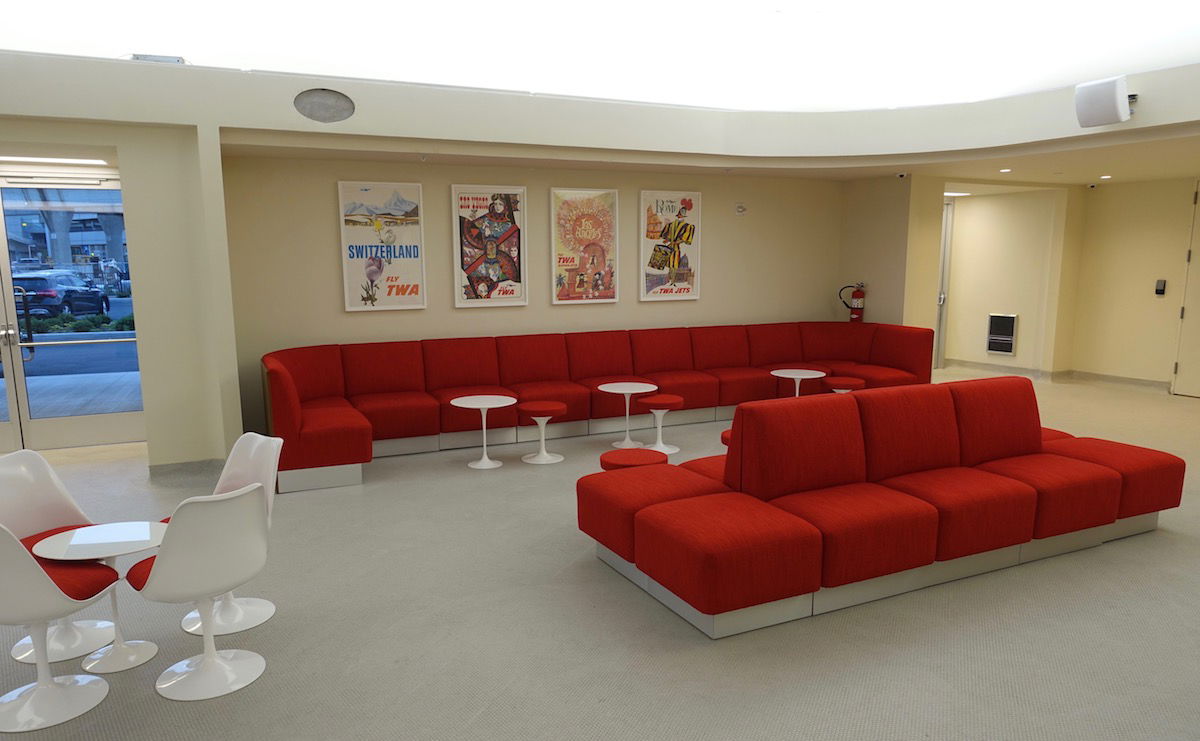 TWA Hotel JFK check-in seating
The guy checking us in wasn't particularly friendly at first — he didn't even acknowledge me until I asked if someone could help me with check-in — but he warmed up.
Within a few minutes I had a room key, and was also handed a map of the property as well as two junior pilot wings.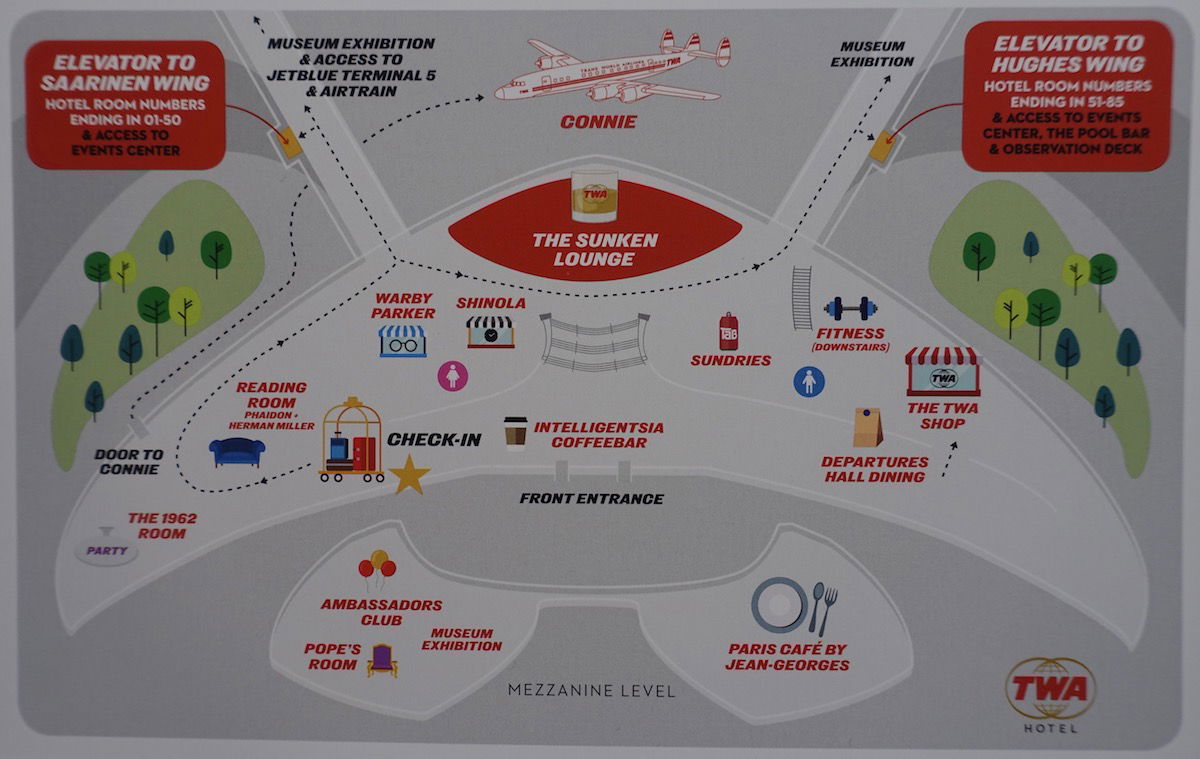 TWA Hotel map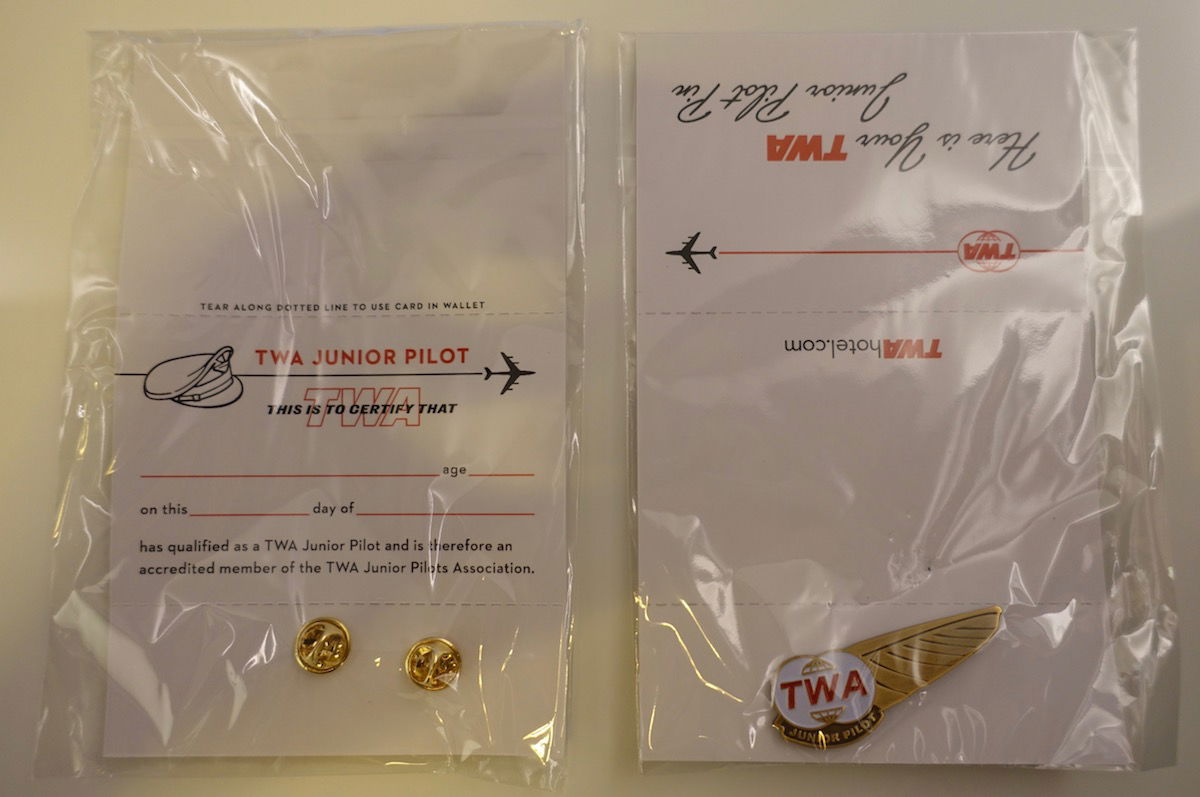 TWA Hotel pilot wings
He tried to explain some of the hotel's features, some of which I found confusing.
He explained that breakfast starts at The Paris Cafe at 8AM, and reservations are required. Wait, breakfast at an airport hotel starts at 8AM, and I need to make reservations?!?
"Do you know if they still have availability for tomorrow morning, and could you help me make a reservation then?"
"You'd have to go to the restaurant. They outsourced everything here, so we can't help with that."
For what it's worth, later on I found out you could just make reservations online, in which case I feel like he should have told me that, or should have just gone to the website and helped me.
TWA Hotel Room
The hotel's 500+ rooms are spread across two wings — the Saarinen Wing (rooms ending 01-50) and Hughes Wing (rooms ending 51-85).
These are the separate buildings to the side of the main terminal.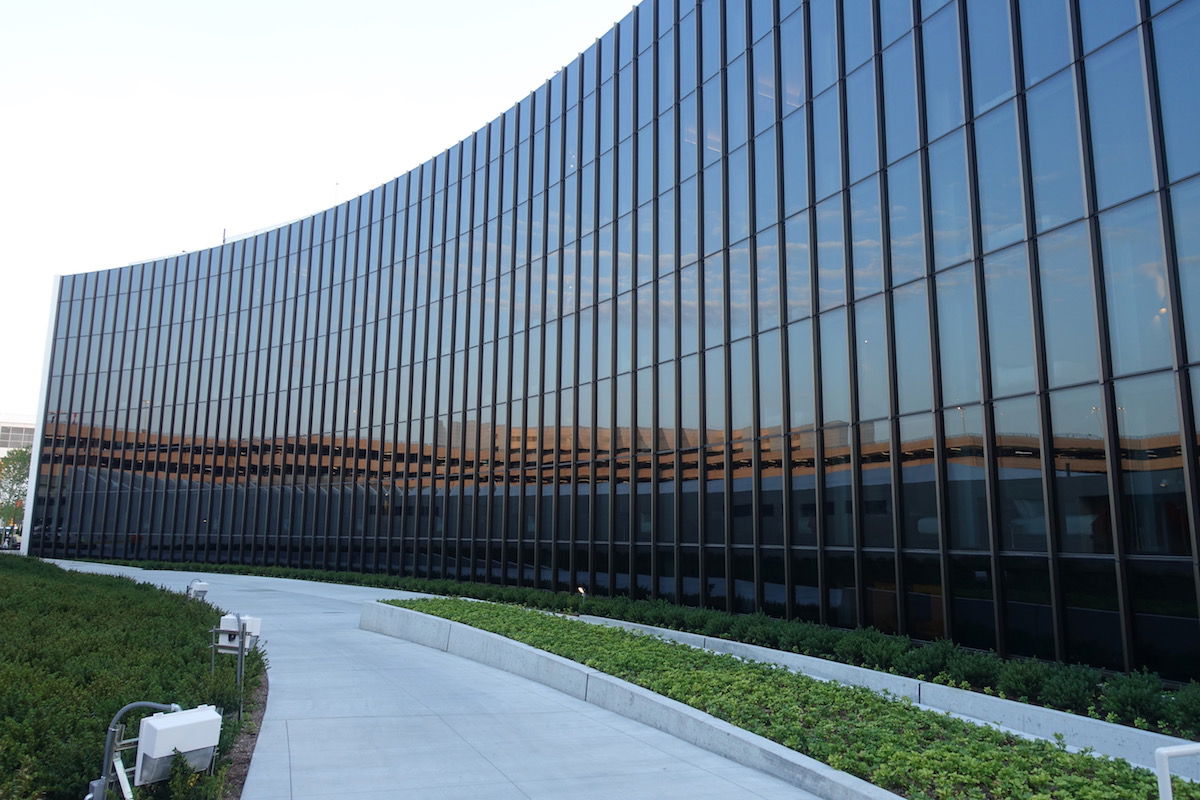 TWA Hotel "wing"
You can access the wings on either side of the terminal, and this requires once again walking down a long corridor. While the red carpet looks chic and retro, it's also really thick, so isn't ideal for rolling luggage. I feel like there should have been some compromise between practicality and style there.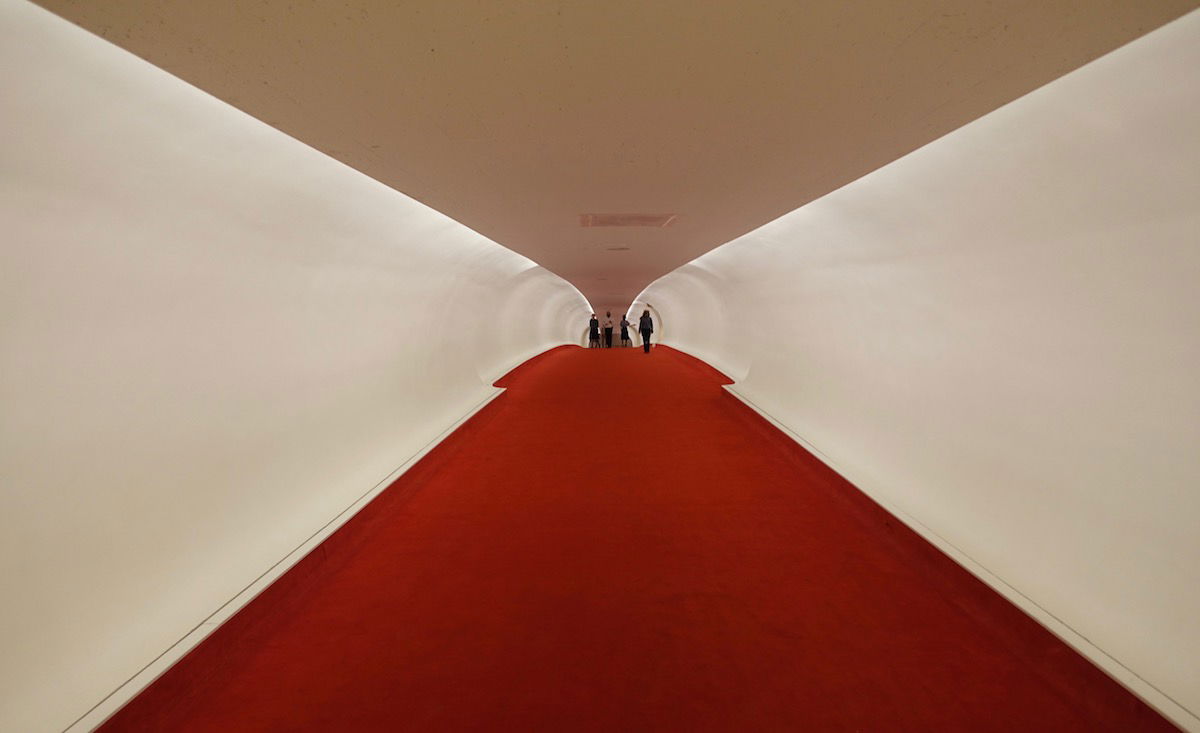 TWA Hotel Hughes Wing
We were staying in room 770, located on the seventh floor of the Hughes Wing (there are a total of eight floors, plus the rooftop). There were three elevators leading up to the rooms.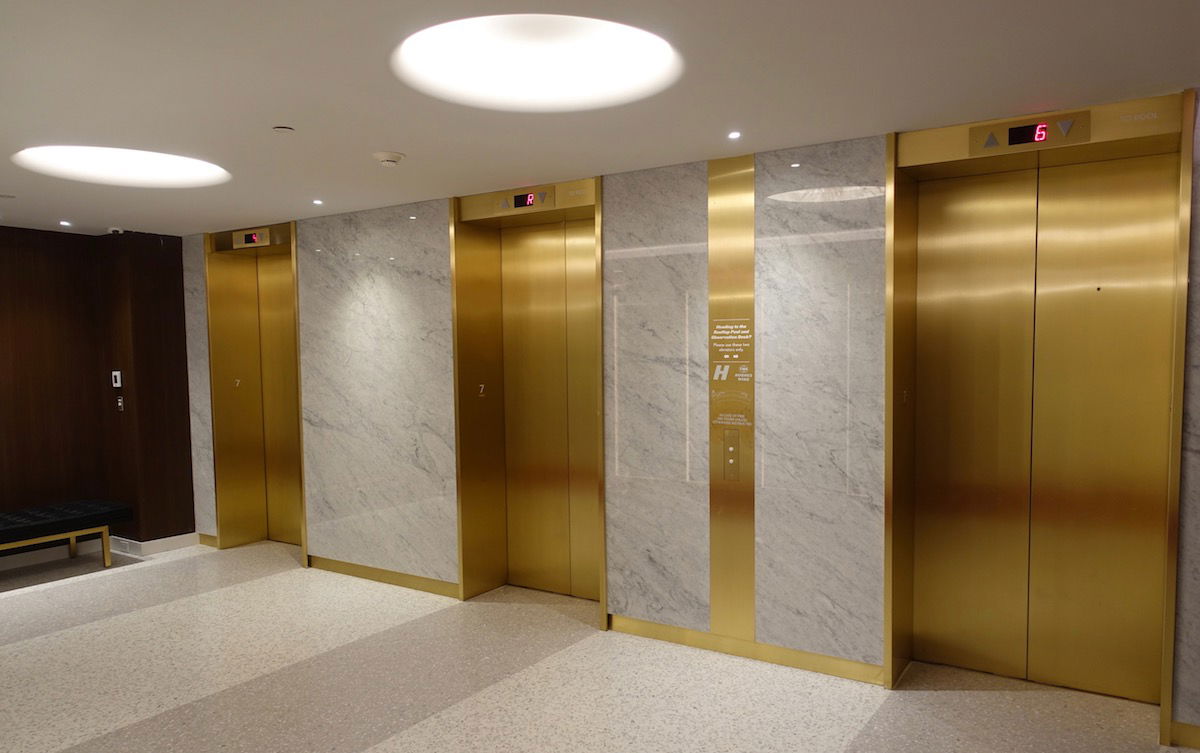 TWA Hotel elevators
Our room, 770, was located about halfway down the hall on the left.
TWA Hotel hallway
The room was stunning, and once again, I found it hard to believe I was staying at an airport hotel. The rooms are just so beautifully appointed, and they paid so much attention to all the little details.
While this was technically a suite, it was definitely on the "junior" side.
Inside the entrance was high-top seating as well as a large minibar setup.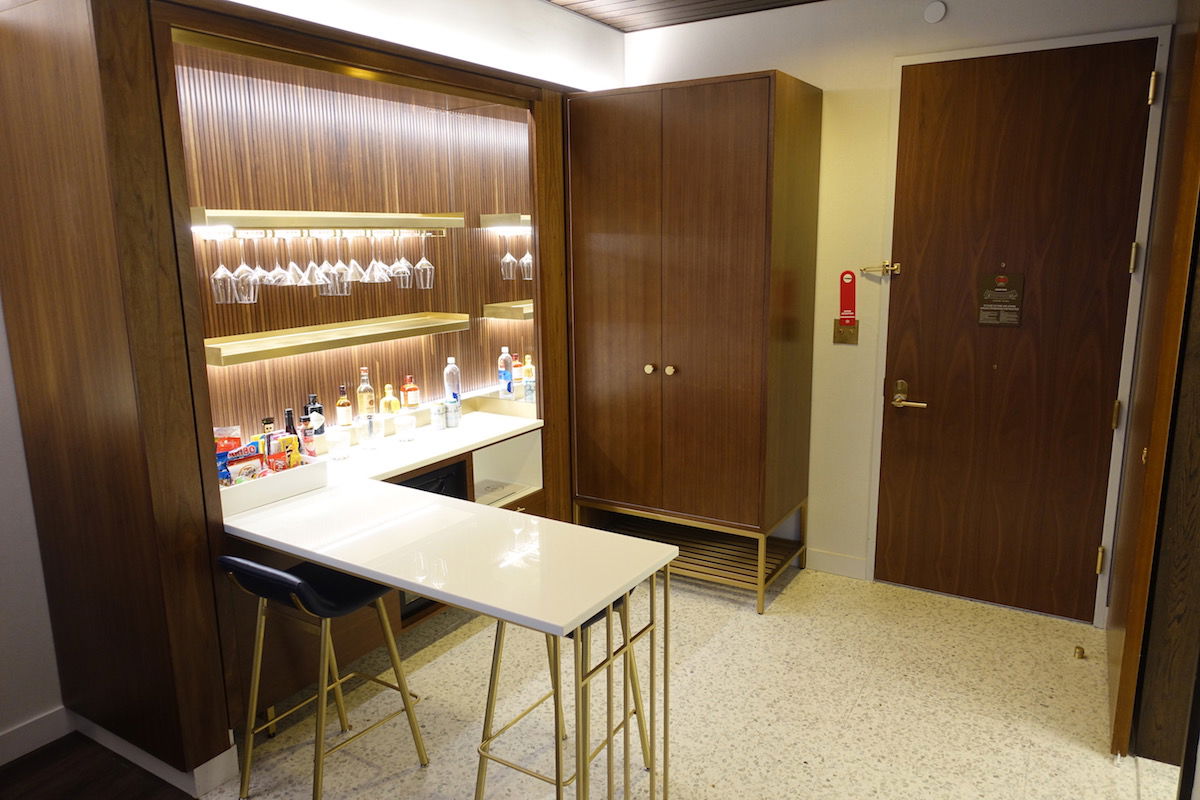 TWA Hotel suite
The minibar was extremely well stocked, though my money is on this being cut pretty quickly. Realistically most people staying at an airport hotel aren't using this, and the cost to manage minibar inventory isn't insignificant.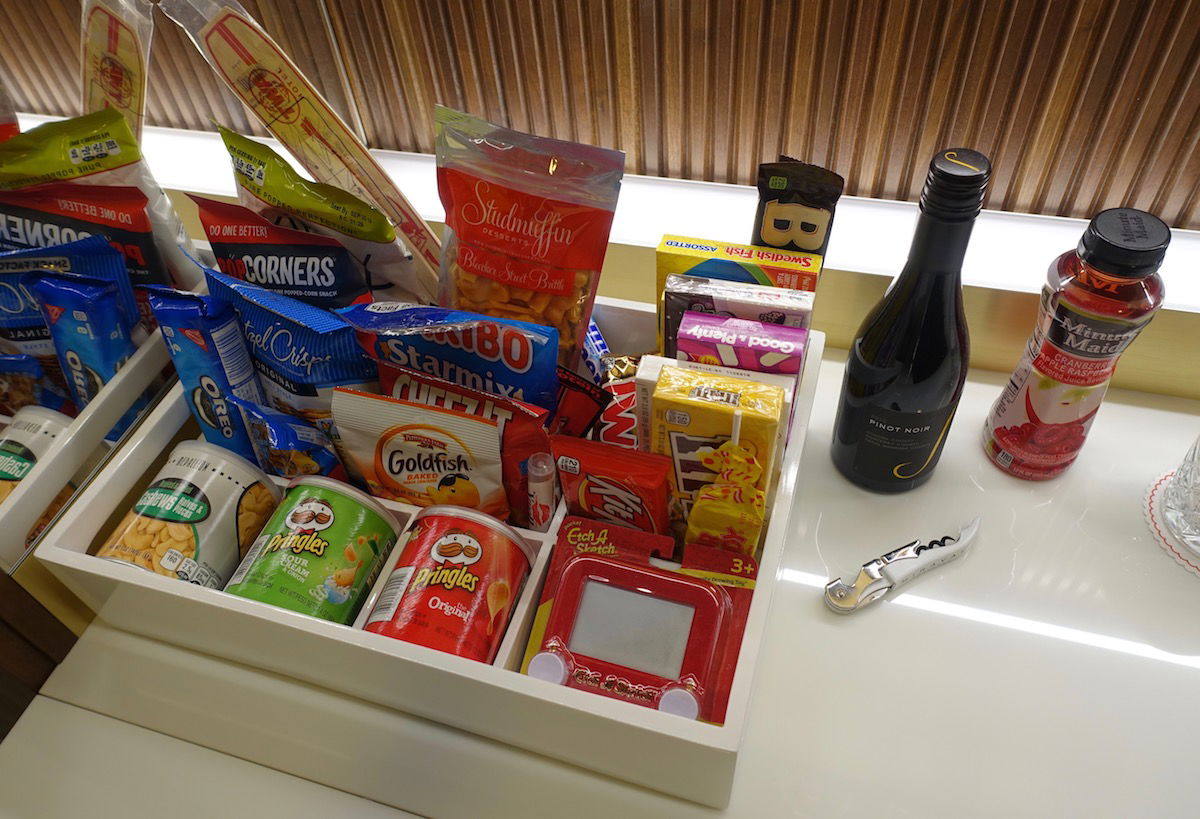 TWA Hotel minibar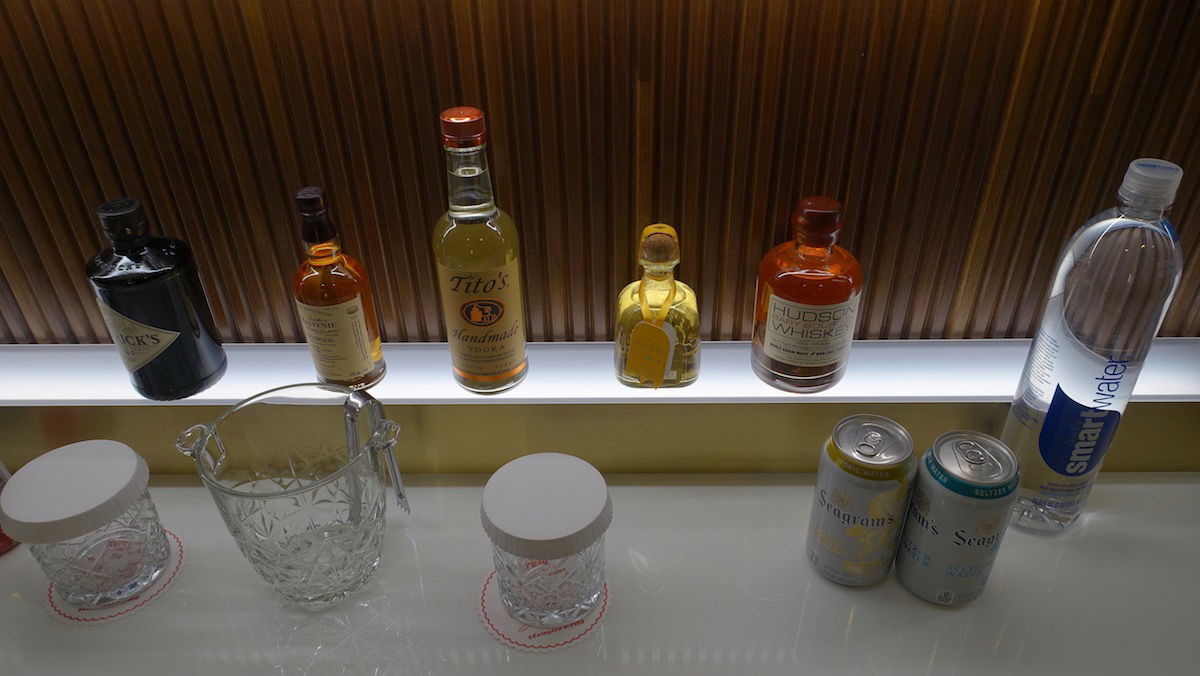 TWA Hotel minibar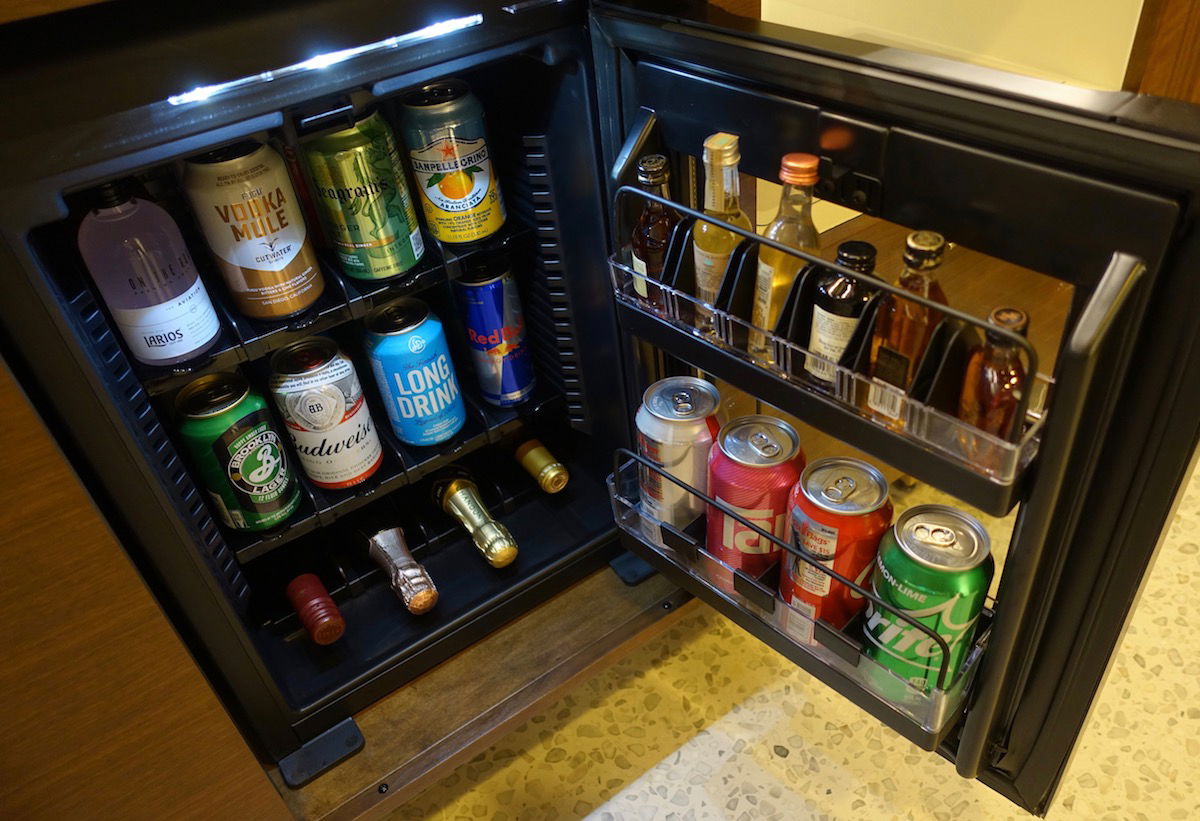 TWA Hotel minibar
Further into the room was a really comfortable king size bed, and next to it was a chair with ottoman.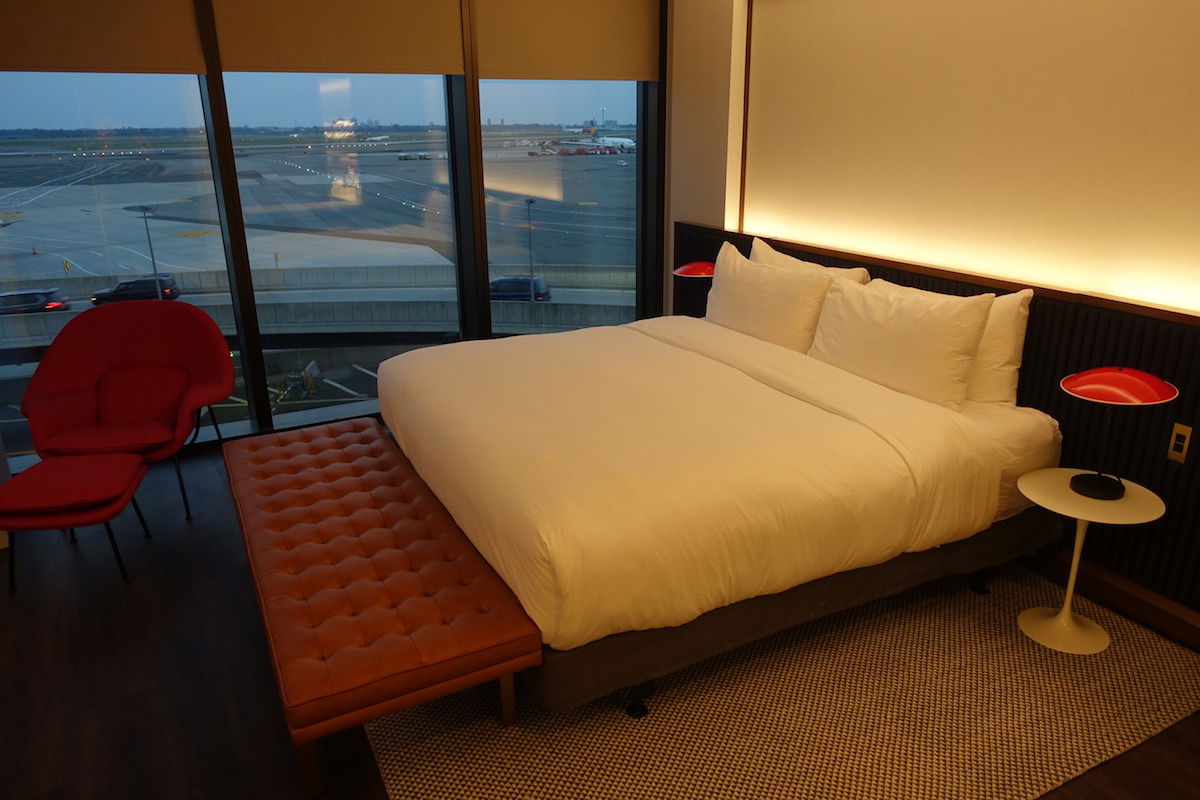 TWA Hotel suite bedroom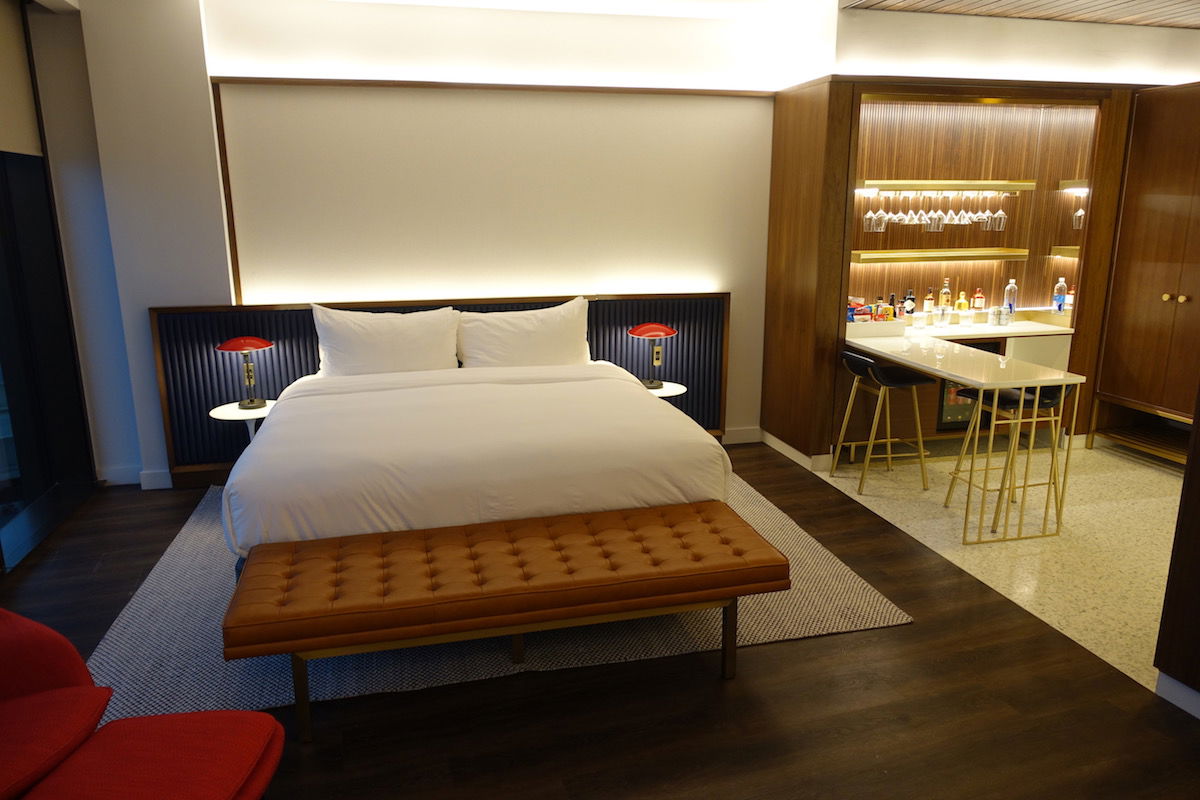 TWA Hotel suite
Then in the far corner of the room was a TV and couch, as well as a desk.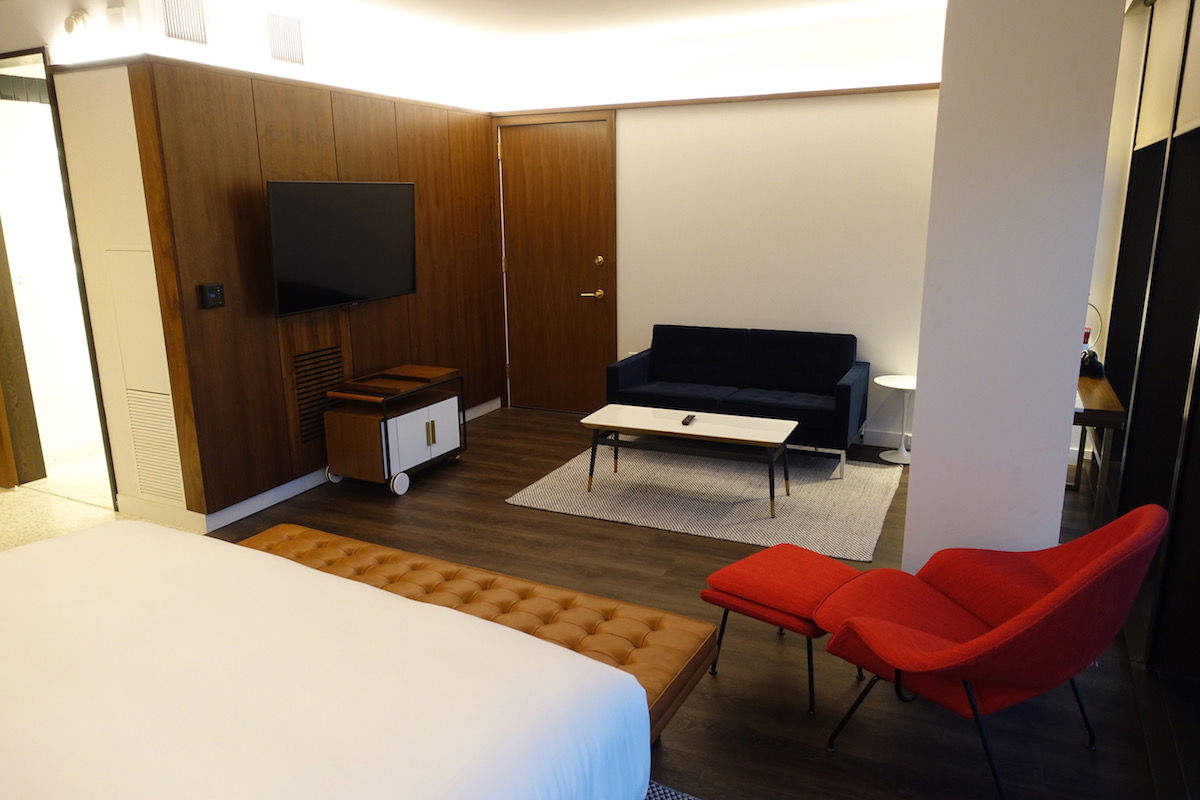 TWA Hotel suite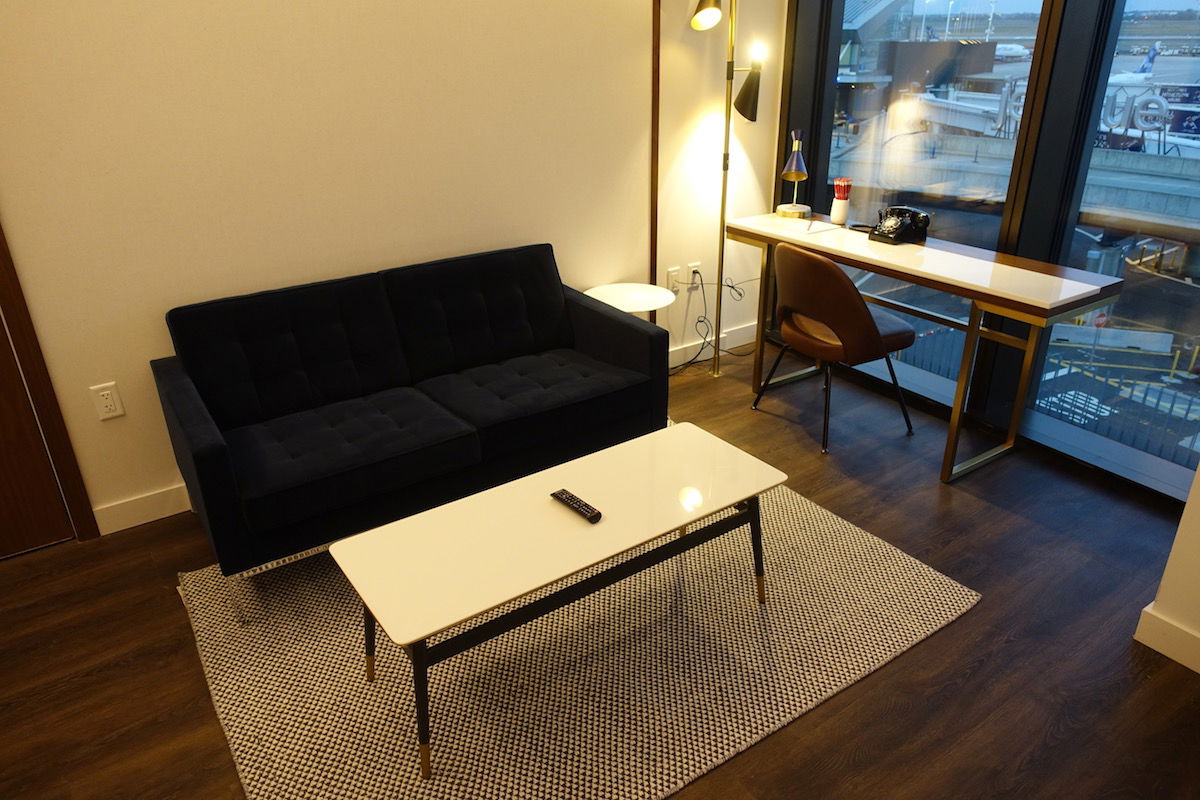 TWA Hotel suite
On the desk was a TWA notepad, over a dozen TWA pencils, and a rotary phone.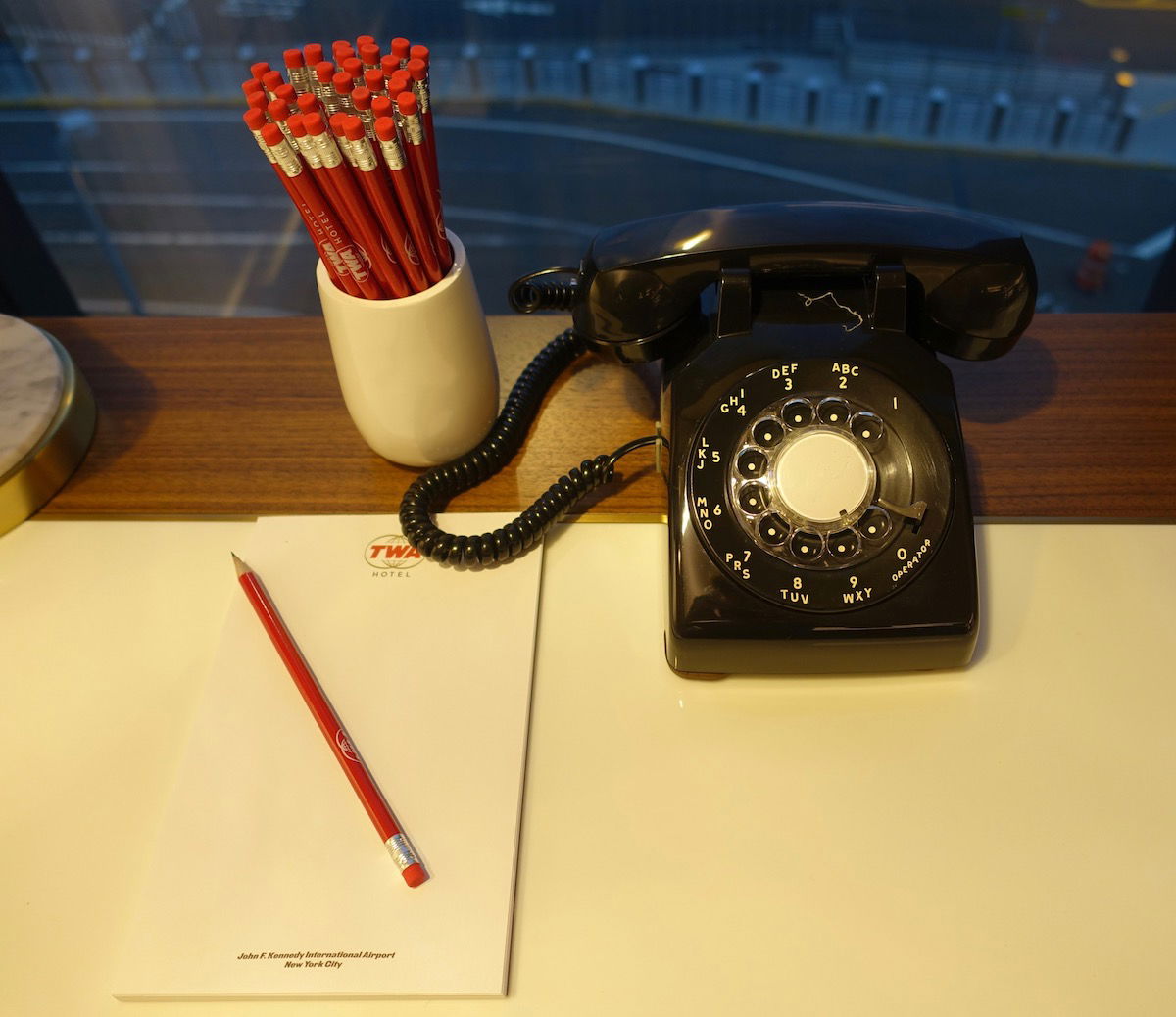 TWA Hotel goodies
The bathroom was back towards the entrance, and featured double sinks, a walk-in shower, and a toilet (this was an accessible room, so I'm not sure how different this is than other rooms). Notice that one of the lights was out.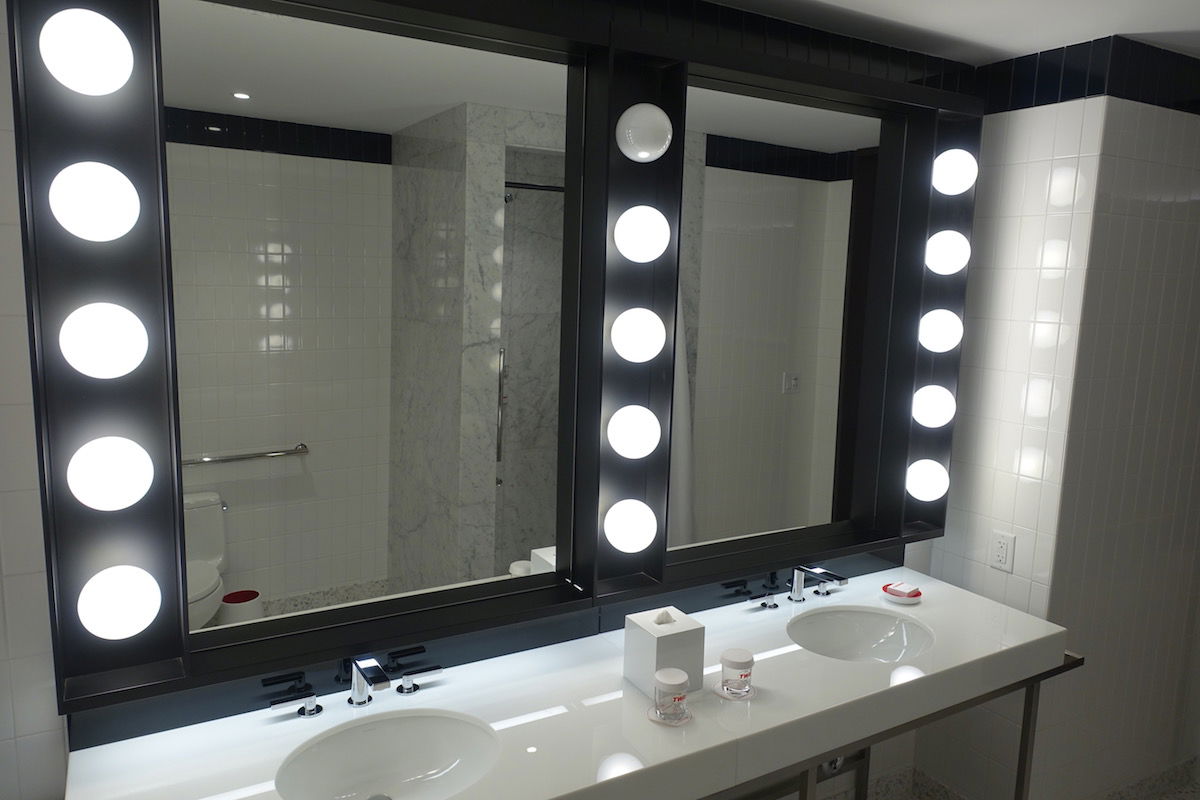 TWA Hotel room vanity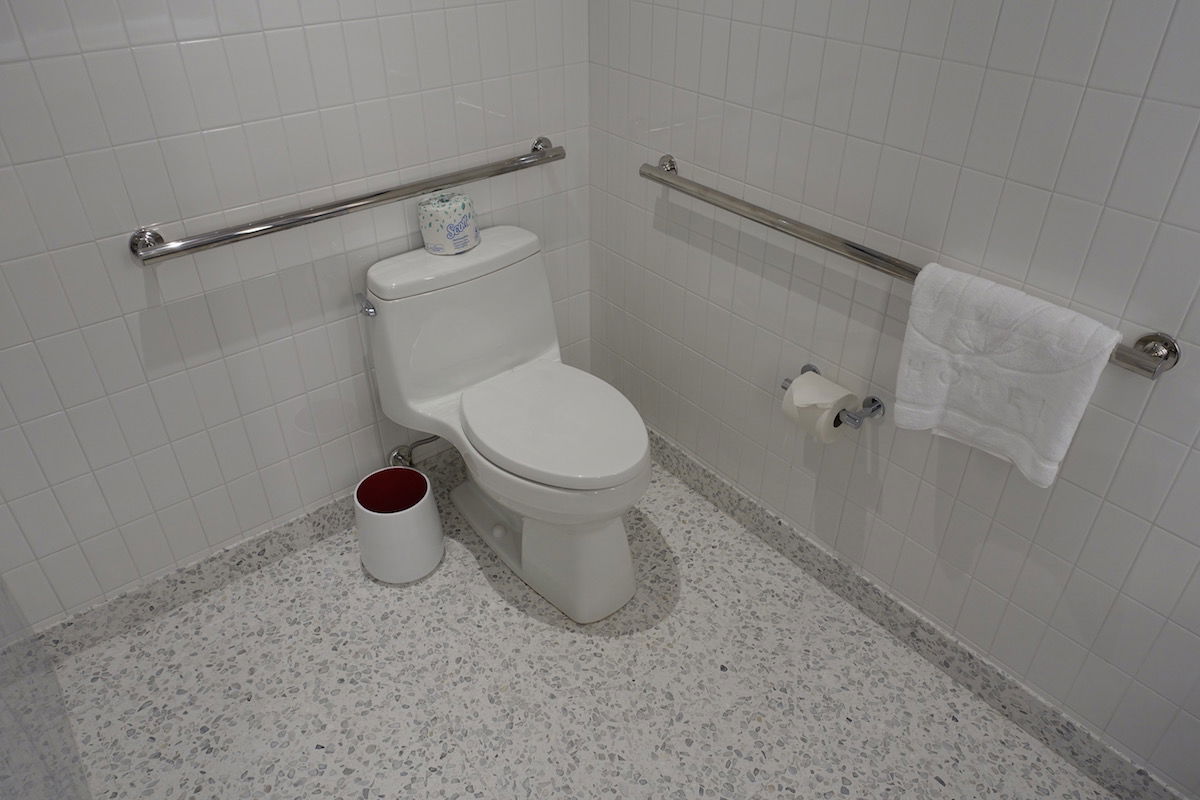 TWA Hotel suite bathroom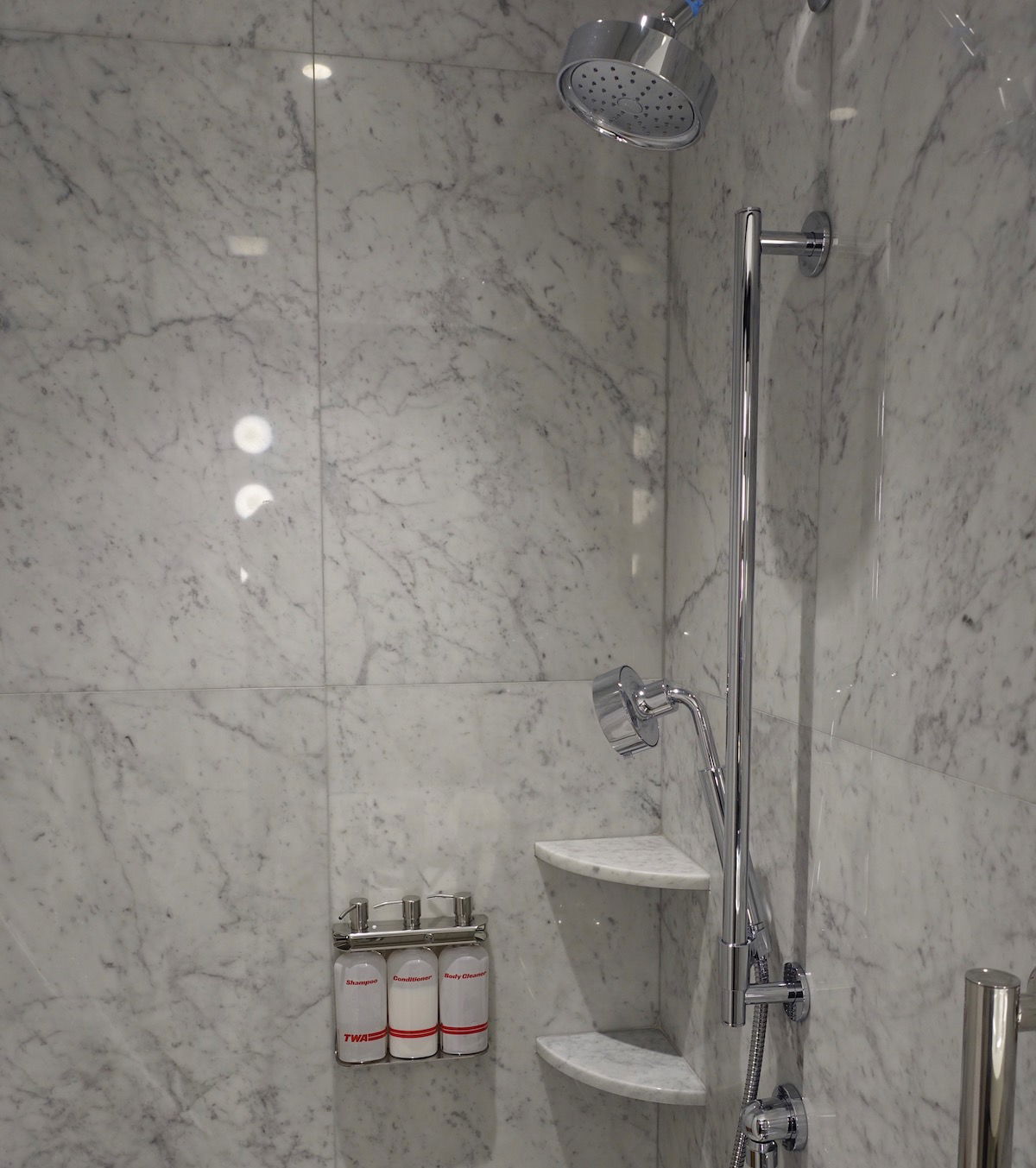 TWA Hotel suite shower
Toiletries were in wall-mounted dispensers — while this is something many people don't like, it's at least a little more environmentally friendly than the little plastic bottles you usually find at hotels.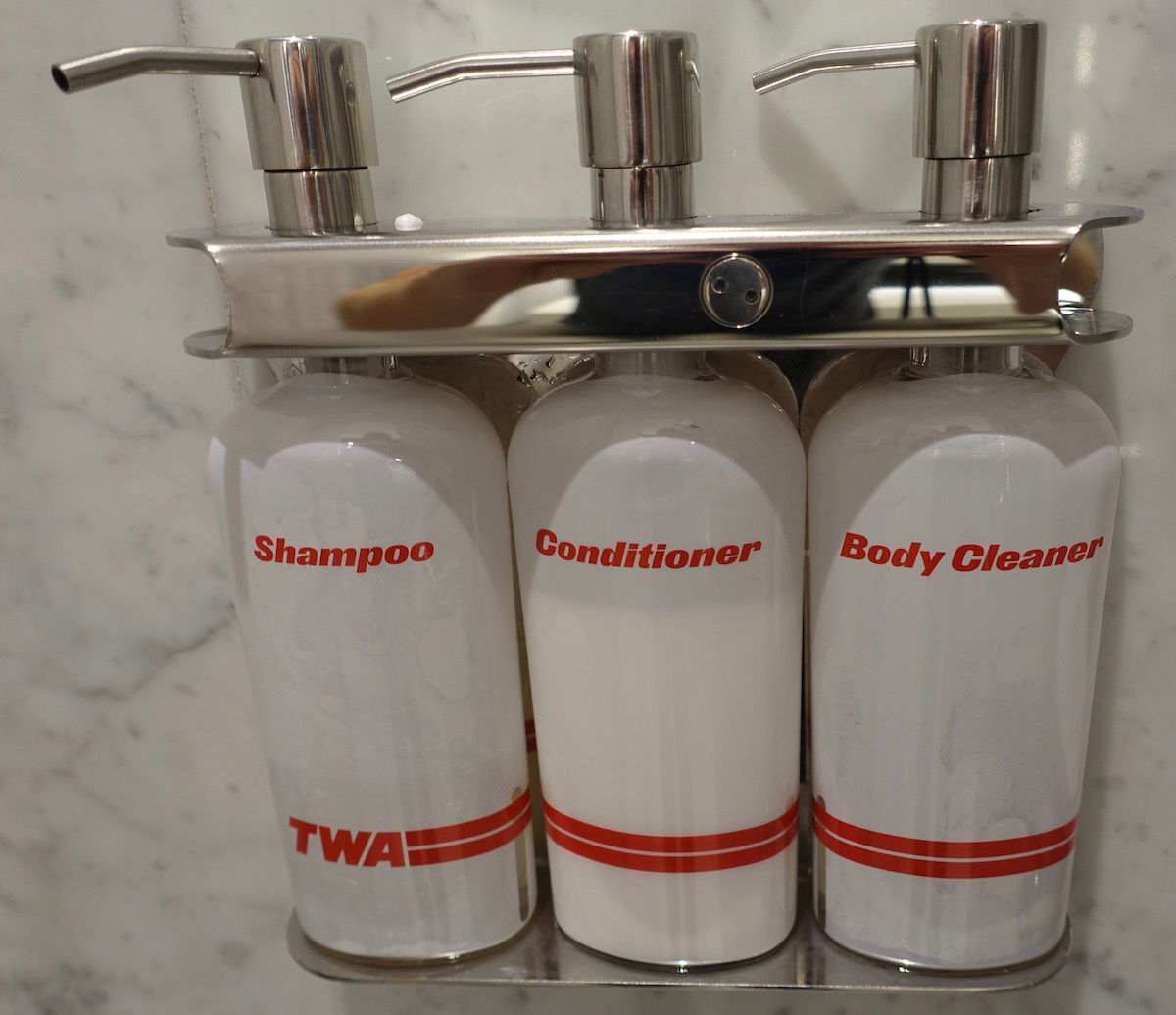 TWA Hotel room toiletries
Of course the highlight of the room was the view — we paid extra for the runway view, and boy was it worth it. The room did directly overlook the outside roadway to Terminal 5, though you also had great views of planes. Obviously most planes were from JetBlue.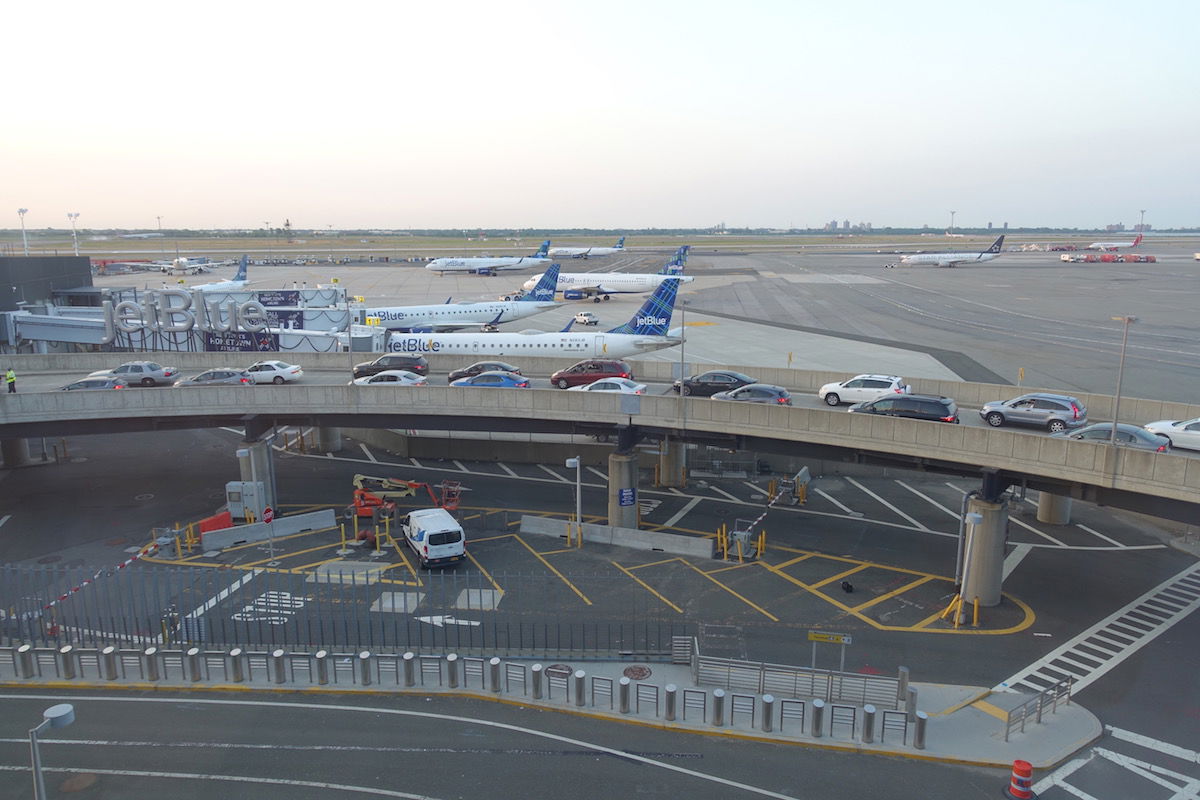 View from TWA Hotel runway view room
However, there were also lots of great views of planes taxiing into Terminal 4. We had an Air India 777 and Kenya Airways 787 taxi right by our window, and I also saw an Uzbekistan Airways 787 taxiing in — SO COOL!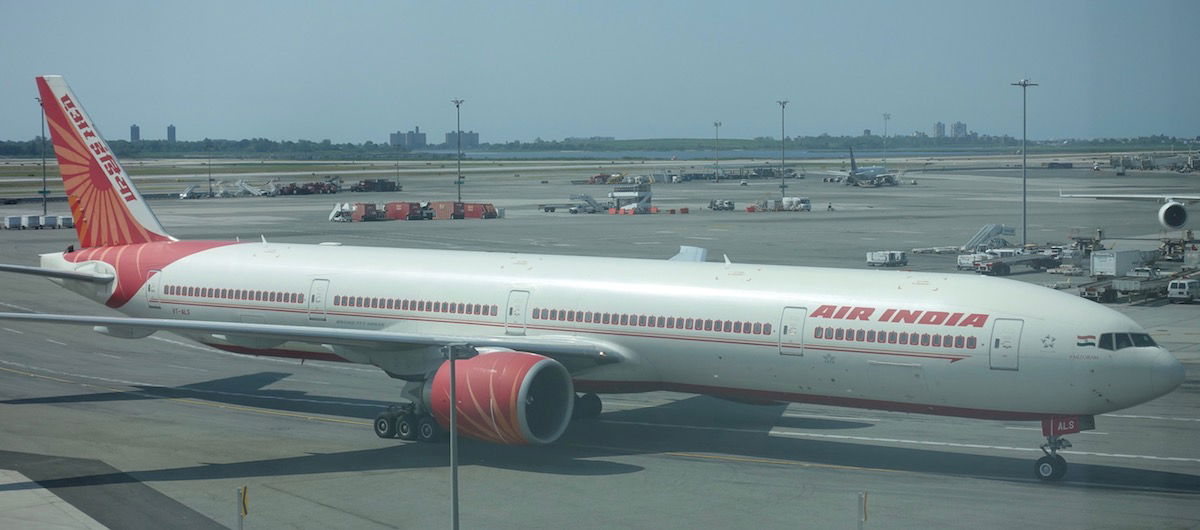 TWA Hotel views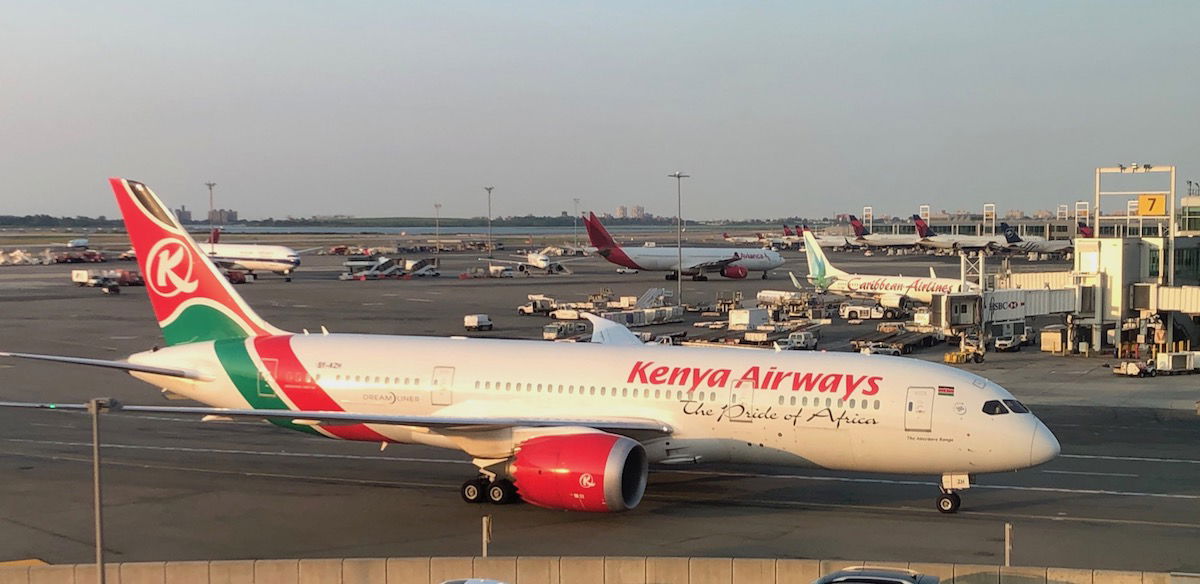 TWA Hotel views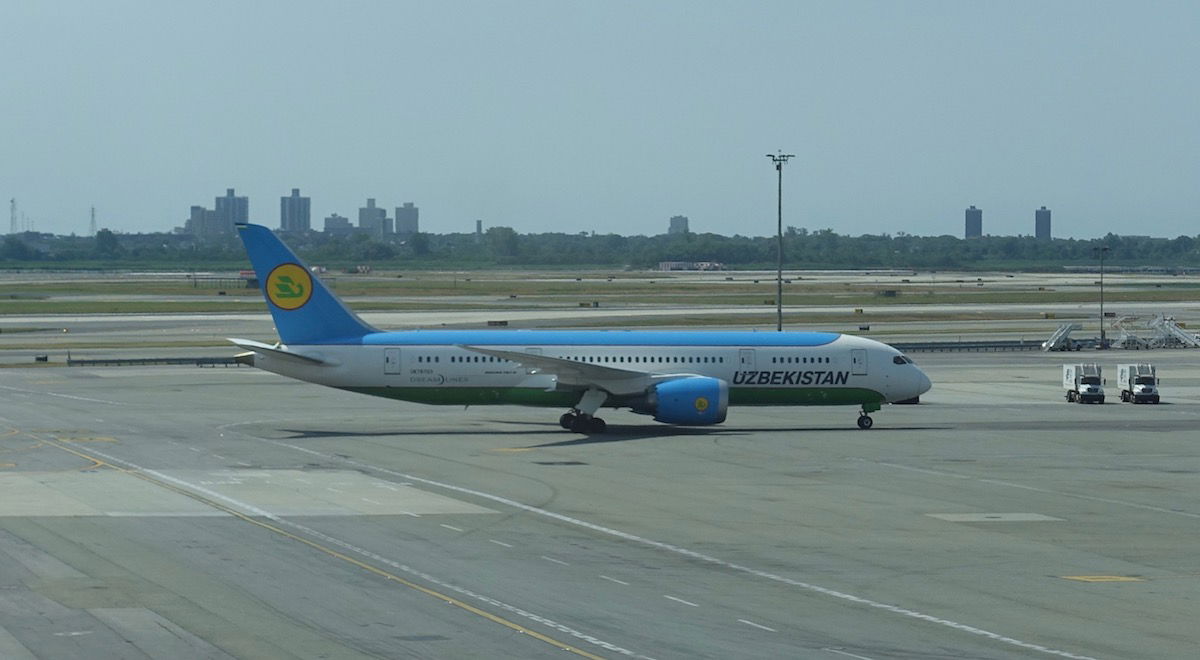 TWA Hotel views
TWA Hotel Pool
The TWA Hotel has an incredible rooftop pool, which I'm sure just about everyone is familiar with.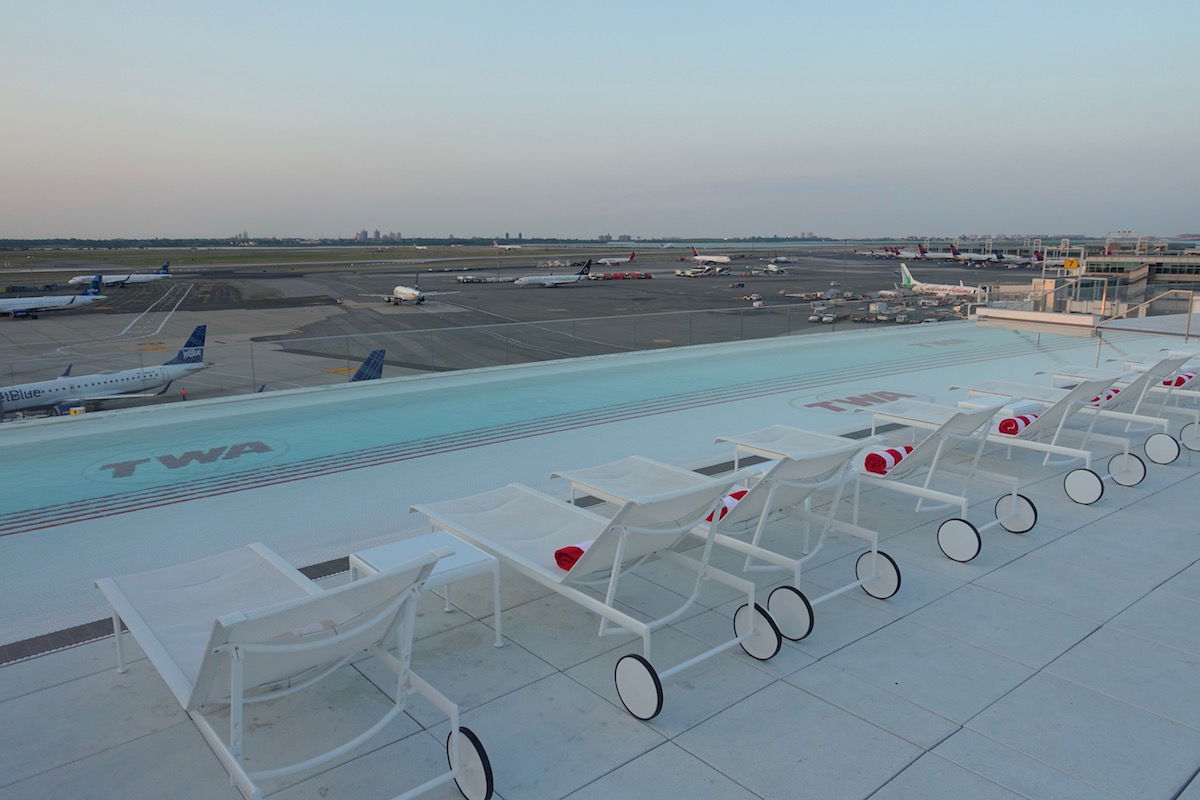 TWA Hotel rooftop pool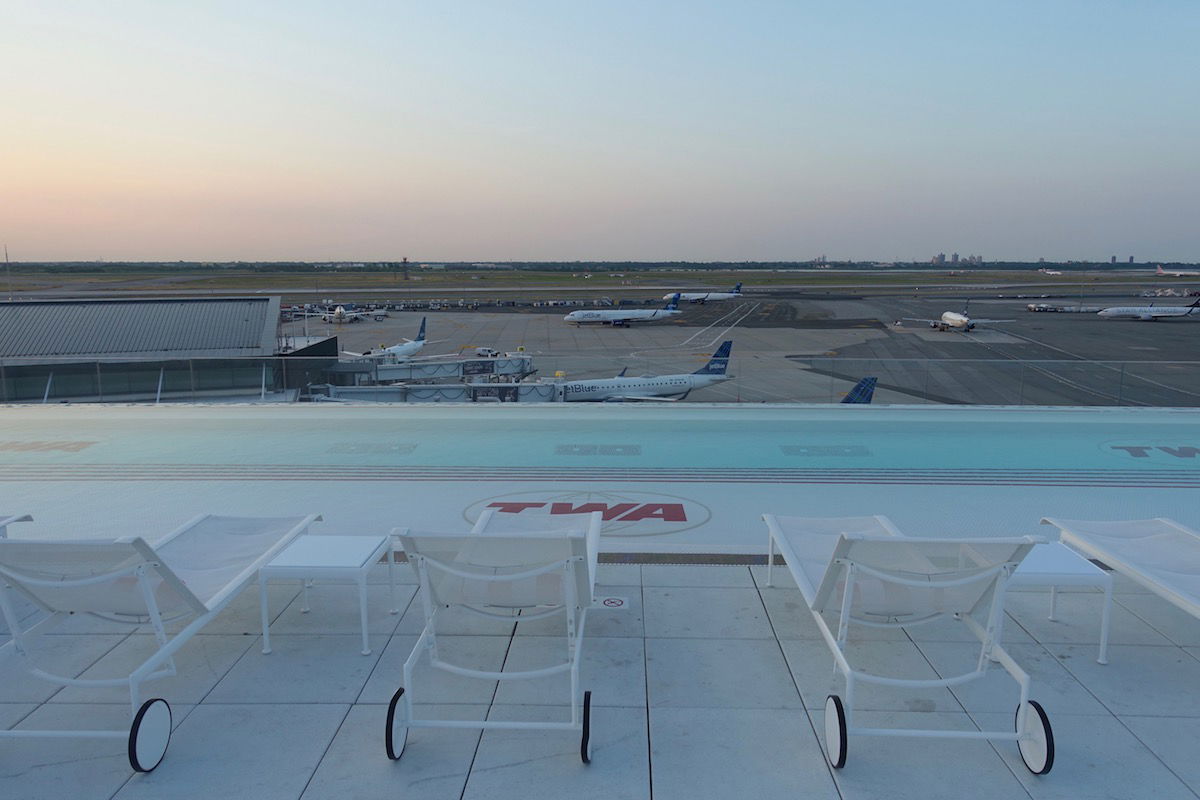 TWA Hotel rooftop pool
The rooftop also has a bar and restaurant, so you can eat up here. I'll talk more about that below.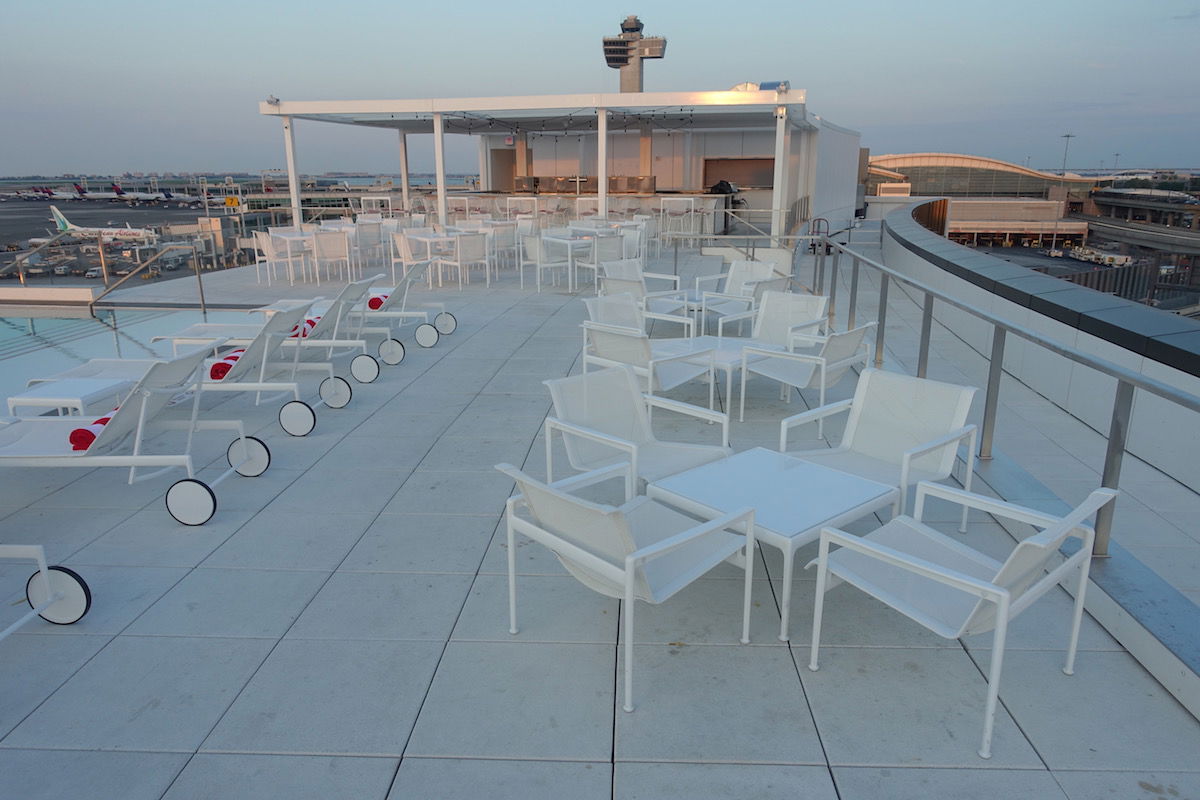 TWA Hotel rooftop pool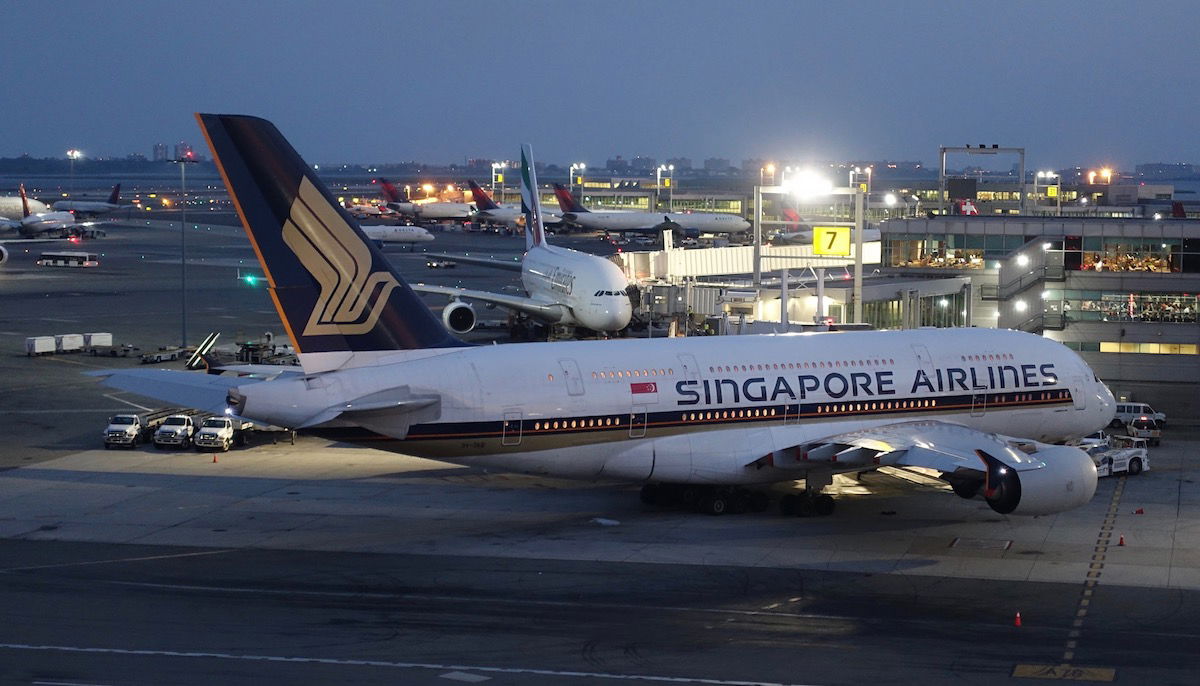 TWA Hotel pool view
As an aviation geek this is probably the coolest rooftop in the world. I would note however that there doesn't seem to be very much swimming going on in the pool, but rather it's a pool people just lounge around in and plane spot from.
TWA Hotel Gym
The TWA Hotel has a 10,000 square foot gym. That's ridiculously impressive, though I don't really get why. I checked it out three times just because I was curious if anyone was using it, and I saw at most two people.
So that's totally awesome, but also unnecessary for an airport hotel, in my opinion. The only downside to the gym is that it lacks views.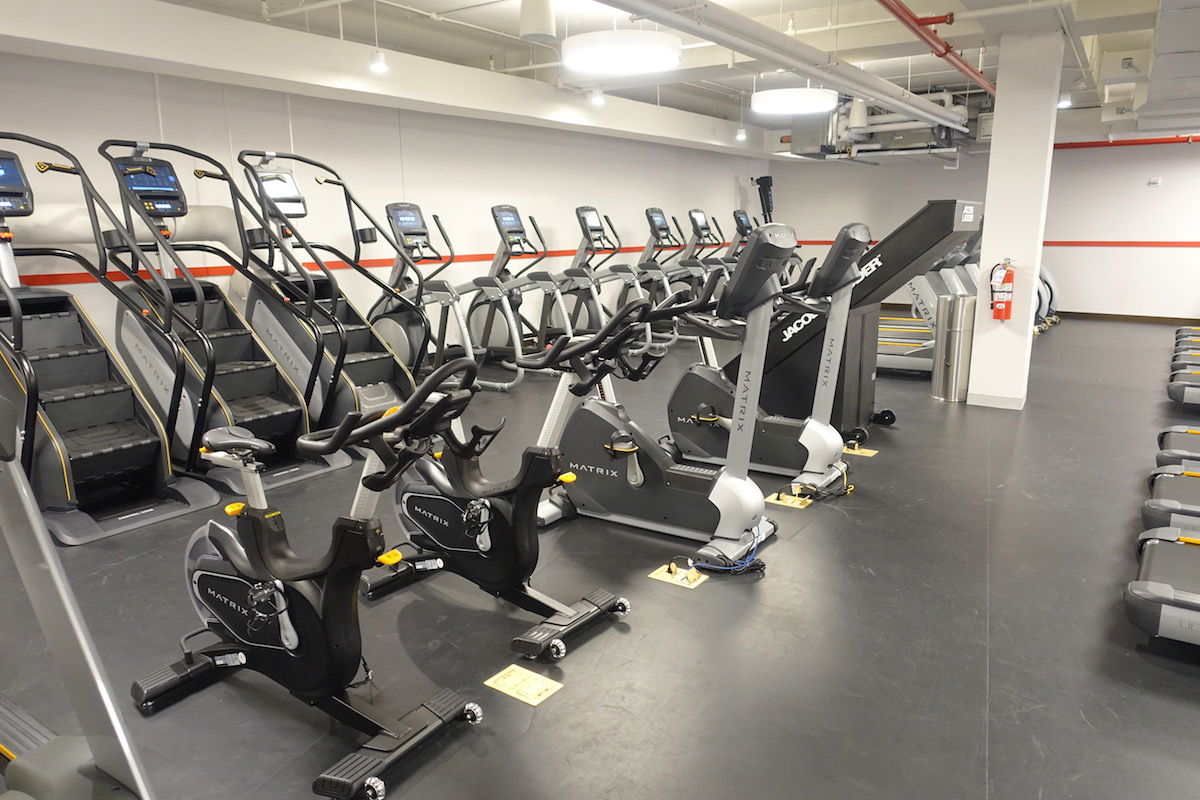 TWA Hotel gym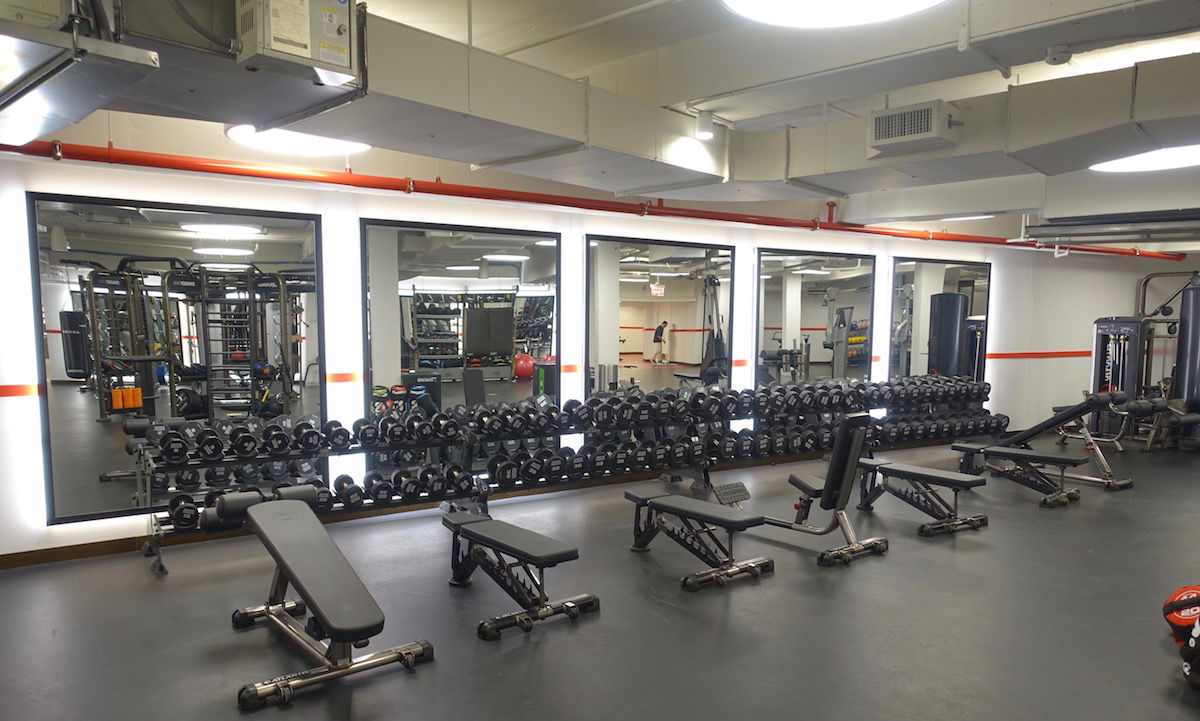 TWA Hotel gym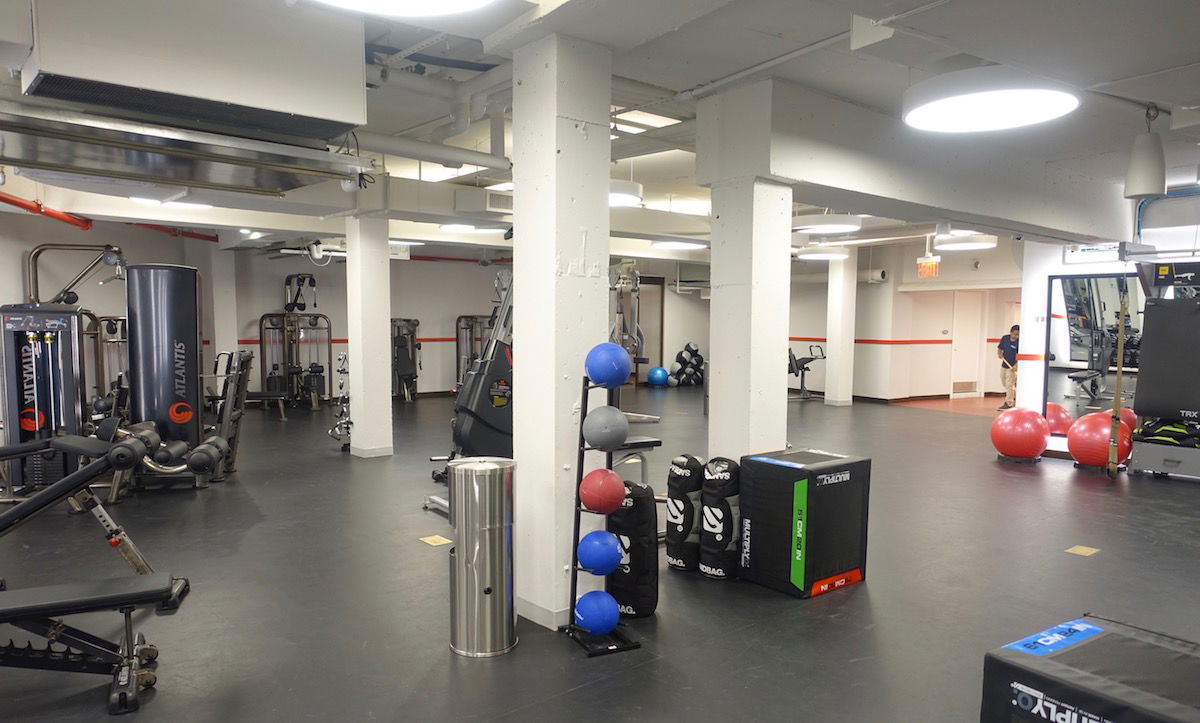 TWA Hotel gym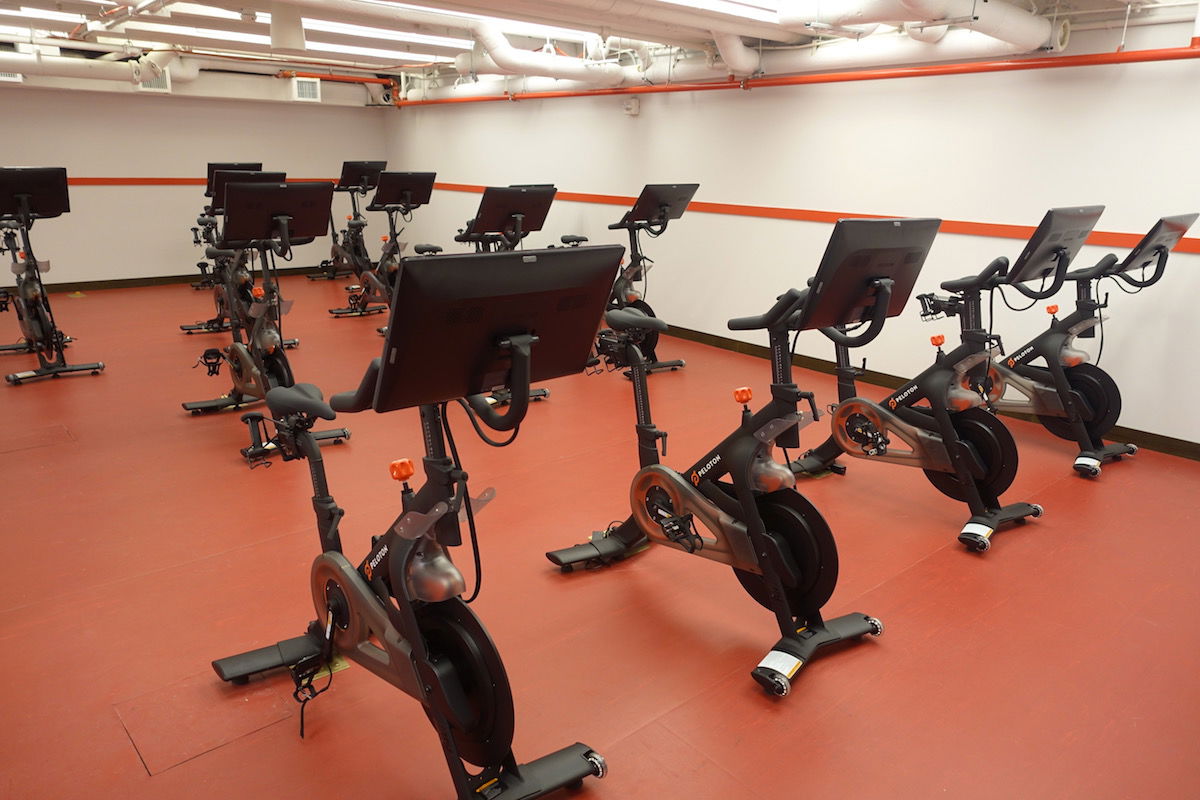 TWA Hotel gym
TWA Hotel Memorabilia
I think it's pretty obvious that the hotel has gone great lengths to integrate the TWA brand. In addition to the touches found throughout, there are several areas of the hotel that are almost a TWA museum of sorts.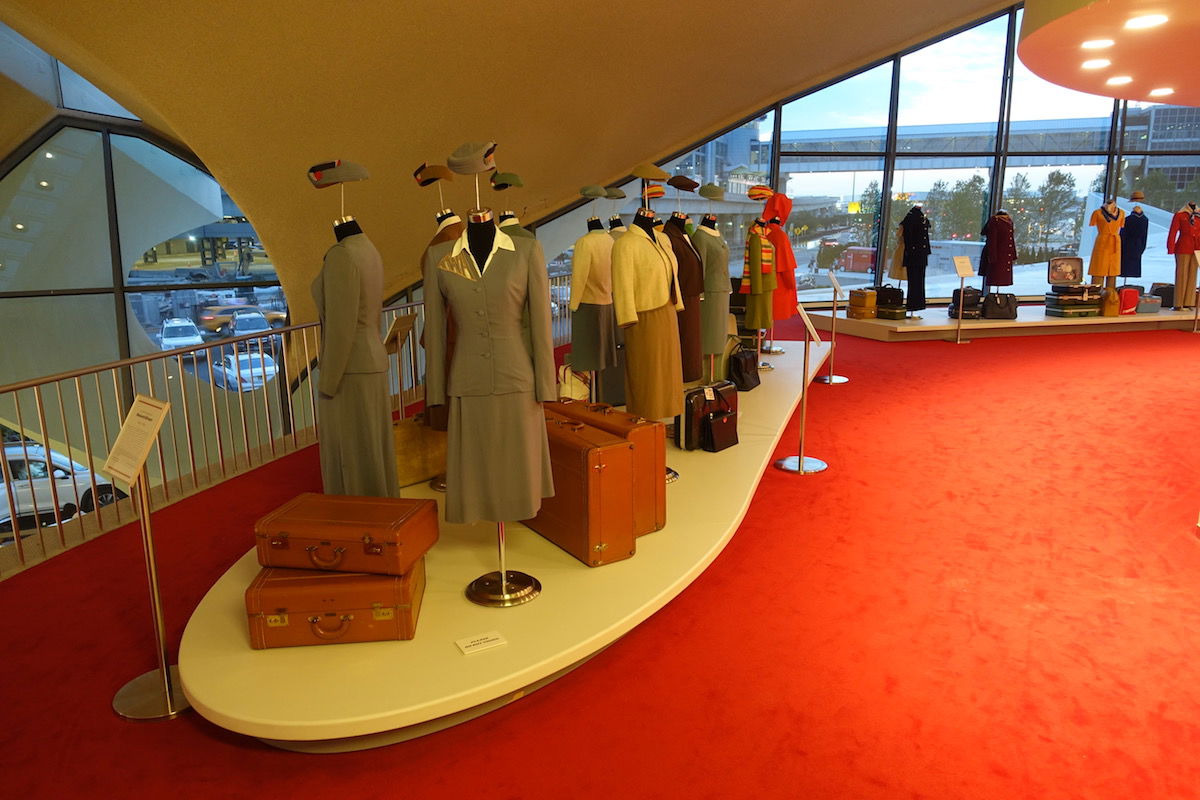 Old TWA uniforms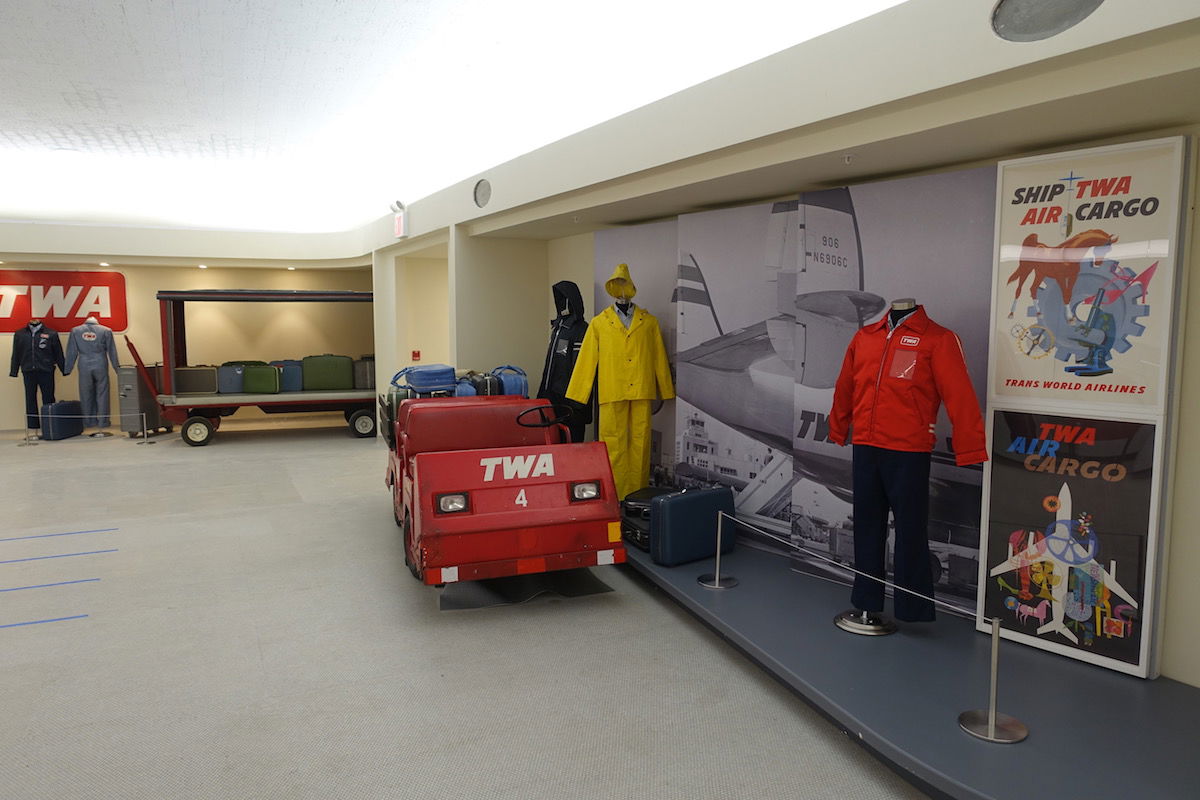 TWA memorabilia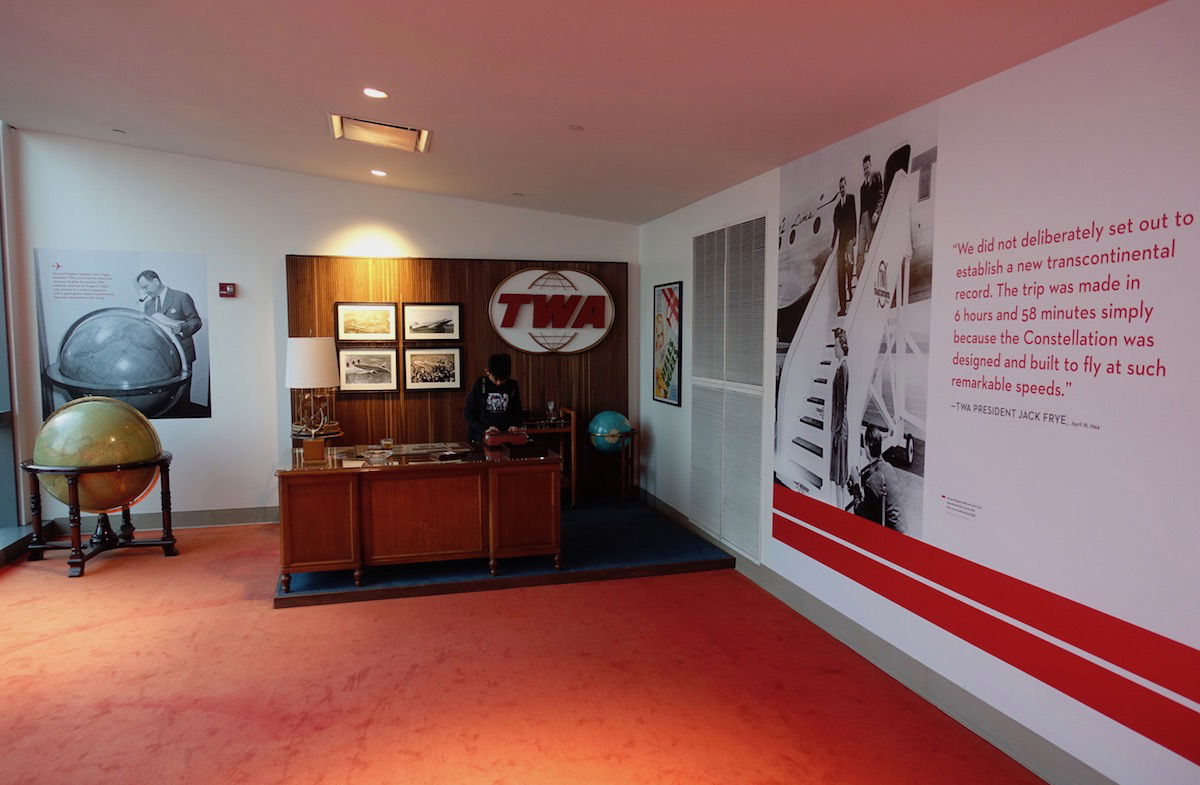 TWA memorabilia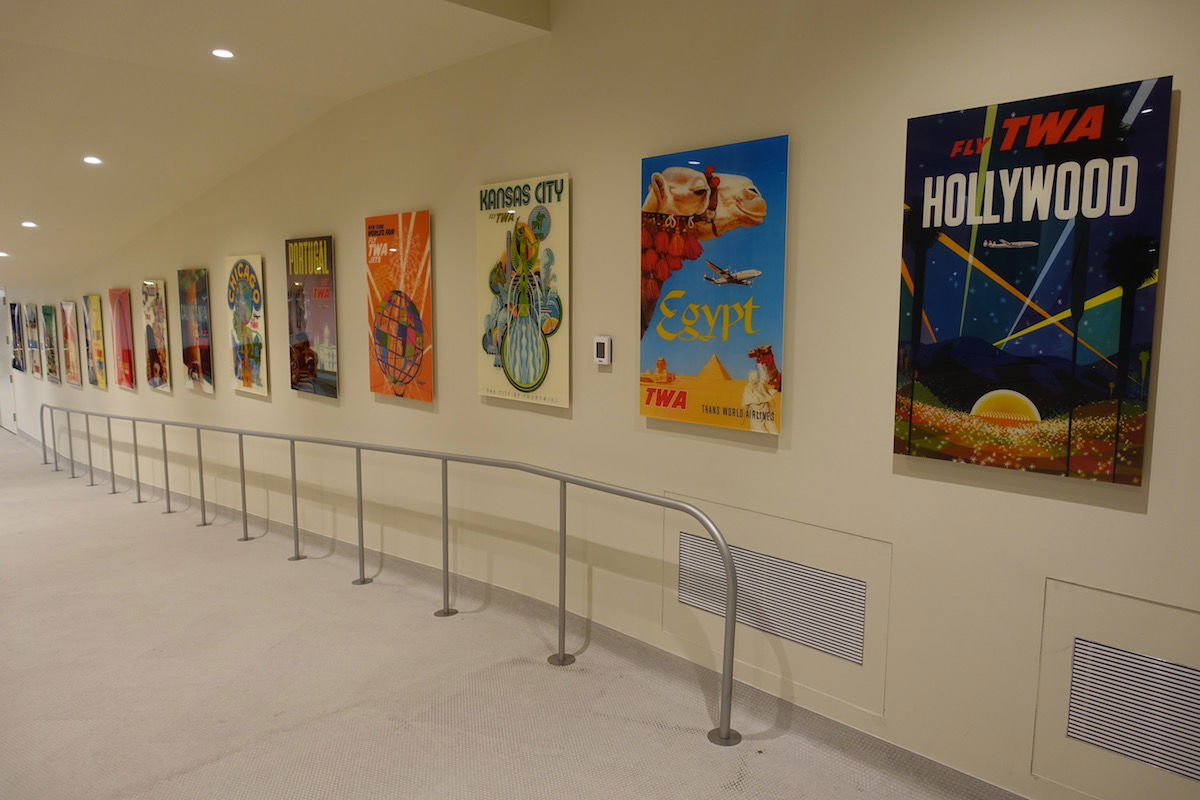 TWA posters
Dining At The TWA Hotel
The dining options at the TWA Hotel are simultaneously really impressive, and also sort of poorly thought out, in my opinion, depending on how you look at it. Note that for The Connie, The Pool Bar, and The Paris Cafe, you may want to make reservations in advance, and those can be made online.
Let's look at the dining options.
Food Hall
The TWA Hotel has a food hall right next to reception, which features multiple vendors, including Halal Guys.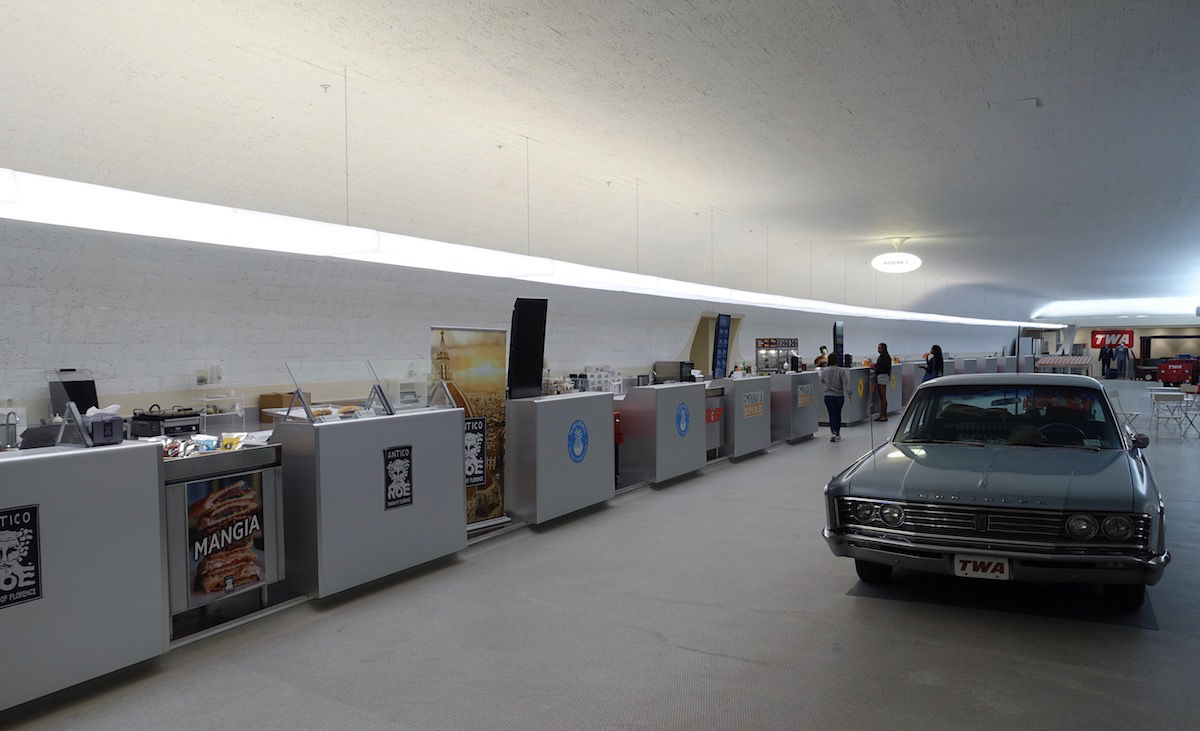 TWA Hotel food hall
This is open for breakfast from 8AM until 11AM, for lunch from 11AM until 3PM, and for dinner from 3PM until 9PM. I feel like those dinner hours are quite limited, especially when you consider this is an airport hotel, where it doesn't seem unreasonable to want to grab food at 9:30PM.
Intelligentsia Coffee
Rather oddly breakfast at the hotel is only served starting at 8AM, which seems super late. Fortunately there's an Intelligentsia Coffee stand right across from reception, which opens at 5AM. That doesn't have any substantial food, but at least you can grab a coffee and a muffin early.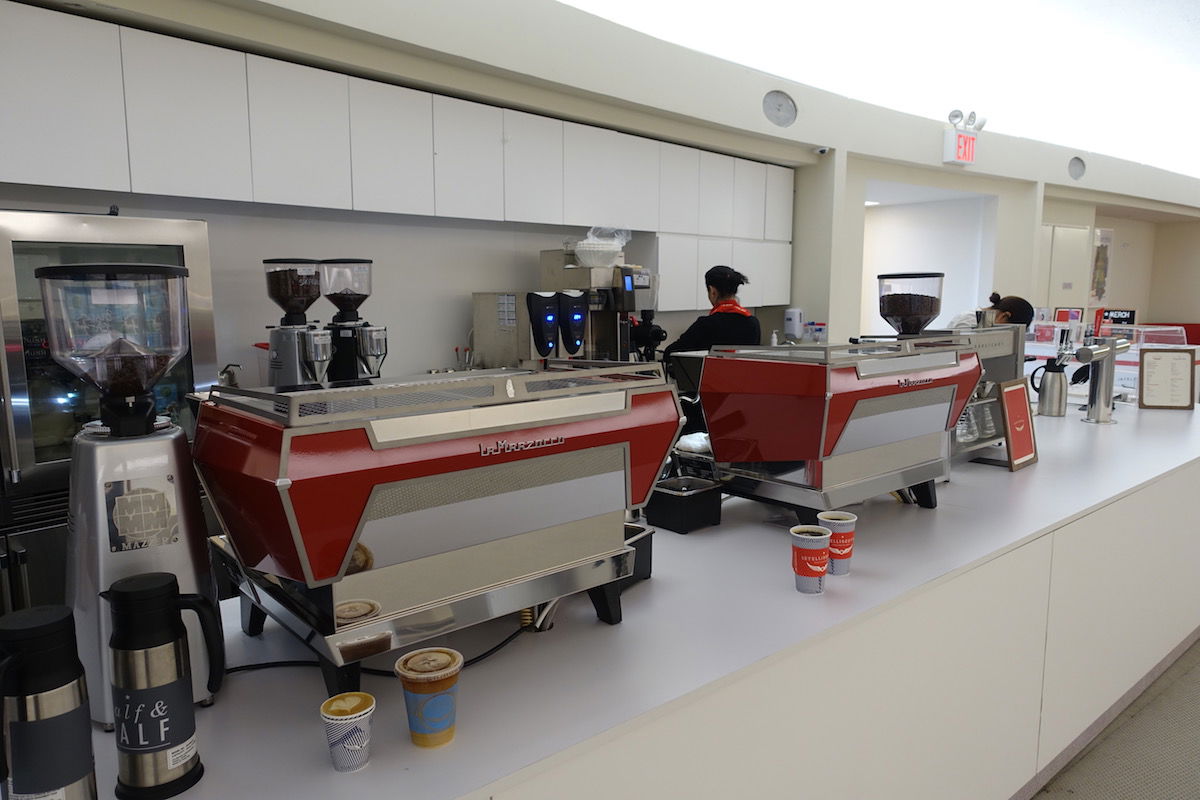 Intelligentsia Coffee
So when I woke up I grabbed drinks for us there.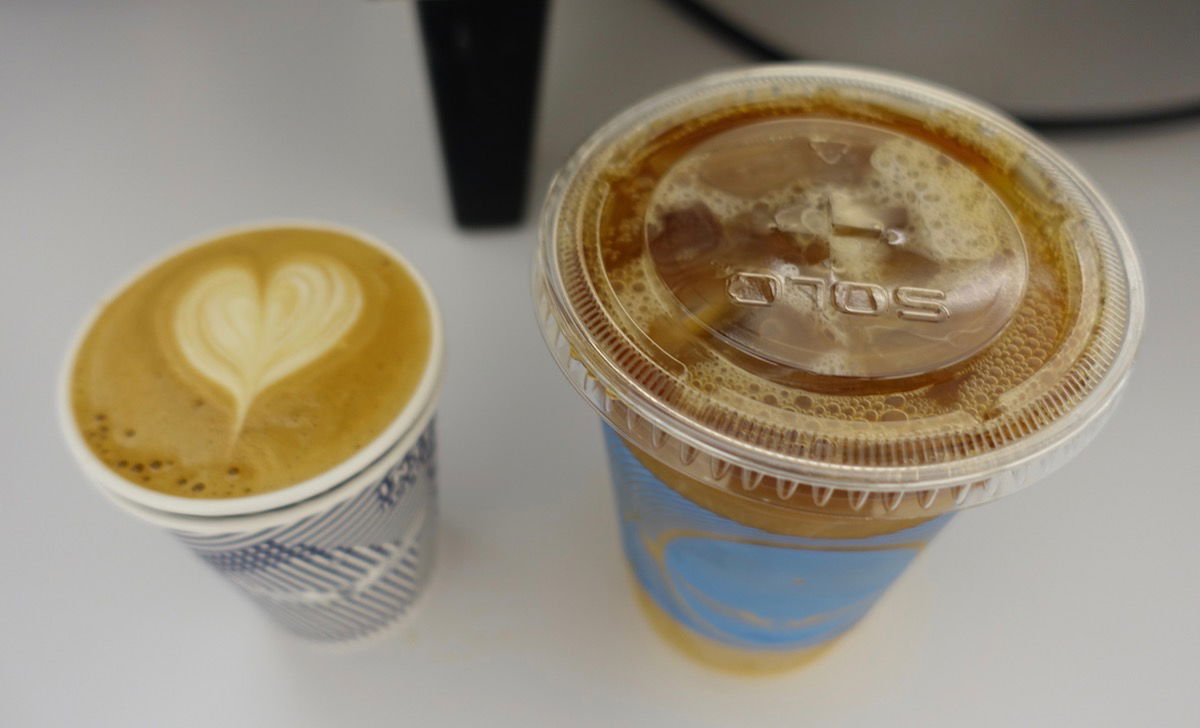 Intelligentsia Coffee
The Pool Bar
Our flight from Miami was delayed a bit due to maintenance (shocking), and we had a 10PM reservation at The Connie for drinks, so we decided just to have a light dinner at The Pool Bar.
While this is the casual dining option here, the weather was perfect and plane spotting was amazing, so I'd have dinner here again in a heartbeat. We watched heavy plane after heavy plane take off.
The drink menu read as follows: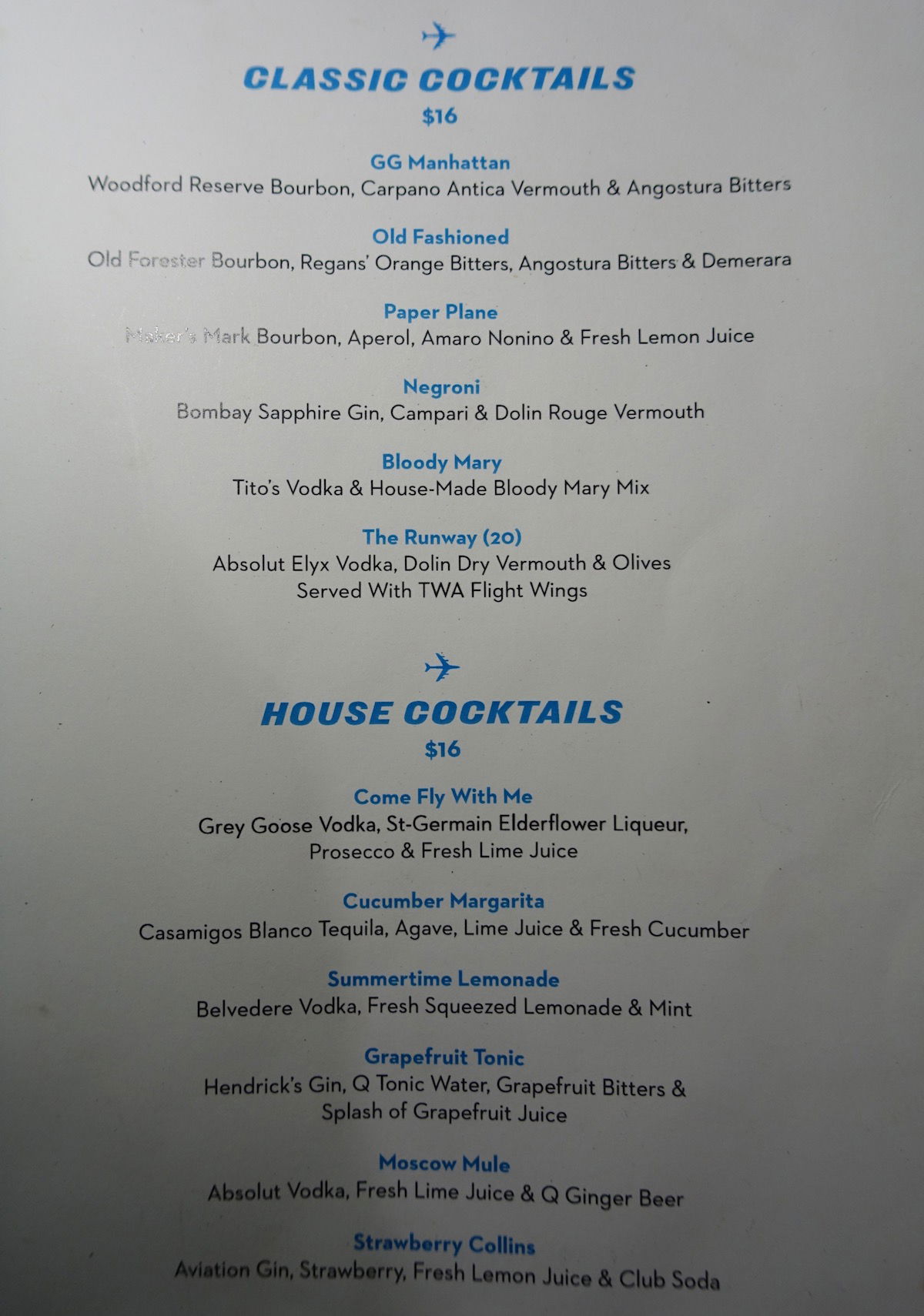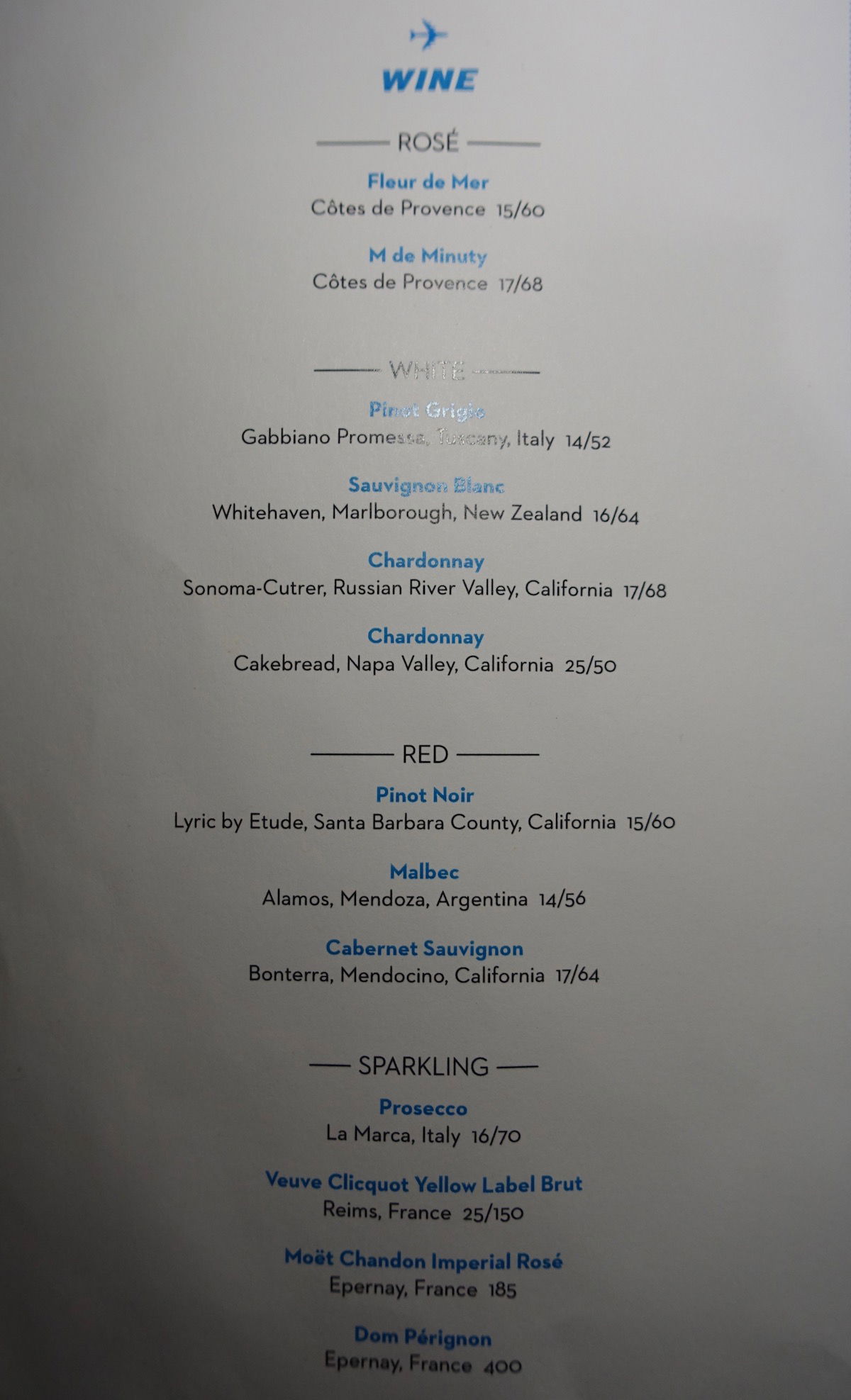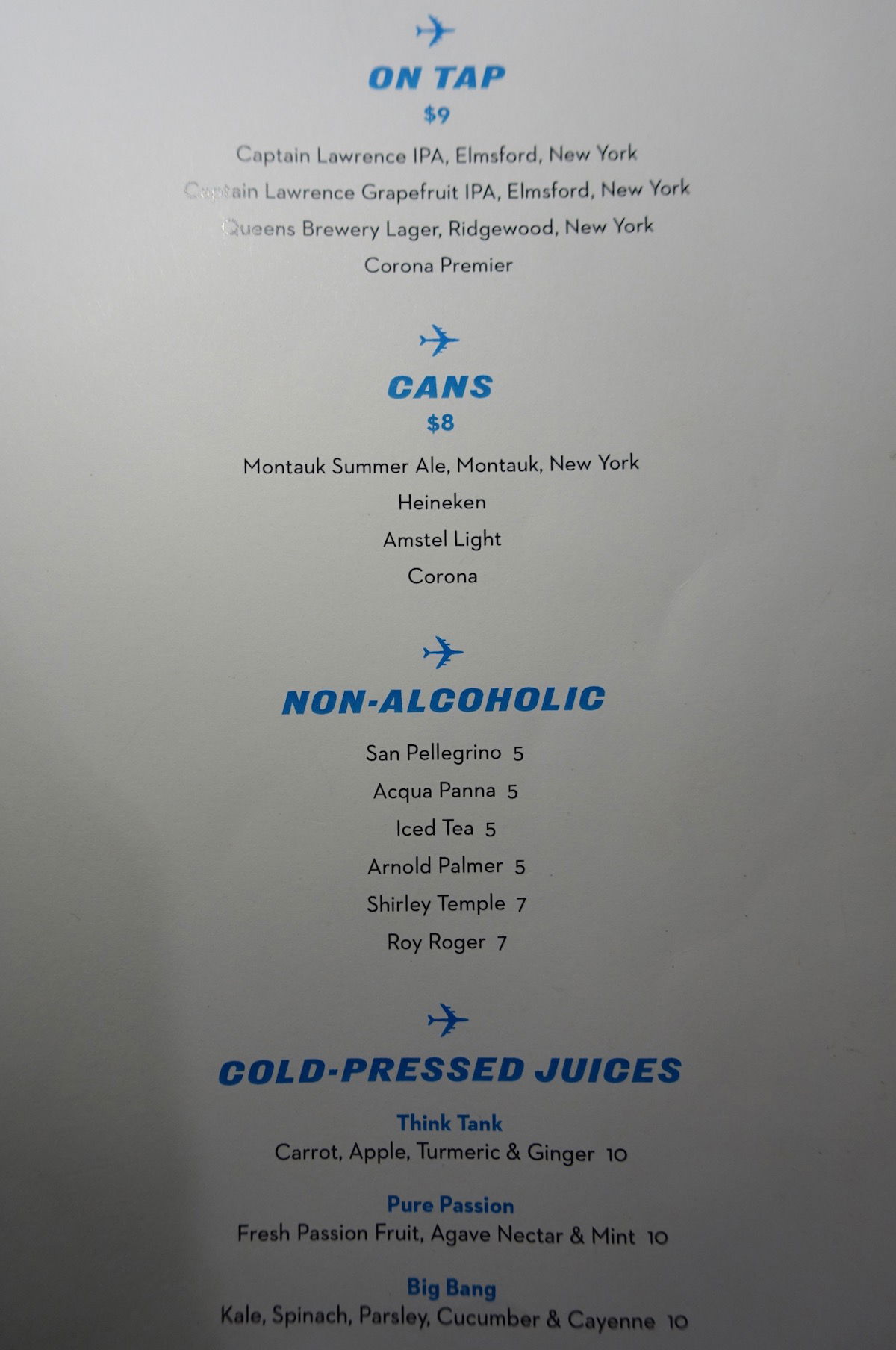 The food menu read as follows: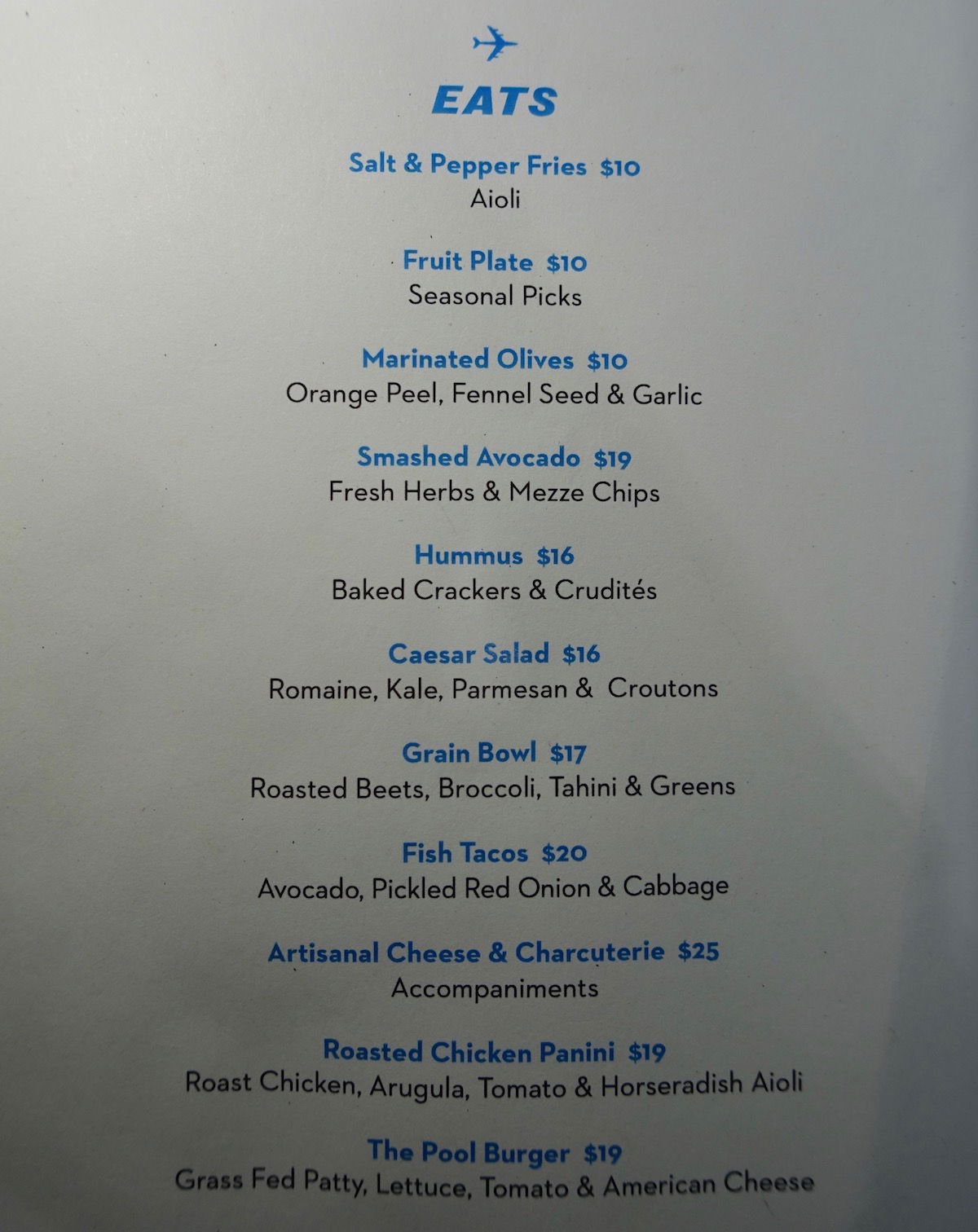 To drink I had a Grapefruit Tonic and Ford had a Negroni.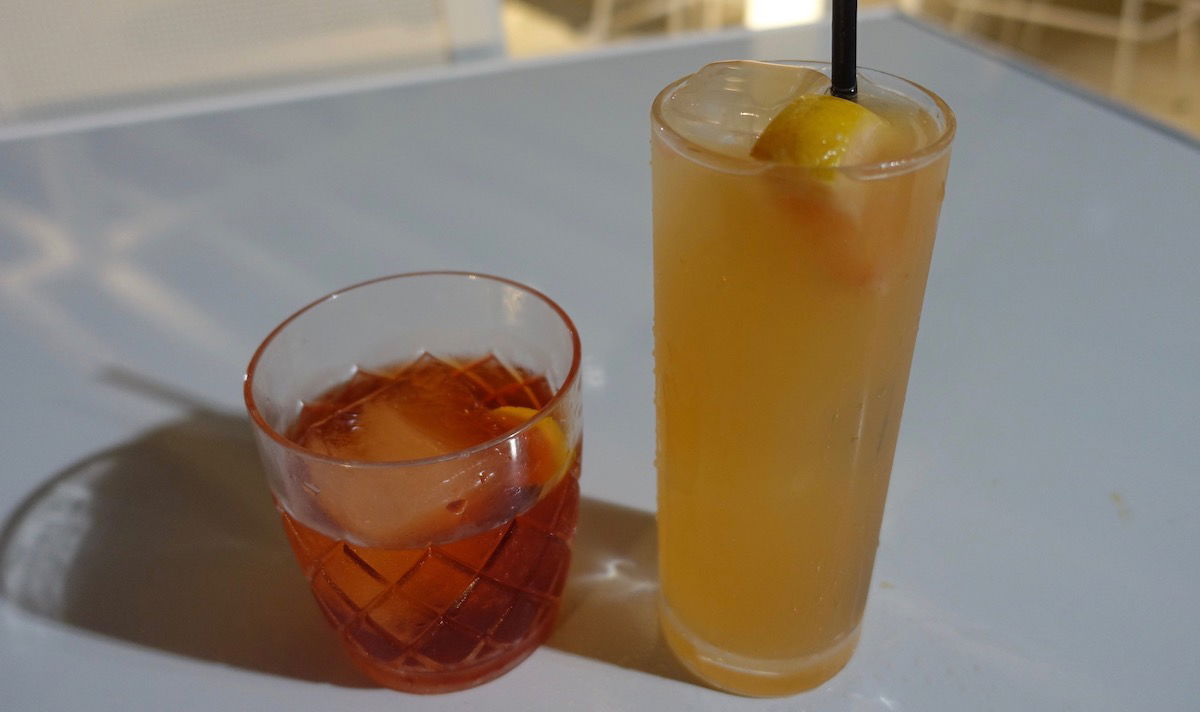 The Pool Bar drinks
Then to eat I had the fish tacos, while Ford had the cheese and charcuterie.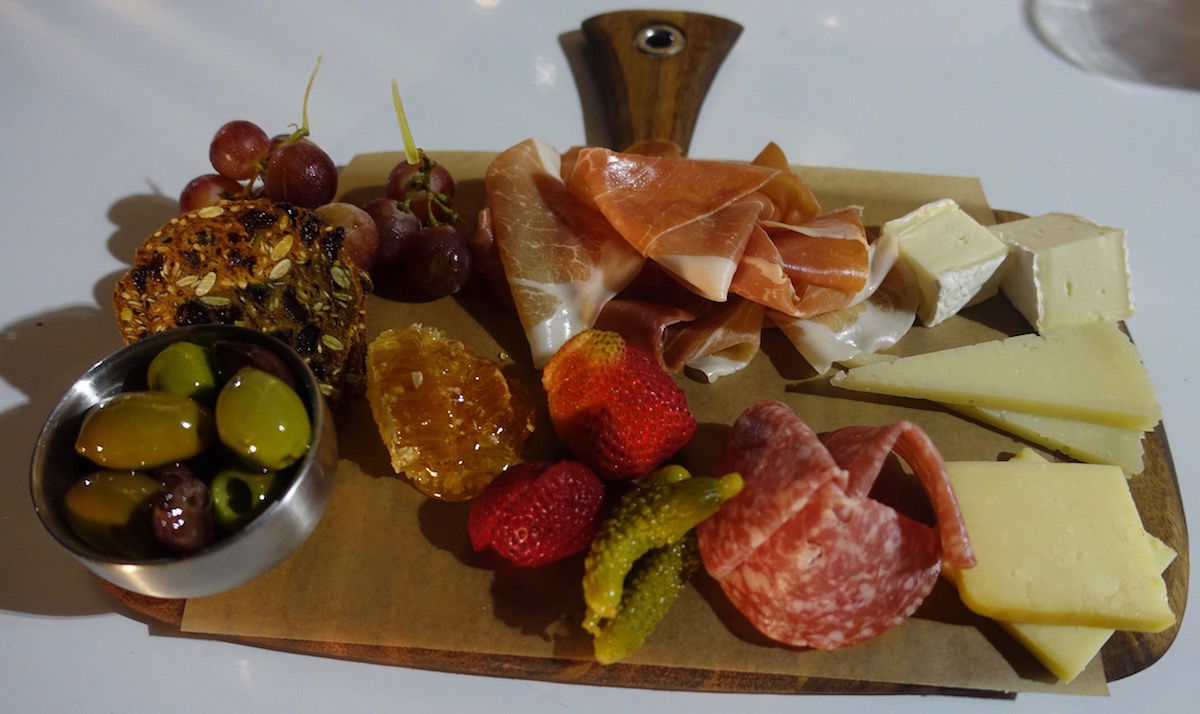 The Pool Bar food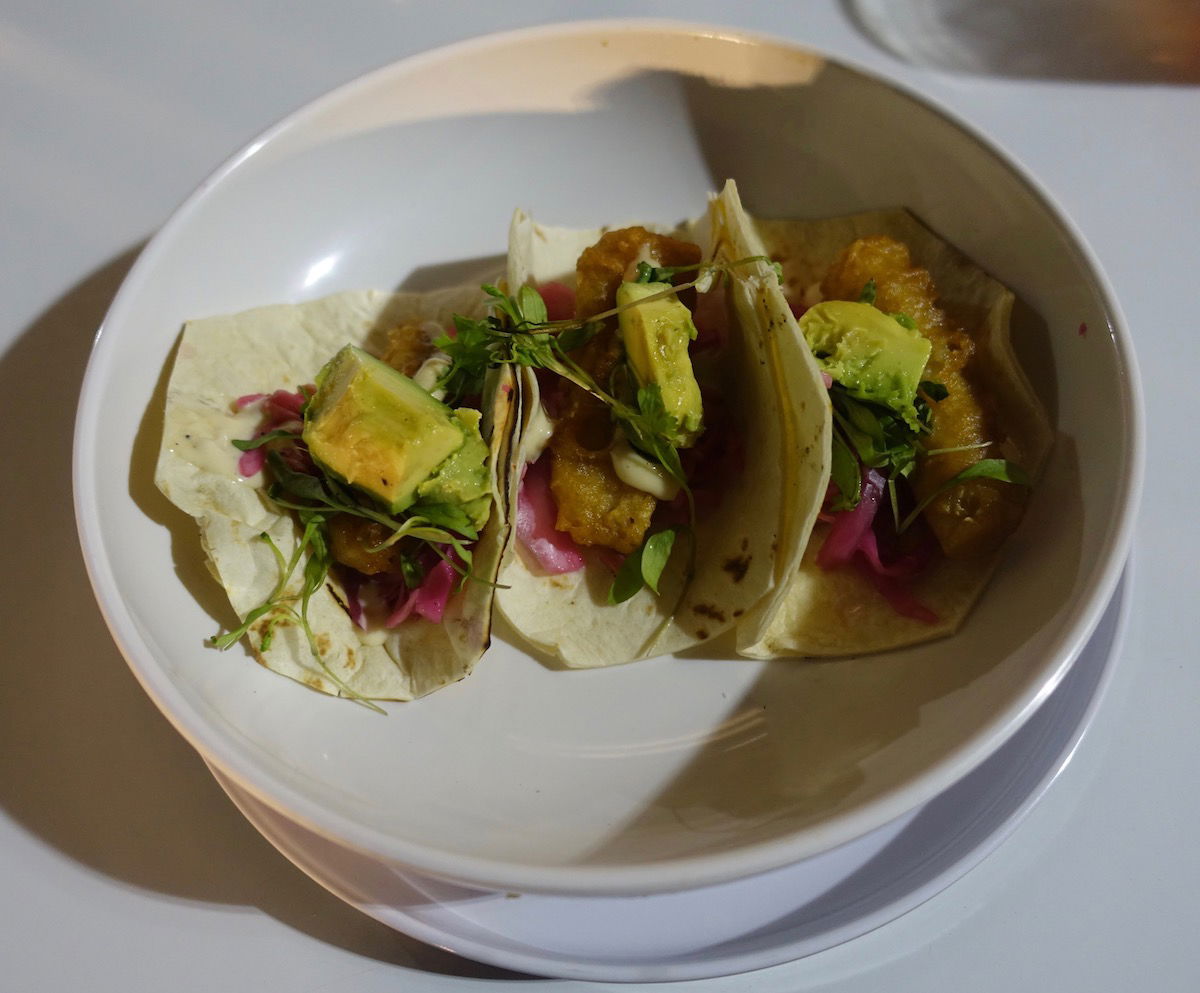 The Pool Bar food
The food and drinks were both good, though a bit pricey (but worth it for the view).
The Connie
Perhaps the most well known feature of the hotel is The Connie parked out front, which is a Lockheed Constellation that was commissioned in 1939, and which even acted as "Air Force One" in the 1950s. At this point the Connie is one of the few of these planes remaining in the world… so they turned it into a cocktail lounge!
Anyone can walk out towards the plane, and they even have it in an area that looks like a runway.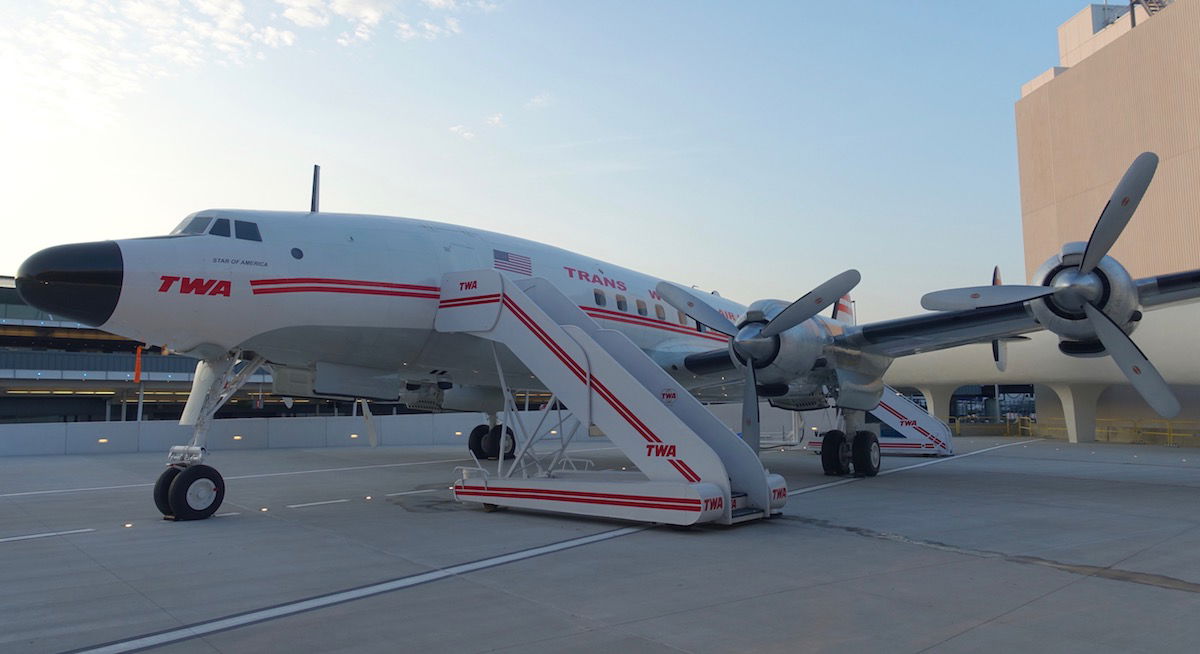 The Connie TWA Hotel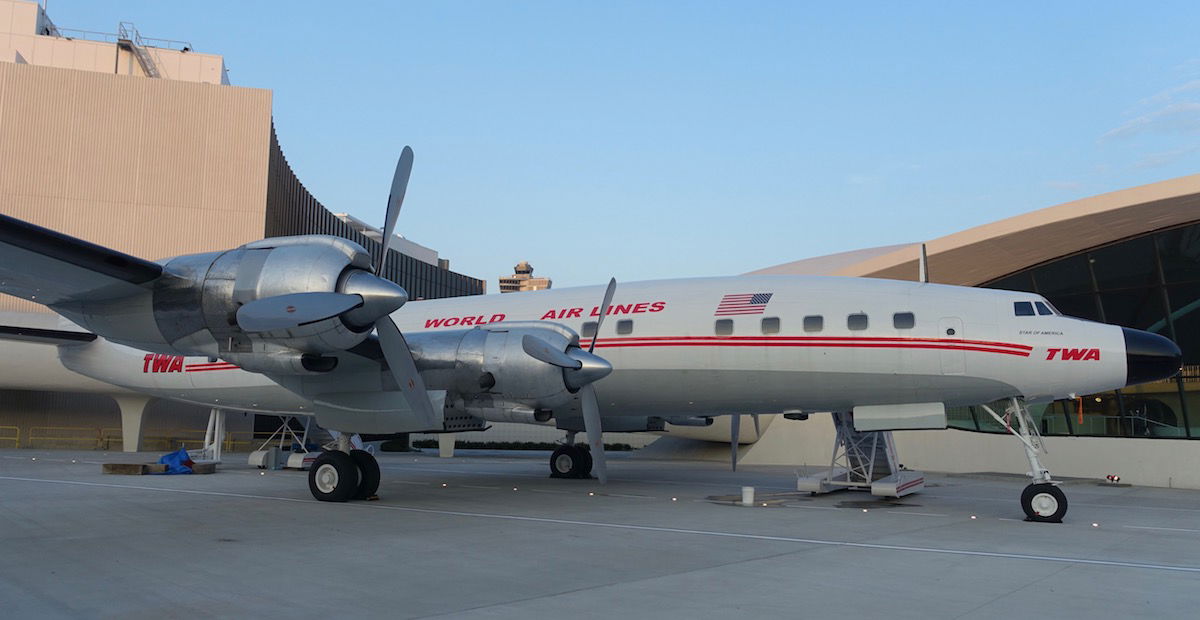 The Connie TWA Hotel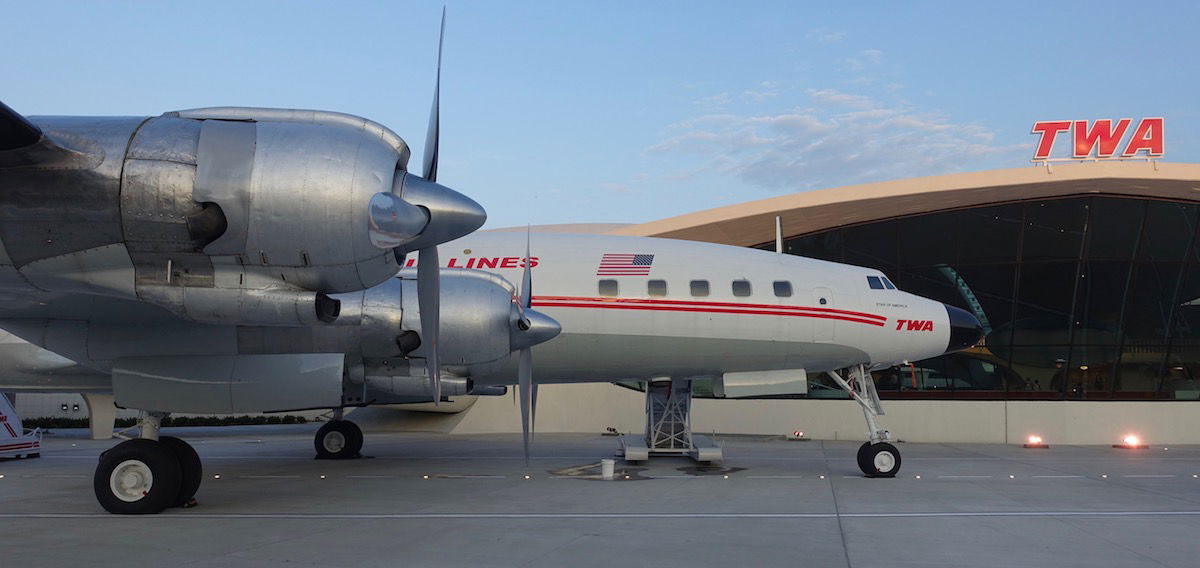 The Connie TWA Hotel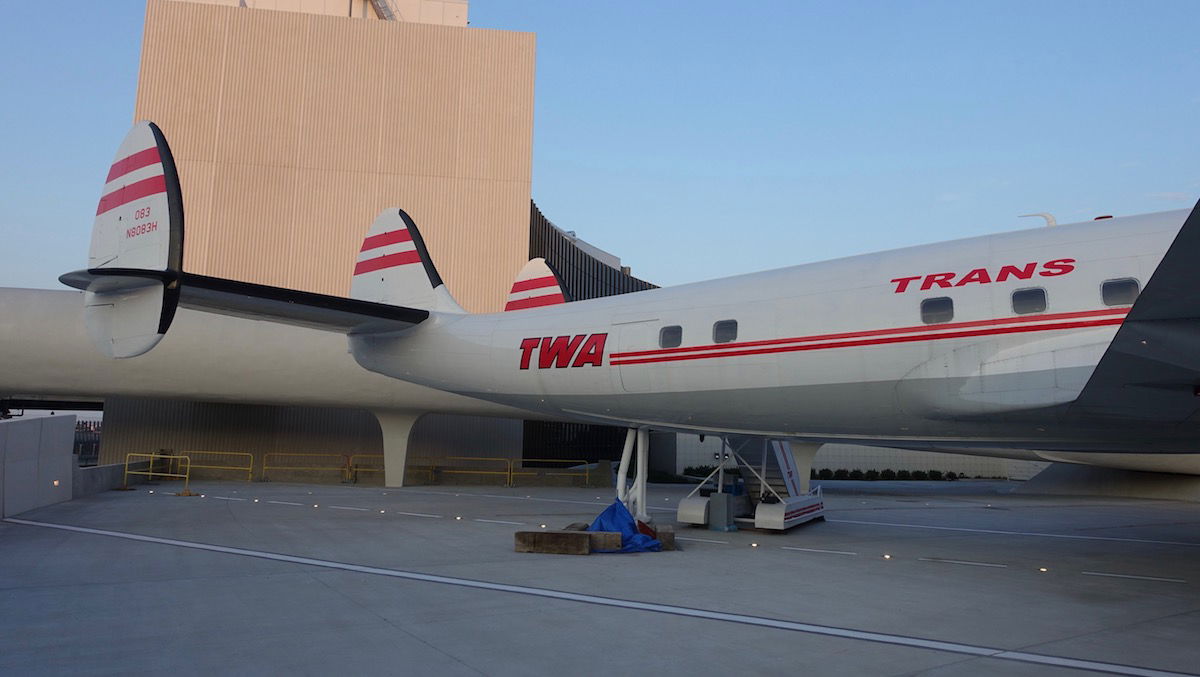 The Connie TWA Hotel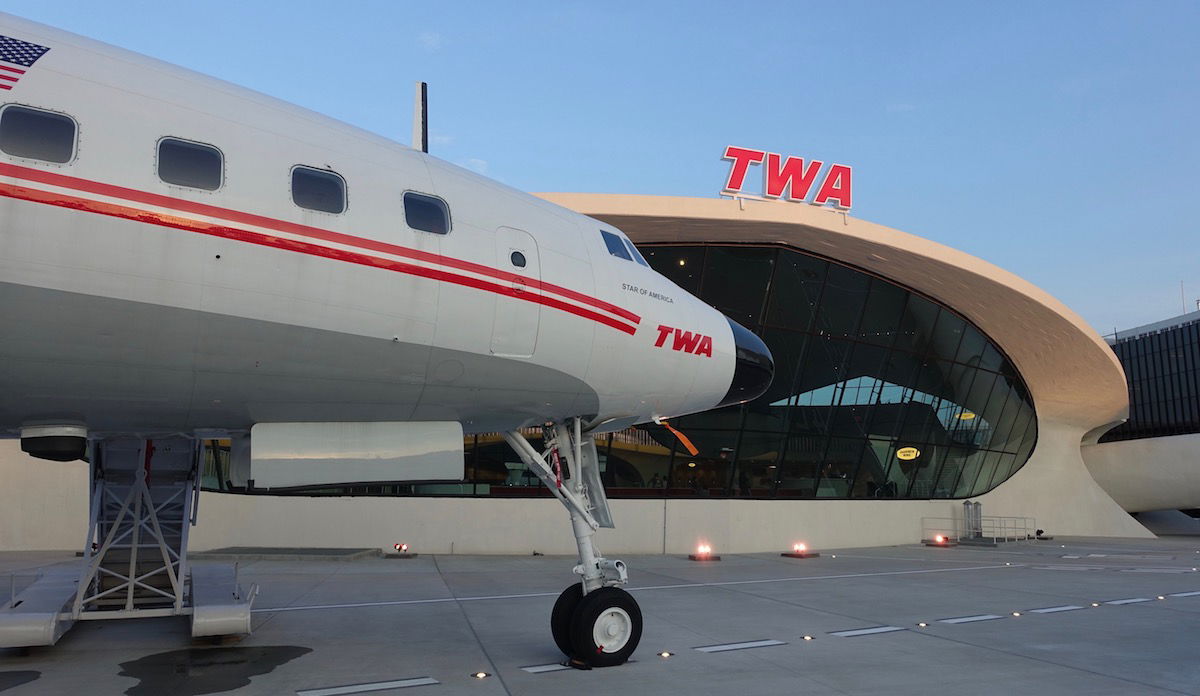 The Connie TWA Hotel
How cool is that?!?
Inside The Connie there are some couches along the walls, as well as some actual airplane seats.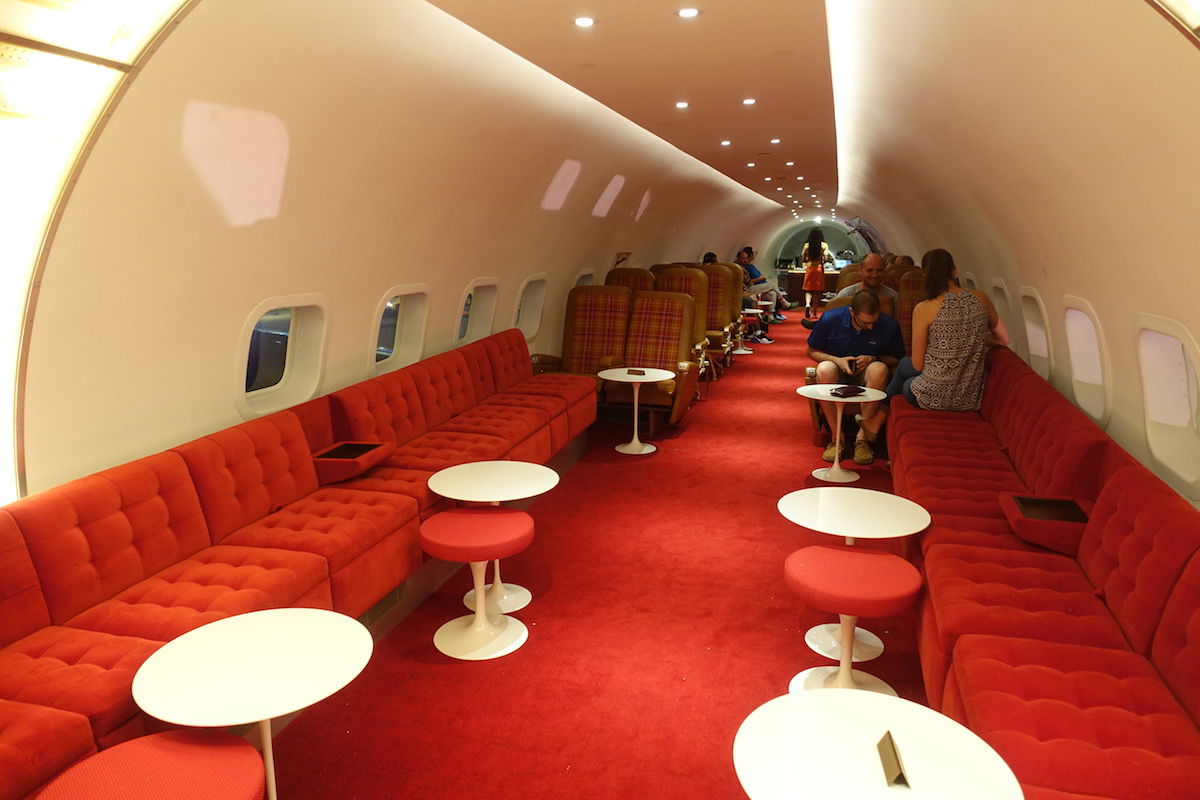 The Connie interior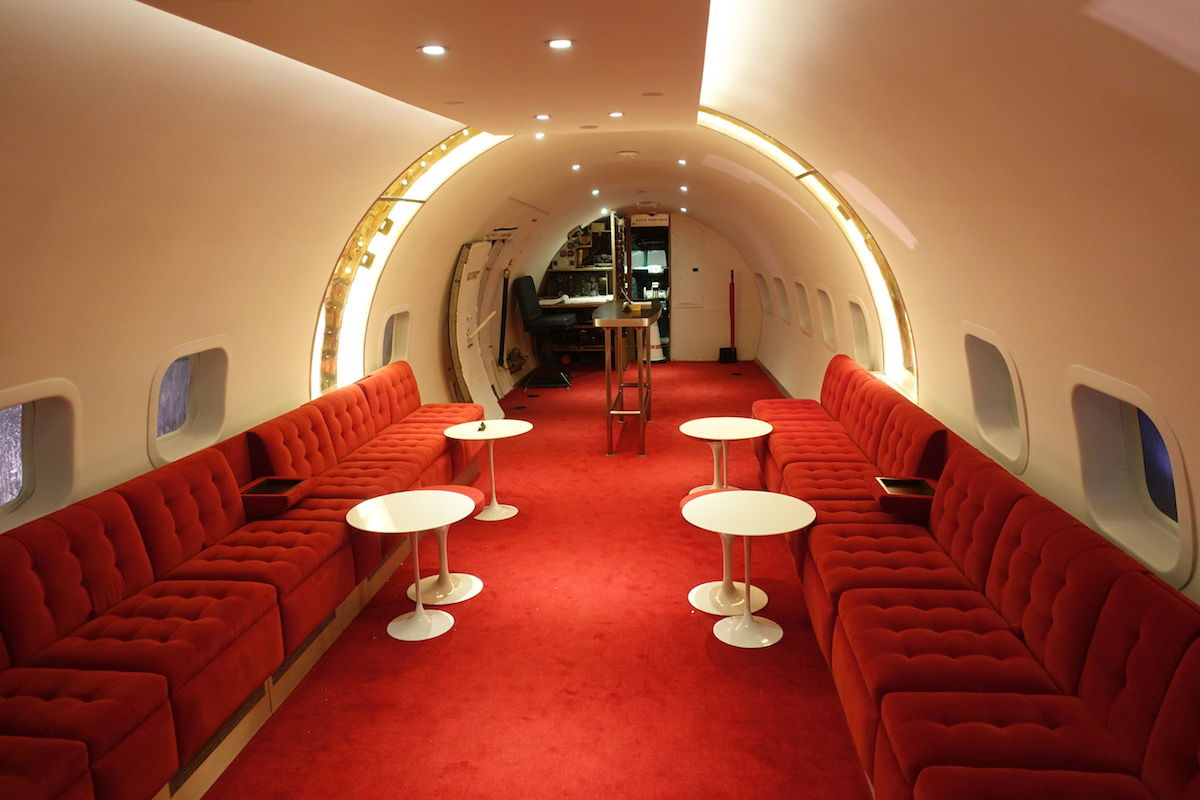 The Connie interior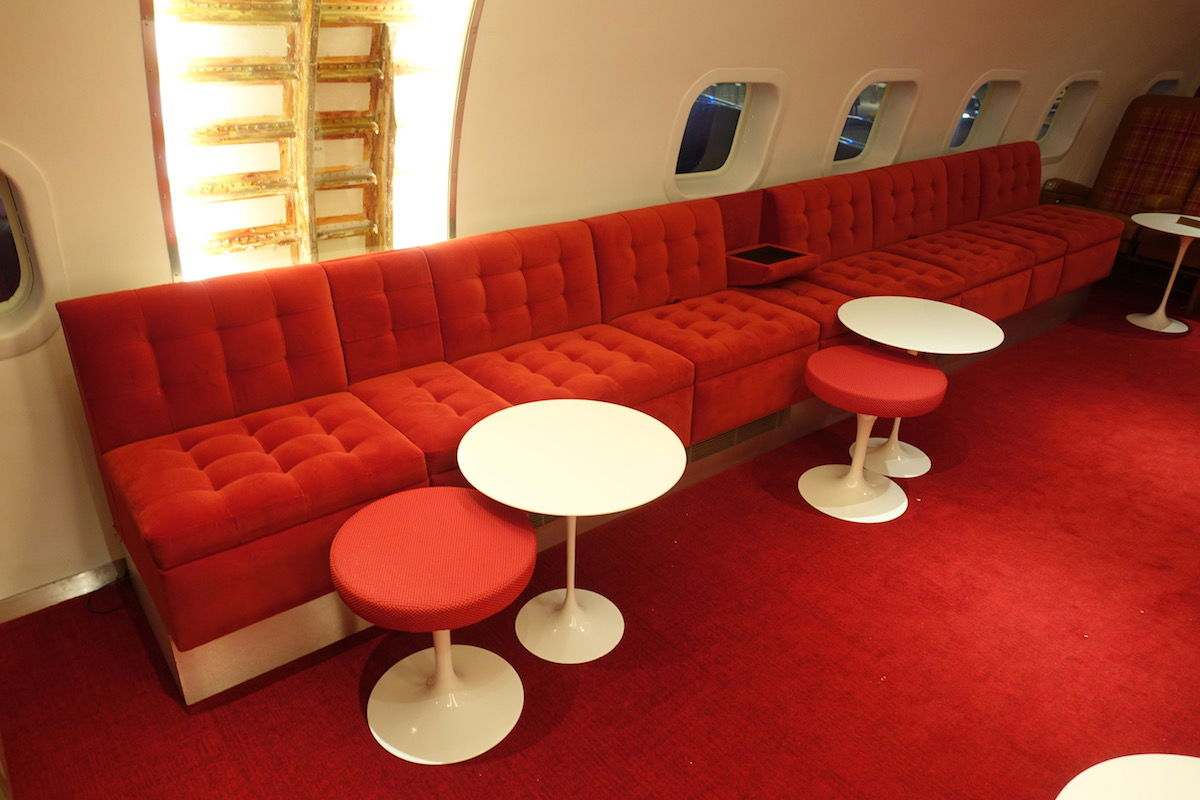 The Connie interior
We managed to get exit row seats (we were willing and able to assist), which are the most spacious forward facing seats. Funny enough, the people seated across from us accidentally popped open the emergency exit, which was an adventure.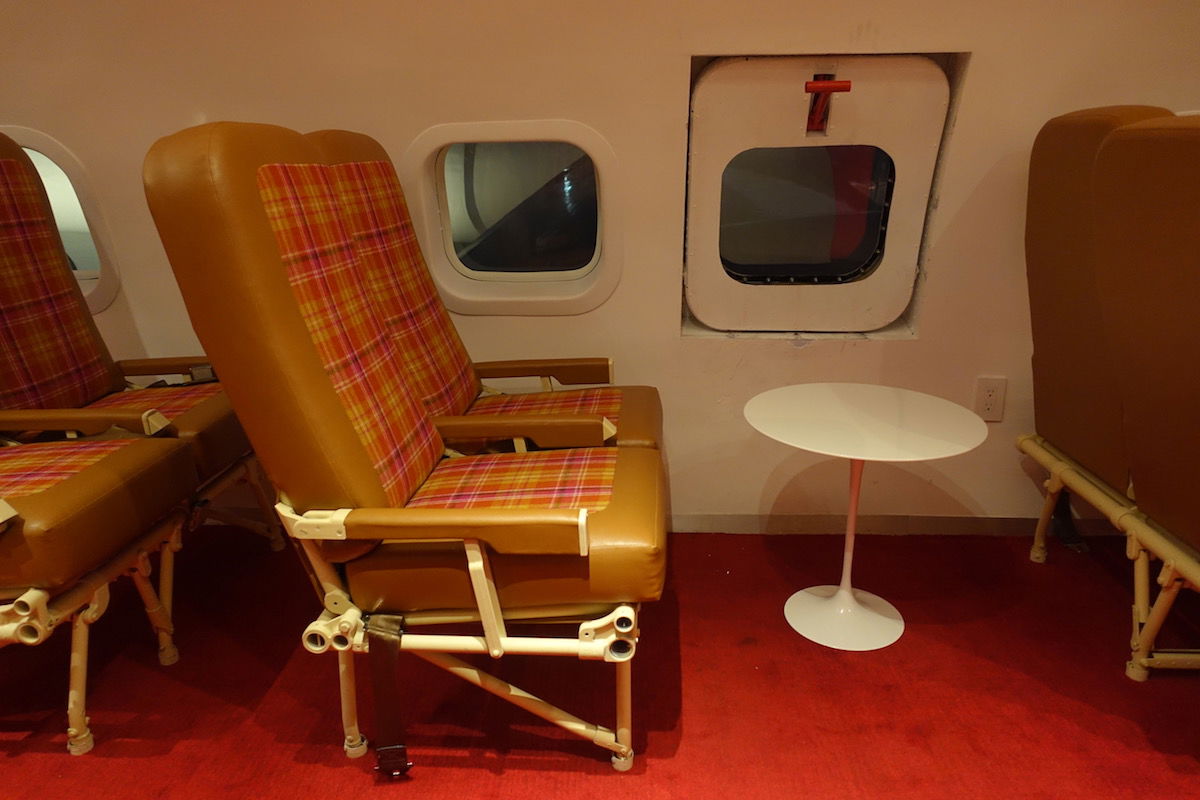 The Connie interior
You could even peek into the cockpit.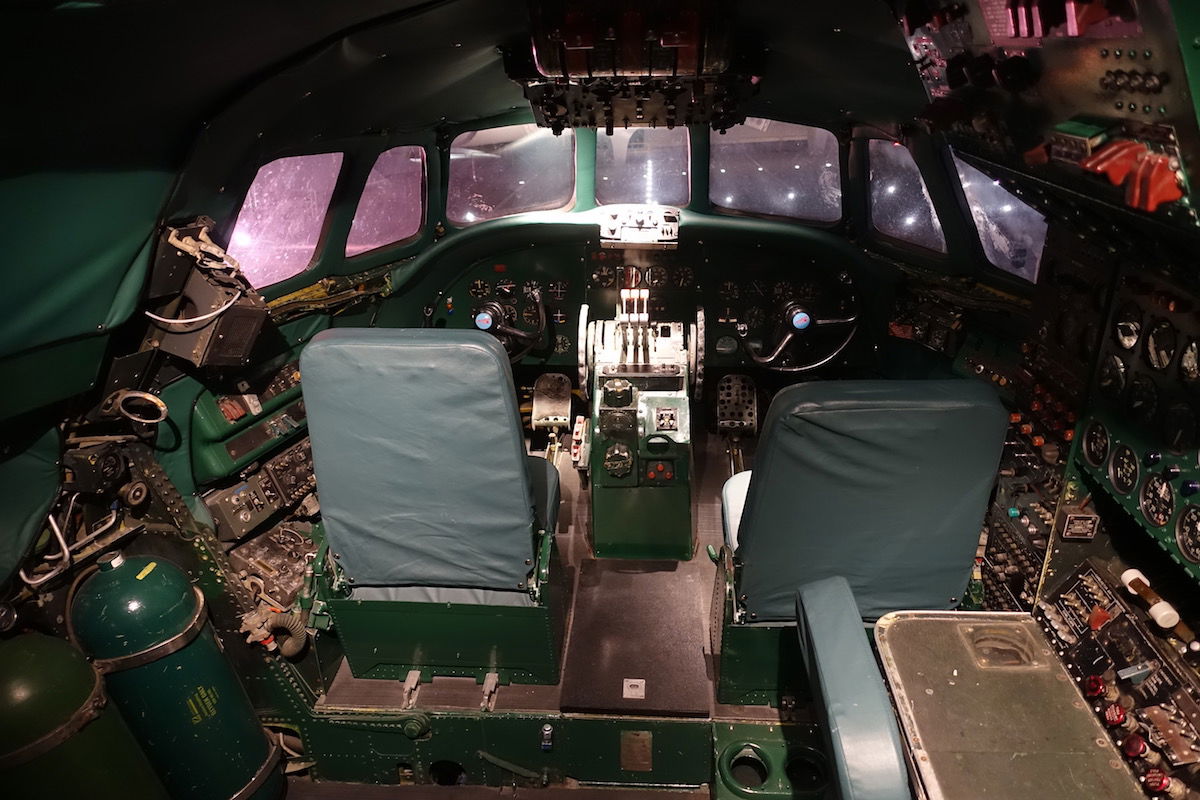 The Connie cockpit
The Connie has a pretty limited food and drink menu, which read as follows: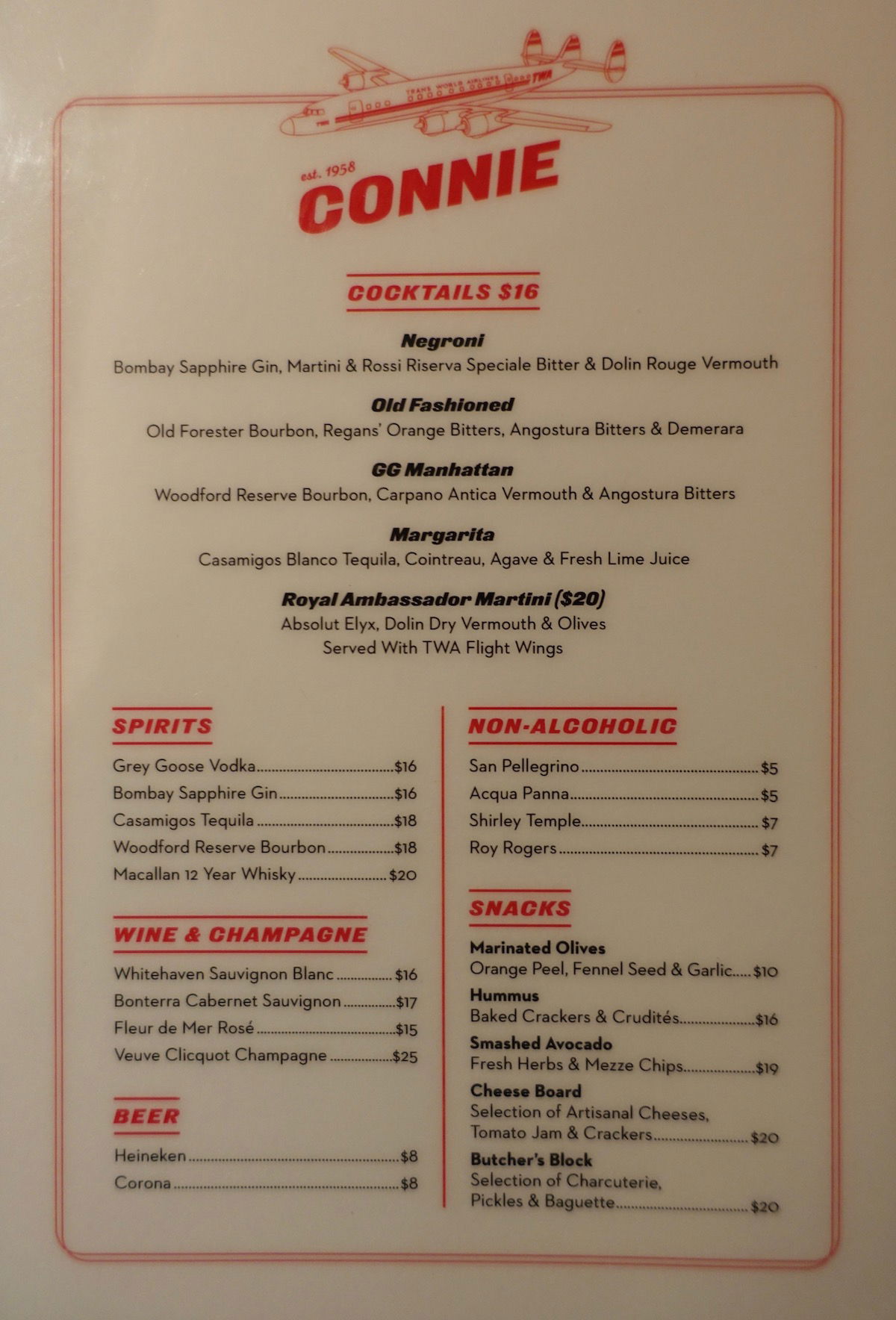 I had the Royal Ambassador Martini, while Ford had an Old Fashioned.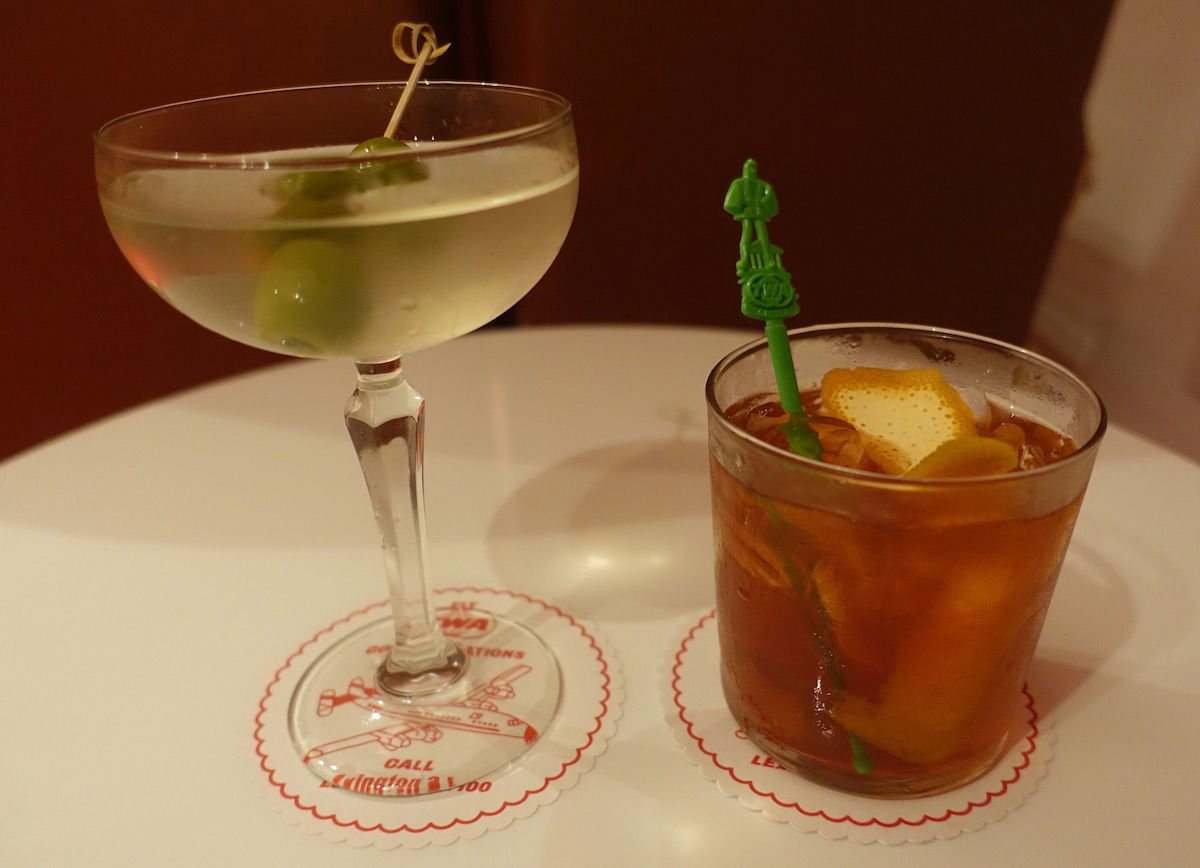 The Connie cocktails
We were tired after one round of drinks, but this was such a cool experience.
The Paris Cafe By Jean-Georges
The hotel's signature restaurant is The Paris Cafe. Since we had dinner at the pool, we only had breakfast here. The restaurant is beautiful, and has both dining tables and counter seating.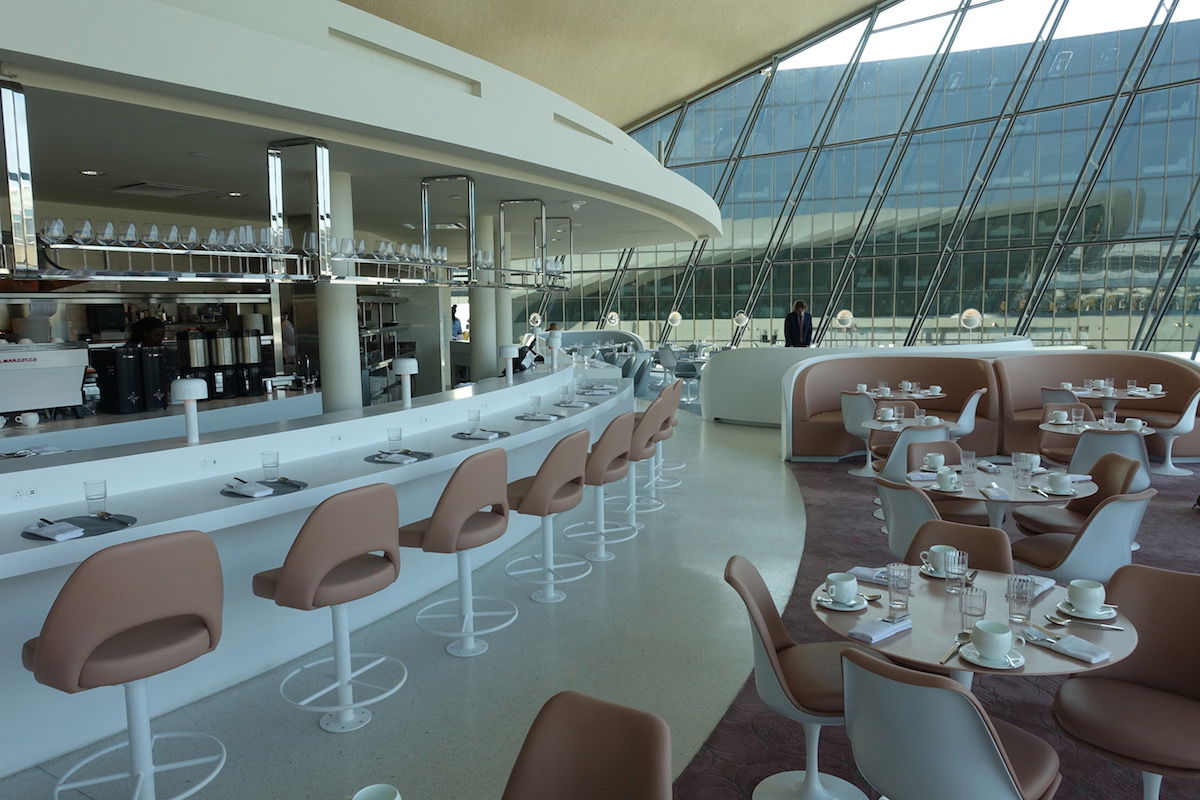 Tne Paris Cafe TWA Hotel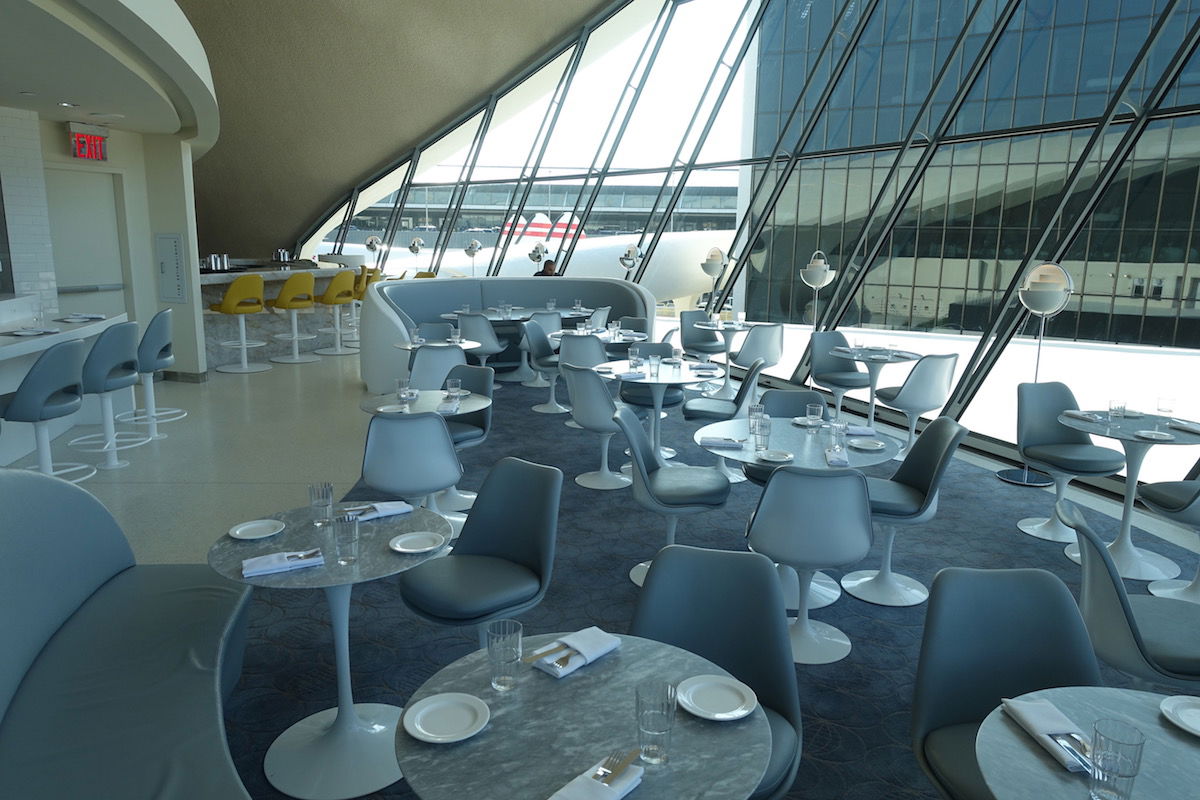 Tne Paris Cafe TWA Hotel
The breakfast menu read as follows: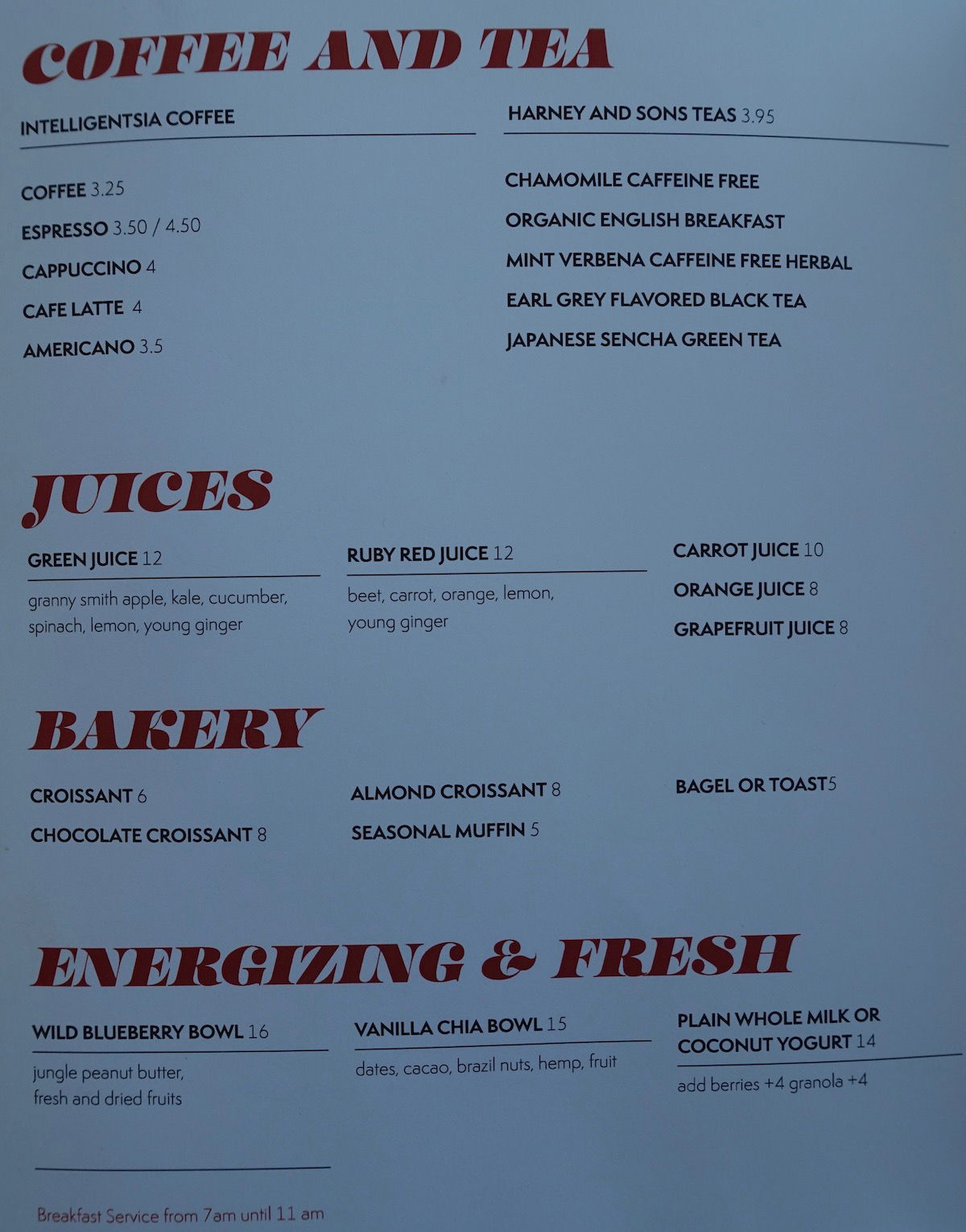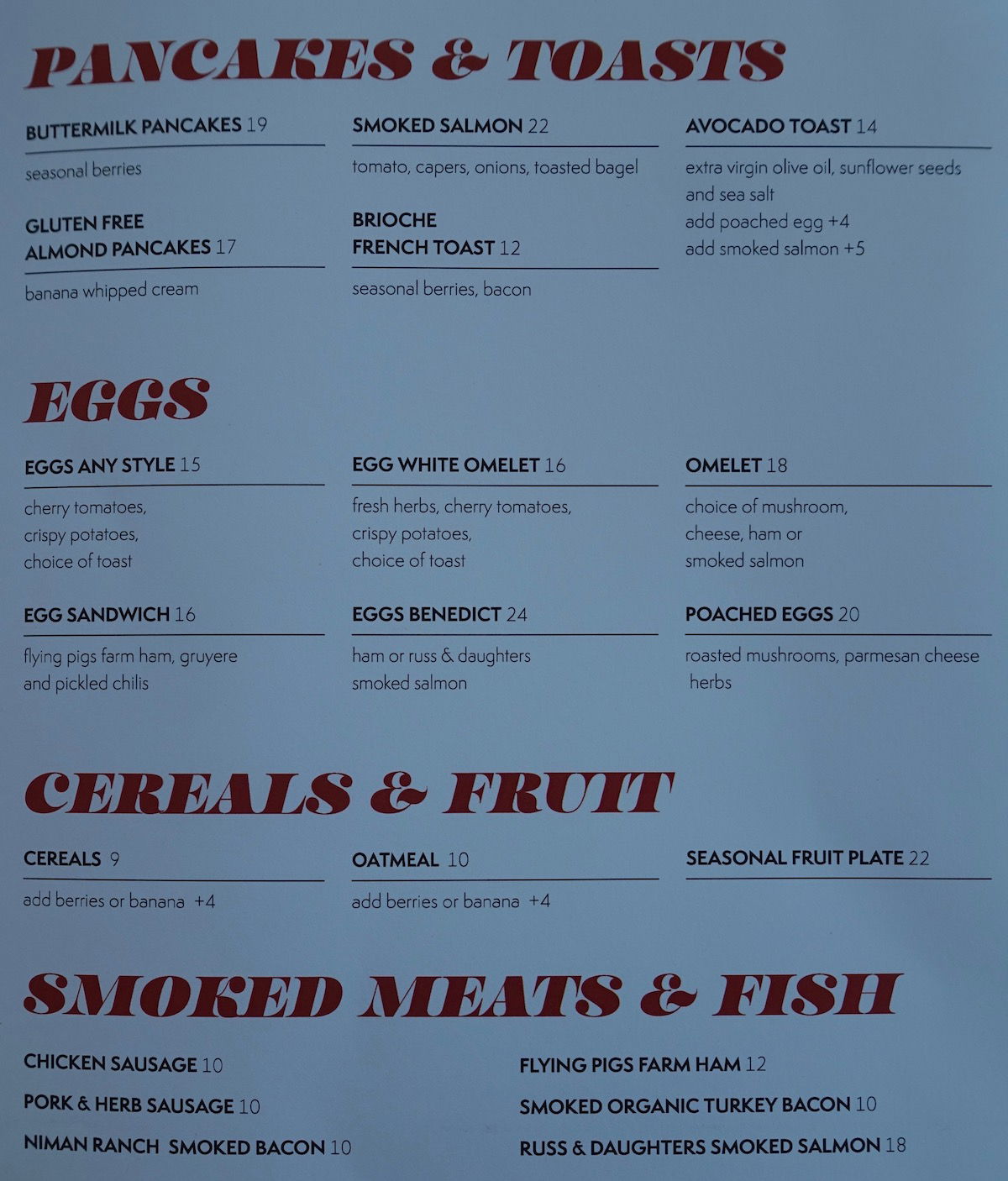 I found the pricing to be odd — for example, $4 for my cappuccino seemed reasonable, while $12 for a green juice seemed outrageous. I have to add that my cappuccino was one of the best I've ever had in the US, so that's impressive.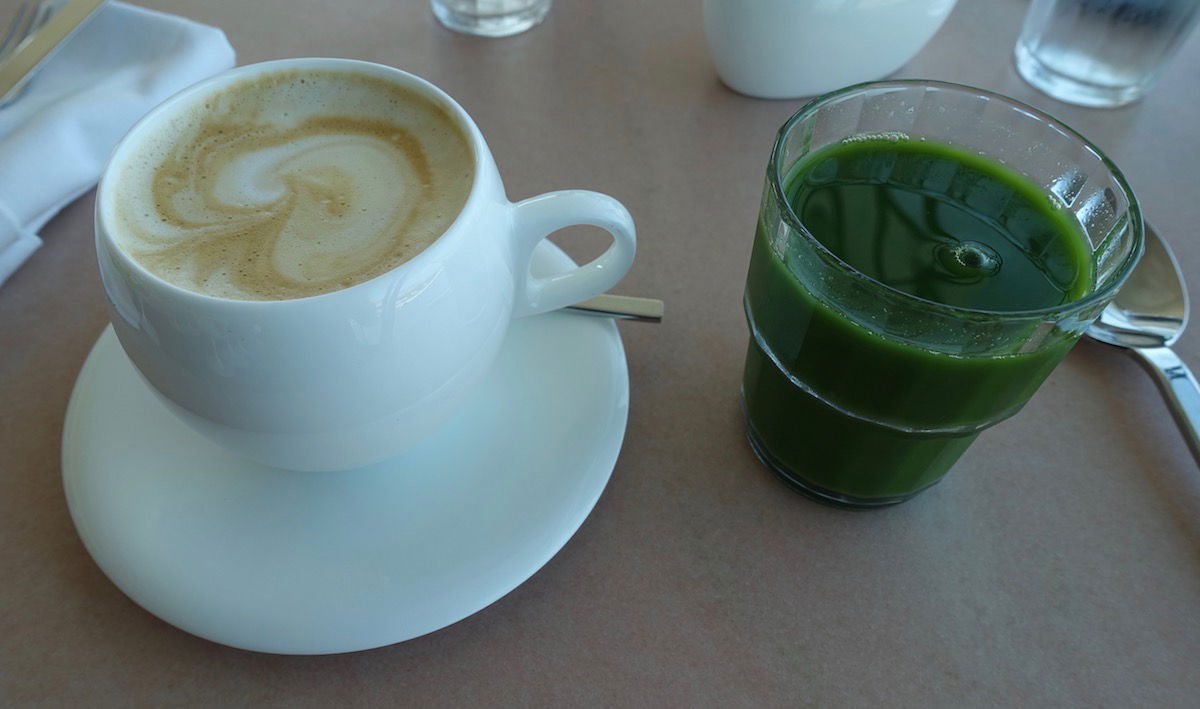 The Paris Cafe breakfast
We both had egg dishes for breakfast, which tasted great, and service was very good as well.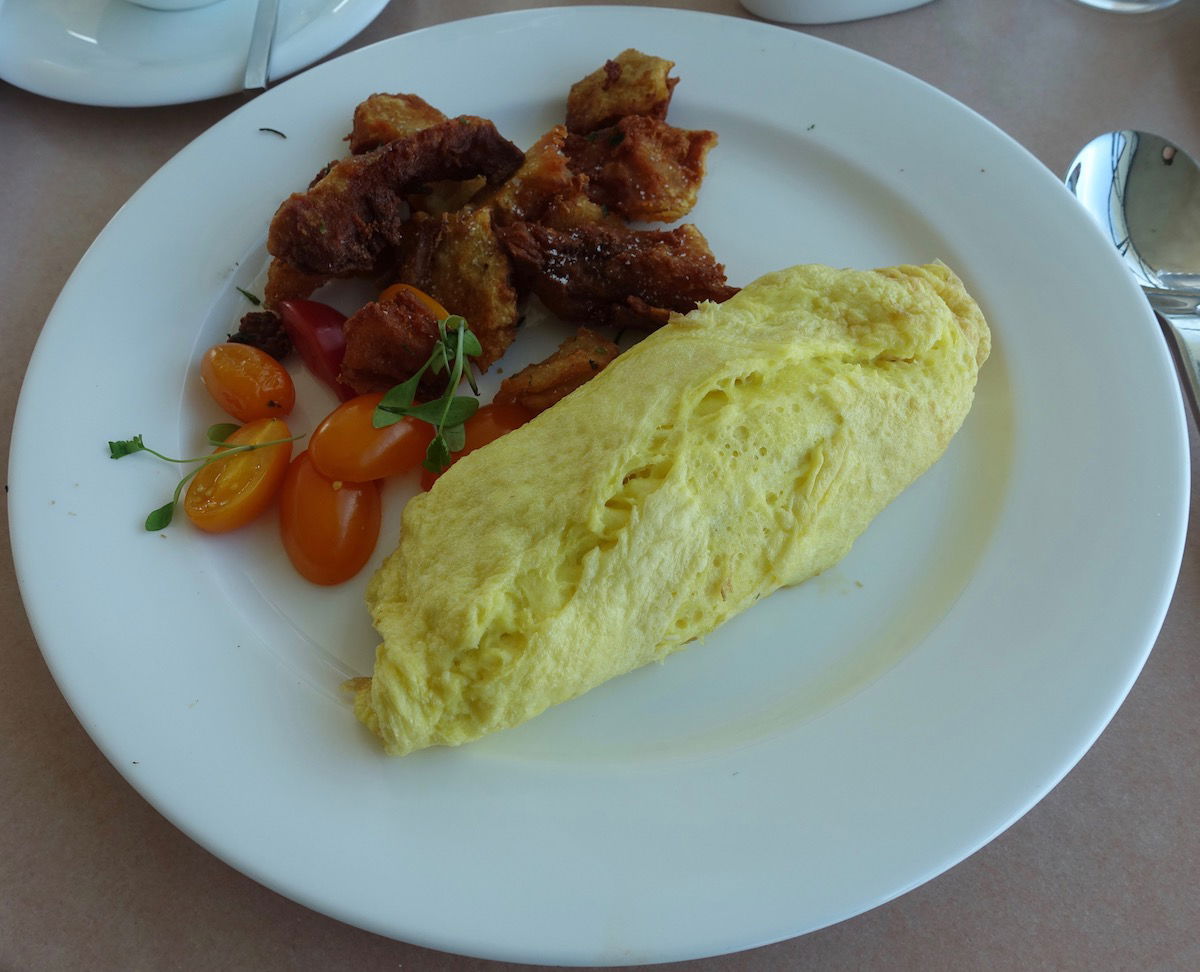 The Paris Cafe breakfast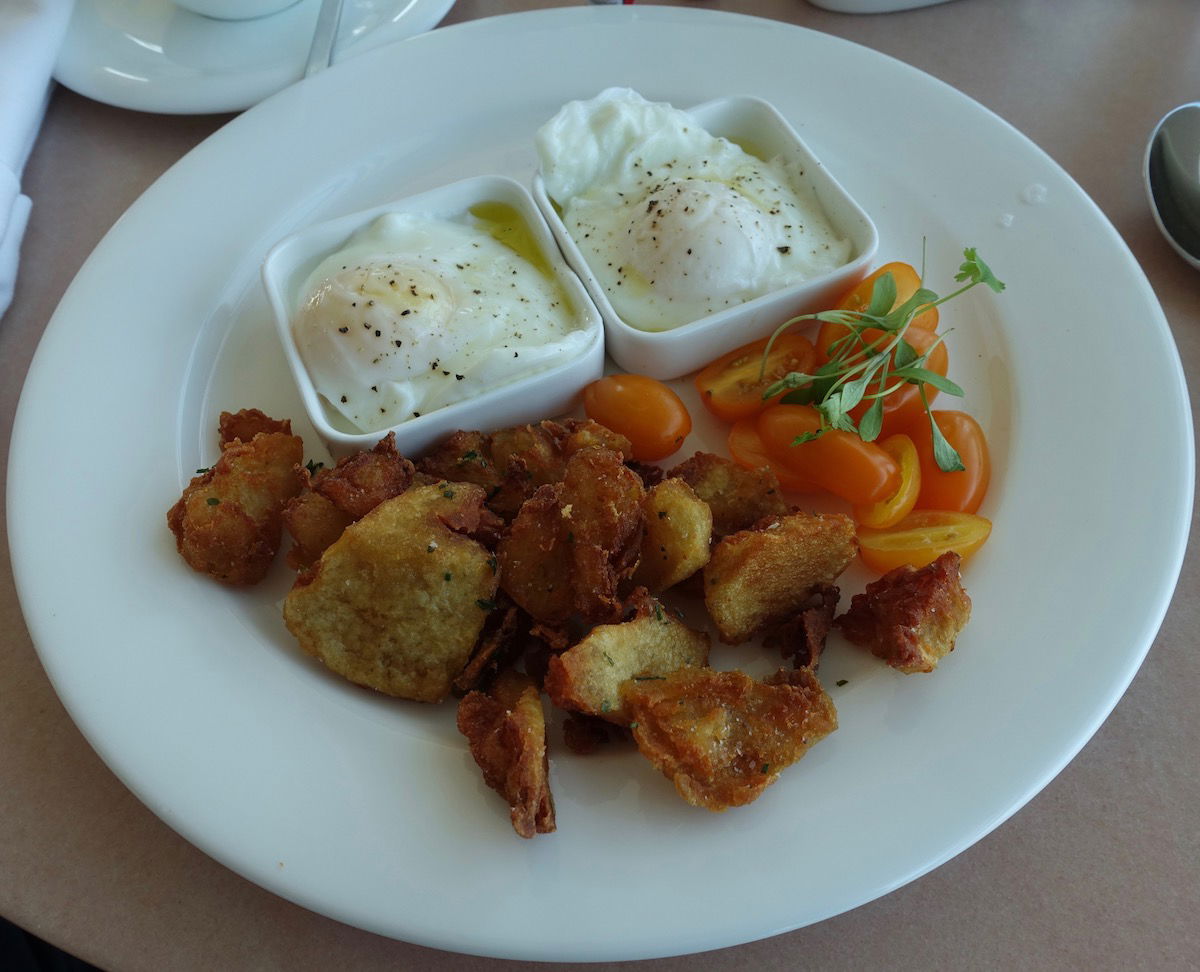 The Paris Cafe breakfast
Next to The Paris Cafe is The Lisbon Lounge, which has a similar menu but doesn't require reservations.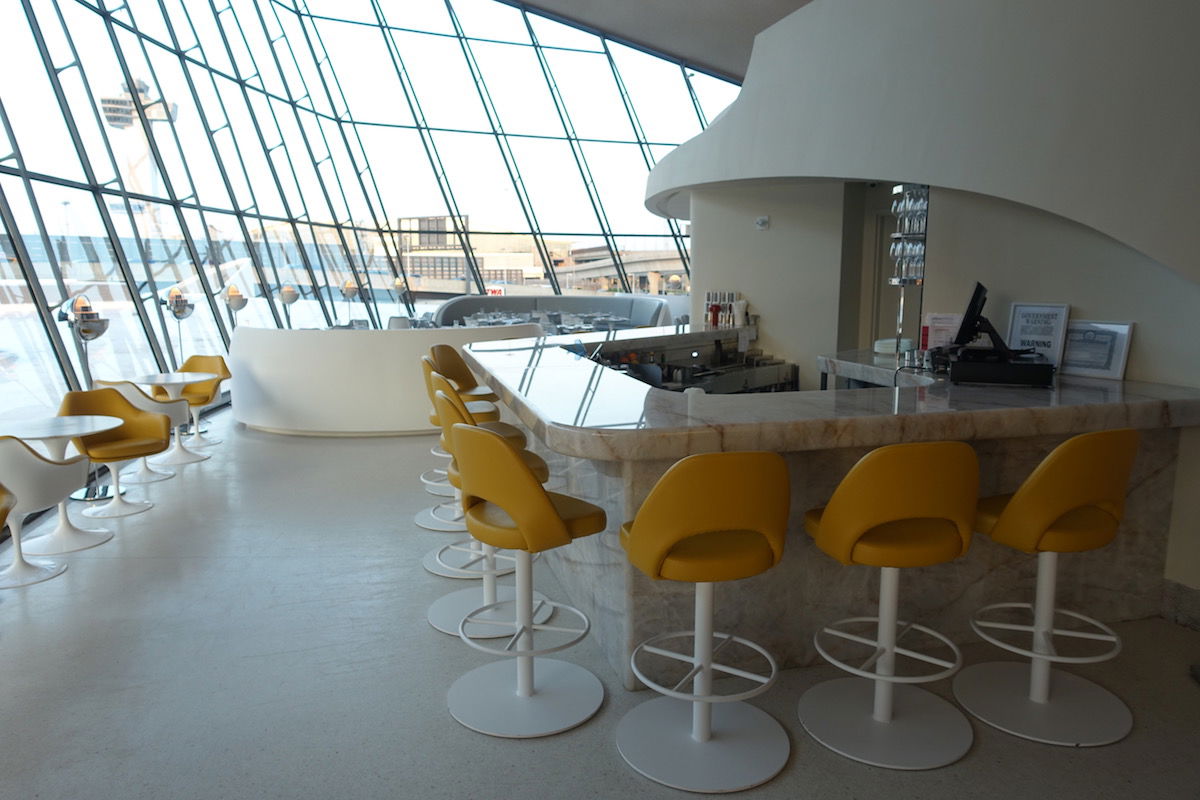 The Lisbon Lounge TWA Hotel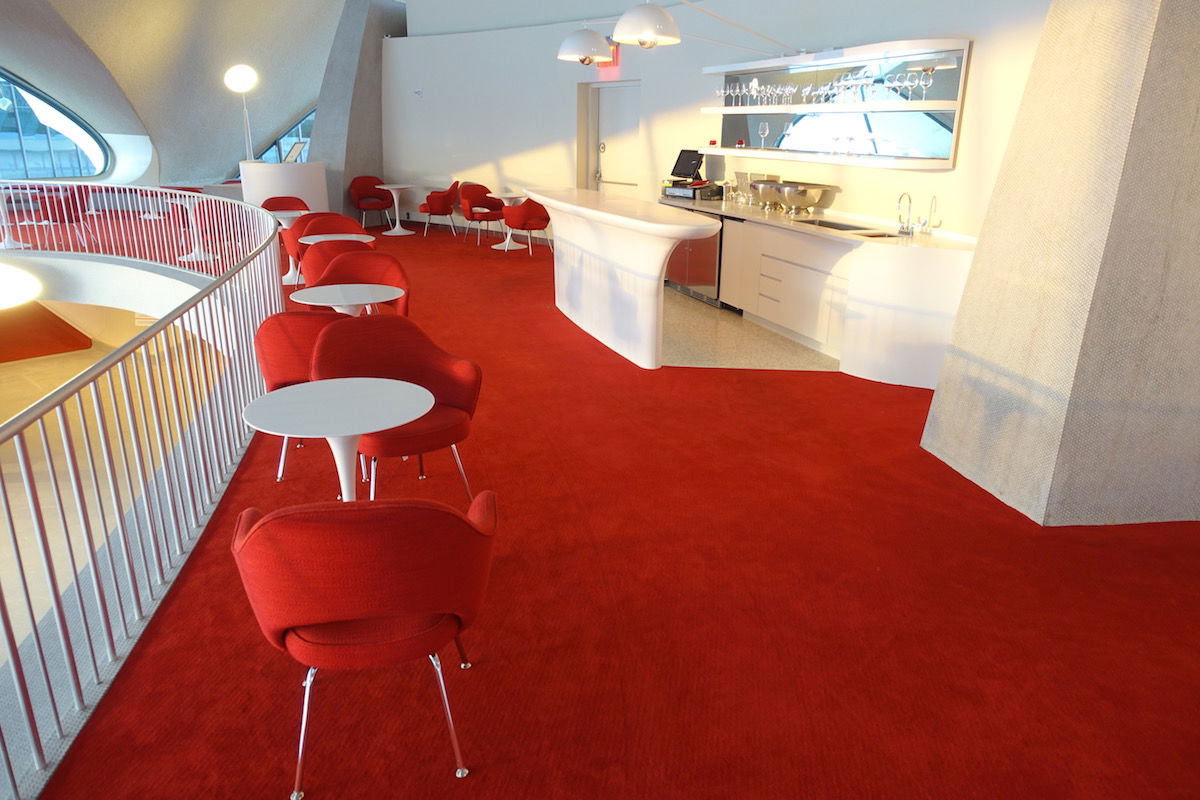 The Lisbon Lounge TWA Hotel
TWA Hotel Service
I found service at the TWA Hotel to be wildly inconsistent. It ranged from friendly and polished to friendly and unpolished to rude and unpolished to… well, anything you could imagine.
For example, service at The Pool Bar and The Paris Cafe was excellent — both our servers were genuinely friendly. At The Connie, service was genuinely friendly but extremely slow.
Beyond that service wasn't amazing. First of all, there was a lack of employees to direct people around. Furthermore, the hotel just seemed so disorganized.
For example, when it was check-out time Ford was getting the car so I had to bring four bags downstairs by myself (we had packed a lot, since we're gone for a while). Check-out time is 11AM, and at 10:40AM I called the front desk (after Googling how a rotary phone works), and after waiting on hold for five minutes someone finally answered.
"Hi, I have a lot of luggage and am checking out soon. Is there somewhere I can get a luggage cart, or a bellmen who could help me?"
"Let me see if I can arrange something, I'll call you back."
For 20 minutes there was no call, and at 11:05AM a rooms supervisor knocked on my door to ask if I was checking out. I explained the situation, and asked if she could give me info about where I could get a luggage cart.
As it turns out, the hotel doesn't have any sort of luggage carts or bellmen. So the rooms supervisor helped me carry my bags down, which I felt horribly about. What on earth…?
Visit The TWA Hotel As A Non-Guest
Before I share my summary of the hotel, I want to note that you can visit any of the restaurants (including The Paris Cafe, The Connie, The Pool Bar, etc.) as a non-guest just by making a reservation. Furthermore, you can always just check out the lobby and other public spaces as a non-guest.
I think this hotel is potentially a game changer for JFK layovers. I'd far prefer to kill a couple of hours during a JFK layover working, eating, and drinking from The Pool Bar, rather than sitting in some mediocre lounge.
So while I recommend staying here, it could also be fun to just visit the facilities during a layover.
TWA Hotel Summary
The TWA Hotel was almost exactly what I expected — the hard product delighted me, while the soft product was a mixed bag.
Let me say that despite my criticisms, this is my favorite airport hotel in the world, and I'm actually thinking of having my 30th birthday party here, or something. Ford even loved the hotel, and it's not often he loves an airport hotel.
The attention to detail in this hotel is absolutely spectacular, and between the incredible TWA elements, the amazing views, and the convenience, this hotel is a winner.
But there's also so much I don't understand — breakfast at an airport hotel only starts at 8AM? There are no luggage carts or no way to get help with luggage? There's virtually no signage? So much of the staff is indifferent? The policies associated with flexible rates are outrageous?
I guess my takeaway is that out of five stars I'd give the TWA Hotel seven stars when it comes to the hard product and three stars when it comes to the soft product — that still balances out to five stars. I can't emphasize enough just how impressive the hard product is — it's the best case scenario of what I was hoping for.
So if you're an aviation geek you absolutely must stay here. Just make sure you come in with the correct expectations when it comes to service, make reservations for all your meals in advance, and plan your time here.
Lastly, I do have concerns about how this hotel will age. Airport hotels are known to age especially poorly, given that the average guest is staying for one night, has a bunch of luggage, etc.
This hotel has such incredible attention to detail in terms of design, and I just can't help but feel like it will take a lot of cash to keep this place looking as good as it does today. Given the economics of airport hotels, I'm curious if that will happen.
Have you stayed at the TWA Hotel? If so, what was your experience like? If not, do you want to stay?