A couple of weeks ago Iberia ran what I considered to be the promotion of the year, as they offered 9,000 bonus Avios for every booked ticket. Even a cheap sub-$30 one-way ticket within Spain qualified. So I booked 10 one-way tickets from Malaga to Madrid for next year, and I know many others made similar reservations. What made this promotion so lucrative is that the Avios were supposed to post after you book rather than after you fly, and Iberia confirmed there was no need to actually take the flights.
For most people who had existing accounts before the promotion started, the Avios have already posted.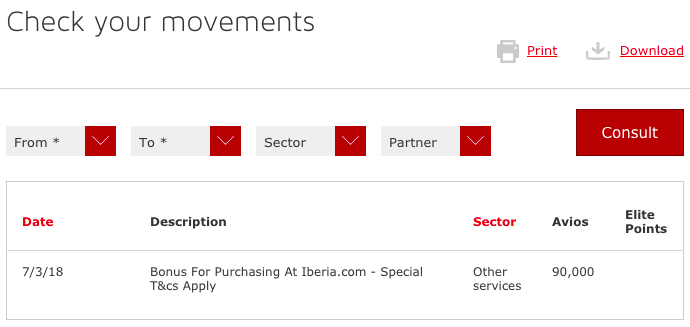 However, for those who signed up for a new account to take advantage of the promotion, it's a slightly different story. Iberia has locked new accounts, and is asking members to send in documentation proving their identity, and also asking them to email in copies of their tickets.
As such I don't think it's unreasonable of them to want to verify identities. I imagine many people signed up for accounts for imaginary people/animals, and in those cases I don't think it's unreasonable for Iberia to deny the Avios.
However, there are reports emerging of Iberia trying to get out of the promotion for those who took advantage of it within the stated terms. Reader Martin set up a new account for the promotion, and tells me that he emailed in all the required information. When he heard back, he was informed that his account was unlocked, but that they are denying him the promotion because they have "detected inconsistencies in [his] bookings." They don't explain what those "inconsistencies" are.
Here's the email:
Please accept our sincere apologies for the inconveniences we may have caused you for not being able to respond until today the e-mail you sent us regarding our 9,000 Avios promotion.

We correctly received your documentation and we would like to inform you that we have proceeded to activate your Iberia Plus account and to generate a new temporary access PIN code for you to enter into your Iberia Plus personal profile. You will receive it soon on the e-mail address associated to your Iberia Plus account.

Keep in mind that this is a temporary access PIN code; therefore, you must change it once you enter your profile.

We are sorry to inform that we have detected inconsistencies in your bookings; therefore, it is not possible for us to credit the promotional Avios into your account. As an exceptional case, you can request the total refund of your bookings (no extra charges).

In case you are interested in proceeding with the cancellation, please indicate us through this via your ticket number and the Iberia Plus account. The deadline to request the refund of your reservations is July 31 2018.

We hope to continue with your confidence and take this opportunity to send you our warmest greetings, Your Iberia Plus Service Center.
So I asked him if he had booked 10 seats on the same flight, or booked connections that weren't possible, or what. Nope, he just booked 10 one-way tickets from Santander to Madrid, all on separate dates: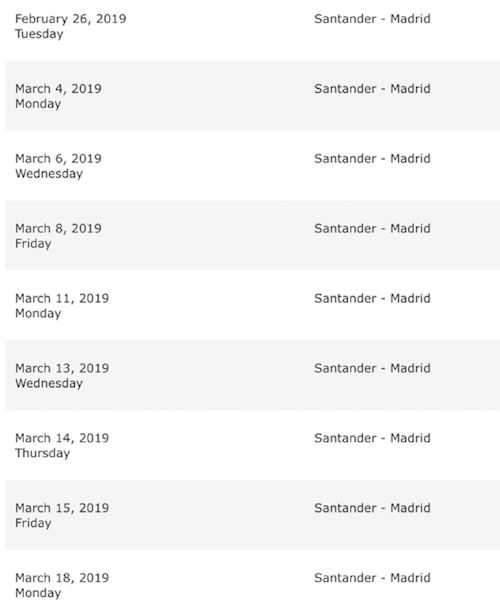 That actually looks to me like a remarkably consistent booking pattern. 😉
I think a vast majority of us (including those who already had the promotion honored) booked our tickets as one-ways in the same direction just to keep things easy. Furthermore, it wouldn't be impossible for him to take these flights, since he could book one-ways in the other direction (but again, Iberia said it was okay not to take these flights).
Martin tried calling Iberia. The first agent told him to prove the tickets in the other direction, while the next agent said all communication has to be handled by email.
So for now we'll have to mark this as "developing." This doesn't seem to be an isolated incident, though, as several others have reported receiving similar emails.
It really is a shame how Iberia is handling this. They published the promotion, and while it's clear they regret it, you'd think they'd at least want to maximize the goodwill from this, rather than leave a lot of people frustrated, and with a worse impression of the program.
Like I said, I don't think it's unreasonable for them to want to verify identities, but there's nothing "inconsistent" about many of these bookings, especially since they directly told people they didn't actually have to take the flights to qualify for the promotion.
If you received an email like this, I wouldn't take them up on the cancelation offer yet, but rather would hold your ground, because this shouldn't be an issue.
Did anyone else receive one of these emails about booking "inconsistencies?"