I find one of the biggest mistakes that people make in this hobby is that they over diversify their points.
I get emails all the time from people that saying "I have half a million miles and I can't even get a business class ticket to Europe with them." Then they provide me with a breakdown of their points balances, and as it turns out they have fewer than 50,000 points per account spread across a dozen programs.
But there's also something to be said for under diversifying. For example, I'd rather have 500,000 miles with a program in each of the three major alliances than 1.5 million miles in one program, as I'd have a lot more flexibility when it comes time to redeem.
That's why I wrote a post a while back with tips for diversifying your points. These tips included things like:
Never have more miles in an account than you could reasonably burn in the next six months
Focus on programs with many transfer partners
DON'T think of points as a commodity you should save long term
Now, I'll be the first to admit that sometimes I just don't bother earning miles, embarrassing as it may be. For example, I flew Icelandair on a paid ticket earlier in the year and I didn't collect points. I flew Bangkok Airways last year and didn't collect points. On one hand it seems like a sin, but on the other hand I don't see myself flying them again in the next couple of years, so didn't even bother with signing up for a frequent flyer account (which I realize is a cardinal sin in this hobby).
And then there are cases where I've sub-optimally credited miles to an account.
Let me explain in the form of an example. For whatever reason I've been incredibly opposed to signing up for an Etihad Guest account. Why? Because Etihad partners with American, so I figured it would make a lot more sense to credit miles to American than Etihad.
When I had an issue on an Etihad flight earlier in the year they offered me 10,000 Etihad Guest miles as compensation, which I turned down. Why? Because I figured 10,000 miles just wasn't worth the effort, since I didn't think I'd ever credit more miles to them, and I assumed 10,000 Etihad Guest miles wasn't enough for any useful redemption.
Similarly, for my paid first class travel on Etihad I've credited those miles to American AAdvantage, where I've earned 150% of miles flown:
Meanwhile if I had credited to Etihad Guest I would have earned 180-400% of miles flown:
So what's my point? A few nights ago I had to book a one way ticket from Bahrain to Abu Dhabi. Etihad had plenty of award availability, and American partners with them, so I redeemed American miles for the ticket.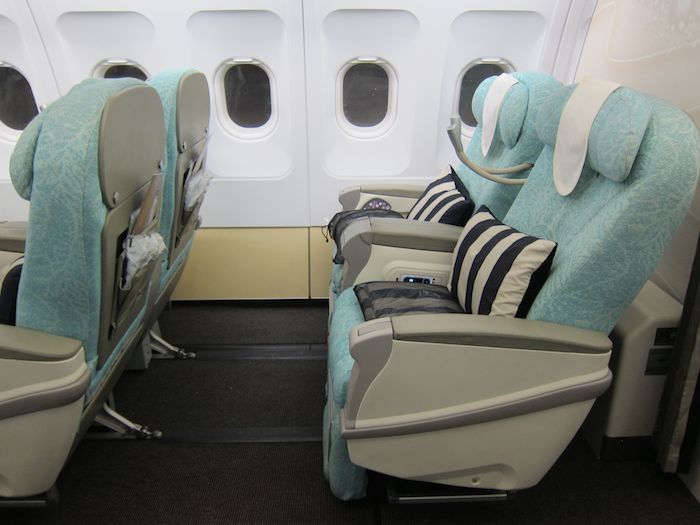 The one way business class ticket cost 25,000 American miles. That's quite steep for an hour long flight:
But as I was searching for award space I noticed just how attractive Etihad's redemption rates are on their own flights for intra-Middle East travel.
That same ticket in business class would have cost me just 6,490 Etihad Guest miles:
And the rates for other routes within the Middle East are equally attractive, like from Abu Dhabi to Doha or Muscat:
I spend a ton of time in the Middle East, so was quite regretting my opposition to Etihad Guest miles.
Bottom line
I'm not exactly sure what the teachable lesson here is. I guess there are a couple of ways to go:
Never turn down free miles, even if it's in a program you don't expect you'll have much future activity in
Before deciding where to credit miles, look at the "sweet spot" redemptions in all programs, as there might be some sweet spot redemptions that prove incredibly valuable
In retrospect would I have credited my Etihad paid first class flight to Etihad Guest instead of to American AAdvantage? Maybe, maybe not. But I certainly would have at least accepted Etihad Guest miles for the delay. After all, booking that award through Etihad Guest rather than through American AAdvantage would have only cost me a quarter as many miles. Those 10,000 Etihad Guest miles they offered to give me would have saved me 25,000 AAdvantage miles.
So fess up — has anyone ever turned down free miles or not created a frequent flyer account for a flight because you assumed you wouldn't have any use for those miles?
Shame on me, I know…