On Monday I flew Icelandair business class from Reykjavik to Frankfurt. Have you ever banged your head against a wall out of pure stupidity? Well, the way I ended up in Icelandair business class was a pure act of stupidity on my part, which I'll explain in more detail with the full trip report.
But yes, unfortunately I paid cash for an Icelandair business class ticket, because economy was sold out, and I totally screwed up the award ticket I had booked out of Iceland.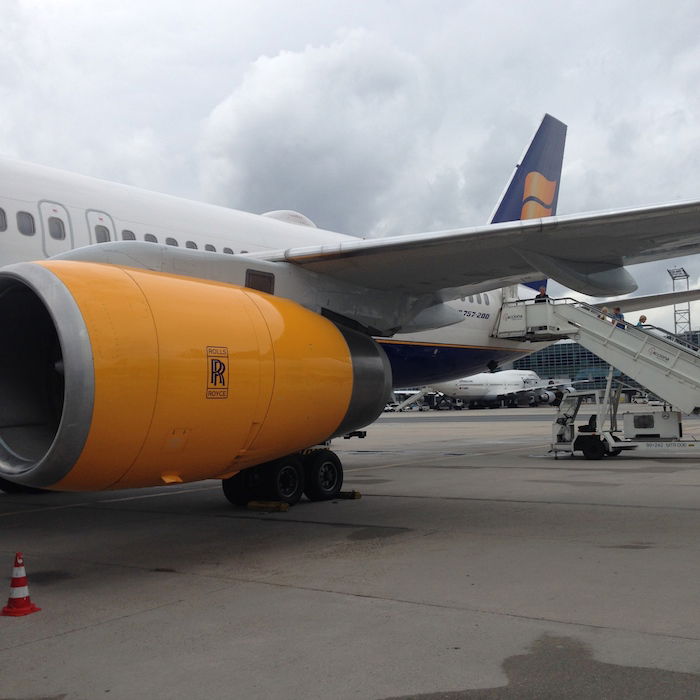 On the plus side, at least I get a (hopefully) unique review out of it.
I've always been fascinated by Icelandair. A large part of their business model consists of transporting passengers between the US and Europe via their Reykjavik hub, and one of their cool features is that they'll let you do a free stopover in Iceland for up to seven days.
They frequently have reasonable business class fares. For example, it's not unusual to see business class fares between the US and Europe for around $1,700 with a stopover in Reykjavik, which is great for business class. The only catch is that they don't really get business class, but rather just a domestic first class product of sorts.
So while I'll share the full details with the trip report, here are my initial impressions.
Icelandair Business Class Lounge Reykjavik
This was probably the aspect of their operations that impressed me the most. They have a gorgeous Saga Class Lounge in Reykjavik. It's massive, beautifully decorated, and has a good food spread.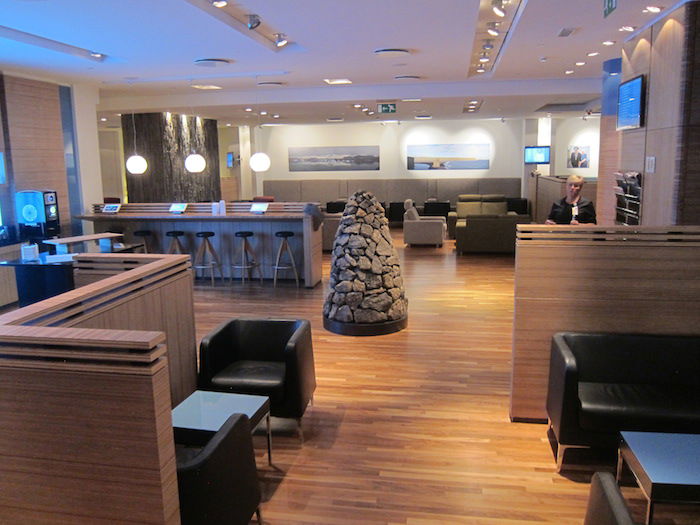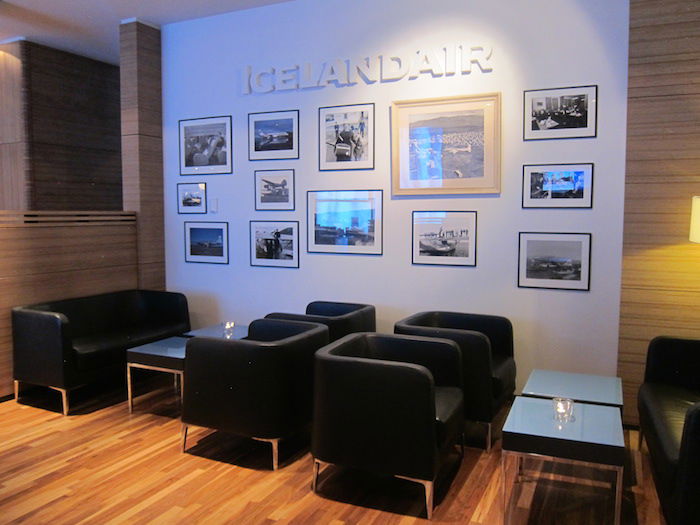 Not only did they have a large variety of food, but they also had one of the sweetest 6AM selections I've ever seen.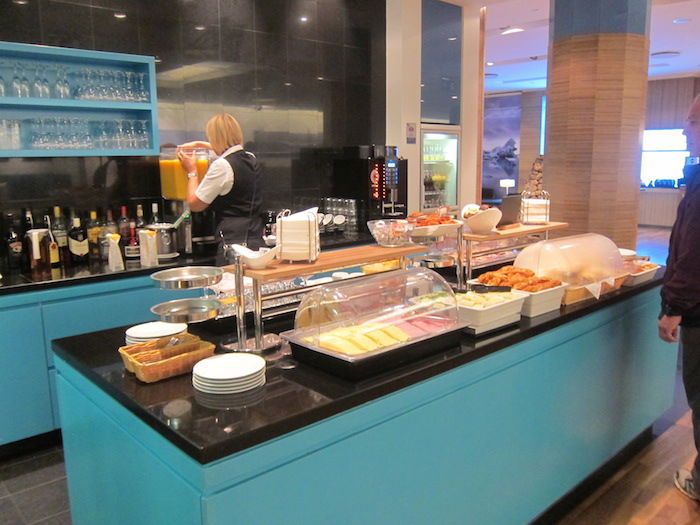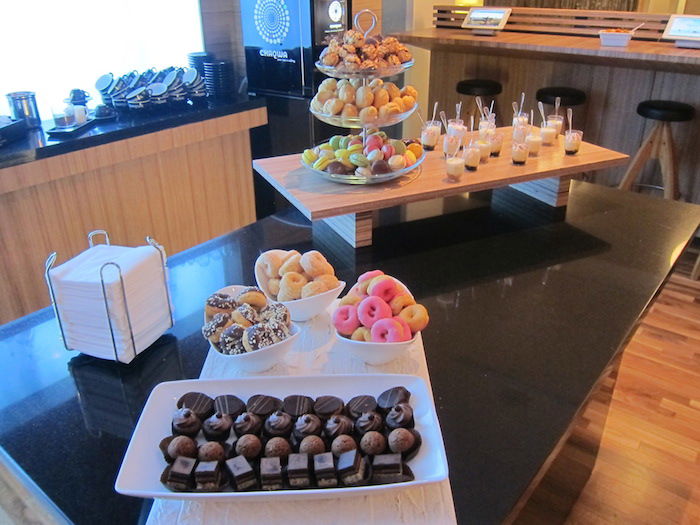 But more than anything the lounge just felt so Icelandic, between the decor, music, etc. It's also the first lounge I've been to where they had actual candles burning at most tables.
Icelandair Business Class Seat
Icelandair's fleet consists solely of 757s, and they have a Saga Class (business class) cabin arranged in a 2-2 configuration.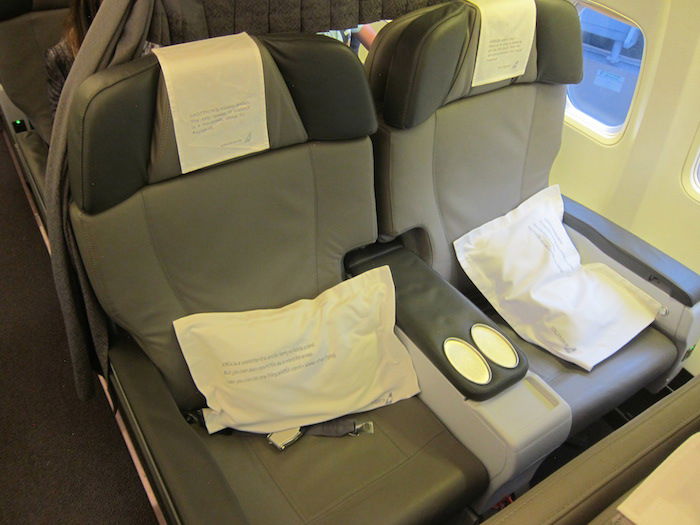 The seats have roughly 40 inches of pitch, so are slightly more comfortable than domestic first class seats in the US. The recline is limited, but that's almost a blessing since it means the person seated in front of you doesn't end up in your lap.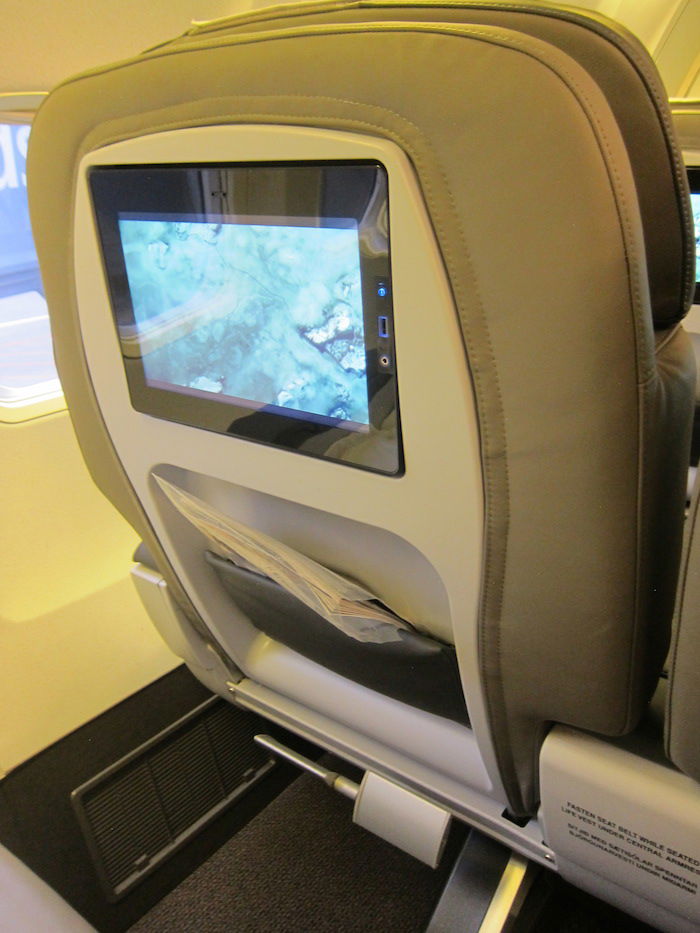 There are also foot rests, and the seats in general just feel fresh and well padded.
There's also a shockingly extensive personal entertainment system, which had dozens upon dozens of movies, TV shows, and music (yes, even Sigur Ros).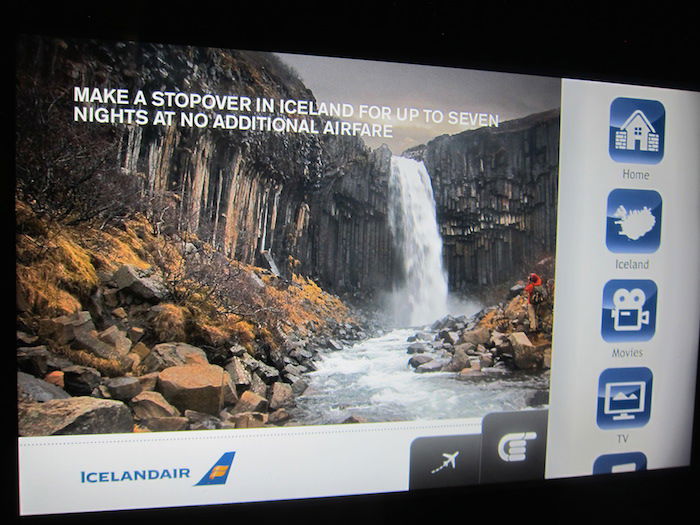 Icelandair Business Class Food
There were menus for the short three hour flight to Frankfurt, with the choice between scrambled eggs and a bagel with lox. I chose the latter.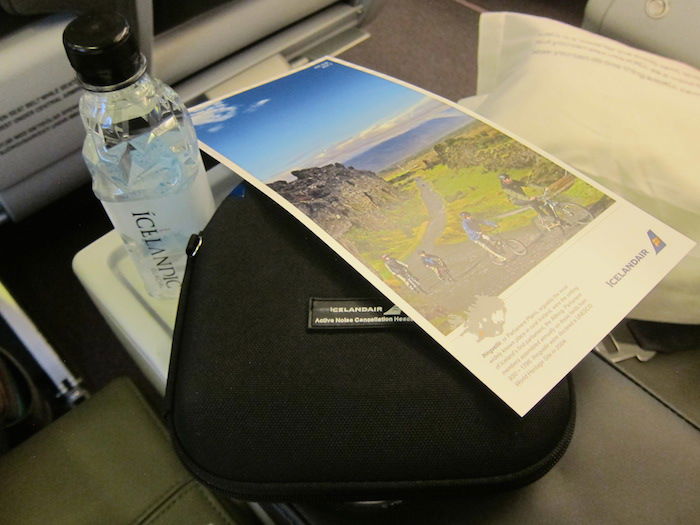 While it wasn't a huge breakfast, the bagel was the best I've had on a plane, and I thought the presentation was nice.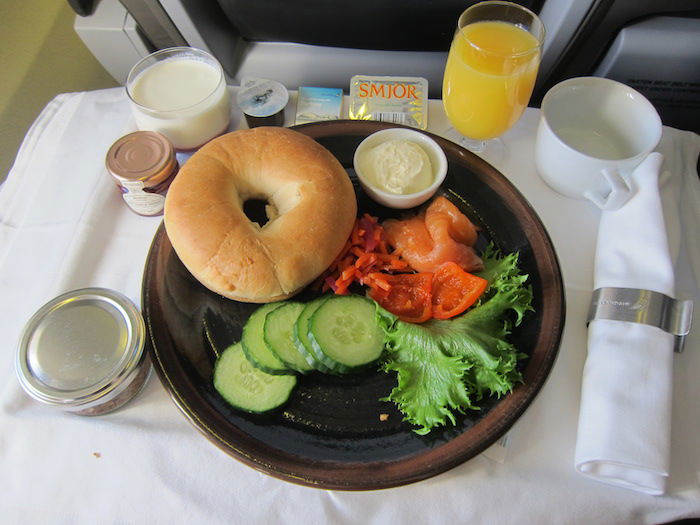 Icelandair Business Class Service
As I noted when I first arrived in Iceland, on the whole I didn't find the locals to be especially warm.
However, the business class flight attendant on this sector was an absolute delight. I was snapping pictures of the cabin nonstop (after all, when paying for business class I've gotta get my money's worth), and she was smiling about it.
Towards the end of the flight she said "you look familiar, you fly with us a lot, right?" Odd! But now that I think about it, when I was in Iceland I was mostly addressed in Icelandic and not English. Maybe I look Icelandic? I dunno!
In terms of what made her awesome, towards the end of the flight I asked if I could just take a look at the champagne they served. I just wanted to photograph the bottle. She brought me the bottle, said "please drink it," and gave me a few chocolates to go along with it.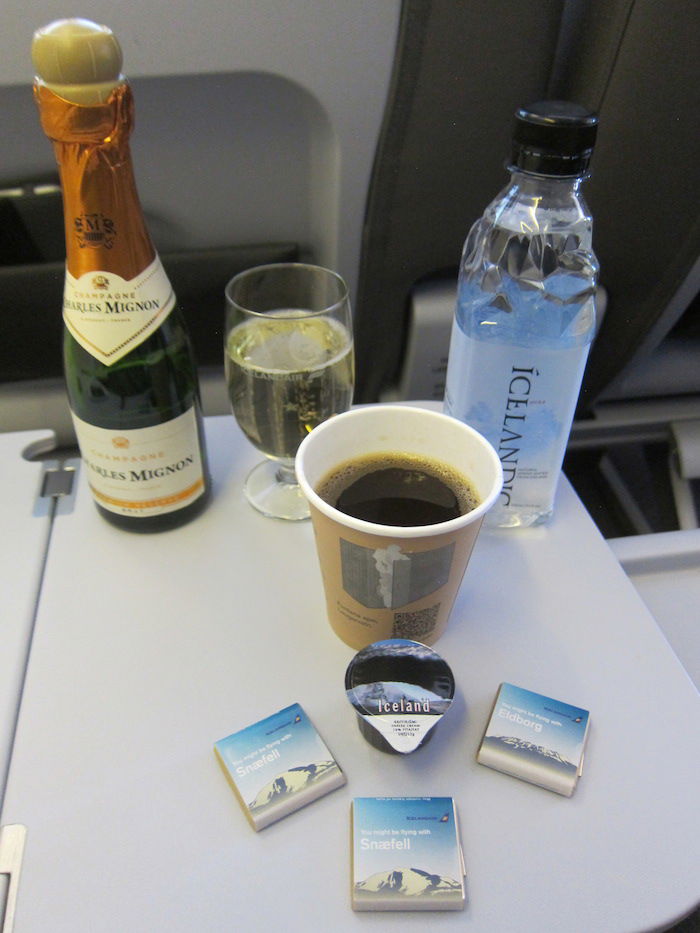 Don't mind if I do!
Icelandair Business Class Bottom Line
I'll have a full trip report soon, but I was actually really impressed by Icelandair. The product felt really "fresh," the service was friendly, the food good, and the entertainment selection impressive.
This isn't a longhaul business class product. It's better than intra-Europe business class, but not as good as longhaul business class. I wouldn't fly this all the way to Europe if I could avoid it.
That being said, if I wanted to do a stopover in Iceland (which I absolutely want to do – even though I just visited I'm dying to return) I think their transatlantic business class fares are really reasonable, and probably the most practical way to visit Iceland.
If you've flown Icelandair Saga Class, what has your experience been?