Hope everyone's having a Merry Christmas… I'm not!
I can't say I was too excited about flying Bahrain to Abu Dhabi to Colombo to Abu Dhabi tonight without more than an hour connection inbetween. I'd leave Bahrain tonight at 6PM and get into Abu Dhabi tomorrow morning at 8AM, after a lot of regional flying. But it appears that isn't even happening. Why? Because I missed my flight. By a day.
Let me explain.
I booked a ticket on the Etihad A380 inaugural
Etihad's inaugural A380 flight is in a bit over 24 hours, and as you guys know I've been very excited about it.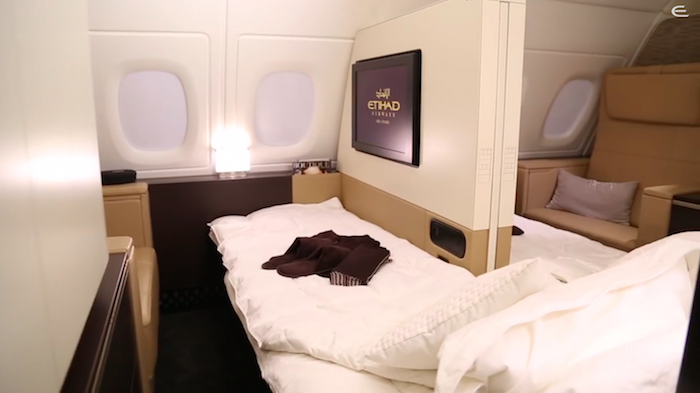 I booked a paid first class ticket on it, routing from Colombo to Abu Dhabi to London. My itinerary was as follows:
12/26 EY267 Colombo to Abu Dhabi departing 4:35AM arriving 7:55AM
12/27 EY011 Abu Dhabi to London departing 2:35AM arriving 6:35AM
I had my ticket originate in Colombo because paid first class fares are generally less expensive when originating there, so I saved quite a bit of cash compared to booking an Abu Dhabi to London ticket directly.
I had to position to Colombo
Originally I was going to spend a few days in Colombo, though due to my schedule I ended up spending a couple of days in Bahrain instead. So a few days ago I redeemed American miles to position from Bahrain to Colombo on Etihad, as follows:
12/25 EY278 Bahrain to Abu Dhabi departing 10:15AM arriving 12:25PM
12/25 EY264 Abu Dhabi to Colombo departing 2:55PM arriving 8:55PM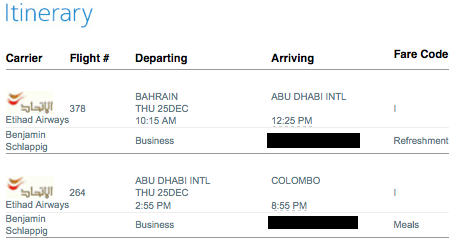 That left me a nearly eight hour connection in Colombo. It sounded painful, but it was a good "backup." I was hoping for space to open up on the Etihad flight that would leave me an hour connection in Colombo, but that wasn't initially available.
My preferred flight finally opened up!
Yesterday morning award space finally opened up on my preferred flights for the 25th, which would leave me a much shorter connection in Colombo. So I called American to rebook on the following (or so I thought):
12/25 EY376 Bahrain to Abu Dhabi departing 6:05PM arriving 8:15PM
12/25 EY264 Abu Dhabi to Colombo departing 9:35PM arriving 3:35AM (+1 day)
I was crystal clear in what I requested, and the agent was super efficient. I explained that a later flight had opened up that I wanted to switch to, and she took care of it in no time.
"You're not booked for today"
So I show up at Bahrain Airport this evening at around 4:30PM and go to the check-in counter, where the agent says he can't find my ticket. He asks for my ticket number, so I pull up the itinerary for the first time… only to find that the agent had issued the ticket for the 24th. $hit.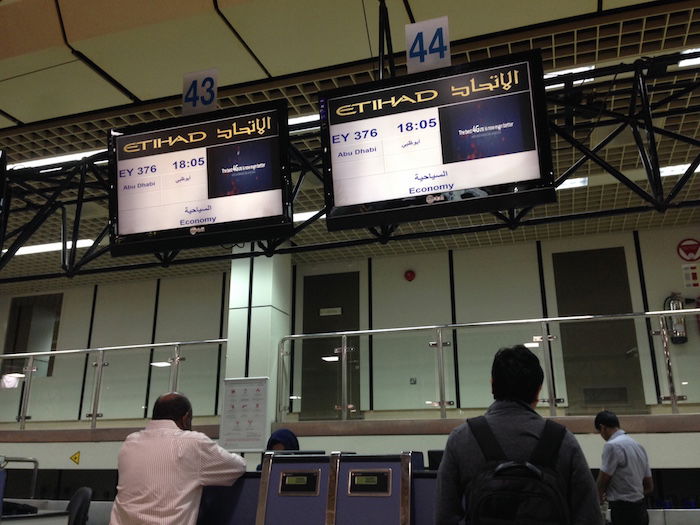 Like I said, I was 100% sure I told the agent I wanted to fly later in the day on the 25th. And now that I look back at the itinerary, they only reissued the ticket to the incorrect flight less than an hour before it was scheduled to depart, which is within the check-in deadline.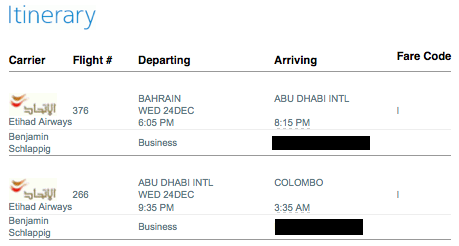 Really, reissuing my ticket at 5:10PM for a 6:05PM departure? But I should have double checked my itinerary.
Go figure Bahrain Airport doesn't have any Wi-Fi landside, and I don't have an international data plan.
So I take a taxi to the Sheraton, which is less than 15 minutes away. At this point (about an hour before departure) the Bahrain to Abu Dhabi flight no longer has award availability, presumably because it's too close to departure.
Now what?
I could have called American and yelled, but that wouldn't have accomplished anything. What I did instead is call American to redeposit the award that was booked for the incorrect date, and I booked a new award just from Bahrain to Abu Dhabi.
I will get to Abu Dhabi tonight at midnight. At this point there's absolutely no way I can get to Colombo in time to catch my return flight, regardless of the routing.
So the only way I can get on the Abu Dhabi to London inaugural A380 flight (which is at 2AM tomorrow morning, so 26 hours after I get to Abu Dhabi) is if I can find an agent willing to let me skip the Colombo to Abu Dhabi segment.
For those of you not familiar with ticketing rules, typically when you skip a segment on an itinerary, all onward segments are voided. So in theory my ticket could be cancelled when I miss check-in at Colombo Airport.
I'm not even going to try calling, since there's no way a phone agent will be able to do that. But I'm hoping an airport agent can.
If it doesn't work out, this whole trip was a waste. The reason I wasn't home for Christmas was so I could be on the Etihad A380 inaugural. If I miss that…
Eff… eff… eff
Ugh! I'm 100% sure I told the agent the correct flights/date to rebook me on. And the fact that the ticket was only reissued within the check-in deadline says a lot as well.
At the same time, I should have checked to make sure. I got the confirmation email less than 24 hours ago, and to be honest hadn't even looked in the folder which usually has those confirmations. I didn't make the original mistake, but I made a huge newbie mistake, which was not double checking my itinerary to make sure it was correct.
But now what? I guess my only shot is to try and find a supervisor upon landing in Abu Dhabi that's willing to listen to the situation and maybe let me void out the first segment. Aside from that, I'm out of ideas.
Anyone have any other ideas?
I've literally been looking forward to reviewing this flight since I booked it months ago, and I can't believe this is what the situation comes down to.
Hopefully everyone else has a better Christmas than I'm having…
I'm not a very emotional person, but I'm at the point where I'm about to cry… or scream… or both… (the chipper Christmas music in the Sheraton's lobby just makes me feel even crappier about the situation). The fact that I basically haven't slept for the past week (well, aside from oversleeping) doesn't help…
So, how many miles will a hug cost me at this point?
Stay tuned for updates…