---
Corporate Groups
I briefly mentioned in a previous post that Wrigley's Mexico division arrived near the end of our trip and in many ways took over the resort. They must have spent a fortune because the Ziva even let them put their branding on the large white balls in the reflecting pool seen below.
I don't think it's a big deal and many hotels rely on groups and corporate functions as an important revenue stream. It can even be interesting to see what kinds of groups show up. But there is a point where the groups are so large, the events are too noisy or you have a difficult time avoiding the private events where it has a direct impact on leisure travelers.
So, I think it's only fair to include a caution that your experience will definitely be different if/when a large group shows up.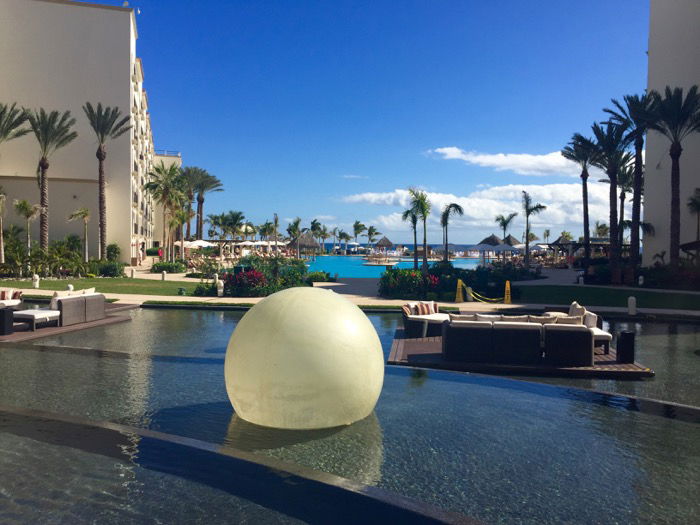 Final Thoughts
About halfway through our trip at the Ziva Los Cabos, I had a thought I couldn't shake for the rest of the trip:
I don't think this is a "Family Resort."
It might sound like a silly nuance. But the more I thought about it the clearer it became. The Zilara brand is Hyatt's adults only all-inclusive. And the Ziva is Hyatt's all-inclusive where kids are permitted. Here are a few examples of what I'm talking about:
No car seats for the kids on transfers to and from the airport
Freezing cold kids water park
Very loud live music played past 9pm
It's a poor value for 3 year-olds (they're charged full price but can't take advantage of the Kidz Club until age 4)
A family of four is better off booking two rooms because it's the same price (using points)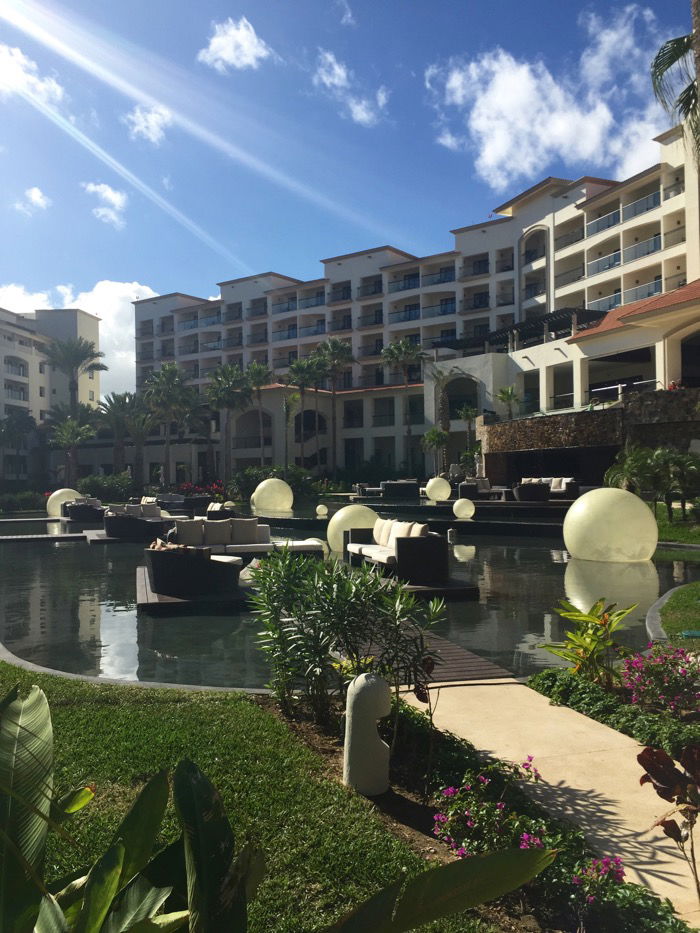 If you don't have kids, this is probably good news. You might have previously overlooked the Ziva assuming it's a bunch of obnoxious kids running around terrorizing the adults. That definitely was not our experience. In fact, almost all of the kids we encountered were really well behaved. And there were plenty of adults without kids having a nice time.
If you're traveling as a family, I don't think this is a reason to skip the Ziva. But, you might want to temper your expectations a bit.
I don't want to give the impression we didn't enjoy our stay. The truth is, we had a great time and in many ways, the Ziva is a victim of their own success because they nailed it in so many other areas:
They serve very good food, especially compared to other all-inclusive experiences I've had.
The drinks were also very good and servers were proactive with refills. I never had to fight a long line for weak drinks.
The staff is so warm and welcoming you really feel like honored guests. The hospitality is sincere and they care if you're having a nice stay.
But, if they can nail down some of the other issues, which seem like simple fixes, it would only enhance a family's experience at the resort.
Hyatt has marketed the Ziva and Zilara brands as the "Evolution of All-Inclusive." I agree it's a step in the right direction and our stay was definitely better than our previous experiences with other all-inclusive properties. But, there is still some room for improvement and I'd love to see what they can do if they continue to focus on enhancing the guest experience.
In the end, I think that's why I'm harping on the limited failures we experienced at the Ziva. I want to go back and I want it to be an even better stay.