In early 2014 Hyatt introduced Points + Cash awards, allowing members to redeem part points and part cash for hotel stays, at the following rates: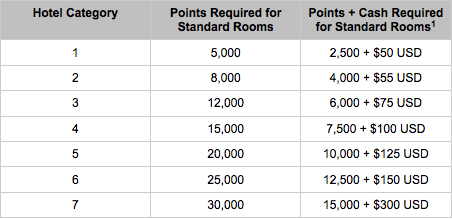 While these awards are capacity controlled (unlike outright free night awards), this translates into an exceptional value when available, and is hands down my favorite use of Gold Passport points. For example, I most frequently redeem points at Category 6 properties, which cost either 25,000 points per night, or 12,500 points plus $150. Being able to pay $150 in lieu of 12,500 points means you're basically buying points at 1.2 cents each, which is considerably less than I value the points at.
On top of that, Points + Cash stays are: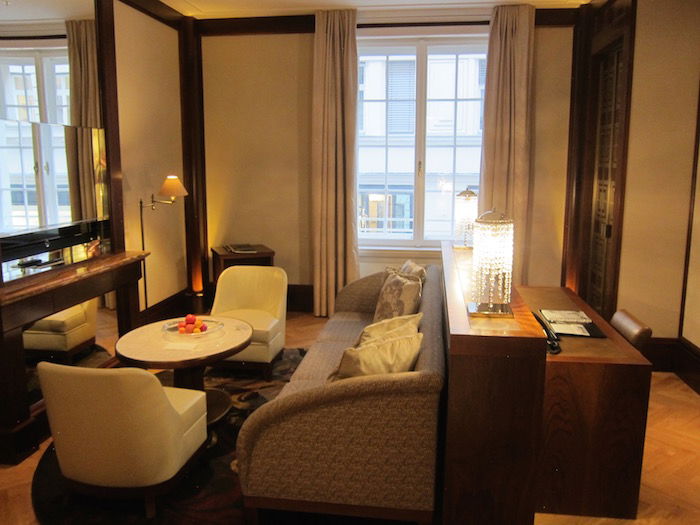 Park Suite at the Park Hyatt Vienna
When Points + Cash was first introduced it was only bookable by phone, though as of November 2015 it's possible to search and book Points + Cash stays online.
It's still not the easiest process in the world, since you have to search availability at each individual hotel. In other words, you need to pull up the specific hotel you want to book and check the box next to "Show Hyatt Gold Passport Points & Awards," at which point it will show any availability there is.
As it turns out, there's an easier way to search Points + Cash availability, which is especially useful when searching availability in markets with many Hyatt properties. This trick was discovered by Will Run For Miles.
When you search for availability on the hyatt.com homepage, enter code 51440 in the "Corporate or Group Code" box, which is the code for Points + Cash bookings.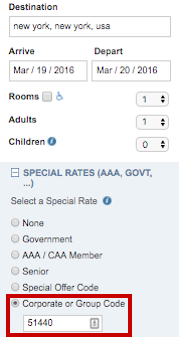 The benefit of this is that the results page will then show you if Points + Cash is available or not, without having to search each hotel individually.
How can you tell? If there's Points + Cash availability, the rate displayed for the hotel will be equal to the cash co-pay on a Points + Cash award. The amounts for that are as follows:
Category 1: $50
Category 2: $55
Category 3: $75
Category 4: $100
Category 5: $125
Category 6: $150
Category 7: $300
For example, looking at the first three results for the above search for New York City, you'll see that the Grand Hyatt and Hyatt Place seem to have Points + Cash availability, given that the displayed rates are the same as their respective cash co-pays. Meanwhile the Andaz shows a rate of $460, which suggests there's not Points + Cash availability.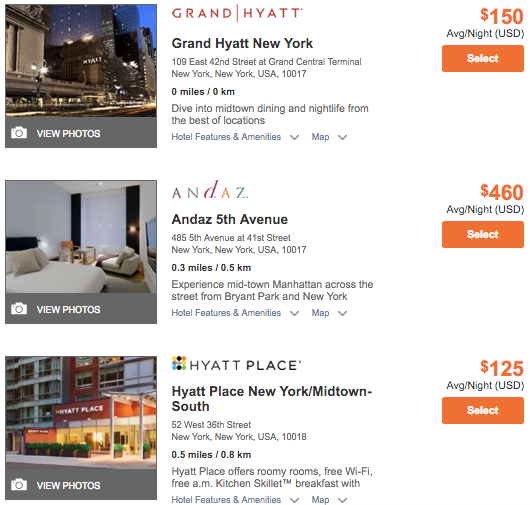 Clicking on the individual hotel pages confirms this.
The Grand Hyatt has Points + Cash availability, at the rate of 12,500 points plus $150 per night.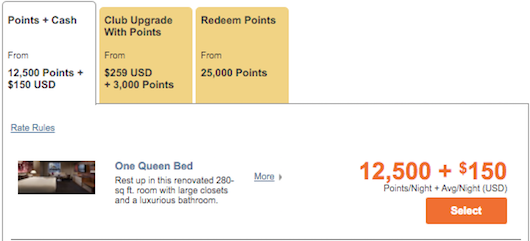 The Hyatt Place also has Points + Cash availability, at the rate of 10,000 points plus $125 per night.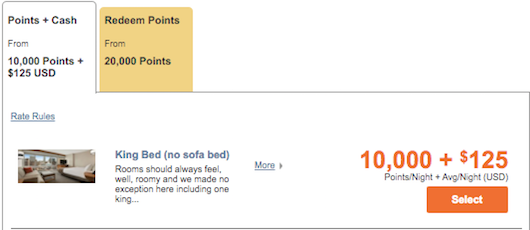 Meanwhile the Andaz doesn't.

Bottom line
This is a really cool trick which makes it significantly easier to search Points + Cash availability across several hotels, especially in markets with lots of Hyatt properties. Just remember to enter corporate code 51440, and then look for rates which match the cash co-pay of a Points + Cash award.
Do you plan on using this trick to search Points + Cash availability more easily?