Hyatt has just announced that effective immediately they'll be offering exclusive discounts of up to 10% for Hyatt Gold members who make bookings through hyatt.com, the Hyatt mobile app, or through Hyatt's call center. The discounts will be available at Hyatt properties in the US, Canada, and Australia, and will be at the hotel's discretion, so don't always expect them to be available.
"We want to build strong, long-term relationships with our guests and drive deeper engagement, so we are rewarding Hyatt Gold Passport members with an exclusive discount only available when you book with us," said Ellen Lee, senior vice president, global digital for Hyatt. "Hyatt.com guarantees the best price, and its hassle-free experience means you manage your reservations on your terms."
Here's what Hyatt advertises as the other perks of booking through their website:
Best value: Hyatt.com has long offered the lowest prices. With Hyatt's Best Rate Guarantee, if a guest finds a qualifying lower rate published on another site within 24 hours of booking, Hyatt will match it and discount it by 20 percent for the entire stay. See Hyatt.com for more details.
Loyalty program benefits: Hyatt Gold Passport members who make direct bookings can earn loyalty points and credit toward elite tier status, which provides members additional benefits such as free premium Wi-Fi and complimentary suite upgrades.
On-the-go access and support: Hyatt.com and the mobile app make it easy to manage reservations on-the-go, including reservation changes without surprise fees and around-the-clock support by phone or the social channels travelers prefer.
Personalized experiences: Not only can travelers select the right room type and amenities that fit their needs when they book direct, but Hyatt can also better get to know guests and tailor experiences accordingly.
Hyatt also claims they'll be adding further functionalities to their mobile app later this year, giving guests the opportunity to make on-demand requests through text message:
Plus, later this year, the enhanced Hyatt mobile app will provide guests who book direct the ability to make on-demand requests by communicating instantly with Hyatt on services like Messenger or text messaging.

"Coming mobile features for on-demand communication and services will further travelers' ability to drive their own experiences," Lee said. "And when you book direct, Hyatt colleagues have more opportunities to personalize guest experiences based on preferences, from knowing you want an extra blanket to helping you celebrate a special occasion."
I'm curious to see how that's executed in practice, given that Hyatt isn't exactly a leader when it comes to IT. For example, they allow online check-in, but I still haven't figured out what purpose that serves.
Hyatt introducing member only rates follows the lead of Hilton and Marriott, which have introduced similar offerings over the past several months.

These programs are an attempt by the major hotel chains to capture as much business as they can directly, so they don't have to pay online travel agencies a ~10% commission on bookings. A lot of people still book their hotels through the big online travel agencies since they allow people to compare prices across many chains. Hotels want to change the way you search for availability.
The reality is that for the savvy traveller there's really not much benefit to these members only rates. I haven't found a single instance where the members only rate is lower than the AAA rate, which also often knocks 10% off room rates (I have a AAA membership, though for what it's worth, I've never been asked to present it). Of course both are capacity controlled, but there seems to be a lot of overlap between the availability of both rates.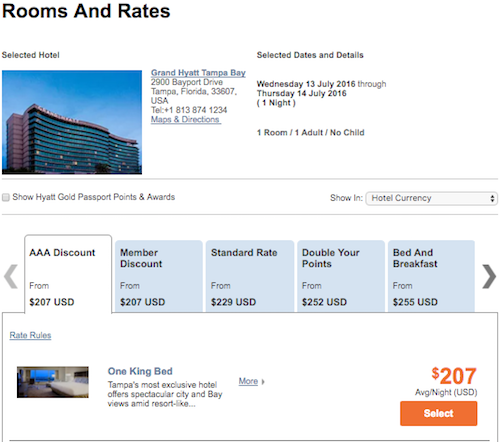 Bottom line
I'm not surprised to see Hyatt add this members only discount, as it follows the industry trend. Ultimately this is a further marketing effort to try and get people to book directly with Hyatt (which I do anyway). If you know what you're doing there's not much additional value with this benefit, given that it's similar to the AAA rate at best.