Last October I wrote about how Hilton was introducing discounted rates for Honors members in select markets. The discounts were up to 10%, and were an interesting move, which Starwood later matched.

There's not much substance to these discounts for the savvy traveller, since in most cases savings for booking AAA rates were at least as much, if not more.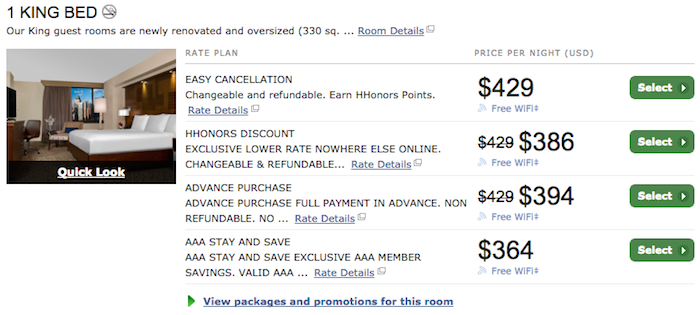 Still, it was an interesting trend to see, and the logic behind this promotion was pretty obvious. Hotels have to pay commissions (typically 10%) when bookings are made through third party websites/travel agents, so hotels want to do everything they can do get you to book directly with them, rather than through a third party.
Well, following the test on Hilton's part, it seems like they're expanding the guaranteed discount for Honors members to over 4,500 hotels around the world. Hilton is also launching the biggest ad campaign in their history, called "Stop Clicking Around." Here's a 30 second ad they have for the new campaign:
https://www.youtube.com/watch?v=tBHlqGa7a6I
Via the press release:
Hilton Worldwide today announced that Hilton Honors members can now receive an exclusive discount on room rates by booking directly through its brand websites, award-winning Hilton Honors mobile app and reservation call centers, or through preferred corporate travel partners and approved travel agents. This guaranteed discount is available at more than 4,500 hotels around the world.

"Our customers don't need to worry about sorting through a dizzying array of websites, enduring hundreds of clicks and wasting hours of time. They can be assured that booking a room directly with us at any of our hotels doesn't require extensive searching and price checking to find the best prices online," said Geraldine Calpin, chief marketing officer at Hilton Worldwide.

"Last year, 57 billion Hilton Honors Points – or more than 1.6 million free nights – went unearned because guests booked their stay through a third party," said Mark Weinstein, global head of Customer Engagement, Loyalty and Partnerships at Hilton Worldwide. "There is a huge misconception that third parties always offer lower prices for our hotel rooms, which is simply not true."
Those are some interesting numbers, in regards to how many points guests are forgoing by not booking directly through Hilton.
Ultimately Hilton is right, including the quote from Mark Weinstein. The "average" person does assume they're getting better rates when booking through third party websites, when that's not the case. There's value in using third party websites to compare rates across different hotel chains, but then you should book directly with the hotel once you've made your decision.
The one exception is non-affiliated hotel, where you can get value by booking through a third party website, be it Rocketmiles or hotels.com (since they have a loyalty program). But for stays at chain hotels, you're generally better off booking direct.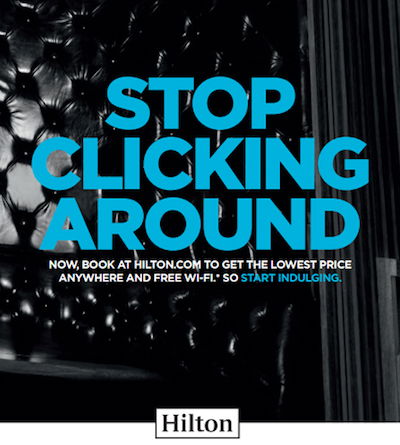 Bottom line
Hotels have really been trying to drive home the point of booking directly with them rather than through a third party for quite a while now. They've added benefits to members of their loyalty program who book direct, like complimentary Wi-Fi, and now are also focusing their marketing dollars on this.
It's a smart move, and it's interesting that this is going to be Hilton's biggest ad campaign ever. It really shows you how badly they want you to book directly with them, which I can't blame them for — in many cases they're leaving 10% of revenue "on the table" by having guests book through a third party.
It will be interesting to see if a campaign like this resonates with consumers.