Hotels offer all kinds of discounted rates to consumers — from advance purchase to corporate to senior to AAA, there are many ways to save money off the "sticker price" of a hotel stay.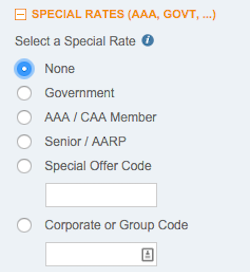 While I understand the concept of a senior discount, for example, I've always been a bit puzzled by discounts for being a member of a club anyone can join at a low cost, like AAA, AARP, etc. What incentive does a hotel chain have to offer someone a discount because they spend $16 a year to join a club?
It's one thing if there were exclusivity contracts and therefore clubs like AAA and AARP only offered discounts at one or two hotel chains, which could actually impact where someone stays. But in practice most major hotel chains offer these discounts, which makes you wonder how exactly they're coming out ahead.
It seems like at least one hotel chain may be having a similar thought. Via Miles from Blighty, it looks like Hyatt will be eliminating discounts for AARP discounts as of February 1, 2016. While it's not published anywhere yet (here's the AARP page listing the 10% off benefit at Hyatts), it's reflected when you search for availability.
For example, plenty of hotels show the discount for the night of January 31, 2016:
But starting February 1, 2016, I don't see the AARP discount available at any properties:
Hyatt will continue to offer senior citizen discounts, though that's only for guests who are 60+ years old. While the senior citizen discount has an age requirement, there's no requirement to join the AARP, meaning it was much more widely useful.
Hyatt seems to continue to offer AAA members discounts as well.
Oh well, at least the AARP discount is being eliminated for Hyatt and not the British Airways discount, which is the single greatest benefit of an AARP membership, in my opinion.
Bottom line
It's interesting to see Hyatt eliminate one of these discounts but not the other. While Hyatt will no longer offer an AARP discount, they will offer a senior citizen discount, AAA discount, etc.
It was always my understanding that these kinds of discounts were just a mutual agreement between the hotel and the club — it allows hotels like Hyatt to get more guests, and allows clubs like AARP to get more members. In other words, I don't believe any money was changing hands between AARP and Hyatt for the privilege of working together.
I'd be curious to know what prompted this.
Did you ever use an AARP discount for a stay at a Hyatt?