I always find it fascinating how airlines overbook flights. Obviously airlines want to maximize revenue as much as possible without inconveniencing passengers too much, and often that involves selling more seats than they have, either in a particular cabin or on the plane as a whole, based on historical no show rates, cancellations, misconnects, etc.
Say there's a flight with a first, business, and economy class cabin on a fairly leisure route. It could be that a month before departure coach is already booked to capacity, while there are 50 empty seats in first and business class. Rather than not selling any more economy class seats and hoping that people buy first or business class (which is unlikely on a leisure route), an airline might open up more coach inventory and ultimately operationally upgrade people rather than turn down additional economy class revenue. This is especially common on Emirates, for example, where I've seen flights that have been oversold by 50+ people in economy class, while first and business class were wide open. I've even seen an Emirates flight where business class was oversold by over a dozen people and no one was booked in first class, so they ended up operationally upgrading 14 business class passengers to first class.
With the above in mind, there's an important distinction to make between the terms overbooked and oversold, though. A flight is overbooked when they've sold more seats than there are in a cabin. However, they may keep selling seats since based on historical trends it's still likely the flight will go out with empty seats due to no show rates. Meanwhile a flight is oversold when there are no seats remaining for sale, because even factoring in historical no show rates it's likely they'll have to bump people.
So American actually makes it pretty easy to see just how full a cabin is. American is one of the few remaining airlines to offer "standard" awards, or as they call them "AAnytime awards." That means as long as long as there's a seat left on the flight you can redeem miles for it.
There's an important distinction there, though — it's based on whether there's a seat still available, and not whether they're still selling seats, which are two totally different things.
Randomly I pulled up tomorrow's flight from New York to Sao Paulo on American. Take a look at the late night flight, AA951. It's "F2 J4," which means they're willing to sell two first class seats and four business class seats on the flight.

So then I went to aa.com and searched award space on it. I clicked on "Business/First AAnytime" award, and when I searched for one seat it returned space. The same is true for when I searched two seats.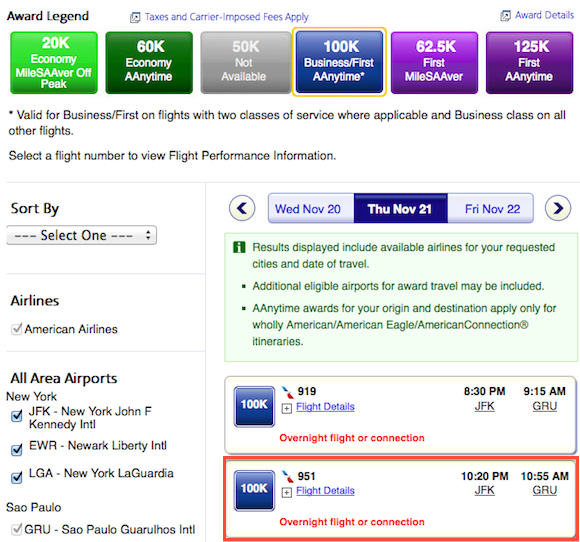 However, when I searched for three seats the flight no longer showed up, and that's despite the fact that they're still selling four seats in business class on that flight.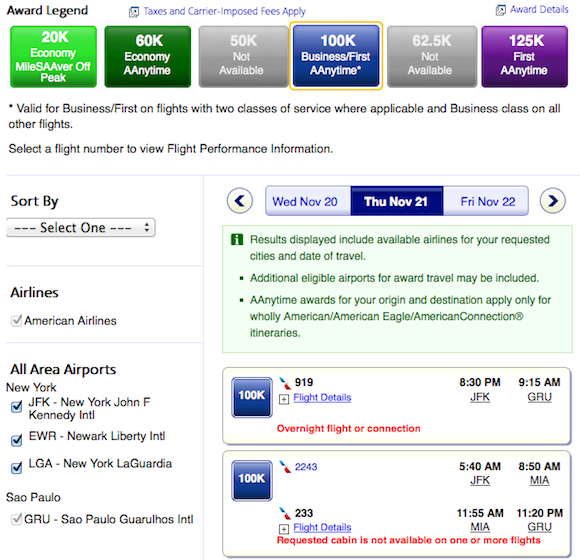 So what can we conclude based on that? Even though they're selling two first class seats and four business class seats, in reality there are only two first class seats and two business class seats remaining. But they'll gladly take revenue for four business class seats even if it means upgrading two people to first class.
Anyway, admittedly it's a subtle distinction, but something I find interesting. It also explains why sometimes you may see a flight that's still selling seats yet doesn't have "AAnytime awards" available.