This isn't intended to be a "slow news day" post, but rather it's something I'm genuinely curious about. I'm someone who thinks a lot about travel etiquette, be it about hotels, flights, or something else. I've discussed this a lot on the blog, and I have another "topic" where I'm curious to hear what you guys think.
One of my favorite things about constantly being on the road is housekeeping — I don't have to make my own bed, wash my towels, etc. At the same time, the lack of organization around housekeeping is often frustrating to me. Since I largely work from hotel rooms, I typically call housekeeping when I leave my room and ask for my room to be made, since I'm often not out of my hotel room all day.
This brings me to a weird habit of mine (apparently?) — when I see that housekeeping is servicing my room I turn around and don't enter the room. Why?
I don't want to startle the room attendant, and find the whole interaction weird
I spend a lot of time thinking about hotel security, and I think one of the biggest potential security flaws is guests entering rooms while housekeeping is in there, since they're often opening and closing the door; so on one hand I'd rather knock so I don't startle them, but at the same time if they open the door and I just enter, then it sure seems like I'm trying to break into the room
I just find it awkward to be in the same room as a stranger while they're cleaning the room, even if it's a suite and I can sit in a different room
I try to put myself in the housekeeper's shoes, and I know if I were a housekeeper, I'd hate having strangers sitting in the room watching me, since you don't know anything about those people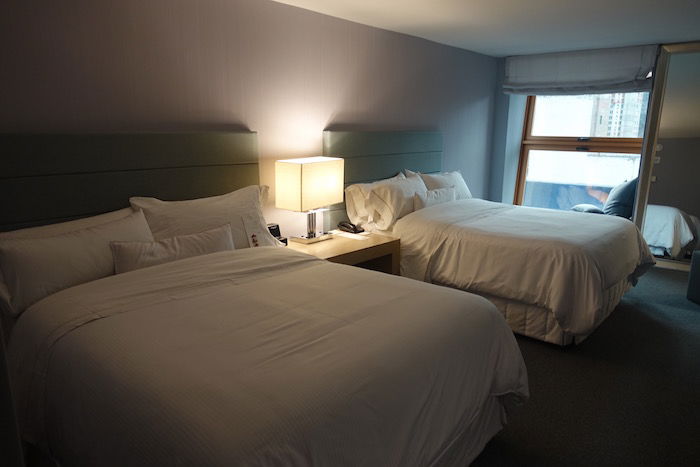 However, a lot of people I travel with have the opposite approach. When they see housekeeping in the room they have no problem entering the room, sitting there in silence, etc.
That's not to say my approach is any more right than their approach. Perhaps it's just that I'm an introvert and avoid interaction with total strangers as much as possible. Or maybe not. I don't know.
I'm curious — am I really the only person who doesn't enter a room when housekeeping is in there? If you're not like me, do you just briefly enter the room, sit there while they perform the whole service, or what?