I'm not exactly sure what to make of this, so I'm simply passing this on for anyone who wants to look into it more, as I don't plan on taking advantage of this myself (I think).
Buy $150 hotel gift cards for $100
The website buynowstaylater.com is selling "hotel bonds." As the initiative is described:
As the hotel industry faces unprecedented challenges due to coronavirus (COVID-19), we encourage travel enthusiasts from around the world to help support our hotel friends through a "hotel bonds" initiative: Buy Now, Stay Later.
With this you:
Can purchase a "hotel bond" from a participating hotel in increments of $100; apparently you'll be connected directly to the hotel to make your purchase
Wait 60 days for maturation, at which point each $100 "hotel bond" will be worth $150 to be used towards your next stay at that hotel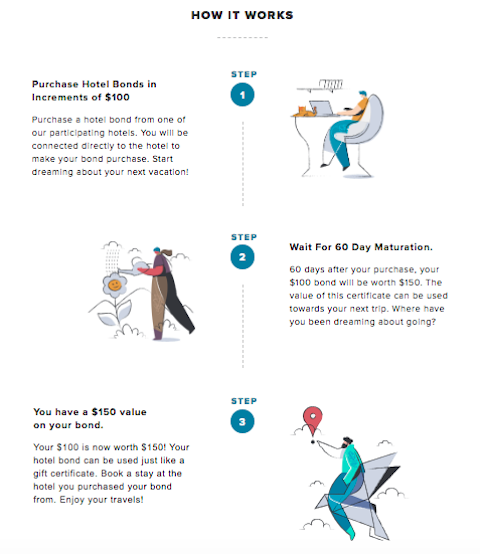 There are hundreds of participating hotels around the world, ranging from independent hotels to chain hotels. In each case you're purchasing a "bond" directly from a hotel, and not for a particular hotel group.
There are brands on the list like Aloft, Andaz, DoubleTree, Element, Embassy Suites, InterContinental, Marriott, Radisson Blu, etc.
You simply submit a form online an then within 24 hours the hotel will allegedly get back to you with more details. At some hotels there are limits on how many "bonds" you can buy, and there maybe expiration dates, which vary by property.
I keep putting the word "bond" in quotes because this is very much not a bond by the traditional definition. It seems weird to use that terminology when you're essentially just selling discounted gift cards that you have to wait 60 days to redeem.
Is this "hotel bonds" opportunity worth it?
I've written before about how I think many travel brands could be doing a better job creatively generating revenue. With so many companies having liquidity issues, there are lots of win-win promotions that could be offered.
In general I'm really supportive of this concept. Many individual hotels are small businesses, and they need our support right now.
That being said, while the promotion sounds great on the surface, I have some reservations:
I wish this were being run directly by a hotel group, rather than through a third party
I wish this wasn't just valid at individual properties, with varying limits, expiration dates, etc.; at the same time, I recognize that it's the individual hotels that need the liquidity
There's quite a bit of risk here, because it's very possible that some individual hotels may go out of business
I'm a little confused by the purpose of the 60 day "maturity" (other than further trying to market these as "bonds"), because in many ways you'd assume they'd want you to stay ASAP, given how low hotel occupancy is
Bottom line
There's a website facilitating hotels selling "bonds" where you can pay $100 and then receive a $150 hotel gift certificate in 60 days. If you frequent a hotel on the list then it can't hurt to fill out the form and get in touch with the hotel to find out the expiration dates, limits on how many "bonds" you can buy, etc.
Personally I think I'll sit this one out, as much as I'd like to support individual hotels.
What do you make of this hotel bonds opportunity?
(Tip of the hat to LoyaltyLobby)