I wanted to write about the upcoming overnight I have at Heathrow, both to shed some light on the reality of my "review trips," and also to get some feedback from you guys.
This involves my upcoming review trip, where I'll be flying ANA's new 777-300ER business class, Lufthansa's A350 business class, ANA's new 777-300ER first class, and Delta's new 777-200 business class (in that order).
What my review trips are really like
I think when people picture the life of a "travel blogger," they think of ridiculously big breakfasts in bed, holding a coffee cup with two hands and gazing off into the distance, or a picture of someone walking away from the camera holding someone's hand, with some sort of an inspirational quote as the caption.
Or maybe they picture something like this (for the record I don't know anything about this guy, other than the fact that I saw this video a long time ago, and was amused):
(Un?)Fortunately, that couldn't be further from the reality of my life, so it presents a fun contrast.
What are my review trips like?
I'm lucky if I get a few hours of sleep at night
I'm up at 4AM photographing the lobby of an airport hotel so that I can get a picture without anyone in it, only to be questioned by the hotel security guard about why I'm taking pictures
Rather than sitting in a coffee shop sipping an espresso while reading a magazine, I'm typing furiously at 3:30AM on my laptop while snacking on a bag of pretzels I took "to go" from the snack basket on my previous flight
I show up at lounges before they even open (even if my flight is 12 hours later), so that I can get pictures of the lounge without people in it
Unfortunately even with a 24 hour layover somewhere I rarely get to enjoy a destination much, because the nearly dozen blog posts every day on OMAAT won't write themselves, and my goal is to publish reviews as quickly as possible (and many of them take hours and hours to write)
So the reality is that when I take review trips I rarely actually enjoy the destination, but rather it's all about providing the best reviews possible. That's objectively not all that glamorous, though truth be told, I wouldn't have it any other way — I get a real thrill out of it.
This is all to say that I plan my overnight layovers different than most.
I should note that my review trips are different than my "other" travel. If Ford and I are going on a vacation somewhere, I plan it very differently.
An upcoming overnight at Heathrow
For my upcoming review trip I'll have a roughly 24 hour layover at Heathrow, though I'll be both arriving and departing right around rush hour.
So I'm trying to decide where to stay. Most people would say "wow, 24 hours in London sounds so fun." That's true for most, though:
It'll take two hours roundtrip to get to the hotel, and if I take the tube there's no way I can work during that time, given how crowded the tube is from Heathrow; alternatively I can get a car service, and frankly it's probably worth it to me for the ability to be productive, though I'd still ideally avoid driving for two hours
While the Heathrow Express is pricier, I would find it worthwhile in terms of being able to be productive during the ride; the problem is that I don't love any hotels near Paddington Station, so I've always found this to be of limited use (if anyone knows of anything great nearby, please let me know!)
Or I could stay at yet another airport hotel in London, which isn't glamorous, but sure is efficient in terms of limiting my transit time, and maximizing my ability to work, and possibly even being able to go to the gym, which sure is nice on these trips, since I'm otherwise just sitting and eating and drinking
I think my Marriott Ambassador perfectly summed up the reality of my travels with his welcome note during a stay last year at the Courtyard Gatwick: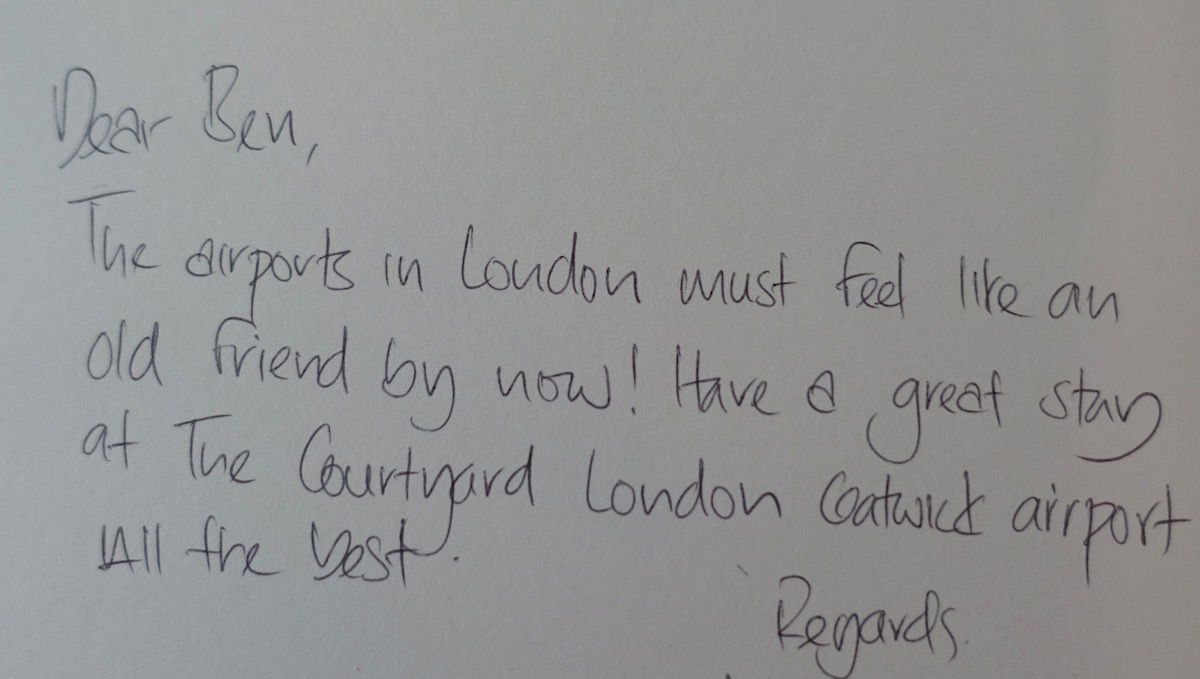 With that in mind, I'm trying to get creative and think of an option other than staying at a Heathrow Airport hotel for an upcoming stay, so I figured I'd share my thoughts on that.
If I go into the city my plan would be to review the Great Scotland Yard Hotel, which is the newest Hyatt in the city, and is also an Unbound Collection property.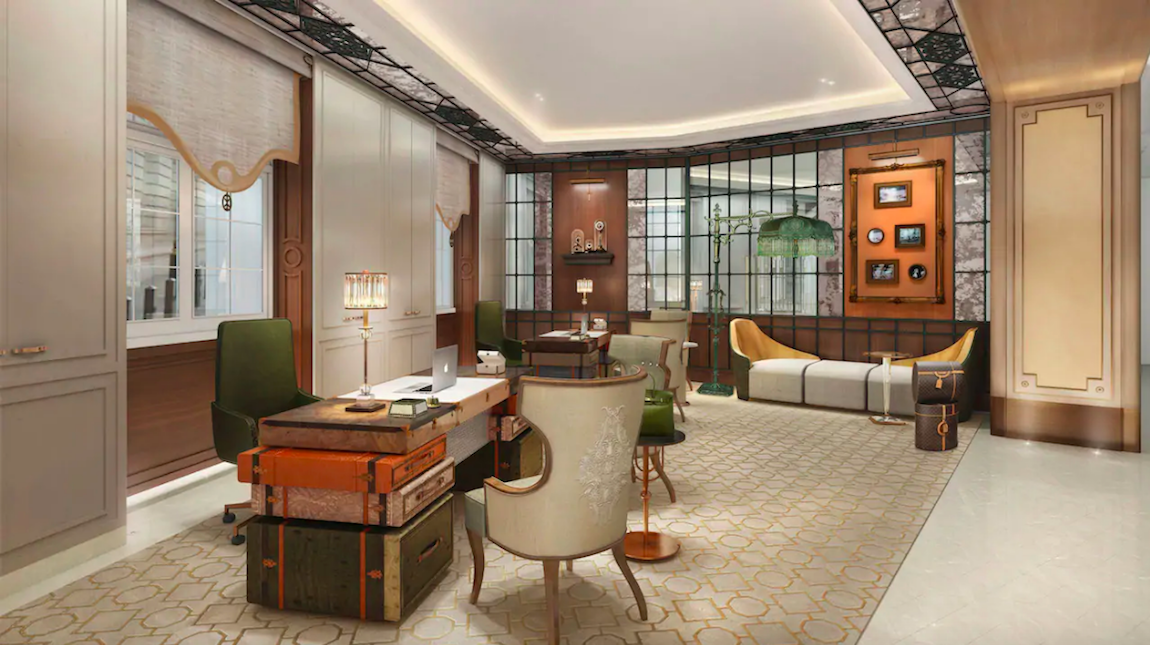 But now that I investigate more closely, it seems there may be some options that can provide some charm without having to trek into the city. Hyatt has a partnership with Small Luxury Hotels of the World, and they have three hotels not that far from Heathrow in the countryside.
Now, I realize January isn't the ideal time to enjoy the English countryside, but I figure it can't be less nice than Heathrow hotels?
First there's Great Fosters, which with current traffic is six miles and 13 minutes from Heathrow. It's a historic English countryside manor, and apparently has a Michelin-starred restaurant (not that I'd likely be eating there).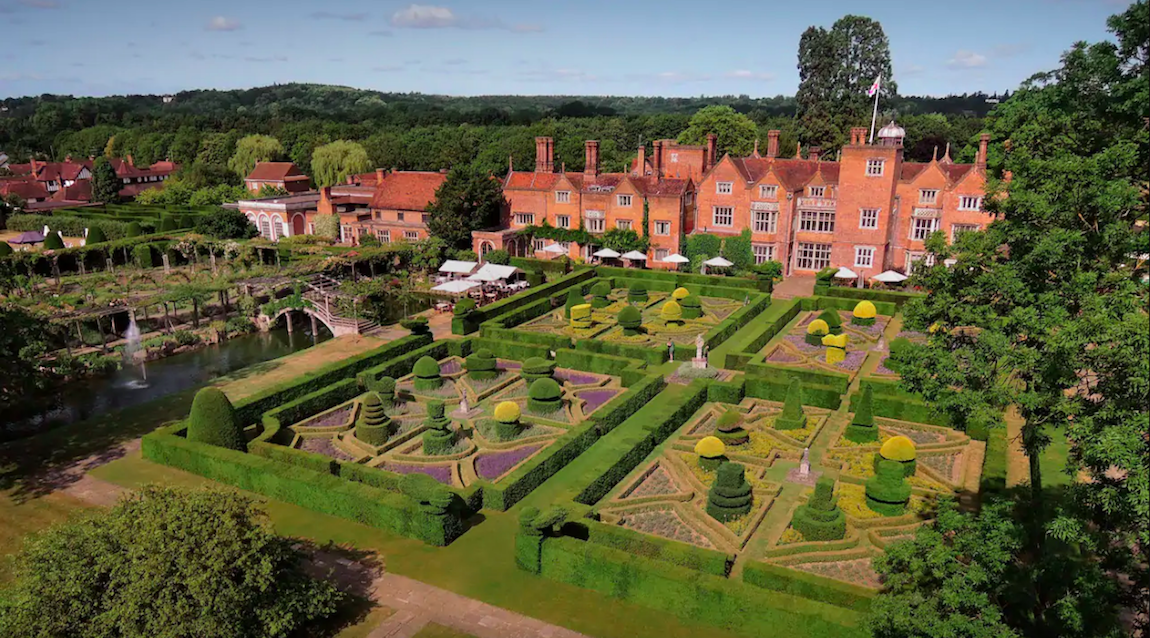 Then there's Stoke Park, which with current traffic is 12 miles and 22 minutes from Heathrow. It's described as a Georgian mansion, and the website says that it has "proved popular as a setting for Hollywood films, including some about a certain suave British spy." Hah.

Lastly there's Monkey Island Estate, which with current traffic is 16 miles and 24 minutes from Heathrow. It's on the River Thames, and is apparently only accessibly by footbridge.

All of these places look infinitely cuter than anything at Heathrow, and they're convenient compared to heading into the city.
I don't like to Google this stuff because I always find stuff I don't like, but if any of these places are known to be haunted (because they kind of look like they might be), please do let me know. 😉
Bottom line
I spend so many nights near London airports, and I almost always find it easiest to just stay at an airport hotel so that I can avoid traffic, and can work, work out, and rest. It's not very glamorous, but it does the trick.
However, I really want to try something different this time around. So if anyone has any thoughts on the above hotels in the English countryside (or any other hotels), I'd love to hear them! I'm leaning towards Great Fosters given just how close it is, but am open…
Alternatively, if there's any nice place to stay near Paddington Station, I'd love those tips as well. While the tube is efficient enough for going into London, I just struggle with "wasting" two hours on a short layover where I'm not able to work.
So I'm curious what you guys think — where should I stay for my upcoming 24 hour Heathrow layover?