Hello from Changsha, China, where I just got off my Hainan Airlines flight from Los Angeles. I'll have my full review on Hainan Airlines shortly, though in the meantime I have to address one aspect of the experience which caught me off guard.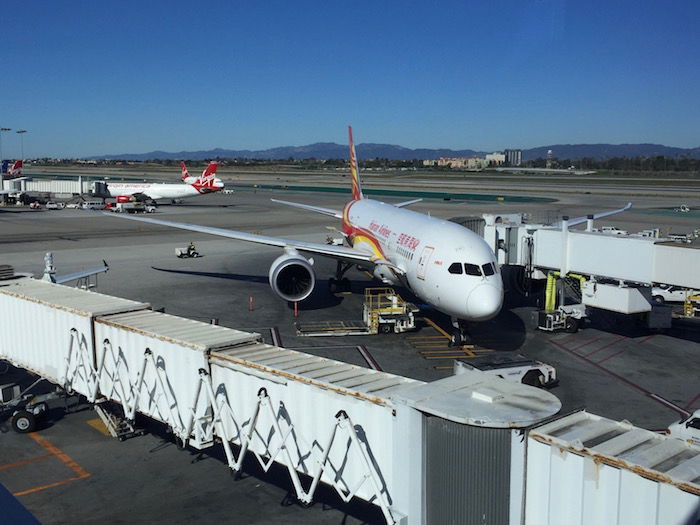 It was my first time on Hainan Airlines and I was excited to review them, so I was sure to be the first passenger to board, and had my camera and iPhone in hand. Usually when I'm the first to board on a non-US airline and have the cabin to myself I ask the flight attendant if it's okay if I quickly take a few pictures. I do this for two reasons:
It keeps them from getting suspicious or startled by me taking dozens of pictures in a very short period

It's a polite way to ask them to stay the hell out of the way for a moment (this is especially important in first class, because the procedure is that they escort you to your seat, offer you a drink, chat with you, etc… all of which I love once I've gotten my pictures)
As I boarded my Hainan flight at LAX I asked the usual question, and much to my surprise the answer was (in broken English) "no photo."
"So I can't take any pictures on the plane?"
"No picture please."
"Not even with my cell phone?"
"You may not use."
"So… can I take a picture of my seat?"
"Yes, you can take photo, just not crew."
Okay, so if I was understanding her correctly, she was saying the crew didn't want to be in pictures, which is fair enough (I prefer keeping them out of my pictures anyway, if possible). So I headed to my seat in the last row of business class, and snapped a picture of the economy cabin from my seat.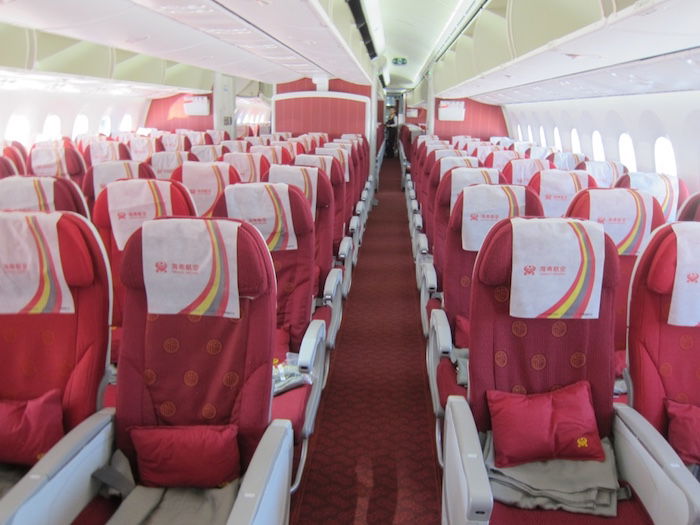 The same flight attendant came running up to me.
"You cannot take photo. No photo."
"I'm sorry, I don't think I understand. I can't take any photos?"
"Not of crew."
"I wasn't… can I take pictures of my seat?"
"Yes, it is okay."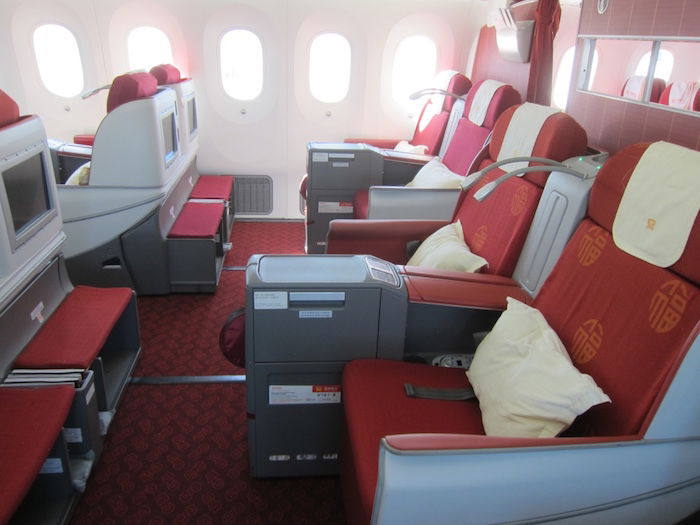 Fast forward to after takeoff, where I had a polar opposite experience. The lovely flight attendant working my aisle saw me take pictures with my camera, and she even insisted on arranging the plates perfectly before I took pictures — "please wait before you take picture, I will show you how to display."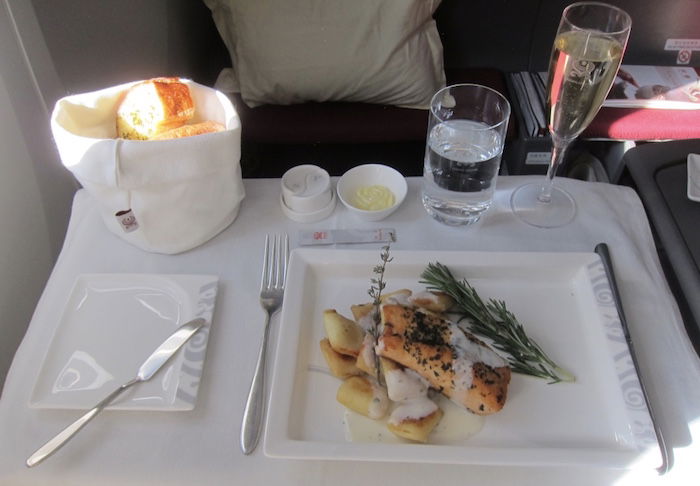 Photos weren't the only problem on this flight. Apparently Hainan Airlines doesn't let you use your phone on planes… not even in flight mode!!!
I clarified the situation, since that was the first time I've ever heard of such a rule. The purser returned and explained that all Chinese airlines have a ban of using phones in flight. I clarified again that my phone was in flight mode, and even showed the airplane symbol on the phone.
They insisted it wasn't allowed, and I couldn't use my phone… at all. She claimed that the ban on cell phones is a regulation for all Chinese airlines, which is news to me, since I've used my phone plenty of time on other Chinese airlines without issue.
But now that I've landed and looked up the rules (I had drafted the post "live" on the flight), that does indeed seem to be the case. What makes this so strange is that I've used my phone on almost a dozen flights on Chinese airlines for listening to music, taking notes, etc., and never had an issue. But the country bans cell phone use in-flight, though apparently they're looking to lift that rule eventually. Am I the only one who had no clue about that?!
Not being able to use my iPhone in flight mode is extremely inconvenient, since I use my phone for listening to music, taking notes for my trip report, taking pictures, etc. For years I thought it was ridiculous that you couldn't use electronics during takeoff and landing when in flight mode. But not even being able to use them at cruise altitude takes it to a whole new level!
Bottom line
I can't believe I didn't know that Chinese airlines ban cell phones prior to this flight. And I'm still not exactly sure what Hainan's policy is on photography, since they eventually embraced my meticulous photo taking of every course of the meal.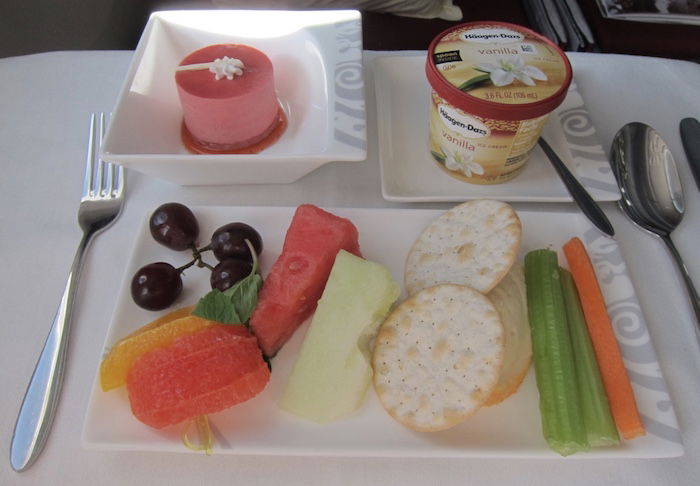 While the above might sound negative, funny enough I was actually extremely impressed by Hainan Airlines. Not compared to the world's top carriers, but rather compared to the other Chinese airlines I've flown. The food was great and service was fantastic — if only they had better seats!
Was anyone else not aware that Chinese airlines ban cell phones inflight? Am I the only one who never found it consistently enforced prior to this?