I've flown American's international first class a countless number of times. This includes their old first class on the 777-200, as well as their new first class on the 777-300.
The total number of international first class seats American has fleetwide is decreasing significantly, as 777-200s are being reconfigured without first class.
I find there to be a significant benefit to first class over business class on the old 777-200s, given that first class features direct aisle access from every seat, while the business class seats are angled, with seven seats per row. While the first class product is outdated, it's worth it for the physical comfort (this doesn't apply on the reconfigured 777s, which have a new business class product).

American's old 777-200 first class
Meanwhile on the 777-300 the difference is marginal at best. American has a fantastic reverse herringbone seat in business class, featuring direct aisle access from every seat.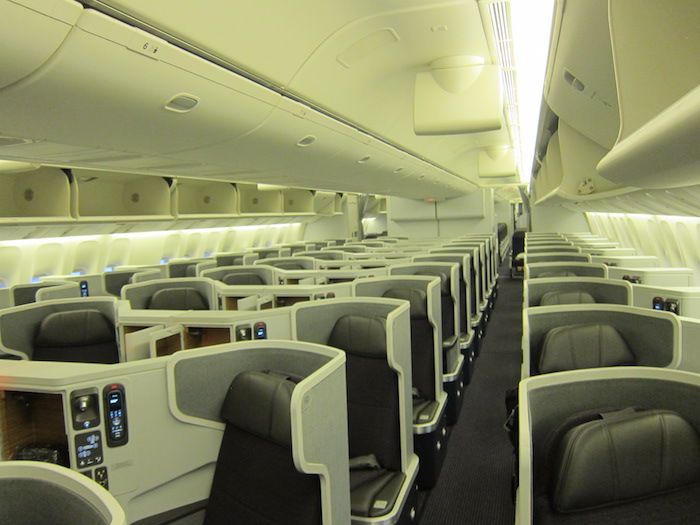 American's 777-300 business class
The first class seats are only marginally better, as they're in the same 1-2-1 configuration, and aren't more private.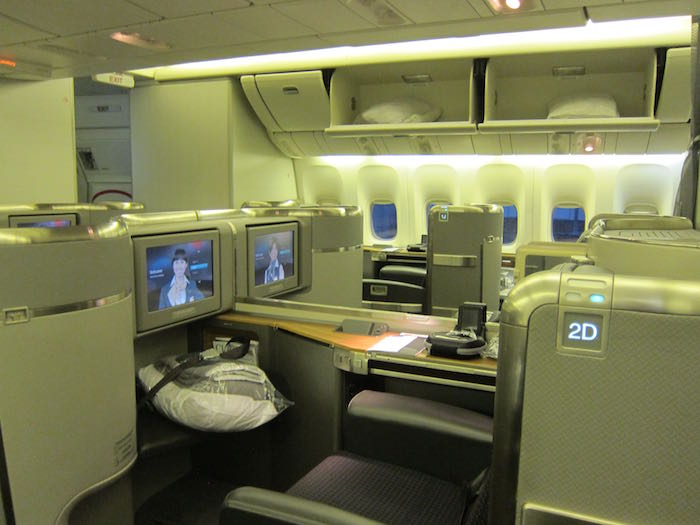 American's 777-300 first class
Perhaps American's 777-300ER first class is a victim of how good business class on the plane is. In the past I've asked why American even bothers with international first class, since they don't do much to differentiate the soft product, and service is extremely inconsistent.
I was blown away by my American flight from Sydney to Los Angeles back in January, which featured their enhanced first class service (which should be expanded systemwide soon).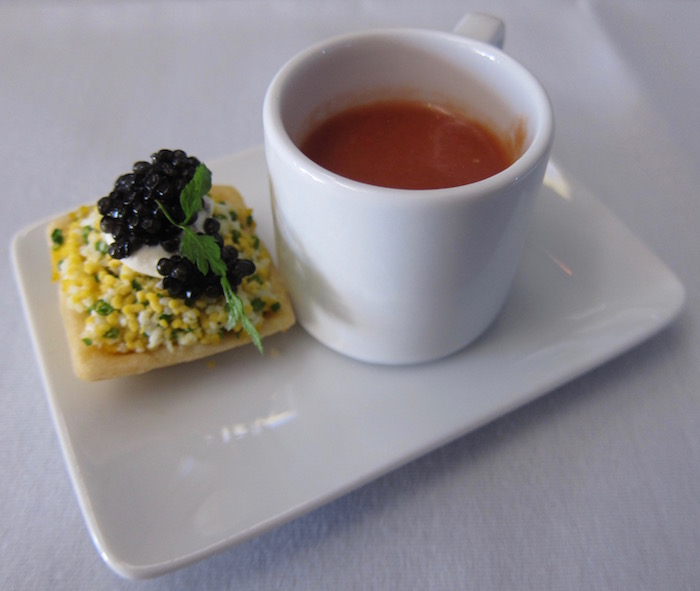 Not your average American Airlines starter!
The truth is that the improvements were minor, but they really made a huge difference in terms of perception. It just felt like they were putting effort into the service. But that was only half the equation, as I also lucked out with a fantastic crew on that flight.
Yesterday I flew American's first class from London to Los Angeles, which was interesting to fly after the Sydney flight, since it didn't feature the enhanced soft product. In other words, the food was as it always is (basically the same as in business class).

Not the most first class starter out there…

And not the most first class meal either…
However, the two first class flight attendants, Rebecca and Suzanne, were fantastic. It's amazing how far a little bit of effort and a good attitude can go.
They were friendly, humorous, and attentive. With every interaction they'd make eye contact, smile, and even crack a joke or two.
Beyond that, their attention to detail made me feel like I was on an Asian airline. These are all very minor things, but they make such a big difference:
I had ordered a glass of champagne and was drinking it really slowly, so after a while the flight attendant came by and said "that doesn't look cold anymore, let me get you a new glass, because I've had it sitting on ice"
After one course I placed my fork back on the tablecloth, since I didn't want the crew to have to get me a new one, yet the flight attendant noticed it and said "that doesn't look clean, let me get you a fresh fork"
After the meal service they explained the turndown service they offered and asked if I wanted to be woken for the pre-landing snack
I ordered some brewed coffee, and the flight attendant said "I have some now, but it's not fresh, so can I brew a fresh pot? How about I make you an espresso or cappuccino in the meantime?"
Throughout the flight they were through the cabin every 5-10 minutes to see if anyone wanted anything
It's tough to explain because these are all minor things, but I genuinely felt like they wanted to be there, and like I was their guest. Contrast that to the purser I had on my Los Angeles to London flight last year, who couldn't have left a more unfavorable impression.
In fairness, every airline has inconsistent service. This past week I was so underwhelmed by the service on an Emirates flight that I asked for the purser (then things were quickly sorted out). But the difference is that Emirates has a fantastic product otherwise. Like, how disappointed can I be about bad service when I'm having caviar and Dom Perignon, and can visit the plane's shower suite or bar? 😉
Meanwhile on American the difference between first and business class is so limited if you have a bad crew. If they at least introduced the Sydney catering to the rest of the flights there would be a more tangible difference in the product.
But what goes the furthest is a great crew, and unfortunately that's something which can't easily be forced or trained. When you run into flight attendants like Rebecca and Suzanne, though, it's a real treat.
If only there were a way to book flights operated by specific flight attendants, as it has the single biggest impact on the overall experience, in my opinion…