Last week I shared the details of my Garuda Indonesia first class journey from London to Jakarta, including the incredible ground experience in London, the spectacular onboard experience on the 14 hour flight to Jakarta, and the arrival experience in Jakarta.
After a few days in Jakarta we flew back to London, though that flight stops in Singapore. That's because the plane isn't capable of taking off from Jakarta with enough fuel to fly nonstop to London, due to the runway conditions (though oddly it can fly nonstop to Amsterdam, which is just ~200 miles shorter).
Anyway, while I'll have a detailed trip report soon, I couldn't help but share more details of the ground experience we had on the return from Jakarta. Could it really be as good as on the outbound flight?
Yep, it sure was!
We were picked up at our hotel in Jakarta in a Toyota Alphard, which is a service that's included as a Garuda Indonesia first class passenger. Since our flight was leaving Jakarta at around 7AM, there was no traffic so early in the morning.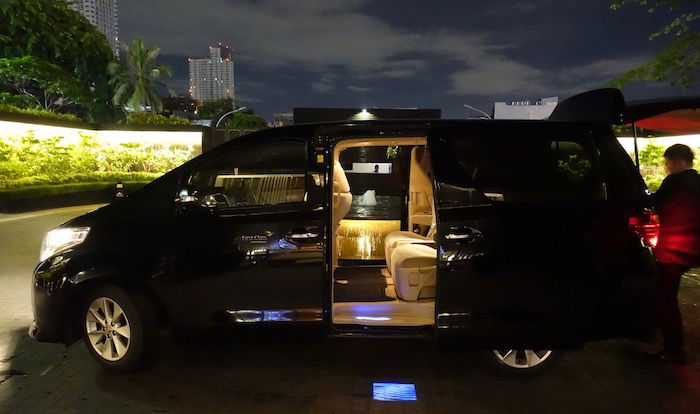 The second we pulled up to the airport we were greeted by Dea and Freddie, who would be taking care of us until we boarded our flight. While Jakarta Airport is pretty dumpy, Garuda's setup is brilliant. The entrance to the lounge is located just inside the entrance near the check-in counters, and you clear security at the individual gate.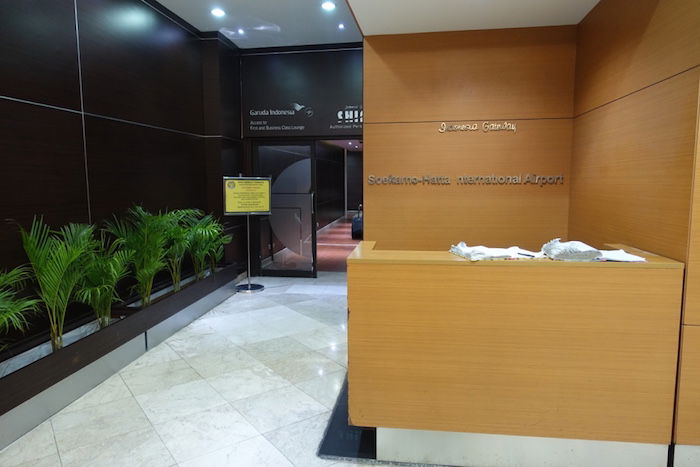 So we were escorted there, and for the next two hours had the lounge to ourselves. Freddie and Dea waited for us at the top of the escalator and came by periodically to see if we needed anything. There was also a separate server in the first class lounge.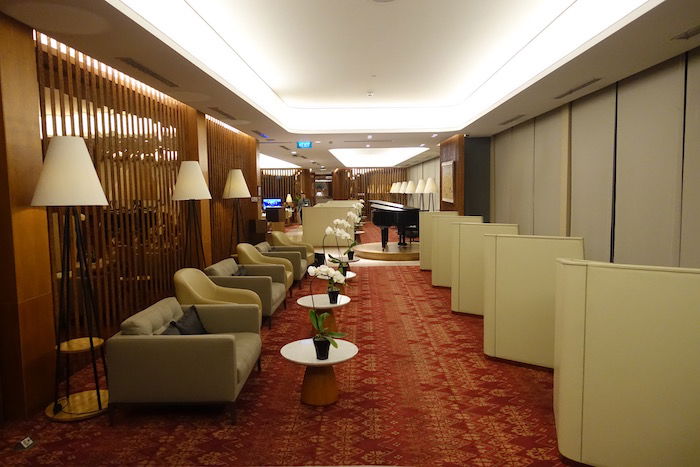 The lounge itself was solid, though I wouldn't say it's one of the world's top few lounges, purely in terms of the physical space (however, the overall ground experience definitely is). While the lounge had a restaurant, we decided to save our appetite for onboard.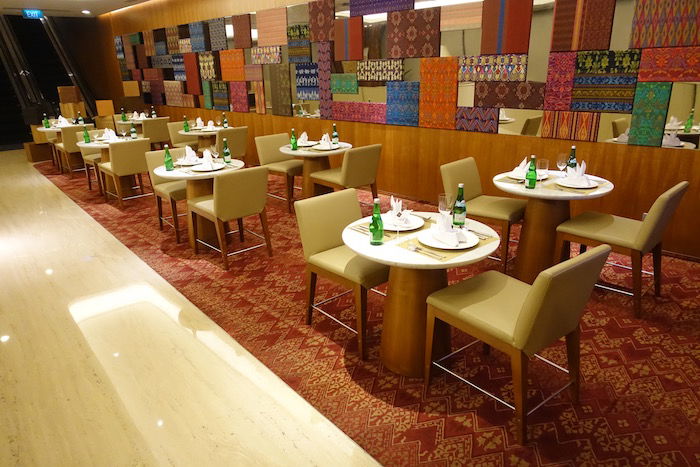 My one disappointment in the ground experience was that Garuda Indonesia advertises there being a spa for first class passengers. As it turns out, the "spa" is simply a foot reflexology machine in the business class lounge (and by "foot reflexology machine" I mean something you put your feet on that vibrates).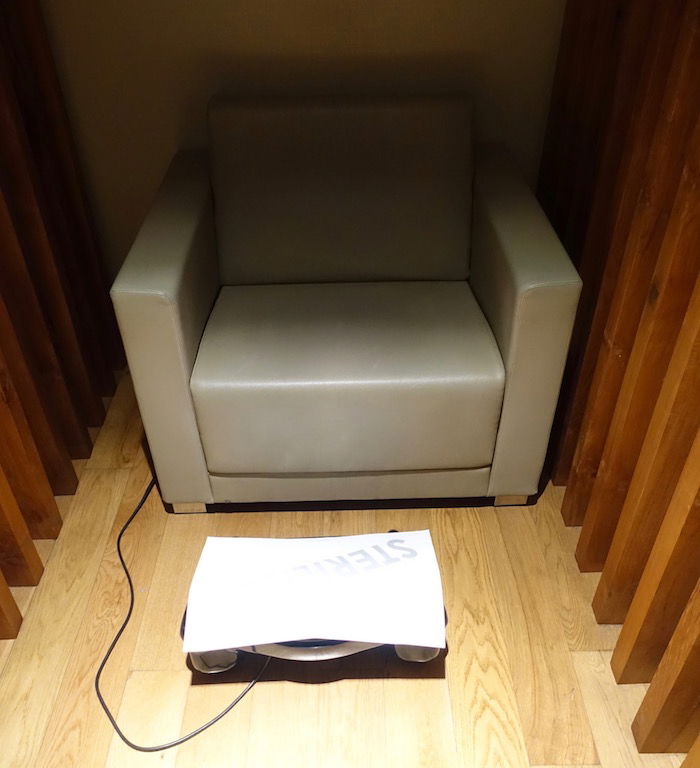 Dea and Freddie asked whether we wanted to board first or last. I said first, and sure enough they came to fetch us about 30 minutes before departure. The walk to the gate was short, and there was a security check there.
The service was incredible, as the porter took our bags and had them screened for us, while we could go straight onto the plane. Furthermore, they took the "first to board" thing very seriously, because they quite literally started general boarding just moments after we boarded, so it's clear that they were waiting for us. We got some evil glares when we entered the gate area.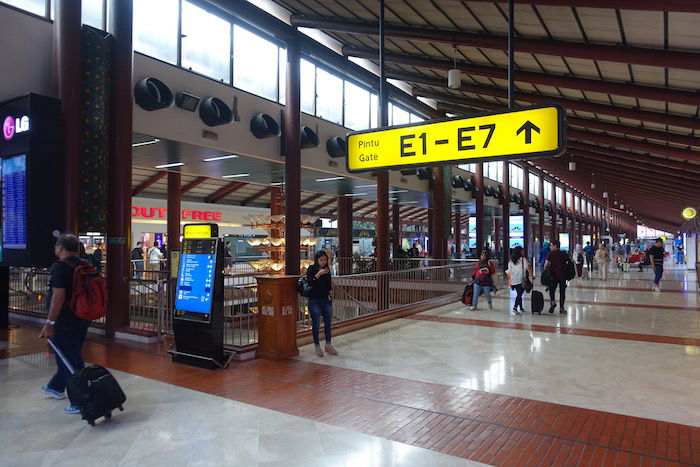 The flight to Singapore took just over an hour, and in Singapore we only had about an hourlong transit. Passengers have to get off the plane in Singapore, though once we got off the plane there was a Garuda Indonesia representative waiting for us, named Saddiq. He proceeded to drive us in a golf cart to the lounge.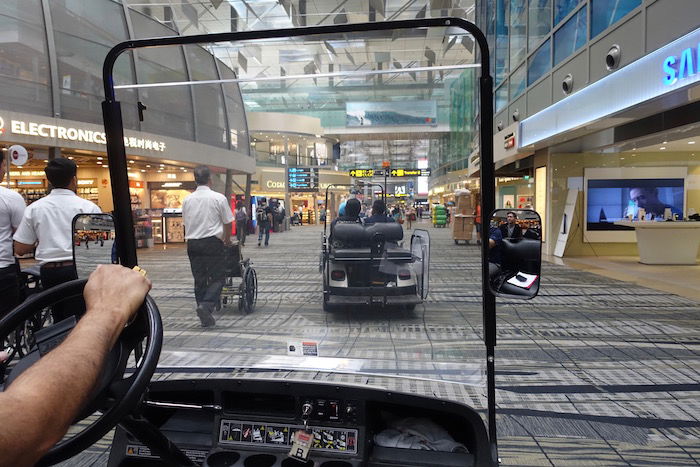 There was only one other first class passenger, though amazingly enough they got a separate golf cart for her, and she also had her own representative. The representative said that if we wanted to go duty free shopping he could drive us around — LOL!
Garuda uses the Dnata Lounge in Singapore, which isn't great, though there's a small roped off first class section, so at least they try.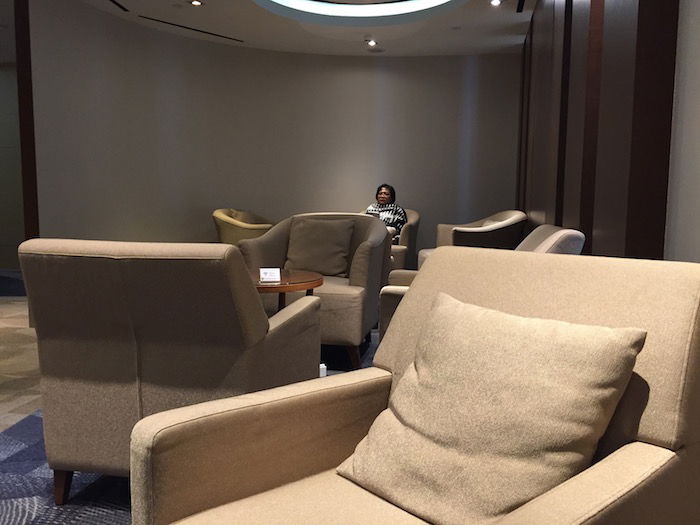 We were asked if we wanted to be first or last to board, and this time around we elected to be last. Sure enough, he only came to fetch us a few minutes before departure time, and we were quite literally the last people on the plane. Again, he insisted on carrying our bags all the way to the overhead bin.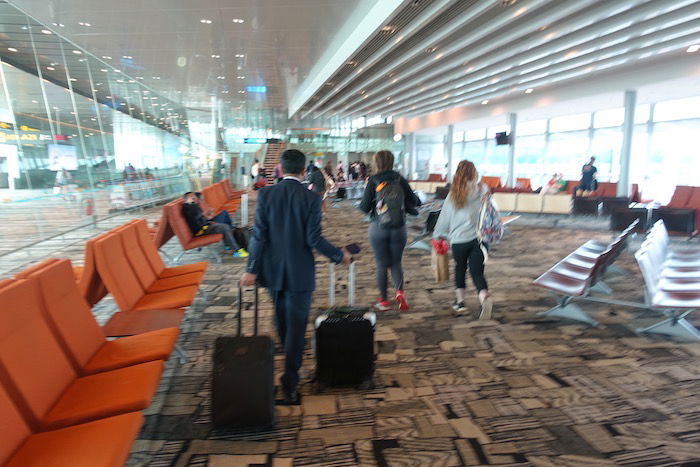 On arrival in London we were once again greeted by a representative who escorted us to immigration.
It's absolutely incredible the degree to which Garuda Indonesia takes care of their passengers throughout the journey. It's one thing to have amazing ground handling at your hub (as Air France, Air India, and Thai Airways do), but to have such seamless service throughout the journey really sets Garuda Indonesia apart.