I'm sorry, as a premium cabin airline geek, I just can't stop thinking about how amazing Garuda Indonesia is.
I've talked about their incredible ground services at London Heathrow, in spite of the fact that they use a contract lounge. I've talked about my phenomenal onboard experience from London to Jakarta.
Now I just briefly have to mention how impressed I was by the arrival experience. Let me start by saying that Jakarta Airport is a bit of a dump, so I had low expectations of the arrival experience. Well, now that I've experienced Garuda first class firsthand, I realize that I was completely crazy to even think they wouldn't execute something perfectly. 😉
Our flight arrived in Jakarta at a remote stand. Once the door opened, there were several Garuda representatives waiting to greet first class passengers at the top of the stairs.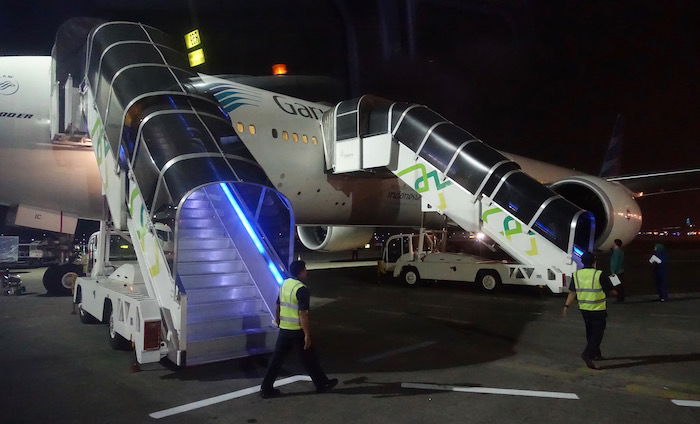 We were greeted by Larizka and Ilham, who said they'd be helping us through immigration and to our waiting car. They apologized once again for the flight's delay, and that we were arriving at a remote stand. It's nice when an airline has a separate bus for premium passengers, but in the case of Garuda Indonesia, they had two buses for first class passengers, so that there were only three people per bus. We had a roughly five minute drive to the terminal.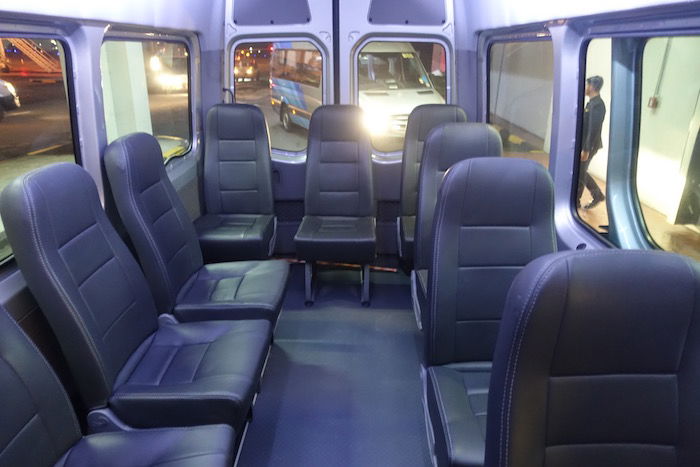 Larizka whisked us through immigration, while Ilham took our bags and handled immigration formalities. When I say that Larizka whisked us through immigration, I literally mean she whisked us through it, as we didn't have to go through immigration. She brought us through a separate exit, while Ilham took our passports and processed immigration for us — incredible!
I had heard nightmare stories about traffic in Jakarta, so said "I just need to use the restroom quickly before getting in the car," to which Larizka responded "I wish you had told me earlier, you could have used the one in the first class lounge, it's much nicer." Hah!
Once outside the airport, our car (complimentary for Garuda first class passengers) taking us to the hotel was waiting right by the exit. There was no need to go to a parking garage or to wait for the driver to pull up. We had the choice between a Mercedes E-Class or Toyota Alphard. Perhaps I'm crazy, but I selected the latter, since it's much more spacious, and I was expecting it to be a long ride. I have a fear of driving, so I'll take advantage of any chance I can get to be in a bigger car.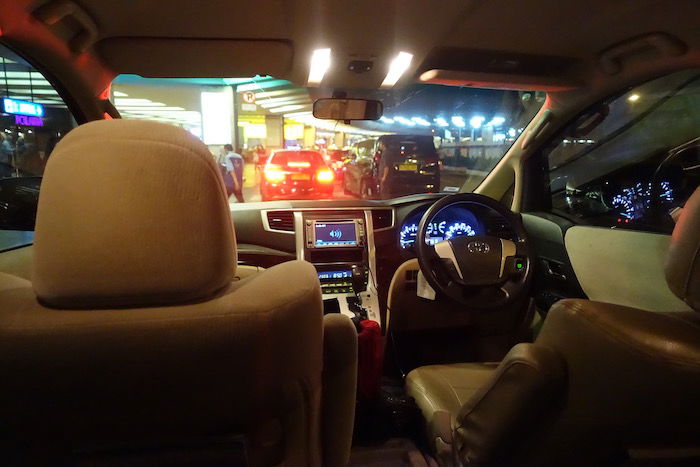 There were bottles of water and towels waiting for us in the car.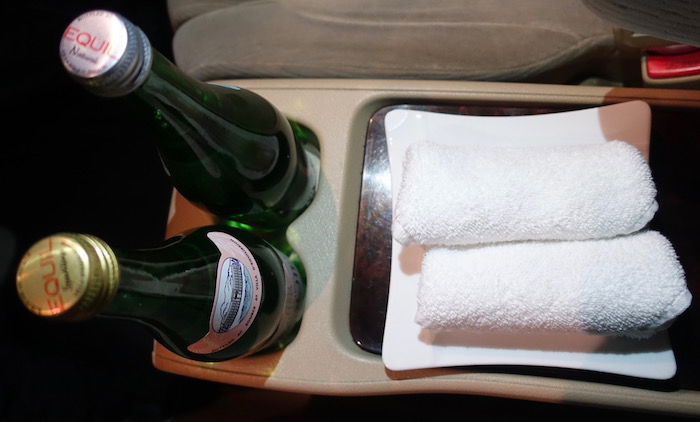 I generally try to follow local customs when abroad, so for the most part don't tip as much when I'm outside the U.S. However, in this case for whatever reason I felt compelled to tip both of them… and they both refused. At first I thought they were doing so to be polite and that if I insisted again she would accept it, but she didn't. She said "no, please, it was our pleasure." So I asked if I could at least take a picture to remember their great service.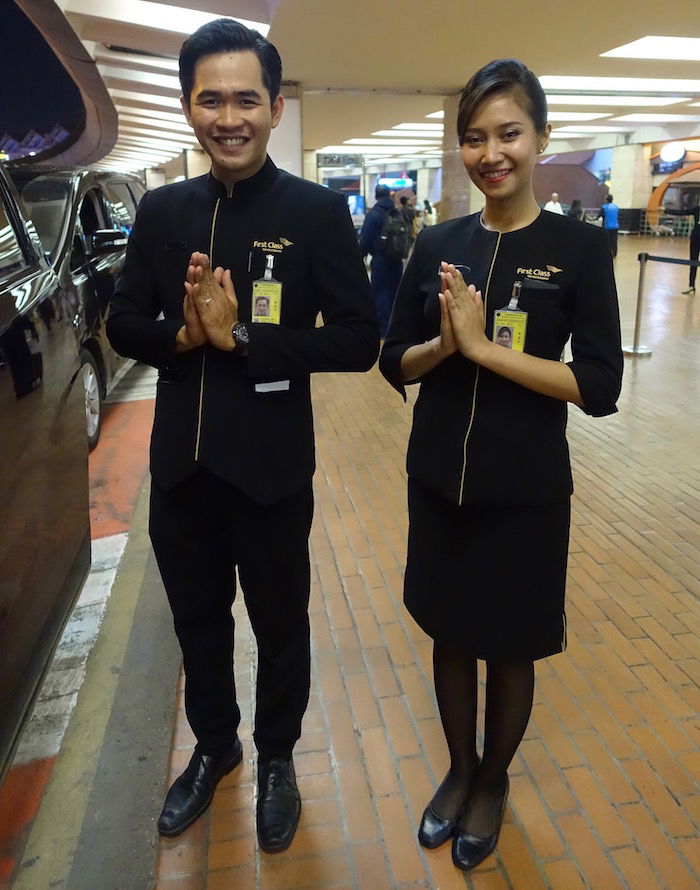 Yesterday I was still a bit conflicted about where Garuda ranks on the list of the world's best airlines. I definitely thought Garuda was top five. The more that I think about it, I think Garuda definitely ranks in the top two, and perhaps even ranks number one.
I've never in my life had such a seamless end-to-end experience on any airline. Ever. Even though Garuda doesn't have some of the "frills" like an onboard bar or shower, they offer what's easily the world's most well rounded experience.
Furthermore, I've never on any airline had such genuine service from the moment I arrived at the airport to the moment I left the airport. It's not just how attentive the staff were, but even more importantly, how kind they were. There wasn't a single employee we interacted with who didn't seem genuinely happy to be there, and like they wanted to make our experience great.
Garuda proudly displays their Skytrax 5-star rating on a placard in the back of the cabin, and they deserve it. While I don't put much weight into Skytrax ratings, in the case of Garuda they got it right.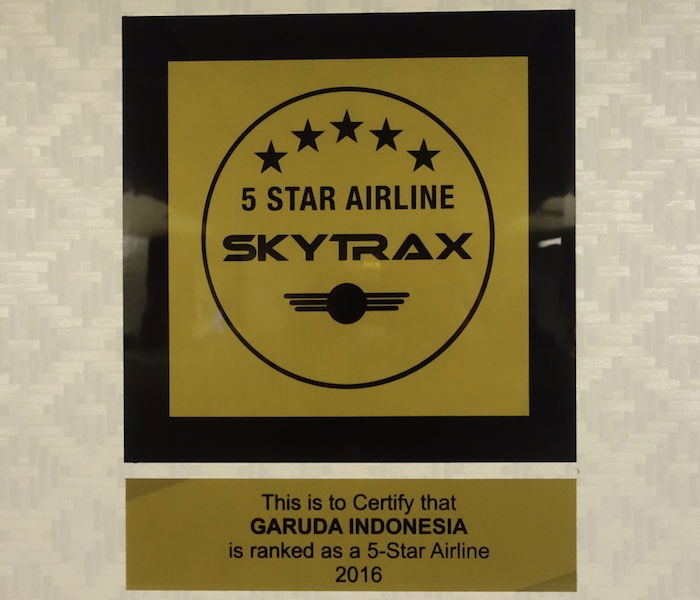 Here's to hoping my return experience is equally impressive.