Back in December SkyTeam announced Garuda Indonesia's intentions to join SkyTeam as of March 5, 2014.
Well, that's today, and I'm pleased to see that they actually stuck to the timeline, and Garuda Indonesia is now the 20th SkyTeam member airline. They're now part of what is unarguably one of the world's three most prestigious airline mega-alliances, including first rate airlines like Aeroflot, Aerolineas Argentinas, Aeromexico, Air Europa, Alitalia, and… well, those are just the "A's," do I really have to go on? 😉
Per the SkyTeam press release:
JAKARTA, 5 March 2014 – SkyTeam, the global airline alliance, has welcomed Garuda Indonesia as its 20th member and second airline from Southeast Asia. Garuda's membership adds Jakarta as an alternative gateway to and from South East Asia, as well as 40 new destinations to SkyTeam's global network served uniquely by the alliance.

"Garuda's entry into the alliance will give its customers access to SkyTeam's 1,064 destinations that cover more than 90% of the most relevant traffic flows in the world," said Michael Wisbrun, SkyTeam's Managing Director. "Garuda strengthens our presence throughout the Asia Pacific region for our 588 Million global passengers."

"SkyTeam aims to boost its members' competitiveness by strengthening network and hubs, enhancing their global footprint, improving the customer experience and introducing innovative initiatives that enhance customer benefits," continued Mr Wisbrun.

"Today is a significant and historic event for Garuda Indonesia as we officially become the 20th member of SkyTeam. For the past 3 years, Garuda Indonesia has been actively forging cooperation with the other 19 member airlines with this objective in mind and it has been an incredible journey," said President and CEO of Garuda Indonesia, Emirsyah Satar. "Joining SkyTeam is part of Garuda Indonesia's progressive transformation program throughout all aspects of the company. This milestone marks a momentous occasion in our airline's 65-year history and we look forward to future collaboration with our alliance partners."
Now admittedly Garuda Indonesia has a really shaky history. For a while they were racking up accidents faster than Alaska Airlines was purchasing earning J.D. Power Awards.
But they've been trying to change their image the last few years, and from the looks of it have been doing a damn good job investing in new aircraft and their onboard product. They now have their new flagship 777-300ER aircraft, which feature a phenomenal first and business class product.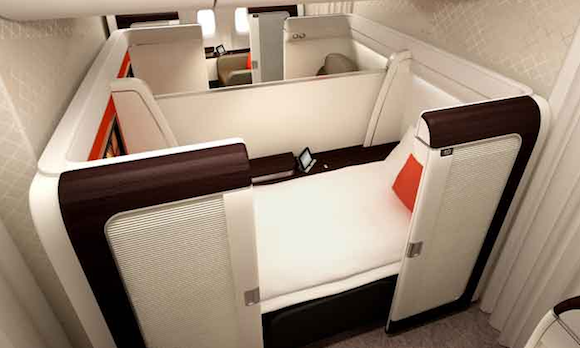 Garuda Indonesia's new 777-300ER first class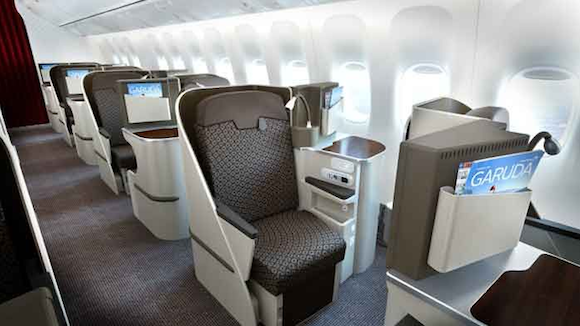 Garuda Indonesia's new 777-300ER executive class
Hell, they're also the only airline I know of to offer onboard immigration.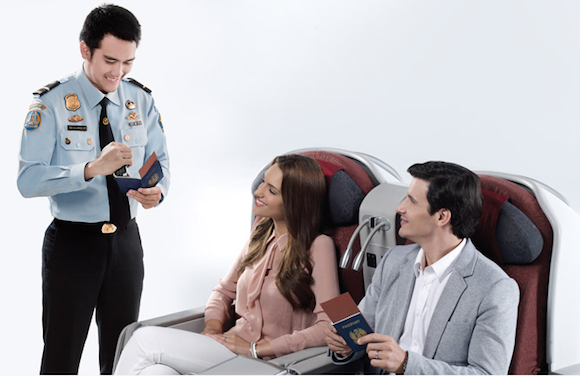 What I'm probably most excited about is the amount of service that Garuda Indonesia has to Bali, which is one of my favorite places in the world. They fly nonstop to Bali from many cities, including both Tokyo Narita and Tokyo Haneda. This will allow for easy one stop routings on SkyTeam from the US to Bali.
Redeeming SkyTeam miles for travel on Garuda Indonesia

I've phoned up both Delta SkyMiles and Korean Air SkyPass today to see if they have access to Garuda Indonesia award space yet. For Korean Air, Garuda Indonesia is still showing up under their partner award chart, while Delta can't even see Garuda Indonesia award space (and for that matter both of the SkyMiles agents I spoke to had never heard of the airline before). After checking with their support desk they were told they hadn't yet been given the correct fare codes for booking Garuda Indonesia awards, so hopefully that's updated shortly.
Air France's FlyingBlue website does show Garuda Indonesia award space, though this is because they've been partners since November, and not because they've joined SkyTeam.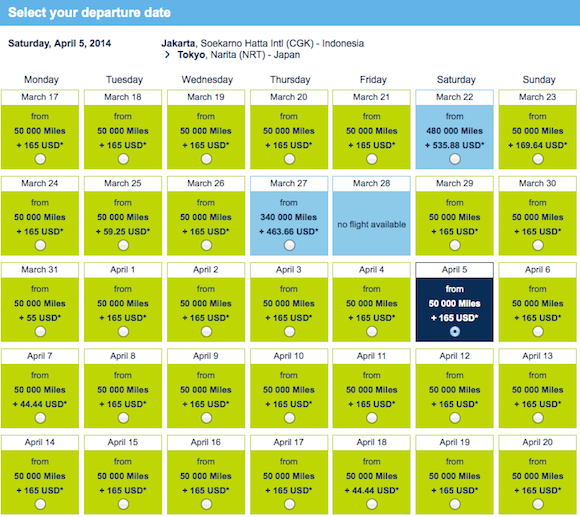 Award space is spectacular across the board, which is often the case when airlines first join an alliance. Their own members don't have that many miles so award space is plentiful, though over time that tends to change.
Is it worth doing a Garuda Indonesia first class award?
I've read a review of Garuda Indonesia first class in the past, and it looks amazing. Once first class award availability is loaded it should be possible to book Garuda Indonesia first class using Korean Air SkyPass miles.
They offer a first class product on their route between Jakarta and Tokyo Narita, which for someone not totally up to date on Asian geography is deceivingly long — it's further than New York to London.
The catch is that if redeeming SkyPass miles for travel on SkyTeam partner airlines, only roundtrip awards are allowed, and it would cost 100,000 SkyPass miles: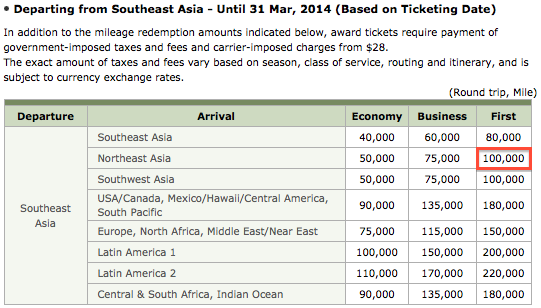 Is it worth burning that many SkyPass miles (transferred from Chase Ultimate Rewards) for a roundtrip award in Garuda Indonesia first class?
Watch out Turkish Airlines, you have theme song competition!
Oh, there's one other thing that makes Garuda Indonesia awesome. Their "theme song" is epic:
It starts off very Mariachi-ish, then goes cheesy cruise ship opera singer on us, before going downright churchy weddingy. It's good stuff!