Reader John left the following comment on a post the other day about Delta eliminating phone ticketing fees:
"By listening, caring and connecting with our customers, we have their backs every time they fly with us." Right!

We just came off a Delta AMS-SEA flight. There were 16 empty seats in business. But, of course, since their policy is free upgrades for medallion only on domestic, the seats remained empty. I can not understand the business sense if this. Why not make 16 of your best customers feel appreciated for their loyalty? What would this cost them? Ok, maybe they could make the case that they do not have enough business class meal on board… so move me up and give me the comfort class meal. I would appreciate the nicer seat and feel like they appreciated my loyalty.

Loyalty programs seem to be one way streets.
Why don't airlines upgrade loyal flyers for free internationally?
It's an interesting topic to discuss, as there are varying perspectives on this. It's only fair for me to address this topic, because I did ask a while back whether airline employees should be allowed to fly first & business class for "free" (maybe I wasn't clear in that post, because I'm actually a big supporter of airline employees getting travel benefits).
John raises a valid point. If a seat would otherwise go out empty, it's a sunk cost at that point. The airline can't get any revenue for the seat anymore, so why not generate some goodwill by upgrading someone to that seat?
Back in the day that's how it worked. Gate agents had a lot more discretion to upgrade passengers. Years ago my dad was a Lufthansa Senator frequent flyer (back before they had their HON Circle status) and flew between New York and Germany at least once a month. His company would pay for business class, and almost without exception he'd get upgraded to first class. They'd take his boarding pass when he arrived at the lounge, and say "let me see if we can get you a better seat today." Around boarding time he'd almost always be paged, and given a boarding pass for a first class seat.
Nowadays for the most part there are procedures in place, and the only circumstance under which you'll consistently see free upgrades is when it's for operational reasons, like a cabin being oversold, and them needing to upgrade people (which is quite common on some routes with a lot of leisure demand but not a lot of premium demand.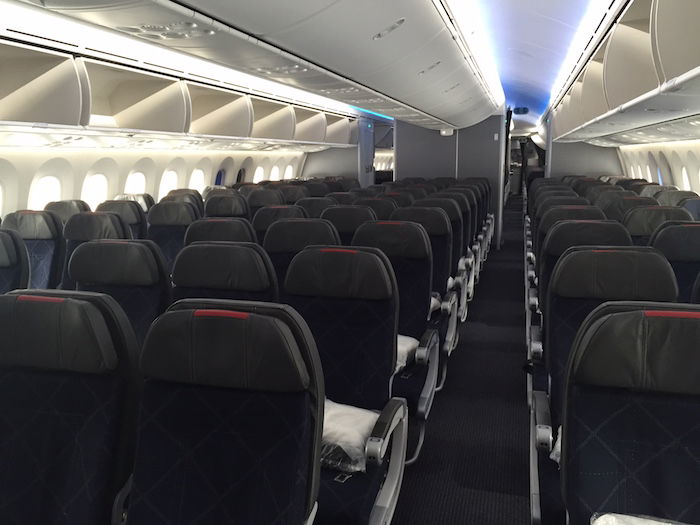 American's 787 economy class
Why don't airlines provide free upgrades anymore? Simply put, because at some point it dilutes the product.
The slippery slope of free upgrades…
Look at what has happened to domestic first class in the US. Years ago airlines introduced unlimited complimentary upgrades, and over time the product has been diminished to the point that it's referred to as "upgrade class." Once an upgrade becomes an entitlement, it's sort of tough to justify paying for it. After all, who wants to pay for something they can get for free?
Don't get me wrong, I don't think consumers are at fault. The airlines created these monsters and expectations, yet don't take responsibility for what they've developed into. As a United executive famously said, there's a problem with "over entitled elites."
We're seeing US airlines slowly counter that trend, and they're accomplishing that by making upgrades tougher and tougher to get. Airlines are lowering the price of first class and offering more opportunities for passengers to purchase paid upgrades.
For example, in the case of Delta, 31% of passengers paid something for domestic first class in 2011. By 2015 that statistic was up to 57%. By 2018 they hope that it's 70%.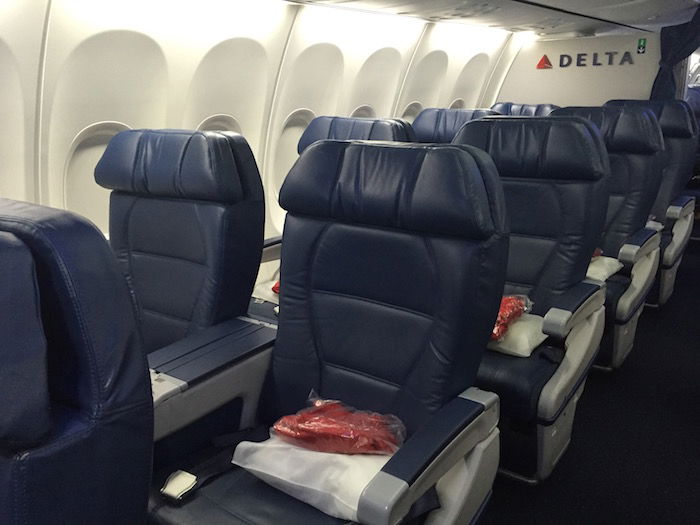 Delta's 737 first class
While the goal is of course to maximize revenue, the long term way in which that's being accomplished is by conditioning people to once again expect to pay for domestic first class, rather than expect an upgrade to it.
That's what most carriers are trying to avoid internationally, and why they don't offer free upgrades internationally. Sure, many airlines give out upgrade certificates that can be used internationally, but that's still a form of payment for the seat.
If complimentary upgrades were given on international flights, I might not even use those upgrade instruments for my own travels anymore. I'd strategically book the flights which have the highest chance of having empty seats in business class, and then I'd hope for (at some point, expect?) an upgrade.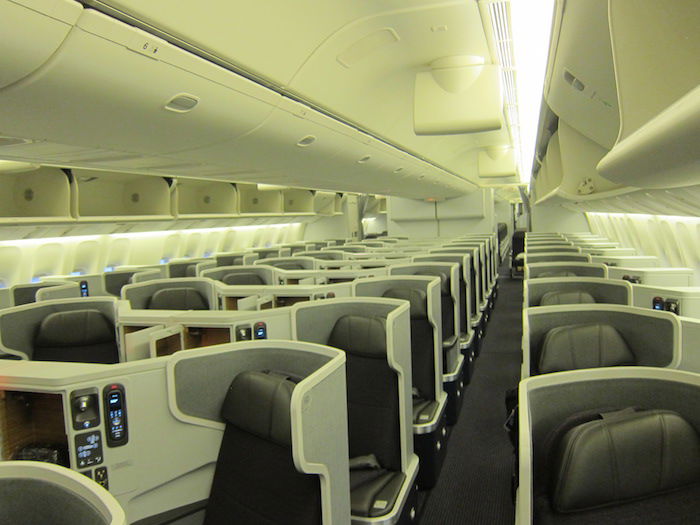 American's 777 business class
Why the international upgrade situation is getting worse, not better
I agree with John's general sentiment, that Delta doesn't actually listen to their customers or care about them (instead they know what they can get away with it, and they do it). However, in this case I don't think the lack of providing free upgrades on international flights is proof of that.
To take it a step further, the international upgrade system we're seeing right now is probably as good as it'll be for a long time. With more and more airlines introducing premium economy, you can guess what the implications of that will be in terms of upgrades from economy…


American's new premium economy
What do you think — should airlines occasionally offer complimentary upgrades to loyal flyers on international flights as a gesture of goodwill, or does the current system work?