I know it's probably terrible for my health, but I love flying. Even though I've flown about five million miles, being above the clouds never gets old for me. I love watching beautiful sunrises and sunsets, I love the electric energy of being on a plane and in airports with people traveling to every corner of the globe, and heck, I even love the exhaustion and jetlag that comes with flying.
Basically, this is me on a plane: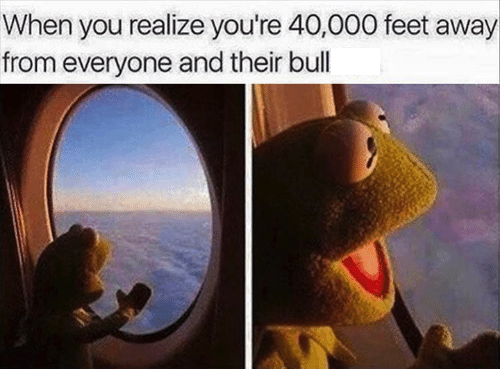 So while ideally I'd like to actually visit somewhere when traveling, I'm also quite content just flying around, as I often do for the purposes of reviewing new airlines. For me, spending a week mostly on planes is par for the course.
Well, the past week I've learned the hard way that apparently some people don't enjoy flying nonstop without having a real destination. Who would have thought?!
How I sold Ford on a mileage run
Last year Ford earned Executive Platinum status with American, though he hasn't been doing that much revenue flying on American this year, as most of our international travel is using miles on other airlines.
However, a few months back Qatar Airways published some ridiculously cheap business class fares out of Vietnam to just about everywhere. They were under $700 roundtrip, and I figured there was almost no chance of them being honored, especially as Qatar Airways has a history of canceling mistake fares.
Nonetheless I love the thrill of booking a mistake fare. So when I saw this sale I called up Ford:
"So I don't think this fare is going to be honored, but Qatar Airways has these really cheap business class fares out of Ho Chi Minh City to just about anywhere, and if you take one of these trips you'd requalify for Executive Platinum. The problem is that we don't have much time to do this, so we can just do a quick mileage run there and back."
To my surprise, he said yes. The thing is, I'm not sure the full itinerary clicked for him, and that's my fault, because I didn't explain it in great detail. The number one rule of mistake fares is that you book now and ask questions later.
Well, Qatar Airways ended up honoring the fares, and then we realized we had about a seven day window where we could take this trip, due to other commitments we had planned.
Everything was working out great, as there were super cheap fares from the US to Hong Kong on American, and we easily upgraded those to business class. Then we redeemed Avios for Cathay Pacific business class between Hong Kong and Ho Chi Minh City.
So in the end we were flying from Los Angeles to Hong Kong to Ho Chi Minh City to Doha to New York to Doha to Ho Chi Minh City to Hong Kong to Los Angeles over the course of a week. That's over 37,000 flown miles, or over 5,000 miles per day. The entire trip had one night in Ho Chi Minh City, one night in New York, and one night in Hong Kong.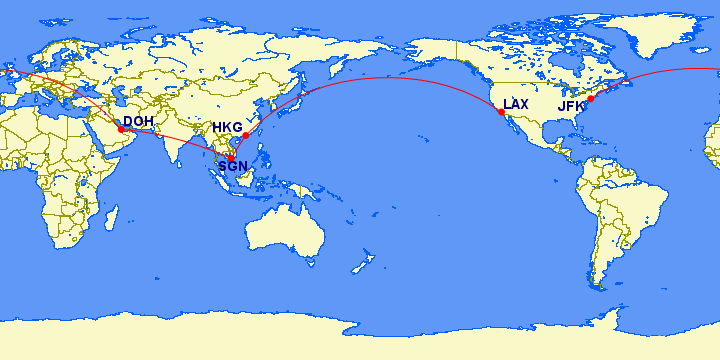 So, how did Ford's first (and last) crazy mileage run go?
What I love about Ford more than anything is that he's almost always in a good mood. I've never met someone who wakes up happy every day in the way he does. So his default is to be in a great mood, and he's always a grateful person who likes to make the best of situations.
Well, suffice to say that I've never seen Ford as unhappy as he was during our mileage run. It's not because he wanted to have a bad attitude, or because he was angry at me, etc.
Instead it's understandable that a lack of natural light, inability to sleep regularly, etc., can really impact someone. Even when we had overnights in hotels, he could only sleep for a few hours due to jetlag, and woke up feeling sick.
For me it's something I've become accustomed to, and it's just part of my life. If you train yourself enough to be fine with something, it'll happen. But for most people this is the equivalent of torture, especially if there's not actually a destination you're traveling to that you can look forward to.
Halfway through the trip, when we got to New York, I gave Ford the "out" and said he had the option of calling it quits there, given how hard of a time he was having with the trip. He was determined to finish and didn't want to give up halfway through, but I'm not sure that ended up being in either of our best interests.
Ford has done some mileage runs before, though they were a bit different. For example, we've flown to China for two days, and to Panama for one day. I should have realized the distinction between those trips and flying for eight days without a real destination.
Fortunately it's all over now, but suffice to say it was a very rough week. Ford is requalifying for Executive Platinum, and I think he also completed his last crazy mileage run ever. I hope he doesn't have PTSD every time he takes advantage of one of the Executive Platinum benefits, thinking back on this trip. 😉
Bottom line
Nowadays I don't typically do mileage runs anymore, but rather I do review trips. At times I lose sight of how unusual and draining these trips are. For me, the past week in the sky was relaxing and enjoyable. I've done worse, like flying from Casablanca to Doha to Colombo to Jeddah to Manchester to New York to Los Angeles without any time in a hotel, and without flat beds for most of the trip.
But it's always a good reminder that most normal people don't enjoy flying constantly. Ultimately I take full responsibility for Ford's unhappiness here. He was trying to be a good sport, but this type of trip is something that a tiny percentage of crazy people enjoy, and everyone else in the world would hate.