Every so often there's a story in the news about someone who accidentally boards a flight to a completely wrong destination. Sometimes it's because they somehow got confused and accidentally boarded the wrong plane, and other times it's because they booked a flight to the wrong destination (like Sydney, Australia, instead of Sydney, Canada).
People are surprised when this happens, but the reality is that hundreds of millions of people fly every year, and stuff will go wrong every once in a while. It's only natural.
Still, taking a flight that's different than the one you're booked on requires a lot of things to go wrong — the gate agent has to incorrectly scan your boarding pass, there has to be no one in the seat you're assigned, you have to miss the departure announcement stating the destination of the flight, etc.
For once there's a story of someone who booked a flight to a completely wrong destination, yet he has a great attitude, and quite a story to tell. It even ties in my fascination with the Canadian Arctic, which I recently wrote about.
A man from Winnipeg accidentally ended up on a First Air flight from Yellowknife to Iqaluit on Sunday, when he was really supposed to be flying from Yellowknife to Inuvik. For those of you not familiar with Canadian Arctic geography (*raises hand*), below is a map of the airports.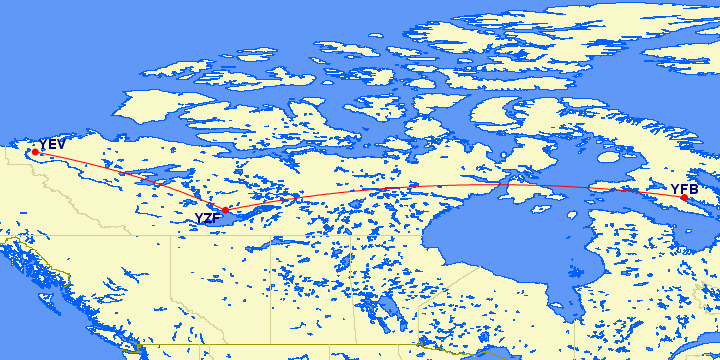 As you can see, they're in almost exactly opposite directions, and are almost 1,800 miles apart.
So, how did this happen? As you might expect, a lot of things had to go wrong:
At Yellowknife Airport the computers were down, so airline staff were doing stuff manually
At the departure gate there were three flights boarding around the same time, and all were on final boarding calls, so there was a sense of urgency
The staff checked his ID and sent him on the tarmac, where he saw a bunch of people headed towards a plane, so he followed them
When he boarded the flight he asked the flight attendant if he was on the right flight, and if it was going to Inuvik; the flight attendant responded "yeah, eventually"
He was texting before departure and wasn't paying attention to what was being said in the announcements
The plane made a stop in Rankin Inlet, Nunavut, enroute to Iqaluit; at that point he asked the crew how long it would be to Inuvik; he had flown around the Arctic before, and knew there are often "milk runs" with intermediate stops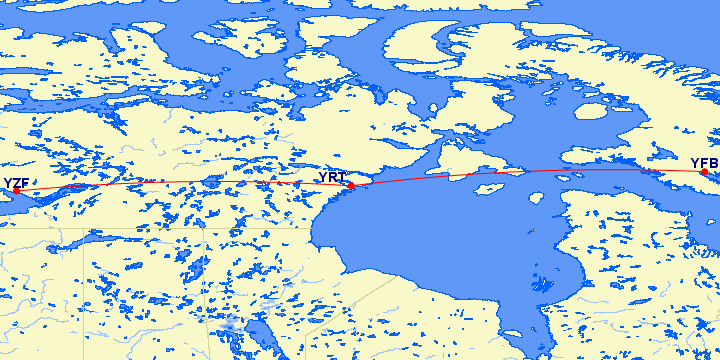 That's the point at which both the crew and the passenger realized that he was actually on the wrong flight. It also explains why the flight attendant said they were in fact going to Inuvik. As it turns out, it was a joke (I guess that's Arctic humor for you):
"The woman who told me that we'd be arriving in Inuvik eventually, she felt horrible. She was like, 'Oh my God I didn't take you seriously, like, I thought you were joking," he said.

"In fact the person who had boarded previously, I later learned … had got on the plane and said, 'When do we arrive in Hawaii?'" said Paetkau.

"So she thought I was joking, so she responded back with a joke."
The guy ended up flying back to Yellowknife the same day, and seems to have had an awesome attitude about it. Rather than being annoyed he had fun, even if it was a very long day.
So yeah, talk about a comedy of errors, though it sounds like he had a hell of a story to tell in the end.