With the number of people flying, this is bound to happen every once in a while, though it still makes for quite a story.
Mexican traveler accidentally boards Volaris flight to Seattle
Last week, a 29-year-old Mexican citizen named Marijose Gamboa was supposed to return home from a vacation on Volaris. She was supposed to take the 727-mile domestic flight from Guadalajara (GDL) to Tuxtla Gutiérrez (TGZ), but accidentally ended up on the 2,140-mile international flight to Seattle (SEA).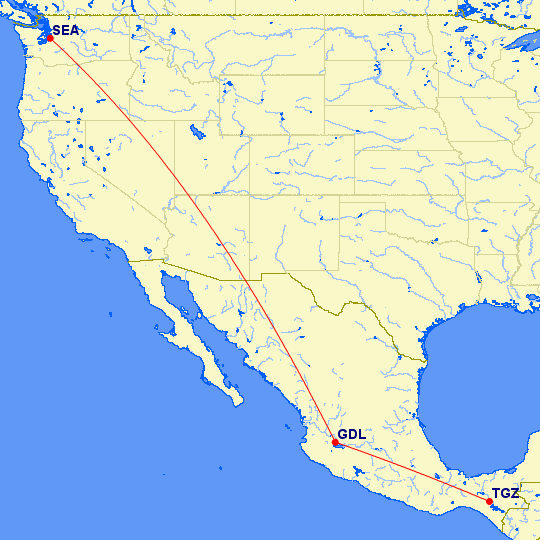 How exactly did this happen? Gamboa shared the situation on her TikTok. According to her:
At Guadalajara Airport, a Volaris airline worker had directed her to change the line she was in while waiting for her flight
She boarded the flight from that line, and somehow the gate agent didn't catch that she was on the wrong flight
Once onboard the flight, there was someone in her assigned seat; she showed the flight attendant her boarding pass, and she also didn't catch that she was on the wrong flight, and instead seated her somewhere else
About three hours into the flight, she was handed an immigration form for the United States
Since the woman didn't speak English, she was confused and asked the flight attendant for help, and this is when it was discovered that she was on the wrong flight
The flight attendant was shocked to learn that the traveler wasn't intending to fly to the United States, and didn't have a passport
The crew then asked her for a phone number to contact her family, so they could let her family know what was going on
This is a pretty big failure on Volaris' part, for multiple people to not realize someone had boarded the wrong plane. When her boarding pass was scanned at the gate, didn't it alarm, to indicate she was on the wrong flight? When her seat was already assigned to someone else, did the flight attendant not carefully review her boarding pass?
What happened when she arrived in the United States?
Upon arriving in the United States, a Volaris employee accompanied Gamboa in the immigration hall. She was interviewed by immigration officers, and then they escorted her back to her flight, as she immediately returned to Guadalajara on the same Volaris plane.
Officers told her there would be no negative record of this, in the event that she wanted to travel to the United States in the future.
Volaris obviously paid for her ticket back to her intended destination of Tuxtla Gutiérrez. Suffice it to say that this was a very long travel day — what was supposed to be a short flight of under two hours, ended up consisting of two extra flights of nearly five hours each, in addition to the intended flight.
Throughout this ordeal, Gamboa's family was obviously incredibly concerned, as she hadn't arrived in Tuxtla Gutiérrez as planned. Her family had been informed at the time that she had gone missing, and there's nothing Volaris representatives could do. Then the National Guard stepped in, and told Volaris that they would have to file a missing persons report.
At that point Volaris agents at the airport started working to locate her whereabouts, and were able to find out that she was actually on the wrong airplane. Gamboa claims that upon arriving in Tuxtla Gutiérrez, Volaris employees blamed her for getting on the wrong flight.
Bottom line
A traveler intending to take a domestic Volaris flight within Mexico accidentally ended up on a flight to the United States. She had allegedly been asked to switch lines while boarding, and neither the gate agent nor flight attendant realized the mistake.
When the traveler arrived in the United States she was interviewed by officials, and sent back on the same plane to Mexico, eventually being reunited with her family, albeit way later than expected.
What do you make of this incident?
(Tip of the hat to Daniel)