I put "mileage run" in quotes because it's not really a mileage run. Nowadays mileage running is for the most part dead, in my opinion. But there's still plenty of merit to finding good fares on fun routings for maximizing miles, ideally with stops at fun places in the process.
Oddly while economy airfare has increased drastically over the past several years, we've seen more discounted premium cabin revenue tickets lately than I ever recall seeing. Why? Probably because airlines are actually doing everything in their power to maximize revenue, rather than opening up award space or letting seats fly empty.

So what's the first "big" trip I booked for 2015?
I wrote several days ago about how British Airways has a global business class fare sale around the holidays, whereby they're selling roundtrip business class tickets to many destinations around the world for ~£1000. The catch is that the promotion is only for travel originating in London between December 21, 2014 and January 3, 2015.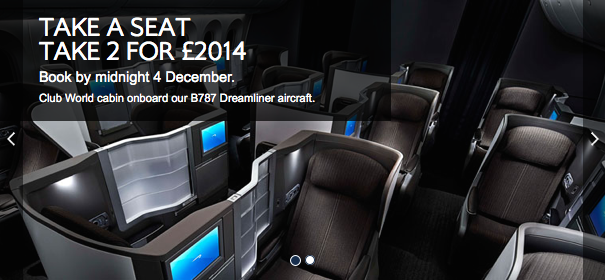 As luck would have it, I'll be in London off the Etihad A380 inaugural flight on December 27, and hadn't yet planned my way home. I figured I might as well spend New Years in Europe (I really enjoyed spending last New Years in Edinburgh) and then fly somewhere using this fare.
So I looked at the possibilities. There were lots of places I could go in British Airways business class, though there wasn't much upgrade space to first class available. Then I realized the same fares were available on American. And not just on codeshare flights, but also when booking directly with American (which is an important distinction, because American systemwide upgrades can't be applied on codeshare flights, per the rules).
As luck would have it, the fares were valid to almost everywhere in the US… including Hawaii!
So I booked London to New York to Los Angeles to Honolulu, and then Honolulu to Los Angeles to London.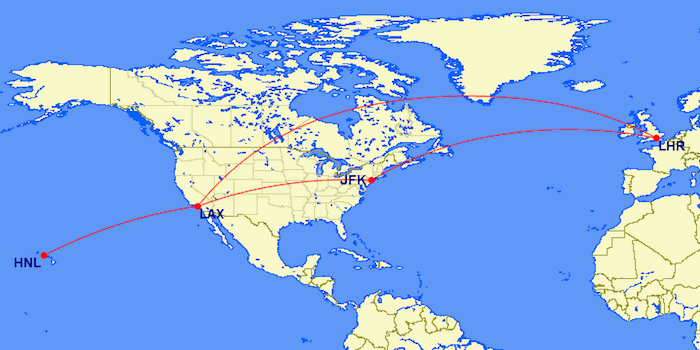 Both longhaul flights are on the American 777-300ER, and the flight from New York to Los Angeles is on the American A321.
While the fare was in paid business class, you can upgrade any paid fare on American, so I managed to apply a couple of expiring systemwide upgrades to confirm first class on all segments. While American doesn't have much confirmable business class upgrade space nowadays, they usually have plenty of confirmable first class upgrade space.
I've reviewed American's 777-300ER business class extensively, though haven't yet reviewed American's new first class. I'm not convinced it's actually much better, but at least I'll be able to review it to say for sure.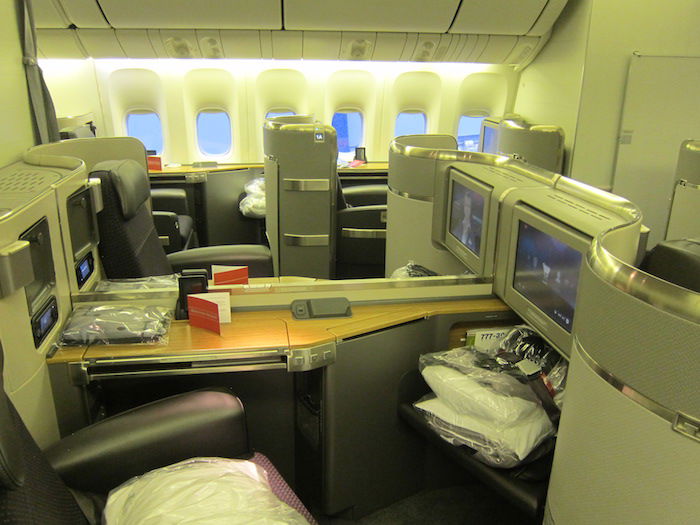 American 777-300ER first class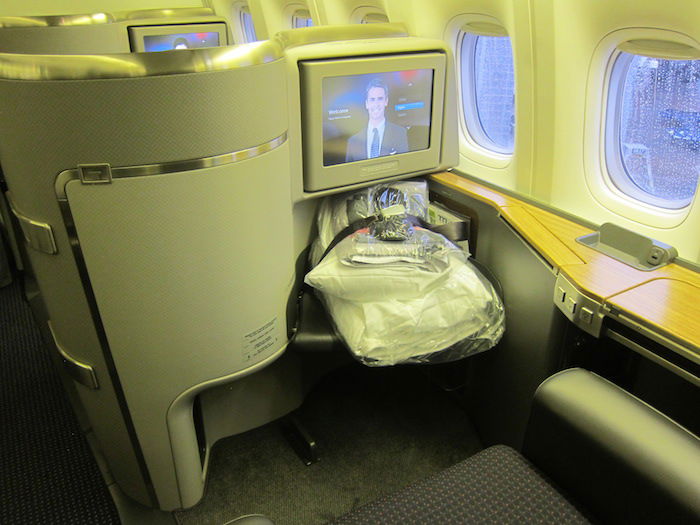 American 777-300ER first class
How many miles do I earn?
That routing is 16,500 butt-in-seat miles, and with a 50% class of service bonus (which is new as of 2015 — previously you only earned a 25% bonus for business class) I'll be earning almost 25,000 EQPs (elite qualifying points). In all I'll be earning over 40,000 redeemable miles as well. I wish I were eligible for American's fall transatlantic promotion, though best I can tell that's only valid for travel between North America and Europe, and not for travel between Europe and North America (though if anyone has a different read on it, please let me know).
Anyway, it's certainly not a mileage run, but at six cents per elite qualifying point I'd say it's a heck of a fare for being able to fly international first class.
Have you taken advantage of the American & British Airways New Years fare sale?